By Emma Grant: One of the most famous destinations in the Caribbean attracts millions of tourists each year to enjoy the pristine beaches, friendly locals and relaxing culture. Whether you're here on a honeymoon or just feel you deserve a break for a week or two, you'll find the Dominican Republic to be the perfect spot. Holiday makers have the choice between five-star all-inclusive resorts and lavish beachside rentals in Dominican Republic and anything else you could want. Here's your guide to having the best luxurious trip with your partner.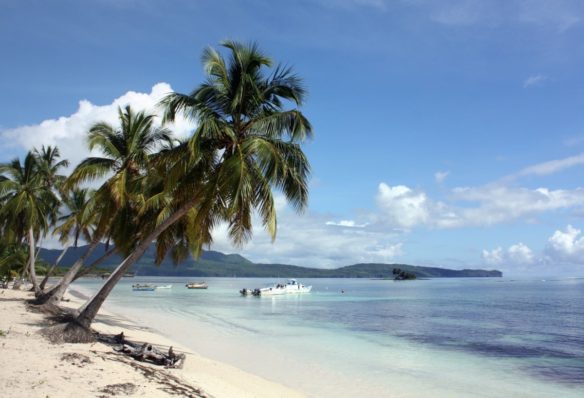 What the Dominican Republic is Best Known For
If you're looking for a world-class destination with luxury rivaling the Bahamas and Antigua for half the price, the Dominican Republic is for you. The beaches extend for miles with white-sand and warm waters, making it the ideal place to relax. Several bars selling cold drinks and cocktails line the shore too. More adventurous tourists can take a tour into the interior rainforests, mountains and see the many waterfalls.
Best Things to Do
Samana Bay Humpback Whale Watching
One of the top romantic activities is to watch the humpback whales from Samana Bay, an annual event that takes place between January and March. Thousands of whales come to the warm Caribbean waters to mate, and you can often see them jumping out of the water from the cliffs and coves around the bay. If you're planning a vacation at this time of the year, whale watching is a must. Either join a tour that takes you out to sea or grab a few drinks and sit on the cliffs and enjoy the show.
Outdoor Activities Galore
There are several opportunities to take part in water sports including jet skiing, kite-surfing, windsurfing, snorkelling and diving. You can join boat tours and have romantic sunset dinners while cruising around the island too. The Dominican Republic is perfect for couples, but even the very best lovers need time for themselves every now and again. Ladies can enjoy a few hours at the spa getting the full treatment, massages and a world-class pampering experience while their hubby plays a round of golf on one of the 25+ courses in and around Punta Cana.
Historic Santo Domingo
Taking a day trip to the capital, Santo Domingo, to experience the Spanish colonialism and the New World's oldest city should be on the itinerary. You'll find the historic Colonial Zone with forts and cathedrals dating back to the days of Christopher Columbus inside. And don't forget to stop by at one of the cafés for a cup of coffee and a bit of people watching.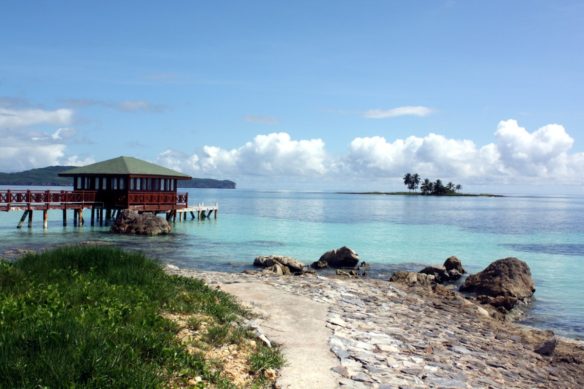 Where to Stay in the Dominican Republic
Punta Cana
The most popular resorts are in Punta Cana on the eastern tip of the Dominican Republic. You'll find a highly developed tourist infrastructure along with world-class restaurants, romantic spots for a drink and an environment that meets the definition of luxury. There are various resorts with a whole host of facilities from spas to golf courses and large pool areas. Some of the most romantic places have the fantastic views of the sea from their balcony.
Puerto Plata
If you're looking for more privacy on your luxury retreat and want to get away from the tourists, head to Puerto Plata on the northern coast. A range of activities from sports, shopping experiences and a reasonably active nightlife are some of the highlights. Fewer come here, and those who do are looking for the ultimate level of relaxation. Favorite activities are relaxing on the beach and watching either the sunrise and sunset. It's not uncommon for couples to tie the knot in Puerto Plato by having their dream beach wedding.
How to Have the Perfect Vacation: Safety Tips
Planning the perfect retreat is one thing, but having a vacation where nothing goes wrong can be more difficult. The Dominican Republic makes a lovely holiday destination for some while being a nightmare for others. You have control over reducing the risk of certain stressful situations by taking precautions.
Stay Street Smart and Savvy
The biggest way to prevent your dream trip from becoming a disaster is to be savvy and careful. The Caribbean has a reputation for crime, theft and scams. If you're careful, this probably won't happen while taking a Caribbean vacation. Expect vendors to overcharge, especially if you're in the more expensive parts of the island. Don't accept their first price and bargain for better deals. A few phrases of Spanish won't hurt either.
Be Careful with Puchases
You should be careful when buying products from shops and markets. They may either have the tourist price tag or poor quality. Crime does happen, but not as much as other parts of the Caribbean. Use common sense and call taxis from a reputable company, don't go out too late and leave the Rolex and iPhone in the safe. Taking a tour can be risky too if you're not careful. It can sometimes be difficult to tell the licensed guides from those doing a side hustle for a bit of extra cash.
Be Wary of Food Hygiene
Food hygiene can also be a problem in the local restaurants and even in the hotel. Poor sanitation combined with a tropical climate and unfamiliar germs might quickly lead to stomach problems. Spending your vacation on the toilet isn't what your dream luxury retreat is, right? Quite simply, the gourmet restaurants always provide the best food, high-quality service and won't upset your stomach. Stick to these!
A Dream Come True
The Dominican Republic gives most visitors the best luxurious retreat they could imagine. There are lots of activities for relaxing, exploring and having a romantic time with your special someone. Just use your common sense to reduce the risk of paradise turning nasty, and your luxury vacation will be one of the best ones of your lives!
This post is sponsored content. All images courtesy of Pixabay.