On our recent trip to Dubai we experienced the surreal Miracle Gardens, which only opened in February of this year. Can you guess which day?… Valentine's Day of course! When visiting the desert, luscious flower gardens are not what usually springs to mind. Unless perhaps you were to get lost in the desert and experience a mirage. But Dubai does not shy away from such extravagance. So it is not surprising that the Miracle Gardens Dubai are the worlds largest flower garden!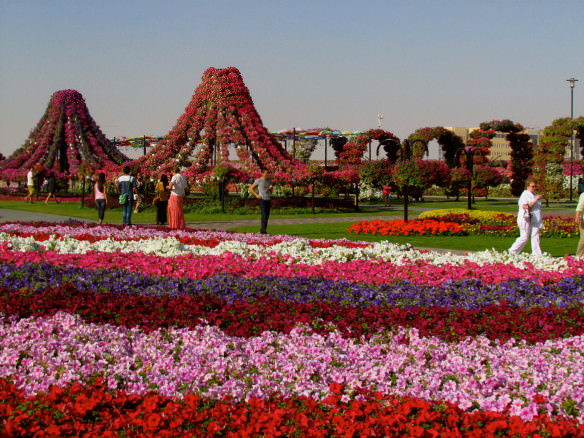 Dubai Miracle Gardens
The garden is home to over 45 million flowers, in reds, pinks, yellow, purple, white and many other wonderful colors. According to their website, they use recycled water and drip irrigation to maintain the flowers in the scorching desert heat.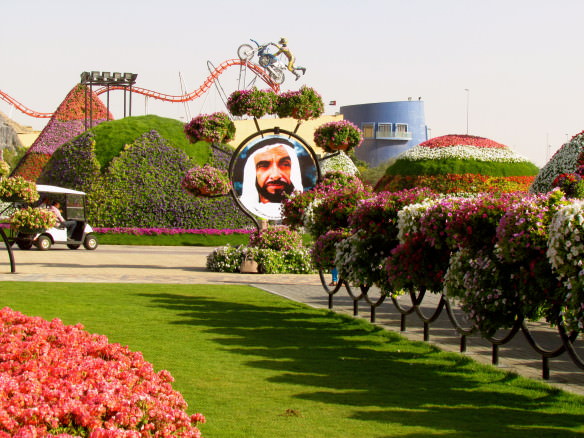 I first read about these gardens over at Lady and her Sweet Escapes before we headed to Dubai, and asked the friends we were staying with whether it was something they were interested in, and of course who wouldn't want to check out this extravagance! They are one of the most romantic things to do in Dubai.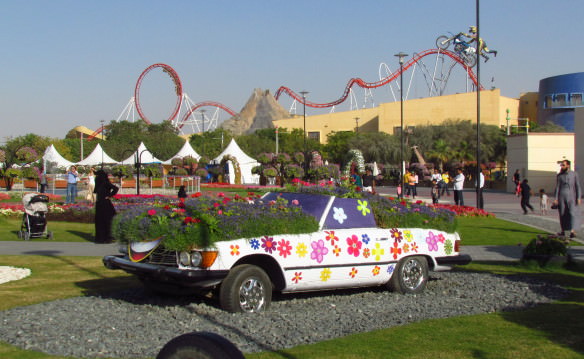 Walking around the gardens truly is surreal. The green of the grass and the vibrant colors of the flowers are contrasted by the scene outside the walls of the garden, which is essentially a huge sandpit with cranes and construction. Also, on the day we visited it was windy and hazy from the sand blowing around, which made the gardens feel like a huge reprieve from the heat and dust.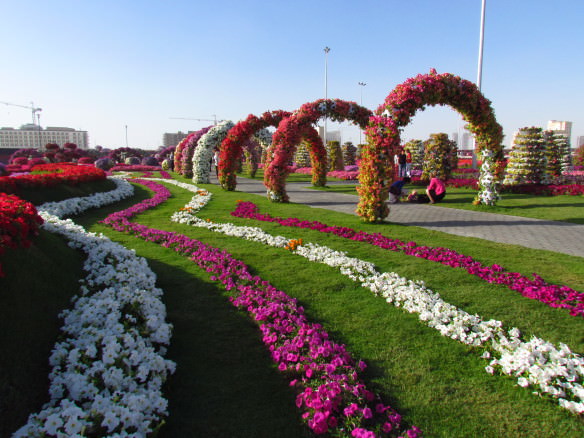 Getting to the Dubai Miracle Gardens
The gardens are located on Umm Suquiem Road near the Arabian Ranches. The best way to reach the Miracle Gardens is by car. Via public transport, you can get the F30 bus from the Mall of Emirates to get there.
Dubai Miracle Gardens Hours
They are open daily from 10am until 10pm and until midnight on the weekends and public holidays. Check their website for the most up to date information
Admission Cost for Dubai Miracle Gardens
Entrance is 55 UAE dirhams (around $15 USD).
Recap
Are the Dubai Miracle Gardens worth visiting? It depends, if you're in Dubai for awhile, we'd say yes, check it out. It's pretty amazing to see this oasis in the middle of the desert and the mix of cultures that visit. But if your time is limited there are other things that are more worthwhile, like old Dubai which stands in stark contrast to the newly developed area that does nothing to elevate Dubai's reputation for being over the top. If you've been to the Miracle Garden what did you think?