Puebla overwhelmed us with charm during our 12 year wedding anniversary. A beautiful town formerly colonized by the Spanish, Puebla's architecture dates back to the 1500's. For North Americans, it's like traveling to Spain without the jetlag. Puebla is also one of the foodie capitals of Mexico, along with Oaxaca and the Yucatan Peninsula.
Puebla lays claim to being the birthplace of mole, with their deliciously rich mole poblano chocolate sauce.  Surrounded by active volcanoes and other lovely Mexican towns like Cholula, Puebla offers amazing bang for buck on a romantic getaway. It's also where Cinco De Mayo comes from! Puebla is just 80 miles (130 km) southeast of Mexico City.
How to Reach Puebla from Mexico City
If you fly into Mexico City, you can catch a comfortable bus directly from Mexico City Airport to Puebla. The journey takes between 2-3 hours depending on traffic, which is generally bad in Mexico City. But the buses are safe, as all passengers go through metal detectors before boarding the bus. You're also provided with bottled water and a snack. There are TV's on board the buses, and in the case of Estrella Rojo bus company, there are actually two bathrooms in the back of the bus! We haven't personally experienced that in bus journeys anywhere else.
Where to Stay in Puebla, Mexico
We stayed at the Casa Rosa Gran Hotel Boutique, a lovely boutique hotel right across from Puebla Cathedral. We had a balcony overlooking the beautiful cathedral, which dates back to 1585, and the vibrant town square (Zocolo). As Casa Rosa is small, they give breakfast vouchers for a nearby hotel with a beautiful dining room that's adorned with large chandeliers and white table clothes. The stay was absolutely perfect for our 12 year wedding anniversary.
Our room at the Casa Rosa was phenomenal value at just $80 USD a night (prices for smaller rooms without the view start at around $47 USD per night). Puebla reminded us a little of Saint Augustine, Florida, the oldest town in the United States. A key difference is that the equivalent room would have cost us around $250-$300 USD a night in Saint Augustine. Interior rooms at the Casa Rosa start at around $49 per night on booking.com and $58 per night on Expedia.
What to Experience in Puebla
You should definitely go inside Puebla Cathedral, which was built in 1585. There are several other beautiful houses of worship like the Temple of San Francisco and Church of Santo Domingo. There are also many striking churches and cathedrals in the nearby town of Cholula, which you can easily experience via tour bus that departs from Puebla's Zocolo (main square).
Puebla Cathedral view from our balcony
The Zocolo, where Puebla Cathedral is located, is bustling with activity day and night. There are often musicians playing in the evenings and festivals on the weekends. Every Friday and Saturday night, there is an impressive light show at Puebla Cathedral, which was wonderful to watch from the balcony of our room at Casa Rosa.
From the Zocolo, everywhere in the historic center is walkable. A great place to head for a snack or some shopping is the Puebla Market. But the historic center is filled with good shopping, some with high-quality products for inexpensive prices. There are also excellent sweet shops to accompany all the delicious savory foods that Puebla is flooded with.
Right on the Zocolo is the City Hall. We were poking our noses in when a guard waved us inside to take a closer look. So we wandered in and listened to a guide give a presentation on City Hall. Unfortunately, our Spanish wasn't good enough to follow, but it's worth wandering around this beautiful building.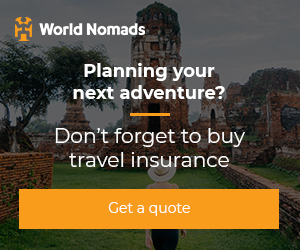 Where and What to Eat in Puebla
Puebla is fantastic for both casual street food and high-end dining. You should definitely eat mole poblano in its birthplace. Two of the best places to enjoy it are El Mural de los Poblanos and La Casa del Mundrugo. La Casa's mole poblano won the battle during our visit, as its flavor was more complex and less sweet. But both are beautiful restaurants that are perfect for a wedding anniversary weekend. La Casa del Mundrugo also had fantastic live music that enhanced the dinning experience. The value is also a hell of a lot better than you're going to find anywhere in the US or Canada.
You should also eat cemitas, which are Mexican style pulled pork sandwiches, with crunchy rolls, and usually stuffed with avocado. Tacos Arrabes are phenomenal, which are a fusion of Mexican and Middle Eastern, pitting smoked barbacoa pork meat inside fresh pita bread baked over charcoal. Eat churros and try a frothy cacao drink. The Meso-Americans invented chocolate!
Tacos Arrabes in Puebla
Another regional specialty of south-central Mexico is chalupas. Traditional chalupas, as found in Cholula in the state of Puebla, are delicious fresh tortillas usually topped with shredded chicken or pork, in addition to salsa and onions.
Chalupas in Cholula
Mole Poblano and Pipian Verde at La Casa del Mundrugo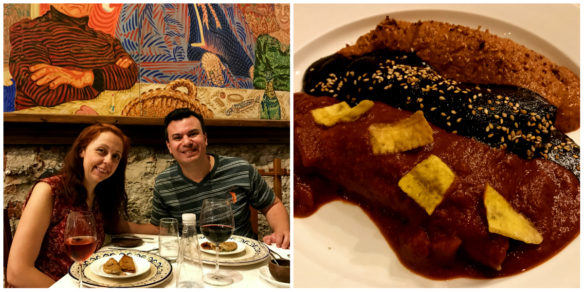 Cinco de Mayo: Rich History in Puebla
A little known fact in the US is that Cinco De Mayo does not commemorate Mexican Independence Day, which is actually September 16th. Cinco De Mayo (May 5th) commemorates the day France attacked Puebla because Mexico had defaulted on debt. The Battle of Puebla began on May 5th, 1862 and resulted in Mexican President Benito Juarez's troops defeating the French. So if you fancy celebrating Cinco de Mayo the proper way, plan to be in Puebla for it someday!
Cholula: A Great Excursion From Puebla
There are tour buses that leave the Zocolo of Puebla for Cholula. Turibus (big red bus) has tours leaving at 11am and 1pm on weekends. While the tour is only in Spanish, it's still worthwhile even if you don't speak the language. We made the 5-hour tour part of our 12 year wedding anniversary day. It's a convenient way to reach and experience nearby Cholula.
While small, Cholula has 37 churches of varying architectural styles. There's a lot of impressive ones that you see from the bus, which stops at two of the churches. Both were filled with ornate gold leafing, common in Mexican churches.
The tour also gives you 2 and 1/2 hours of free time in Cholula. This was enough time to stroll around the historic center and sit down for a delicious meal in the main square. During our anniversary lunch of delicious steak and chalupas, strolling mariachi musicians asked if we wanted them to perform. With the backdrop of the charming square, it was perfect.
If you decide to leave Cholula at a different time, you could always grab an Uber back to Puebla as it's only 9 miles (14 km). Uber is a great way to get around Mexico as it's cheaper, more convenient and safer than taxis. If you don't have an account, sign up here free and receive credit off your first ride!
Want to travel to Mexico for Very Cheap?
Play the credit card points game to earn free flights with everyday spending. We take advantage of credit card bonus sign ups throughout the year which saves us thousands of dollars yearly on travel. If you need tips, leave a comment below or drop me an email alex(at)wanderlustmarriage.com!
Puebla, Mexico: Awesome Value Anniversary Destination
If you plan a trip to Puebla, here's why you should definitely visit Mexico City as well. Our previous post on the Mexican capital highlights a city loaded with world class museums, rich culture and a phenomenal food scene. You could run around Mexico City for a week and still not see everything worthwhile. We spent two weeks in central Mexico and stilled wished we had another week. Need assistance planning a trip to central Mexico or have something to share? Leave a comment, email alex@wanderlustmarriage.com or find me on Twitter at @AlexKallimanis

Disclosure: This article contains affiliate links. We receive a small commission when you book or sign up through these links and it costs you nothing extra. When it suits you, please use them, as it helps us help you!