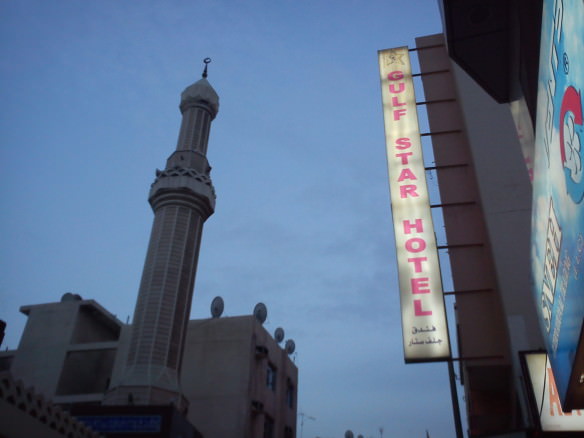 On Bell and I's recent trip to Dubai we were fortunate to have friends to stay with and share the experience. But on our first night we arrived at nearly 1am. So it was more convenient for us to find a cheap place to stay. Just a bed to rest our heads for a few hours before touring the old part of Dubai before catching up with friends. A Twitter follower recommended we stay at the Gulf Star Hotel, as it was close to the airport and just 36 euro ($47 USD) per night, booked online. For a private room with bathroom, in an expensive city like Dubai, that is very cheap. And as we found out, too cheap. Don't be fooled by their snazzy website, the place is a total dump.
Clearing Emirati Immigration
We cleared the long line at Emirati immigration, which was made longer by the fact that the immigration official took time for a chat and a flirt with all the women who passed through, including Bell. With me standing only about 10 feet away he told her what nice eyes she had. Very efficient and respectful.
Women's Taxi
After collecting our luggage and exiting the terminal we were directed into a shiny new pink and white taxi with a female driver. She was of Asian descent, adorned with a headdress. This was surprising as in neighboring Saudi Arabia women are not even allowed to drive. But The United Arab Emirates is more liberal and ladies taxis are for females traveling on their own, or for couples like us.
Even though we were staying fairly close to the airport our driver had no idea where we were staying and had to get directions. After winding through some well maintained roads and nondescript buildings, we eventually turned into a shabby area where our hotel rested, across from a small mosque.
For a 15 minute cab ride, the cost was only about 40 Dirhams ($10 USD), including an airport surcharge. Gas and immigrant labor are very cheap in the UAE. We were immediately greeted by a porter who took our bags, waited while we checked in at the front desk and assisted us a couple flights of stairs to our room. The room was spacious…and appalling.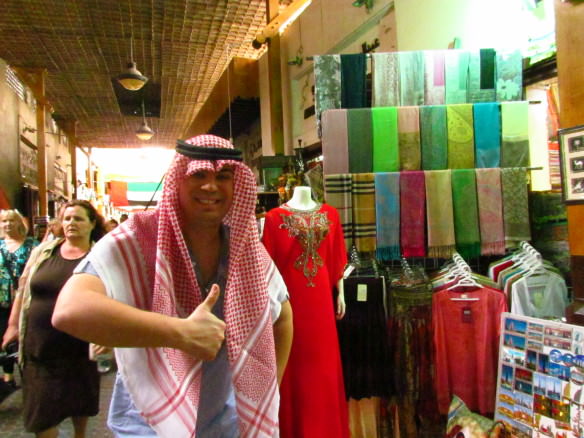 Cockroaches in the bathroom, but no toilet paper
Included in the large and smelly bathroom were free cockroaches, but no toilet paper. In lieu of toilet paper there was a hose right beside the toilet. It's a popular method of cleaning after relief in the Middle East and Asia. Most Asians view toilet paper usage as dirty, but as a westerner it's hard to imagine manipulating the hose properly. At that point it was 3:30am. We were exhausted from an 8 hour flight from Dublin. So the lack of cleanliness and abundance of strangeness were all magnified.
The Pakistani Night Club
It was time to go downstairs for a badly needed cigarette and to ask for a roll of toilet paper. Despite the no smoking sign, the room also reeked of smoke. We asked for toilet paper and a bottle of water and were told the porter would bring it up to us. On our walk upstairs we noticed a sign that read "Pakistani Night Club." I could hear music inside and people laughing. "No" Bell said, knowing what I was thinking. But I couldn't resist and tried opening the door. It was closed, which was probably a good thing as obviously we were not welcome guests in the club. We would later find out why…
We returned to the room. A few minutes later the porter arrived with 1 roll of sandpaper quality toilet paper and a large cold bottle of water for 5 Dirhams ($1.25 USD). He then asked if we needed any alcohol. It was 4am and I had a bottle of duty-free gin in the room. Otherwise, that might have been a good idea. I did indeed need some of that gin to help me pass out in that room.
Barely any sleep
Bell didn't feel comfortable sleeping under the sheets so slept on top of them. We were still awake at 5:30am when the first call for prayer could be heard from the nearby mosque. A few hours later we awoke and I joked with Bell if she wanted me to ring the "concierge" and ask him to bring us breakfast in bed. Perhaps the "concierge" could organize our day? It was my running joke of the morning.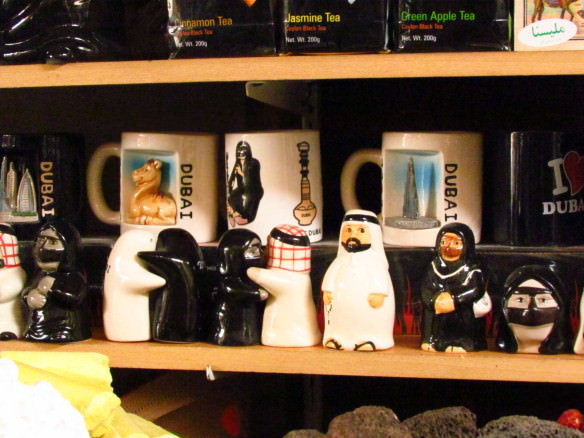 We gratefully checked out and left our stuff for the day with the front desk clerk. We were a bit wary to do this but had no choice, so I tipped him 10 Dirhams to ensure he looked out for it. He seemed grateful and our stuff was thankfully still there when we returned many hours later, after strolling through Dubai's old world style markets, the souqs.
The Deira Neighborhood of Dubai
Our friend graciously offered to pick us up after he knocked off work. But he got stuck in traffic. So we waited 45 minutes, with all our belongings in front of the Gulf Star Hotel. In that time we did not see any other westerners walk past with the busy rush hour pedestrian traffic. Unlike the touristy souq areas near the river, that part of Dubai's Deira neighborhood had zero tourists meandering about and consists mainly of immigrants from India, Pakistan and Bangladesh. As it wasn't touristy, not a single person bothered to randomly try selling us anything. One person, perhaps thinking we were lost, even offered us his phone if we wanted to make a free call. It was a refreshing change from earlier in the day where we were frequently hassled and some people attempted to rip us off.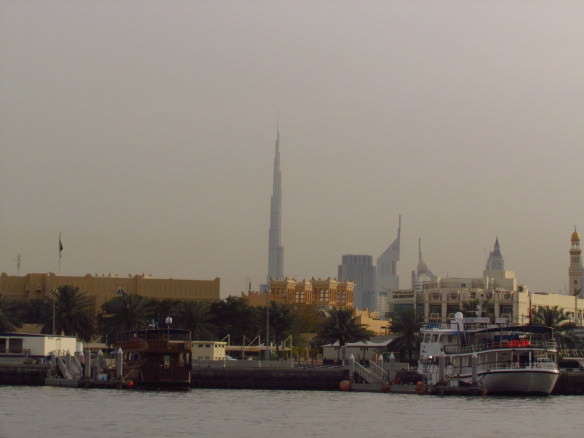 Two Cute Asian Ladies in Short Black Dresses Promote the "Health Spa" in Deira
While waiting to be picked up, two cute Asian ladies in short black dresses mingled out front. They handed out fliers to some of the cars stuck in traffic on the narrow street. We noticed one of the fliers on the ground and picked it up. It was for our hotel, which apparently also featured a "health spa." The question of why the Pakistani night club had been locked was answered. Looking for a hand job, blow job or sex in Deira? Find the "health spa" with scantily clad ladies.
If you're in Dubai, a better alternative to what we did is to just pay a little more if you can. We are not the fussiest people. But this hotel, and most hotels in Deira are not suitable for most westerners, even just to sleep in for 6 hours. An extra $20 USD per night will go a long ways. We don't normally tout chains, but we certainly would have preferred one here! Our visit to the Dubai Miracle Gardens was certainly better.
This story was read at the Dublin Writers Forum last week. A big thanks goes out to a very talented group of writers who provided some great feedback. I have incorporated some of their editorial changes to this post.