The home of Independence Hall, the Liberty Bell and Rocky Balboa welcomes visitors to a history filled city packed with delicious restaurants, bakeries and lively bars. Rittenhouse Square, in the French Quarter, is extremely charming for a date night in Philly. The Italian Market, offering a wealth of cookies, baked goods, charcuterie and imported cheeses is one of the most authentic in the country. Here are many of the reasons that make Philadelphia great to visit!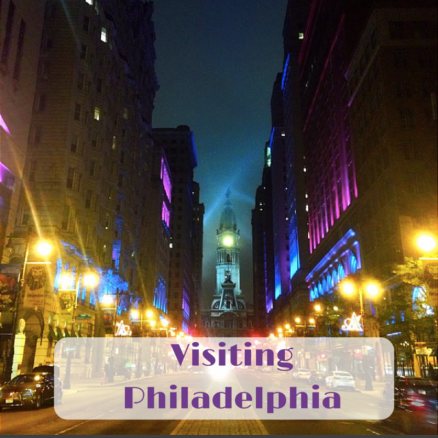 Philadelphia's Historical Significance to the Founding of the USA
Philadelphia is where the Declaration of Independence and Constitution were debated and signed at Independence Hall. Those documents spawned the birth of a new nation. Philadelphia was also the capital of the United States from 1790-1800, before the government moved to Washington, D.C.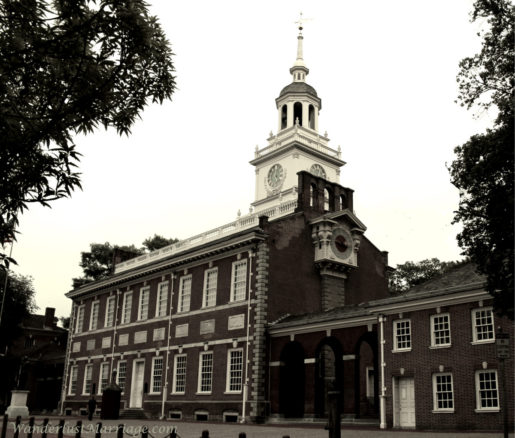 Plan to visit Independence Hall, where the country's most important documents were written. Especially in summer, book a timed slot in advance as tours fill up. "We hold these truths to be self evident, that all men are created equal." Those were somewhat hollow words back then, considering the existence of slavery. But the USA has taken many positive steps forward in the 240 years that have followed. Across from Independence Hall is the famous Liberty Bell, which rang when the Declaration of Independence was first read.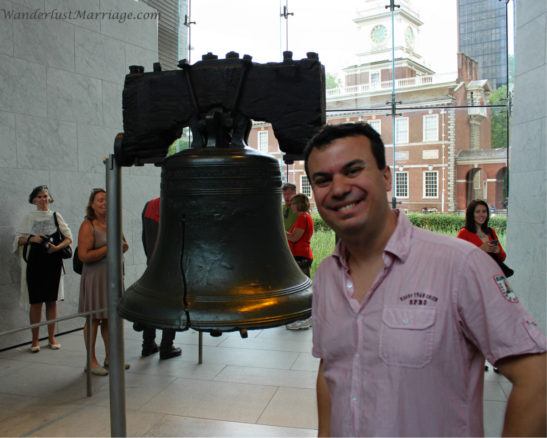 The iconic boxing movie, Rocky, was filmed and takes place in Philadelphia. Visit the Rocky Balboa Monument, which is on the steps of the Philadelphia Museum of Art. It's an inspiring spot to soak up a moment of triumph for every underdog in life.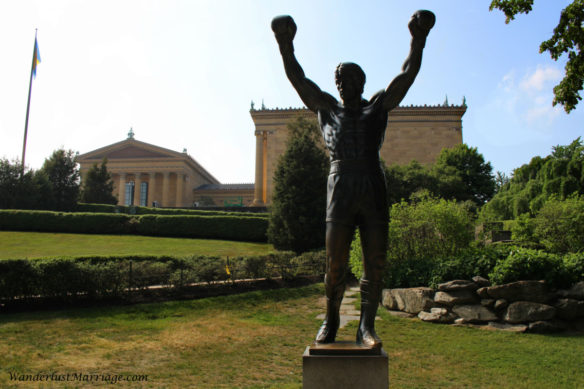 Benjamin Franklin was born in Boston but adopted Philadelphia as his home. He preferred Philly over Boston even in the late 1700's. We've lived in Boston a couple years, and while it's a great city as well, we could see why one of America's most iconic men would have that preference.
Philadelphia is One of the Best Cities for Italian and American Food
Philadelphia is one of the country's best cities for food, and the culinary scene extends far beyond cheese steaks. While there, we embarked on a food tour with Chew Philly, where we enjoyed a lot of delicious food while learning some of Philly's storied history. We've previously written about Philly's wonderful food scene but we'll recap the highlights.
Reading Terminal Market
Reading Terminal Market, conveniently located next to Penn Station, is one of the best markets in the country. Highlights include Dinic's Roast Pork, and an abundance of delicious selections like tomato pie, cheese steaks, whoopie pies, apple dumplings and donuts. Visit the market for lunch and grab some treats for later. We highly recommend the maple bacon donut at Beiler's Donuts. Visitors are spoiled for delicious choices at Reading Terminal Market!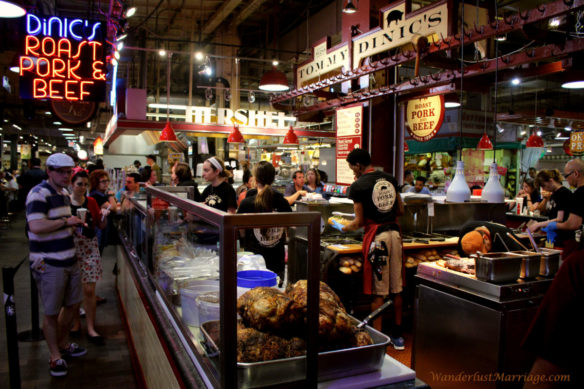 Italian Market
South Philadelphia's Italian Market is one of the most authentic in the country. Isgro Pastries has been family run since 1904 and is an iconic establishment for mouth watering Italian cookies. Grab an authentic tomato pie and fresh baked bread from Sarcones Bakery, a 5th generation family business. Go early as Sarcones often runs out of tomato pies, and closes between 1-4pm depending on the day. Stock up on delicious Italian imports like herbs and spices, prosciutto, parmegiano-regiano, olives and stuffed peppers.
Ralph's Restaurant makes for a great date night in Philadelpia. The restaurant is fourth and fifith generation owned and operated by the Disigno/Rubino family for over 100 years. Go for a favorite Italian dish like Veal Scallopini – topped with marinara, peppers and mushrooms.
Monk's Cafe – Perfect for your Belgian Beer Fix
Monk's Cafe is the best Belgian pub we've visited outside Belgium. Modelled like a Belgian abbey, Monk's Cafe has a great Belgian beer selection to pair with good food like magret de canard (sliced breast from a fattened duck). They even brew a beer in the style of Westvleteren blonde, one of the best and rarest beers in the world.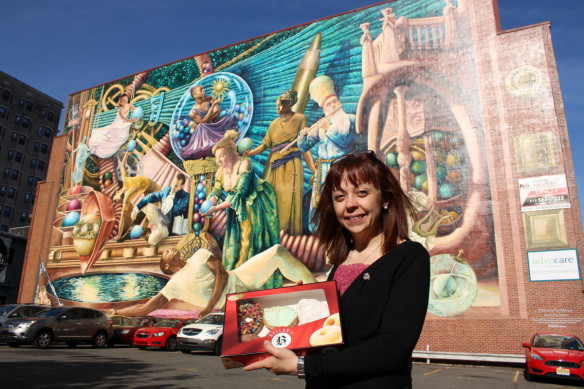 Philadelphia Museums Packed with Beautiful Art
If you appreciate great art, you'll love Philadelphia. Plan to spend several hours at the the Philadelphia Museum of Art. Check out world-famous Impressionist and Post-Impressionist works by Renoir, Monet, Manet, Degas, and Cézanne in their New European Galleries. Visit architectural settings from around the world, from a Japanese teahouse and a French medieval cloister to a Philadelphia parlor and a Gilded Age drawing room. Explore their American art collection to learn about Philly's role in US history, along with artists like Thomas Eakins.
The Rodin Museum is another great museum in Philadelphia. Auguste Rodin is widely regarded as the father of modern sculpture. View original casts of renowned masterpieces like The Gates of Hell, The Thinker, Eternal Springtime, and others. Set in a tranquil oasis, it the only dedicated Rodin Museum outside France. So it offers one of world's great collections of works by Auguste Rodin.
Philadelphia is also packed with beautiful art murals all over town. A city initiative to eradicate graffiti has added splashes of lively colors along with important historical figures and moments throughout the city. So you can't miss enjoying great art and architecture while strolling around Philly.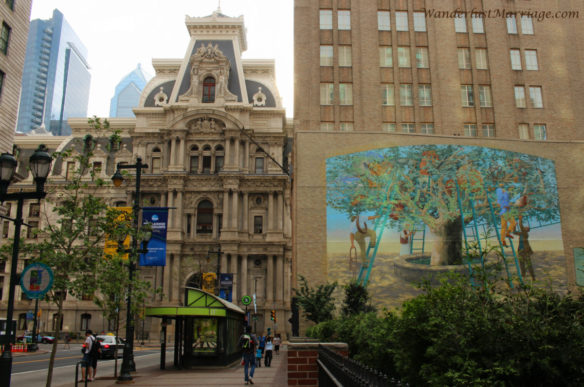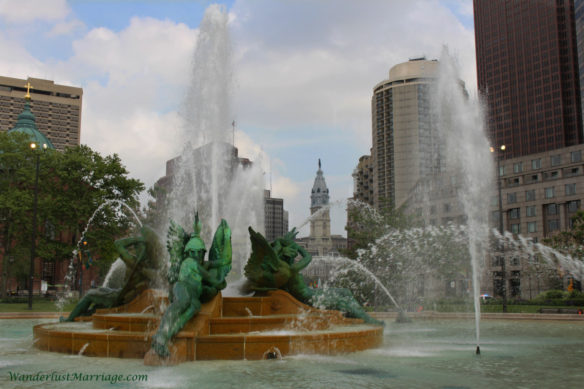 Romantic Spots
Our favorite romantic spot in Philadelphia is Rittenhouse Square, in the French Quarter. The architecture in Philly's French Quarter is impressive, and picturesque Rittenhouse Square is lined with several excellent European inspired restaurants. We enjoyed a wonderful dinner on the outdoor terrace of Rouge, with a lovely view of Rittenhouse Square across the street. It made us feel like we had zipped across the Atlantic to Paris or Brussels.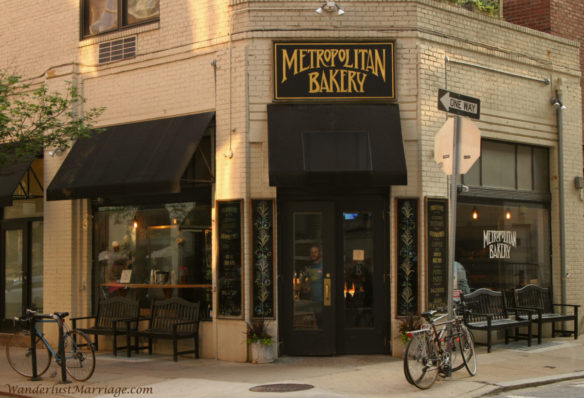 If you're planning a trip to Philadelphia, check out the official website of Visit Philly. You can also contact me at alex(at)wanderlustmarriage.com for any assistance with saving on flights and hotels for a trip to Philly or elsewhere!