California has been one of the most popular vacation destinations for decades, but a lot of the
tourism centers around Los Angeles and San Francisco. San Jose is one of California's greatest vacation cities but does not get the attention it deserves.
San Jose may not have Disneyland or a big red steel bridge, but it does offer something for everyone. Shopping, museums, scenic hiking trails and proximity to the beautiful countryside are among the highlights. Here are eight great reasons to visit San Jose on your next vacation.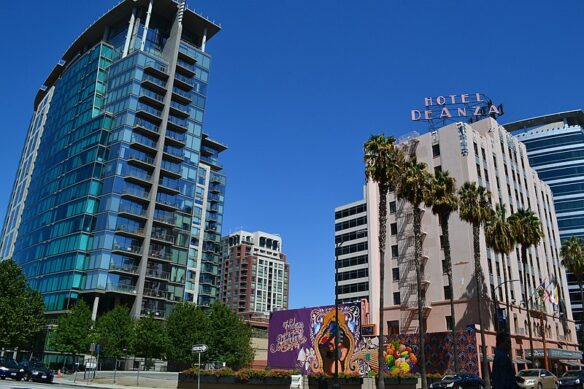 The Airport Makes Life Easy
Do you know the way to San Jose? The simplest way to find it is by flying. San Jose International
Airport has flights arriving from across the USA, and the rest of the world, every day.

This airport is a bustling hub that is a gateway to Silicon Valley. Flights here are in demand all year
round, so nearly every major carrier has a flight or connection to San Jose. You can always find a
good value flight to San Jose, and there are plenty of San Jose Airport parking options to choose
from too. Parkway Parking can help you save money on parking spots in airports all over the United
States. This is great if you are hiring a car or picking up some friends who are joining you on your
vacation.
Business And Pleasure Meet In San Jose
Some of the world's biggest tech companies operate just a few miles from San Jose, in the heart of
Silicon Valley. Tech entrepreneurs know how to party and keep themselves entertained, so there is
always a good atmosphere around San Jose.

There are some amazing seasonal events, like the San Jose Summer Jazz Fest, and a huge range of
music acts, broadway tours, and standup comedians keep the theatres packed all year. If you are
looking for a vacation destination with plenty to see and do, San Jose has your back.
The Great Californian Outdoors Is Minutes Away
Not everyone wants to take a vacation to rest, relax, and be entertained. For vacationers who like to
stay active and get outdoors, San Jose sits on the doorstep of some of California's finest countryside.

Some of North America's best hiking trails weave their way through the areas surrounding the city.
At the edge of downtown San Jose, you can begin one of America's most picturesque hiking trails,
the Los Gatos Creek trail. This ten-miler heads south towards nearby Los Gatos and ends at the
Lexington Reservoir, which is a beautiful spot that is perfect for Instagram shots.
Rest, Relaxation, And Retail Therapy
For some people, no vacation is complete without a day or two spent shopping. Many people take a
trip away for a week of cocktails by a pool, but retail therapy is one of their top reasons to go on a
vacation.

San Jose Row has all the main street brands you can find in any American city and boutique stores
and food spots that help make the retail experience here unique. The Maker's Market craft fair pops
up regularly all year, where a host of local artisans and craftspeople come together to sell their
wares. San Jose Row, The Maker's Market, and the excellent San Jose Flea Market all combine to
create the perfect vacation destination for lovers of retail therapy.
Discover Art, History, And Culture In San Jose Museums
For art lovers and gallery gurus, the San Jose Museum of Art offers thousands of world-class pieces
with both permanent collections and seasonal exhibitions on offer. The art here can keep you busy
for a couple of days.
If you are looking for a museum that is a little different, check out the Intel Museum. Here you can
find a collection of technology and follow the story of how computers, the internet, and
smartphones have influenced the world. You can carry on exploring the history of modern
technology at Tech Interactive in the heart of San Jose. Here are some fantastic interactive exhibits
that are perfect for keeping kids entertained.
Visit San Jose's Best Kept Secret, Japantown
Founded over a century ago, this section of San Jose was developed by Japanese immigrants to
America who wanted to create a little piece of the old country in their new home.

Locally it can be known as J-Town or the name its inhabitants gave it, Nihonmachi. The highlight of
Japantown is probably its beautiful Japanese Friendship Garden. Walking through this elegantly
manicured garden feels like taking a trip to old Japan. There is also a Japanese American Museum
and a traditional Buddhist Temple to see and of course some excellent sushi restaurants. You can
make a whole day out of taking a trip to J-Town.
Drink And Dance Around Plaza de Cesar Chavez
Set in the heart of the city is one of California's oldest public spaces, and it is surrounded by some
excellent cocktail bars and restaurants. During the day the Plaza de Cesar Chavez is a bustling square
where people from all over the city cross paths on their commutes. At Night the plaza comes alive.
You can begin the evening early with an inspirational trip to the Cathedral Basilica of St. Joseph. The
intricately decorated domed ceiling is one of San Jose's hidden gems. You can follow this up with a
meal in one of the many amazing restaurants around the square and continue with some cocktails.
There is plenty to see and do as well as eat and drink near Plaza de Cesar Chavez during the
evenings. The center of San Jose has an awesome vacation vibe in the spring and summer.
Domestic vacations have always been the number one choice for most Americans. The United States
of America is a huge nation, with just about every type of vacation environment you could ever want
on offer from sea to shining sea.
California is always high on everyone's list but has so much more to do than a trip to Disneyland or a
Pacific beach. San Jose is ready and waiting for travelers who want to experience a more exclusive
and unique vacation.
Whether you want shopping, hiking, or some good old-fashioned rest and relaxation, this sparkling
city at the feet of Silicon Valley has everything you could possibly want to enjoy on your next
vacation.