Like many city slickers, we appreciate a relaxing break to the countryside. Historic Charlottesville is two and a half hours south of Washington, DC. Thomas Jefferson founded the University of Virginia there. The beautiful college town is lined with great restaurants and hip bars. Visitors can tour Jefferson's former estate at Monticello. Nearby is historic Prospect Hill Inn, where guests can stay in a Virginia manor house dating to 1732.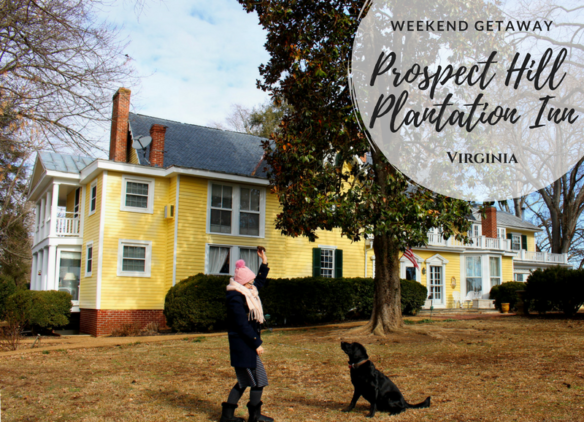 Storied History at Prospect Hill Inn
When you set foot on the beautiful 40 acre Louisa County property, you take a step back in time. Prospect Hill is the oldest continually operating frame-house plantation in Virginia, with the manor house dating back to 1732. Along with being a short drive from the homes of several former presidents, it's near civil war battlefields and there are also wineries just down the road. Virginia houses the homes of 8 former US presidents, more than any other US state.
11 Distinct Rooms at Prospect Hill
Prospect Hill offers guests a choice of 11 distinct rooms. Some are in the Manor House, and some are in separate cabins. The "boys cabin" actually dates back to 1699 and was the original home built on the property. By American standards, it's extremely rare to be able to sleep somewhere that old. In recent years, they've added modern comforts like a plush bed and whirlpool jacuzzi in the adjoining bathroom to the cabin from 1699.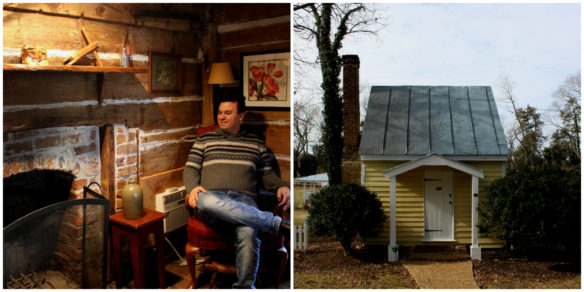 We stayed in the Terrill Room, which was added to the house in 1873. This is a fantastic room for a romantic getaway – and we would definitely recommend the Terrill Room over the "Boys Cabin" for that, which we were given a tour of. Filled with antiques, a comfortable bed, working fireplace, morning sunshine and the option of breakfast in bed, we didn't want to leave. It was incredibly relaxing.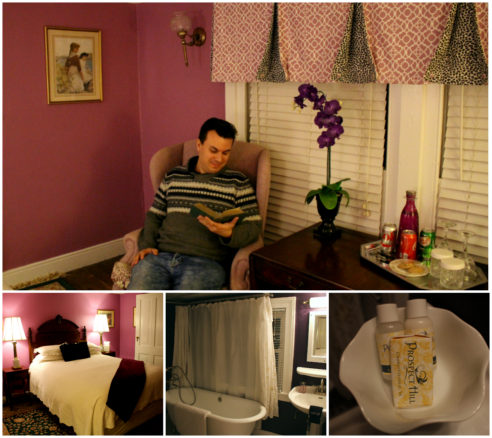 Breakfast in a 175 Year Old Dining Room
Prospect Hill gives guests the option of eating a complimentary gourmet breakfast in their historic dining room or having it brought to your room. We stayed two nights and chose each option one morning, so we could experience both. If you stay two nights, consider doing the same, because both are wonderful experiences. The dining room is a stunning throwback in time experience.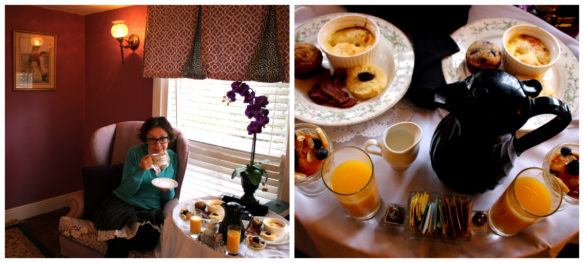 Common Rooms and Amenities
When we opened the front door of Prospect Hill, we were immediately impressed with all the beautiful artwork. Sitting atop the piano in the parlor is a bust of Thomas Jefferson. And the guest house offers complimentary cognac and port wine in the parlor, which you can serve yourself. There's also a Keurig machine to make yourself a cup of coffee or tea anytime you want. As wonderful as the rooms are, relaxing in the common areas is also fantastic.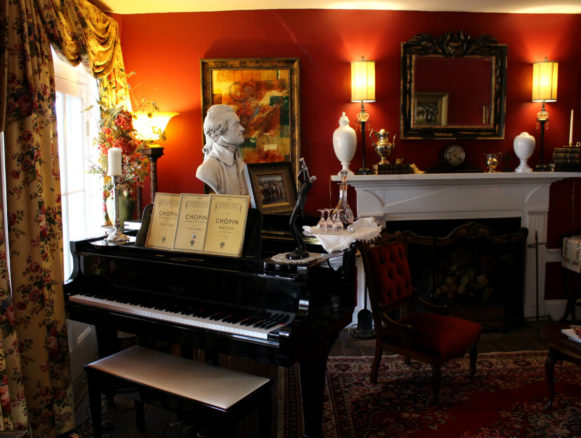 There is also a grand ballroom, with a fireplace, dating to the 1840's, which is great for gatherings. And their garden gazebo is great for weddings in the warmer months. There's also an outdoor pool, which is closed during the colder months.
History on and Nearby Prospect Hill Inn
As Prospect Hill used to be a slave plantation, there are around 70 former slaves buried on the property. The slave cemetery is adjacent to the overflow parking lot, with a single headstone memorializing them. The current owner, "Doc", says that several descendants of slaves that worked at Prospect Hill have stopped by for a visit.
We visited Thomas Jefferson's house at Monticello during our stay and took the slave tour, which we also highly recommend. It was an incredible (and moving) experience to tour Monticello and then return to sleep somewhere that also dates to the 1700's. We have previously toured and covered George Washington's house at Mount Vernon, but found Monticello to be even more interesting.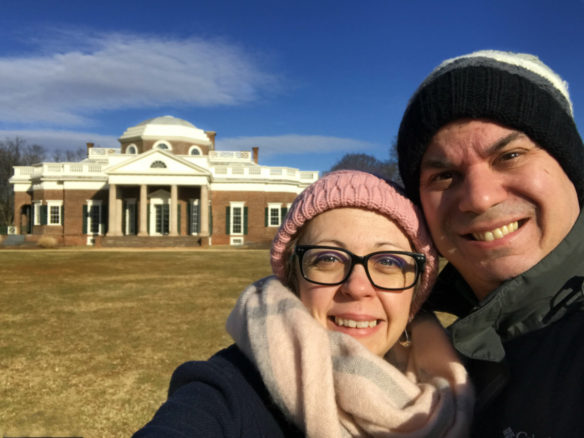 Fine Dining at Prospect Hill
Prospect Hill takes their kitchen's reputation seriously. And we were impressed with the quality, creativity and presentation of dinner (pictured below). The roasted rack of lamb was one of the highlights (and Bell is Australian, so her standards of lamb are high). I enjoyed the duck, and the quality reminded me of France, as I often find duck in the US disappointing. Definitely plan to enjoy at least one dinner on the property. Dinners are served nightly between 6-8pm, except Tuesdays.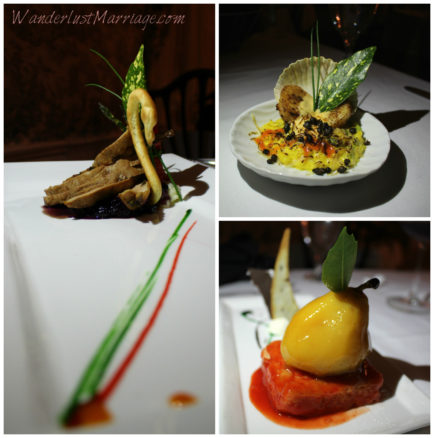 The other night we enjoyed dinner at Made in Asia, about a 10 minute drive from Prospect Hill. It's tasty Thai food, especially for a small town. Charlottesville is quite the foodie town, but it's around a 30 minute drive from Prospect Hill. On a previous trip this past New Year's, we really enjoyed our dinner at The Whiskey Jar in Charlottesville.
The Findley Family
Prospect Hill Plantation Inn was purchased by Dr. Bobby and Paula Findley in 2012. "Doc" is a former chiropractor who had a private practice in Myrtle Beach for 25 years. He and his wife have 5 children, who also work at Prospect Hill.
We enjoyed chatting with their 18 year old son Raleigh. He served us breakfast in the dining room and was also our waiter at dinner. He's extremely polite, professional and has life experience well beyond his years.
Doc was extremely welcoming at check-in. He double checked our food allergies, gave breakfast options and gave us and another couple checking in at the same time a quick tour of the property. While the house resembles a museum, he insists that it's a home and encourages his guests to touch adornments.
The Animals of Prospect Hill
Prospect Hill also features many sociable furry friends. You can pet horses, dogs and cats around the property. Catch a glimpse of the chickens who laid part of a delicious breakfast. There's even lovely alpacas. It was relaxing to pet the Findley's friendly cat while enjoying a cognac in the evening. Bell also enjoyed playing fetch with the dog.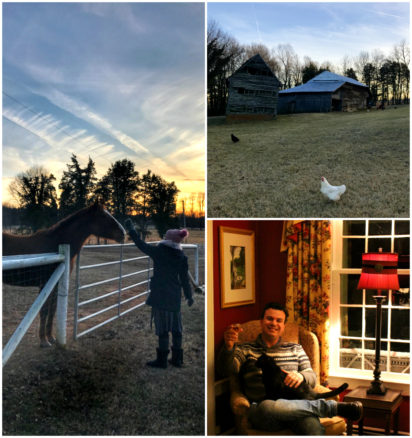 Select Registry
Prospect Hill is one of four Charlottesville area properties on the Select Registry list of bed and breakfasts and luxury hotels. The list features some of the most historic inns in the USA. Check out their website for a wealth of great options around the country.
Rates at Prospect Hill range from $169 -$325 per night, depending on the date and room selection.
Prospect Hill Inn & Restaurant
2887 Poindexter Rd Louisa, VA 23093
(540) 967-0844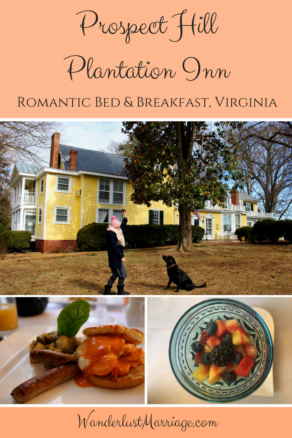 Traveling Around Virginia
The Shenandoah Valley makes for an excellent weekend getaway in Virginia. The region features charming towns like Staunton, packed with great restaurants, historic hotels and cozy romantic cabins, craft breweries and wineries.
A significant highlight is Shenandoah National Park. There's also unique attractions like the Luray Caverns. The American Shakespeare Center in downtown Staunton is the world's only recreation of Shakespeares's Blackfriars Theatre in London.
Virginia Is For Lovers has been the tourism board's official slogan for over 50 years. The state features an abundance of natural beauty from the Appalachian Mountains to Chesapeake Bay. Charming historic towns like Colonial Williamsburg pre-date the founding of the United States. Read about more great Virginia weekend getaway ideas from Washington, DC and elsewhere!
Disclosure: We were hosted by Prospect Hill and Select Registry and thank them for offering us the opportunity to write this review. All opinions and photos here are our own.