We just returned from a 12 day trip across the Atlantic to Belgium and the Netherlands, revisiting Amsterdam for the first time since we lived there 3 years ago. It was a fantastic trip and we already miss being in Europe. Strolling around Amsterdam reminded us that it's the most beautiful city we've ever lived in. Sorry Dublin, Melbourne, Australia and our current home of Boston- you're all great, but Amsterdam's lovely canals, bridges and unique canal houses, many of which date back to the 1600's make it the most special in our eyes. And the abundance of bicycle traffic and quirky stuff like marijuana hazed coffee shops and prostitutes in windows in the Red Light District are just icing on the quirky cake.
We lived in Amsterdam for 3 and 1/2 years as Bell did her PhD at the University of Amsterdam and especially loved living in the city for the first year. We always enjoyed walking home along the canals and gazing at the buildings, frequently having a 'pinch me, I live in Amsterdam' moment. Unfortunately things ended really badly with our housing situation and we were lucky to have friends help us out by letting us stay in their homes while they went on vacation. We won't get into the specific details in this post but our landlord made our life a nightmare and we couldn't find a better alternative in our price range at the time. The whole ordeal left us with a bitter taste towards the country because we wanted things to go better than they did. We wanted it to feel like a home, and in the end our apartment became a storage unit.
So while we wanted to return to the Netherlands to see our friends sooner, especially when we lived not so far away in Ireland, we always had mixed feelings. But we finally found our excuse to return with Bell's company's Rotterdam office holding a 3 day training session on the beach town of Scheveningen, near The Hague. So we planned a 12 day trip by flying into Brussels and spending a day sightseeing while sleep deprived, eating great food and drinking delicious beer. When we initially arrived back in the Netherlands, some bad feelings initially struck us but they quickly subsided and we had an amazing time.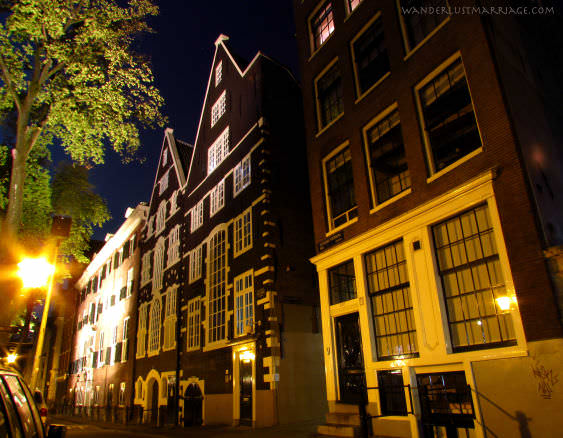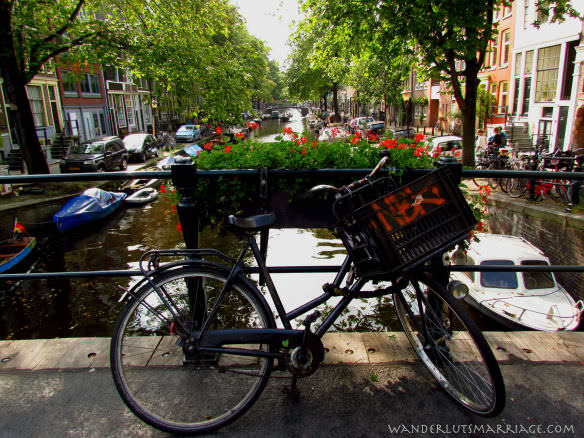 We enjoyed a wonderful picnic on the Amstel River, on the boat dock near the Hermitage Museum, with a group of friends, several of whom really helped us out in our prior Amsterdam life. This spot was a favorite of ours for picnics as it's spacious and offers a really open view of passing boats and a panorama of beautiful canal buildings. If picnics are your bag and the weather is nice, grab some delicious Dutch cheeses, meats, dips and bread and head down here, or park yourself at one of the thousand other picturesque spots for this. If you're adventurous, buy a package of Ossenworst (raw oxtail sausage) from the grocery store as it's a real Dutch favorite that you can also often buy in a sandwich in cafes. I like it, Bell doesn't care for it as much. Filet Americain (steak tartare), which is raw minced beef mixed with mayonnaise and seasoning is also very tasty and popular, and also something I enjoy more than Bell. There's something about knawing into raw flesh that gets some guys juices flowing, but maybe not as much for the ladies. La Trappe is a popular monk brewed Dutch beer to wash down raw meat, but we personally prefer Westmalle Tripel, and at 9.5% and rich in flavor, it's a beer that doesn't need refrigeration, which is great because the grocery store doesn't chill them anyway.
While Bell was working I had the opportunity to visit the beautiful Dutch towns of Gouda and Dordrecht for the very first time. It's interesting to note that Gouda was named after the famous Dutch cheese and not the other way around! Dordrecht is one of the oldest Dutch towns and I really enjoyed my time photographing both cities. Delft is the grandest and arguably the most beautiful town in South Holland but as I'd previously visited it on two occasions, I chose to explore new places. I also loved experiencing more of The Hague (Den Haag), Rotterdam and just soaking up some sunshine in Scheveningen, which has a great beach club scene. There's not many places in the world where you can enjoy monk brewed beer like Chimay in abundance for good prices, but there you can!
In Amsterdam we stayed at a dear Dutch friends apartment who we had a wonderful time with, and who helped make our homecoming welcoming, comfortable and memorable. When we returned to Belgium we decided to spend two nights in the lovely student town of Leuven, near Brussels and the international airport. Bell and I first met in a hostel in Brugge many years ago and we considered returning for a third time, but again wanted to experience a new town. We'd also previously visited Ghent and Antwerp and wanted to stay near the airport to catch our early flight. Brugge is a bit more beautiful than Leuven, but as Leuven isn't as touristy it's more of an authentic Belgian experience since it doesn't house 80 chocolate shops! Leuven has beautiful architecture, great food and of course, lots of delicious beer.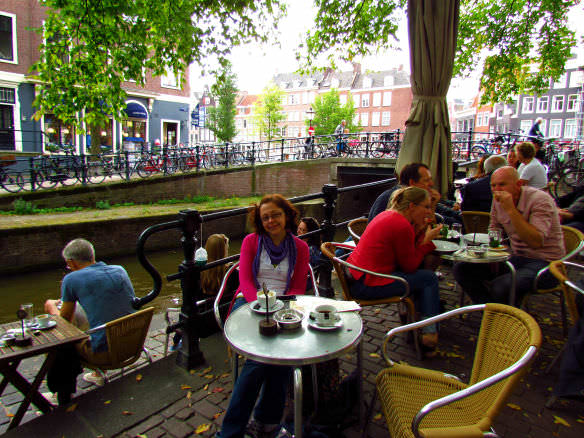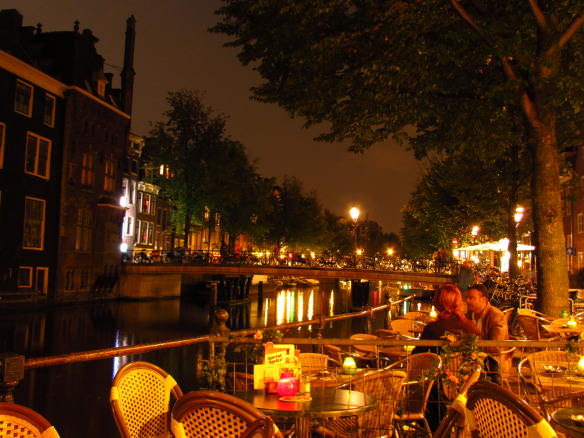 Just as we were getting used to life in the United States again, Europe's amazing architecture, cafe terraces, fresh food, fantastic public transportation and laid back lifestyle have left us missing our previous life, but alas, Boston is a great city too. We'll be writing more on some specifics of this trip but if you have any questions about visiting Belgium or the Netherlands or you'd like to share your own recommendations please leave a question or comment. If you're heading to Amsterdam it's worthwhile to check out the IAmsterdam website for details on upcoming events. And if you've never visited Amsterdam, don't buy what much of the American media sells, plan a trip there soon!
Where to Stay in Amsterdam?
Hotel prices in Amsterdam vary depending on time of year and availability. Book something with free cancellation as soon as you know your dates of travel, especially for summer and the holidays!
Luxury: 
It doesn't get more luxurious than the 5 star Waldorf Astoria Amsterdam. Set along the UNESCO World Heritage listed Herengracht canal, the hotel is made up of six monumental 17th century canal palaces. The 2-Michelin star restaurant Librije's Zusje Amsterdam is perfect for an on site gastronomic experience.
Pulitzer Amsterdam is a great luxury choice located within 25 interlinked 17th and 18th century canal houses, between the famous Prinsengracht and Keizersgracht canals. Combining traditional and modern Dutch design, the hotel has 225 unique guest rooms and suites. It's walking distance from major attractions, but on a quieter end of the picturesque western canal belt.
Radisson Blu is the one of the best value luxury stays in the center of Amsterdam. Spacious rooms are decorated according to colorful themes. Their on site restaurant serves international meals and an extensive breakfast buffet.
Mid Range:
Citizen M is a comfortable and ultra modern hotel in Amsterdam. Every room at citizenM Amsterdam has wall to wall windows and large beds with luxurious linens. Guests can modify room color, temperature, control the smart TV and also adapt the black out curtains all from an Ipad mini.
We also recommend Motel One Amsterdam and Motel One Waterlooplein as they're good bang for buck, with a great breakfast buffet featuring delicious higher end bakery quality breads, pastries and croissants. All rooms have a private bathroom, air conditioning and flat screen TV.
Lloyd Hotel offers unique rooms in a transformed historic building. Within 10 minutes you can reach Amsterdam Central Station by tram. Rooms come in different shapes and sizes, so this is a good stay for travelers who get freaked out by cookie cutter hotels.
Budget:
You'll generally find the best value booking short stay apartments in the Netherlands, especially in Amsterdam's historic center during summer and popular holidays like New Year's and King's Day. If you've never used Airbnb, sign up here for free and receive $40 credit off your first stay!
Backpackers should consider fun options like the popular Flying Pig Downtown and Flying Pig Uptown.
Disclosure: This article contains affiliate links. We receive a small commission when you book or sign up through these links and it costs you nothing extra. When it suits you, please use them, as it helps us help you!