If you're spontaneously making Valentine's Day plans in the northeast or have another romantic occasion coming up, we have you covered. Before recently relocating back to Florida to be snowbirds for a season, we lived in Boston for two and a half years. We experienced much of New England year round, but there were a few places that were particularly wonderful. Here are a few of the most romantic winter road trips from Boston.
White Mountains of New Hampshire
New Hampshire's beautiful White Mountains are just a two and a half hour drive from Boston. The town of North Conway features picturesque covered wooden bridges. With great log cabins and swiss cottage style accommodations, it's a romantic place for couples to cozy up by a fire. There are a lot of fantastic outdoor winter activities in the White Mountains including great skiing, snow shoeing and picturesque horse and sleigh rides.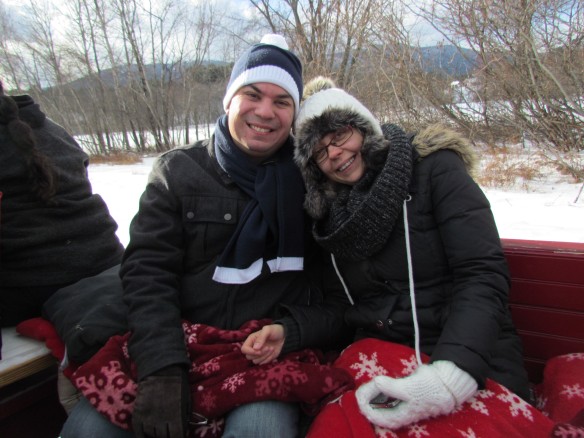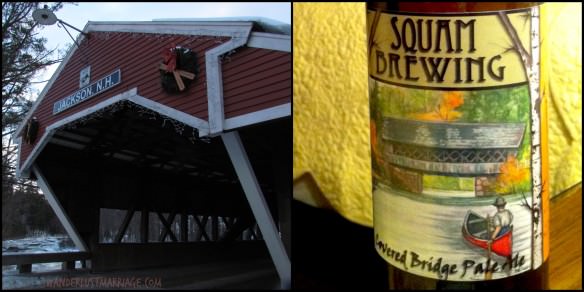 For the last several years, a team of sculptures creates a magnificent ice castle in Lincoln each winter. The season for the ice castle generally runs from January through mid March, with mother nature being the ultimate decider on specific dates. The towns of Lincoln and Woodstock have a lot of quality and quaint accommodation, skiing and a great craft beer and farm fresh food scene. Experiencing this magical ice castle definitely makes for a romantic road trip from Boston.
Montreal and the Laurentian Mountains of Quebec
We visited Quebec for our 11 year wedding anniversary last year. Between a couple days in vibrant Montreal and the beautiful snow covered Laurentides region, it was the perfect way to celebrate. Montreal is only 300 miles (500 km) from Boston, making it a very doable trip even if you only have a few days. If you're visiting from elsewhere, you can rent a car from Boston's Logan Airport or a city location and make great stops in Vermont and New Hampshire along the way.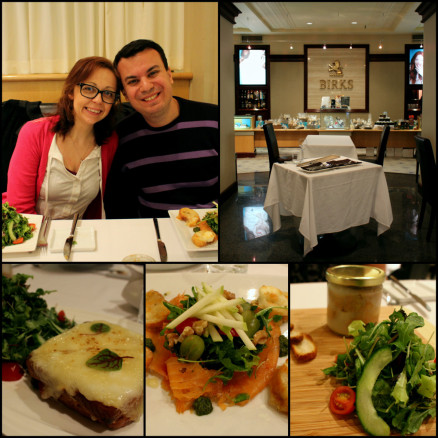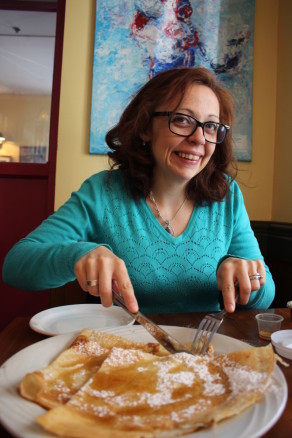 With its predominantly French culture, Montreal is considered the "Paris of North America." It's without doubt one of the very best cities to eat on the continent. It also has some of the best nightlife this side of the Atlantic. You can even toboggan right in Montreal, on Mont Royal, making it a wonderfully romantic winter road trip from Boston. We've previously covered a lot of romantic getaway ideas for Montreal.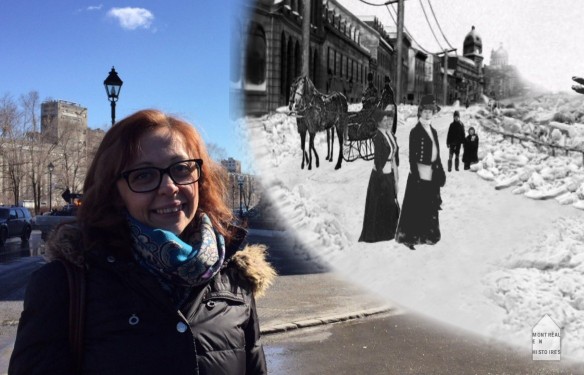 Winter in Quebec is great because it's sugar shack season. Sugar shacks are lively restaurants where you can enjoy great food, fresh maple toffee rolled off snow and fun outdoor activities. The Laurentides region has fantastic sugar shacks and a lot of great skiing. We enjoyed a wonderfully romantic 11 year wedding anniversary at the Esterel Resort, which has an outdoor nordic spa, fantastic food and one of Quebec's very best wine cellars.
Stowe, Vermont and the Lake Champlain Islands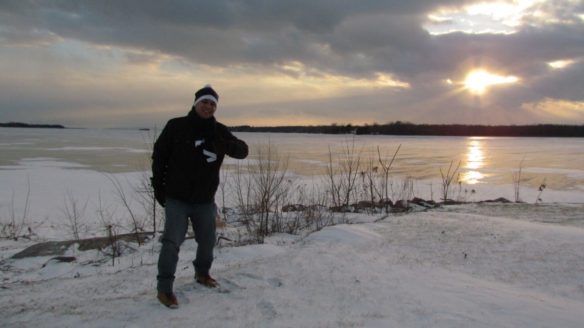 Vermont makes for one of the most romantic winter road trips from Boston. It's a beautiful rural state to explore that features great skiing, eating and shopping in the Stowe area. There's also world famous maple syrup and the original Ben & Jerry's factory in Waterbury, near Stowe. Vermont also has one of the best craft beer scenes in the country, which can be a great accompaniment to cuddling with your loved one by a fire.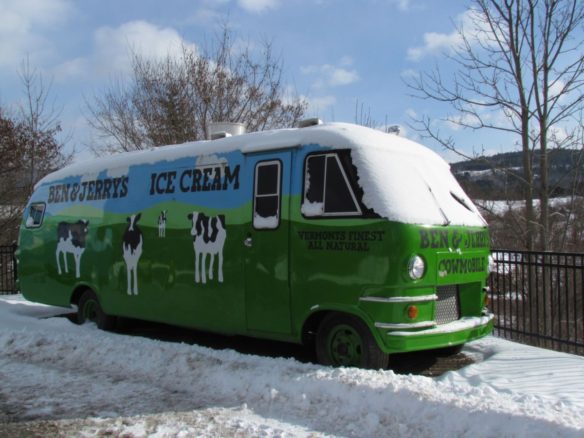 The drive north through the Lake Champlain Islands, from charming Burlington, is a stunning setting when the lake is frozen. We saw ice fishing and for the first time in our lives, we witnessed a few cars parked on the lake. Yeah, it was damn cold, a sight to see and romantic at the same time.
More Romantic Winter Road Trips from Boston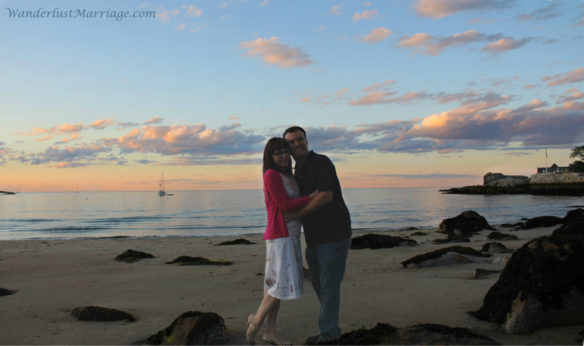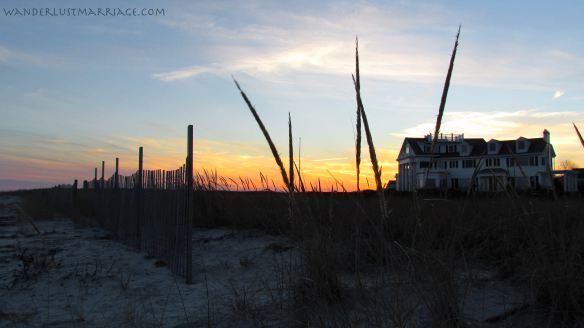 While we love Martha's Vineyard, Cape Cod and coastal Massachusetts towns like Rockport, on Cape Ann, these places are best left for warmer months. The Pioneer Valley and Berkshires of Massachusetts, with their picturesque rolling hills, are also options better suited for spring, summer and New England's famous autumn foliage.
However, Portsmouth, New Hampshire, just 60 miles north of Boston, is America's 3rd oldest town, dating back to 1630 is a beautiful town with great seafood restaurants, ice cream joints, cafes and shops, many of which are open all year round. A scenic drive along the coast of New Hampshire and Maine, through pretty towns like Kittery, York, Ogunquit and Kennebunkport can also be romantic any time of year. There's no shortage of succulent lobster, scallops, oysters and other delicious seafood in all these lovely towns.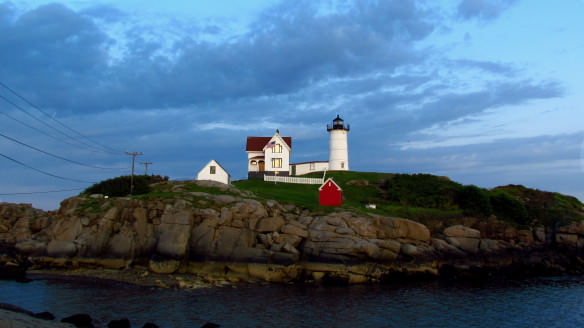 Recap on Romantic Winter Road Trips from Boston
The Christmas lights of Boston are a great reason to visit Massachusetts' capital in winter. So check that out if you visit over the holidays. Then rent a car and visit some of the above locations. Cold weather is a great excuse for couples to get closer to snuggle for warmth. And picturesque wintery snow covered landscapes are dramatically pretty.
For those of us in destinations like Florida, that lack a proper winter, it can be a great excuse to travel to check one out!
Planning a romantic getaway from Boston or elsewhere and have questions? Leave a comment or email [email protected] and we can assist!