The Great Wall of China is epic, partly because it's the largest man made structure in the world. The centuries old fortification twists and turns over the mountains, offering an array of picturesque vantage points. It's an attraction that pictures simply can't do justice. Here are some great tips for visiting the Great Wall of China!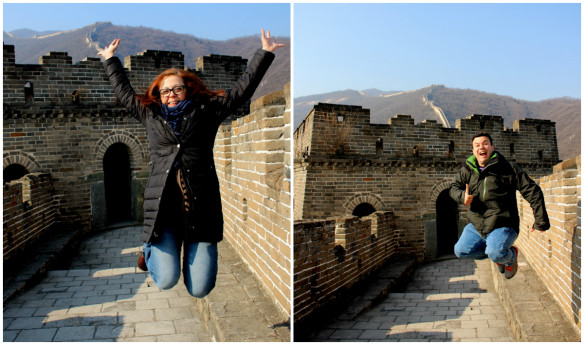 Photo tip: put your DSLR camera on the sports setting, select continuous shooting and hold down the button to capture images like these. Then delete the non-air shots!
Ways to Reach the Great Wall of China from Beijing
There are several ways to visit the Great Wall of China and if you visit the Forbidden City in Beijing (which you absolutely should), a few random tour proprietors on the street will offer to take you to the Great Wall, generally for around 500 Chinese yuan ($77 US). We don't recommend going this route because they may not be a reputable company and there's an excellent chance you'll spend a fair bit of your day shopping, whether you want to shop or not.
You could catch a train from Beijing's train station to a wild unmaintained section of the wall, which would certainly be interesting for some. Just know that if you choose this route, China can be a difficult country to travel around without speaking Chinese, so expect a couple added challenges along this journey. We contemplated going this route, but as our time was short and we didn't want to deal with the stress, we decided to book a tour instead.
We booked the most basic package with Wild Great Wall Adventure Tours which offers a lot of options and advice for visiting different sections of the Great Wall on their blog.
Which Section of the Great Wall of China Should You Visit?
Certain sections of the Great Wall of China date back 2,700 years, but the majority of the staggering 13,170 mile (21,196 km) stretch was unified and built upon during the Ming Dynasty in the 1400's. There's a lot of picturesque sections to visit that vary in distance from 90 minutes to 2 & 1/2 hours drive from Beijing.
Badaling in the most popular section of the Great Wall of China so Badaling is not the section to visit if you want to avoid massive crowds. Based on our research, we decided the Mutianyu section of the Great Wall of China was perfect for us in terms of distance from Beijing, beauty, accessibility and fewer crowds.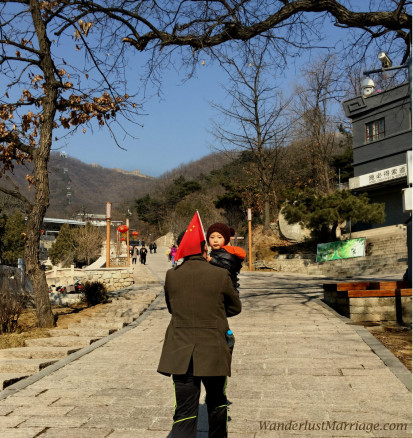 Hotel Pickup to Mutianyu with Wild Great Wall Adventure Tours
Our driver picked us up from our hotel in the centrally located Wangfujing district of Beijing. Centrally located Wangfujing is the perfect area to experience the city and bustling people of Beijing. As mentioned earlier, we chose the cheapest option with Wild Great Wall Adventure Company, meaning we received a non-English speaking driver in the comfortable private black sedan shown below.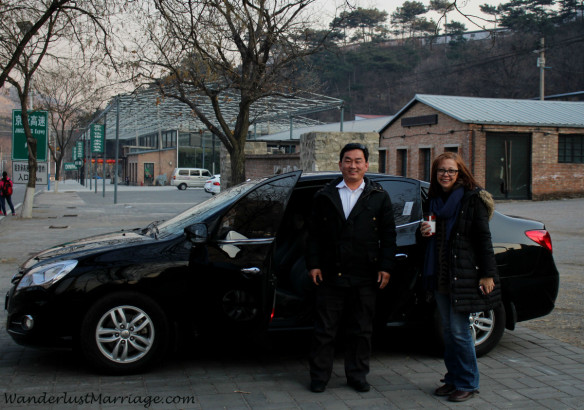 Tips on Visiting the Great Wall of China
During the drive I needed to use the bathroom and while the driver didn't speak English, he communicated in English via a translation app and we were able to arrange a special bathroom stop. If you're not comfortable with this or want a fully guided tour in English, Wild Great Wall Adventure Tours offers a lot of upgraded options.
Wild Great Wall Adventure Tours' cheapest option for two people was perfect for us as it was very comfortable. A nice small touch was that there were even bottles of water for us in the back seat of the car and the driver handed us an additional two bottles before venturing up to the Great Wall.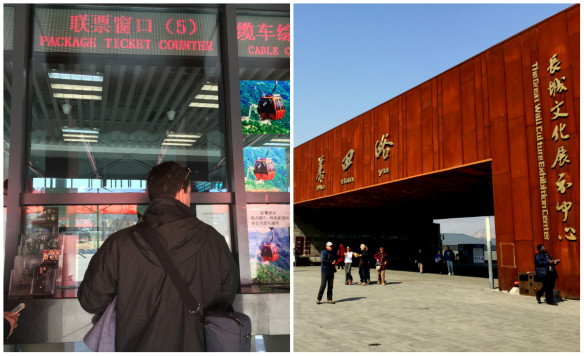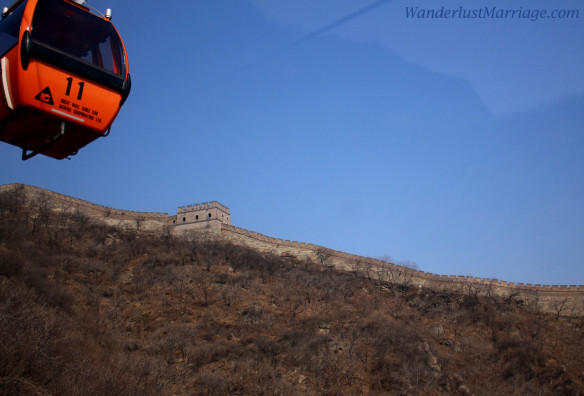 Mutianyu section of the Great Wall of China
When we arrived at Mutianyu our driver escorted us to the ticket office to purchase entrance, trolley and cable car tickets (not included in their basic rate). All could be purchased separately or bundled together. As time was limited, we purchased the bundle, including round trip on the cable car. While you could hike up, down or both ways to Mutianyu, it's better to save your legs and hike along the Great Wall itself. The setting is stunning, so you probably shouldn't waste your time and energy on anything outside the most epic part!
Our driver waited below for 3 and 1/2 hours as we toured the majestic Mutianyu section of the wall among very sparse crowds. Despite it being early March, and winters are generally very cold in northern China, we were lucky and temperatures were only moderately cold at around 50 Fahrenheit (10 celsius). And while it might have been nice to have paid extra for an English speaking guide, the advantage of not having one for couples is that the journey is more romantic.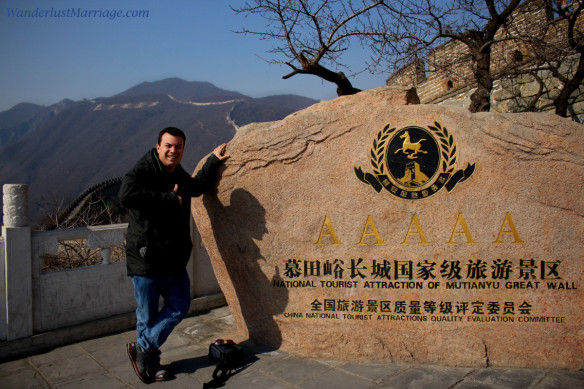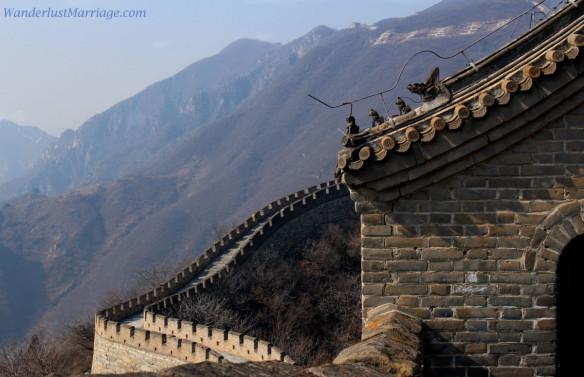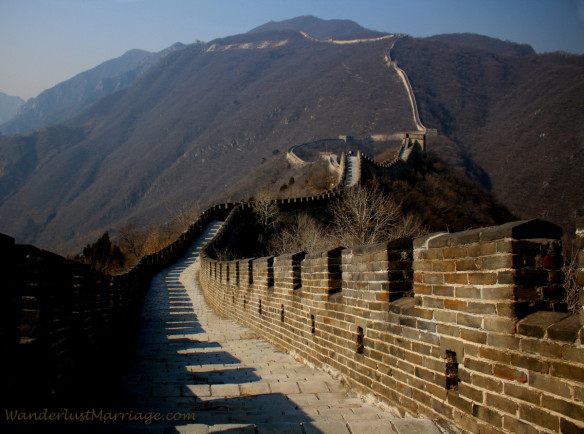 Yes, these are our own photos from the Mutianyu section of the Great Wall of China. It was incredible to walk this historic site with so few other people. While China has a staggering 1.3 billion people, the wall is plenty big enough for everyone. Try and avoid visiting during holidays like Chinese New Year, when many Chinese people have the entire week off, weekends or during the height of tourist season and you too can experience the same private moments with the Great Wall that we did!
Where to Stay in Beijing?
We highly recommend staying at the 5-star Inner Mongolia Grand Hotel. Their rooms are comfortable and tastefully appointed, with very comfortable beds and modern amenities. Inner Mongolia Grand Hotel is centrally located walking distance from the Wangfujing district and Beijing's most popular attractions.
We also recommend the 5-star Empark Prime Hotel Beijing. It is centrally located in the Wangfujing district of Beijing, very close to the city's main attractions. Their rooms are beautifully decorated with impressive Chinese decor and modern amenities like climate control. You can also book an onsite-massage and there are nice dining options on the property.
We preferred both these hotels to western chains, for the experience of staying in luxury Beijing hotels. You can possibly book either hotel with free cancellation to hold the reservation. Then if plans change, you can cancel later without paying a fee.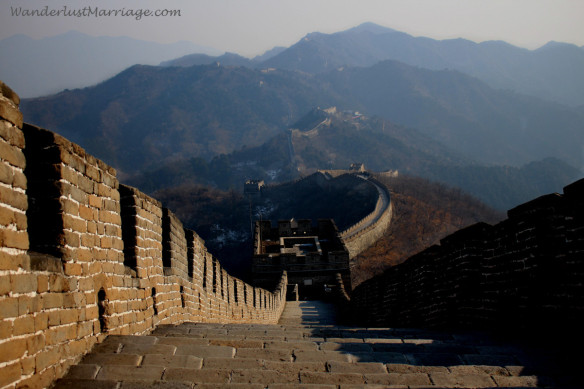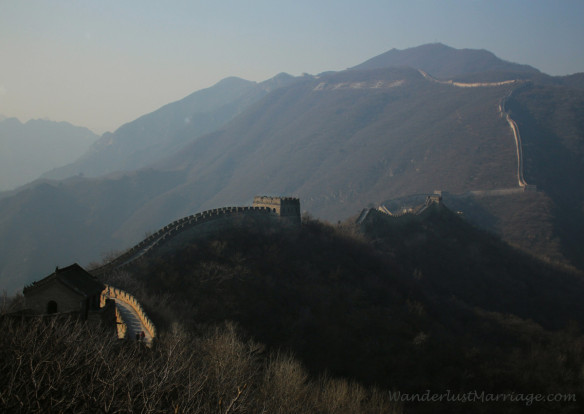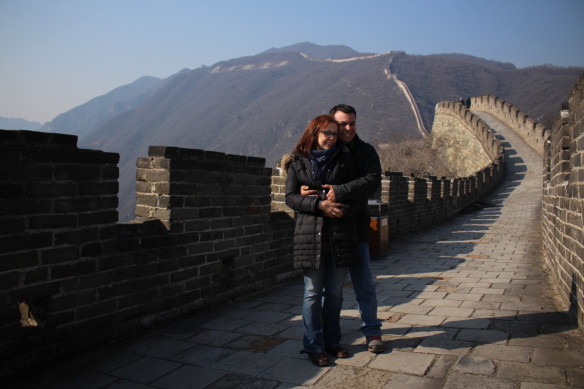 Chinese Visa Free Transit Visa
In 2013, the country introduced a free China transit visa to encourage more visitors from abroad. They expanded the free transit visa to 144 hours. Then COVID-19 happened, which shut down leisure tourism to China for three years. In March 2023, after loosening it's zero COVID-19 policy, and Chinese government reopened the border to leisure tourism. Check Chinese government websites for the most up to date information on visiting.
WIth a transit visa, if you're flying on to a third country, you don't have to prearrange a tourist visa to Beijing, which is the easiest starting point to visit the Great Wall of China. Under the rules of the 144 hour transit visa, you cannot visit Shanghai if you flew into Beijing. But you can visit the Mutianyu section of the Great Wall from Beijing!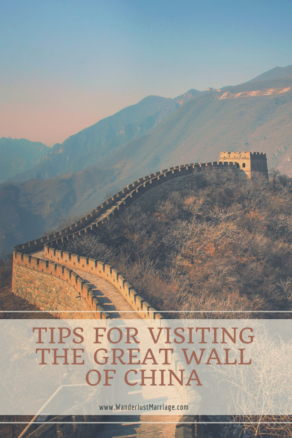 Disclosure: This article contains some affiliate links that cost you nothing extra to book through. Thanks for using them!