There's pressure to make the right choices for a wedding anniversary. We always travel for the occasion and this year we spent our 11 year wedding anniversary at the Esterel Resort in Quebec. We previously wrote on some recommendations for a romantic getaway in Montreal. A great long anniversary weekend can include two days in Montreal, followed by two days relaxing in the beautiful Laurentides region.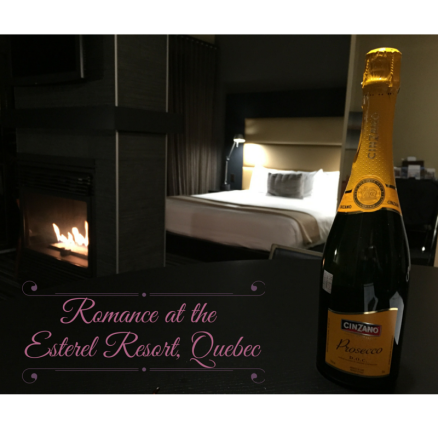 You can ski in the Laurentides (also known as the Laurentians) through April. March and April are also the most popular time to visit the wonderful sugar shacks (cabanes a sucre) because spring is when the maple sap is harvested. And Quebec is a wonderful destination for foodies.
A fantastic place to stay in this region is the luxurious Esterel Resort, which features a wonderful outdoor nordic spa! As Quebec is cold in March, we were thrilled that all guests receive a welcome cocktail voucher at check-in – a great way to warm up. We stayed in Hotel Emotion, which is adjacent to Hotel Evolution. While each has a seperate check-in desk, they are connected through indoor corridors and share the same amenities.
Lakeview Suite with a Huge Balcony
We were thrilled with our fantastic lakefront suite that was filled with luxurious comforts. Our huge balcony had a breathtaking view of frozen Lake Dupuis, the nordic spa and even an on site helicopter available for tours during the day. Our suite featured a massive double sided gas lit fireplace in the middle of the room, comfortable L shaped couch and a large kitchenette. The bathroom was spacious, with a seperate shower and bathtub. The bathtub was adjacent to sliding wooden doors that opens, so you can gaze out at the picturesque scenery while enjoying a bath. The suite was beautifully designed, extremely comfortable and very relaxing. It was perfect for celebrating our 11 year wedding anniversary!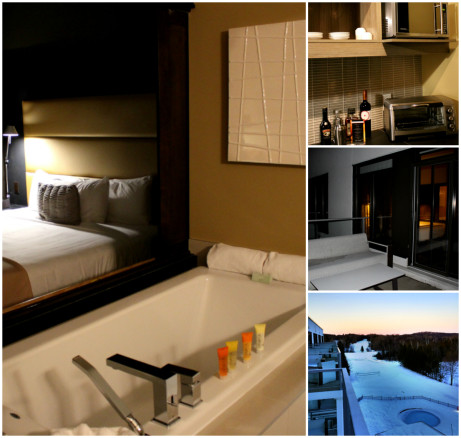 Esterel Resort Nordic Spa
Many of us have seen photos or even experienced the outdoor Blue Lagoon geothermal spa in Iceland. We've only seen pictures and had never previously ventured into a spa surrounded by snow. It might seem a little intimidating but you just run outside and quickly disrobe, and then jump in the warm relaxing water. A few people asked us "wasn't your head cold?" It wasn't because warm air rises from the water. Another reason not to be intimidated is that unlike Finland, the Quebecois wear swimming suits at their co-ed nordic spas!
We were so comfortable in the nordic spa that we were even able to quickly jump in the cold pool before returning to the warm one. This is recommended to fully get your body's circulation flowing. We felt so relaxed after doing that and highly recommend it. Just be sure to end your session in the warm pool as it's much easier to put your robe back to return inside.
For those who don't want to use the outdoor nordic spa, the Esterel Resort also has an indoor sauna and spa. You can also book massages, facial treatments and body treatments. There's no shortage of relaxing options there.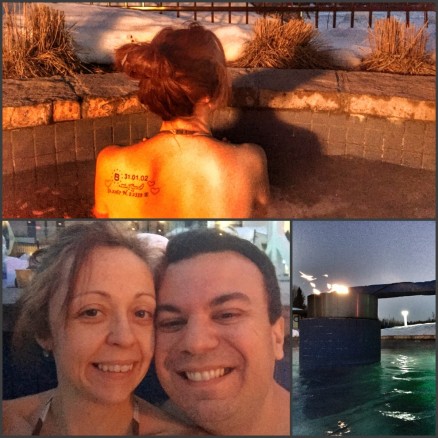 Breakfast at the Esterel Resort
Buffet breakfasts are available every morning and are served in Bistro a Champlain and the adjacent 260 Bar and Bistro. Both restaurants have wonderful views of Lake Dupuis, so it's a lovely way to start the day. We really enjoyed the vast breakfast selection ranging from made to order omelettes, bacon, pancakes, sausages, delicious fresh croissants, pastries and fresh juices. Fresh orange juice and grapefruit juice is already prepared, but there's also a variety of other fresh fruits to squeeze and concoct a morning energy drink.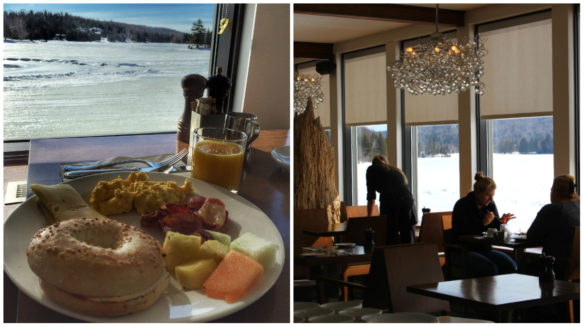 Restaurant Rok – Cooking on Volcanic Lava Plates!
Rok is one of three restaurants at the Esterel Resort. Our first night, we enjoyed a delicious and unique dinner there. Dinners at Rok are served on sizzling volcanic lava plates. Dishes come semi-prepared, and you finish cooking your meal on the lava plates. We enjoyed beef tenderloin and deer steak, and both were perfect for this concept. I enjoyed the experience more than Bell, who thinks this style generally caters more to men and their biological affinity for gathering around grills, barbecues and all things fire related. But it's a great restaurant, with a world class wine selection.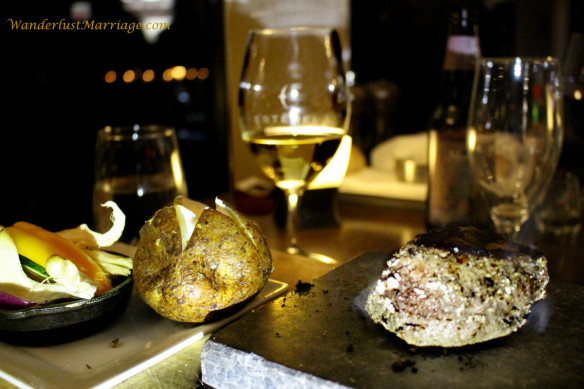 Esterel Resort's Impressive Wine Cellar
When the Esterel Resort purchased 5,000 bottles from Champlain Charest's impressive wine collection, it was a major acquisition  because it's one of the finest in Quebec. Rare finds include Pétrus 1953, a 6-litre Romanée Saint-Vivant du Domaine, a Romanée-Conti 1990, and other gems from the likes of Château Margaux, Château Lafite Rothschild, Château Latour, and Château Haut-Brion. The wine cellar is open daily from 4:30pm-6:30pm for tours, tastings and special dinner reservations can be booked there. The Esterel Resort was so proud of the wine acquisition that they renamed their signature restaurant in Champlain Charest's honor, Bistro a Champlain.
Bistro a Champlain
This is where we dined on our second night, to celebrate our 11 year wedding anniversary. Out of the three restaurants at the Esterel Resort, this is the best choice for most couples celebrating a special occasion. The concept at Bistro a Champlain is traditional fine dining, done well and in style.
We had the five course menu and really enjoyed our meals, wine and the overall experience. Notable highlights were the salmon tartar appetizer and succulent braised pork belly main. While our waiters native language was French, he was happy to speak English and service was professional but unpretentious. We especially appreciated this because while we enjoy good wine, we aren't anywhere near sommelier knowledgable. Wine at Bistro a Champlain ranges from $10 Canadian ($8 US) a glass to $9,000 Canadian ($7,000 US) for the rarest of bottles. So there's something for all tastes and budgets.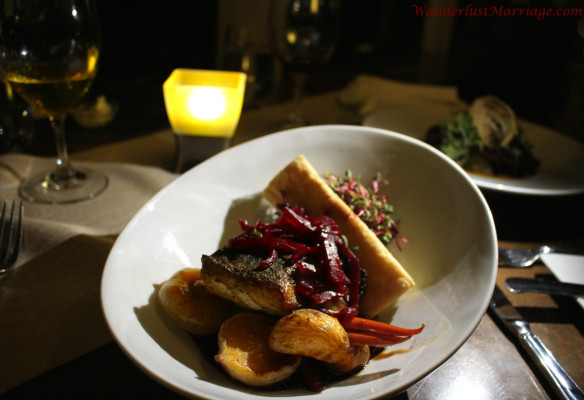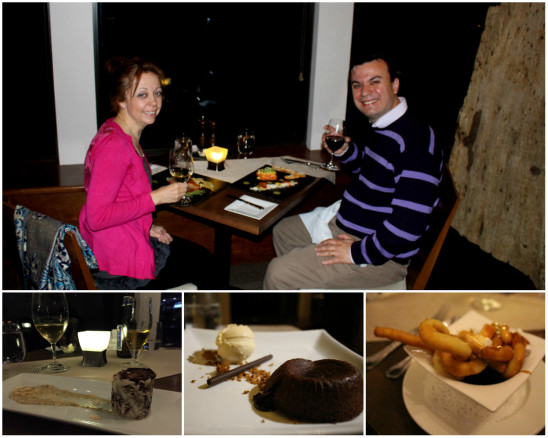 Additional Activities at the Esterel Resort
You can go for a helicopter tour! In winter, you can rent a snowmobile and explore frozen Lake Dupuis and the nearby forest. And if you don't want to go that fast and would like some exercise, you can also rent snow shoes or ice skates. During the warmer months, you can enjoy boat rides on the lake, along with golf and tennis. Since we had less than two days in the Laurentides, we didn't partake in any additional activities on the resort asides from the nordic spa and devouring a lot of delicious food and wine.
Esterel Town
The town of Esterel is small and quaint, with several cute cafes and shops. We enjoyed a tasty lunch off the resort at Cafe O' Marguerites. We also purchased wonderful honey in their shop to bring home to Boston. We're actually honey connoisseurs, and we're currently enjoying some of the best honey we've ever purchased!
Skiing
The Laurentides is one of the best areas to ski in the northeast, featuring 12 ski resorts a short distance from each other. Skiing can run through the end of April and is a short drive from the Esterel Resort. As we're not avid skiers, we didn't make this a priority. And on a short trip, there's so much to experience in the Laurentians both outdoors and inside.
Sugar Shacks (Cabanes a Sucre)
The sugar shacks in the Laurentides are an absolute delight. Traditionally, warm maple syrup toffee is poured over snow and you take a wooden stick to scoop it up. Sugar shacks also serve wonderful food and often feature live music. We visited Cabane a Sucre Arthur Raymond and the festive atmosphere in the dining hall reminded us a little of a German beer hall, with less beer. Outside you could toboggan down the hill. Some sugar shack properties feature horse back riding and tours of their maple tree farms. We also visited Sucrerie Bonaventure and while we preferred their maple syrup toffee, we enjoyed the ambiance of Cabane a Sucre Arthur Raymond more.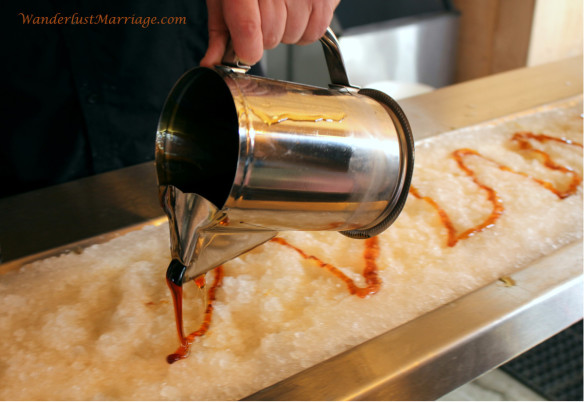 Wonderful 11 Year Wedding Anniversary Celebration at Esterel Resort
The Esterel Resort is one of the most romantic hotels in North America. Each of the past 7 years we've traveled for our wedding anniversary. Sometimes they've been city celebrations like Barcelona for our 9 year anniversary, and sometimes they've been rural, like the historic Tinakilly Manor House in Wicklow, Ireland for year 7. We enjoy mixing it up because variety is the spice of life. The Esterel Resort delivers world class food, wine and adventure right to their guests, so they don't need to spend time looking for it if they don't want to. This was truly one of our best wedding anniversaries and we've celebrated all over the world!
We were graciously hosted by Tourism Quebec, Laurentides Tourism (Laurentians) and Esterel Resort and thank them for helping make our 11 year wedding anniversary one of the most luxurious and special ones we've celebrated. All photos and opinions in this article are our own.