The cradle of western civilization, Greece is an idyllic destination for beautiful beaches, an excellent culinary scene and inspiring history. Set amongst gorgeous landscapes, it's also a fantastic country for natural thermal spas and springs. Bathing in thermal waters is both relaxing and rejuvenating, making it ideal for a wellness getaway. A variety of minerals in thermal springs offer a wealth of benefits from alleviating injuries to aiding digestion. Here are some of the best Greek spa towns to visit!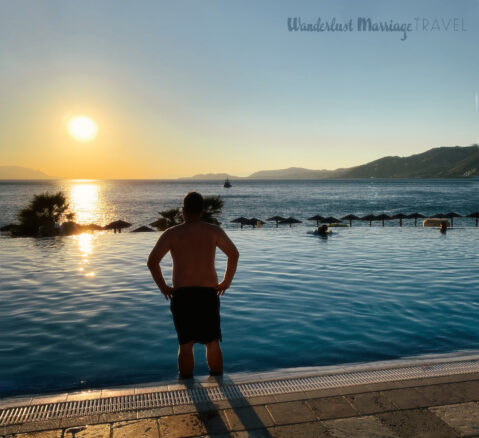 Loutraki – A Beautiful Greek Spa Town
Loutraki is a beautiful vacation destination just 81km (50 miles) west of Athens. Its natural spring water is popular throughout southern Greece. Built atop natural thermal springs, it's an ideal vacation destination to relax and rejuvenate your mind and body.
Loutraki is located in the same spot as the ancient commune of Thermae. 3,000 years ago the ancient Greeks bathed in the thermal waters to heal and rejuvenate. Subsequent years saw the Romans and Byzantines follow suit. Eventually, the concept of thermal baths spread across Europe, making European historic thermal towns a designated Cultural Route of the Council of Europe.
Loutraki Thermal Spa
The Loutraki Thermal Spa is a state-of-the-art facility. Large indoor and outdoor thermal pools, feature waterfalls and jets to massage your back with healing water. Alternate between the warm and cold pools for maximum effect at reducing stress, improving blood circulation and treating other ailments. Then enjoy the sauna and steam bath (Hammam).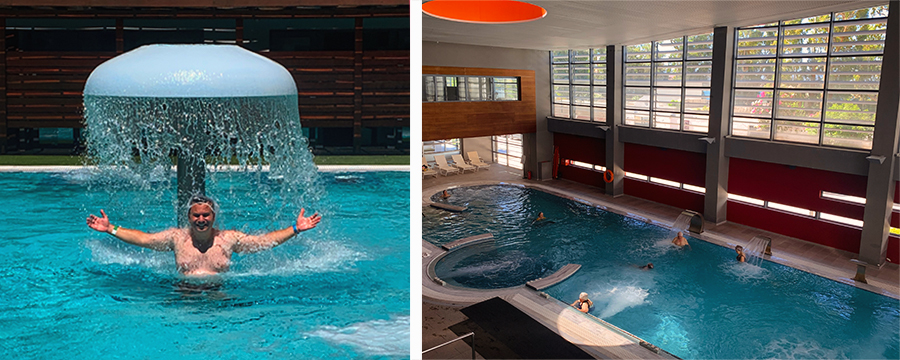 The Nearby Drinking Therapy is located in a beautiful facility. Ornate tile frescoes inspire visitors immediately upon entry. Thermal waters are an ideal 30 degrees Celsius and are packed with minerals that are good for flushing toxins from internal organs and aiding digestion. It's a great idea to make this part of your thermal Greek spa wellness getaway.
Loutraki Thermal Spa Costs
Entrance to the Loutraki Thermal Spa pools starts at €10. One day treatments, including a 20 minute massage start at €35.
Loutraki Thermal Spa is a member of European Historic Thermal Towns Association. The EHTTA has 49 members in 17 countries, including the popular Budapest baths in Hungary!
Wonderful Sites and History Near Loutraki
Corinth Canal
Just 8km (5 miles) from Loutraki is the famous Corinth Canal. Built between 1881 -1893, it's one of the most impressive man-made structures. It connects the Aegean Sea and Ionian Sea, saving ships 700km of additional sailing around the Peloponnese. Visit the Corinth Canal Visitor Center and cross the pedestrian bridge for great views overlooking a marvel of human ingenuity.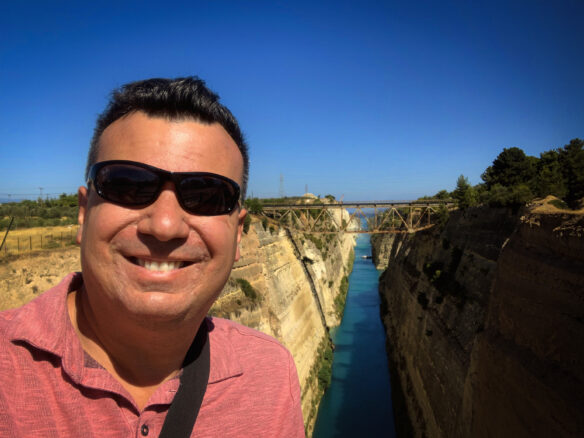 Ancient Corinth (Korinthos)
Corinth (Korinthos) was one of the most powerful city-states in ancient Greece. Its impressive archeological site is fantastic for learning more about ancient Greek life. Impressive landmarks like the Apollo Temple, dating to 550 BC, stand triumphantly today. The Archeological Museum of Ancient Corinth displays a treasure trove of ancient statues, mosaics and artifacts.
Sanctuary of Hera
The Heraion of Perachora is a sanctuary to the goddess Hera. It's located in a small cove along the Corinthian Gulf, at the end of the Perachora Peninsula. The views of the Gulf of Corinth, from above the sanctuary are dramatically beautiful. Bring your swimsuit, as you can swim in the cove right next to the stunning archeological site!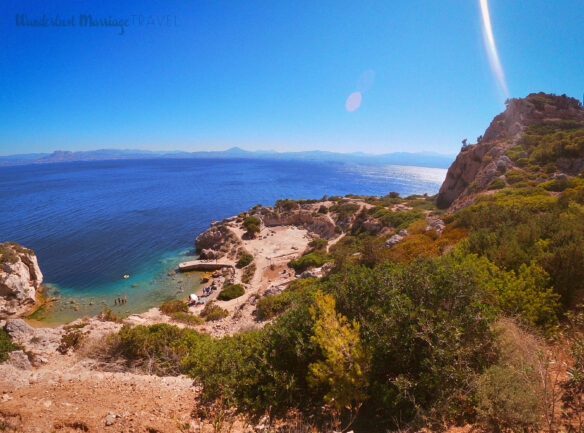 Lake Vouliagmeni (Limni Vouliagmenis)
Take a scenic 16 km drive northwest of Loutraki, winding through the mountains and along the sea, and you'll arrive at beautiful Lake Vouliagmeni. The turquoise saltwater lake is surrounded by mountains and wonderful for swimming.
Enjoy a picturesque lakeside lunch with wine at Ypanema Restaurant and Beach Bar. There are changing booths at the restaurant for guests to enjoy a swim before their meal. Just be sure to pack your swimsuit and a towel to dry off.
Lake Vouliagmeni is near the Sanctuary of Hera, so plan to combine the two during an afternoon excursion.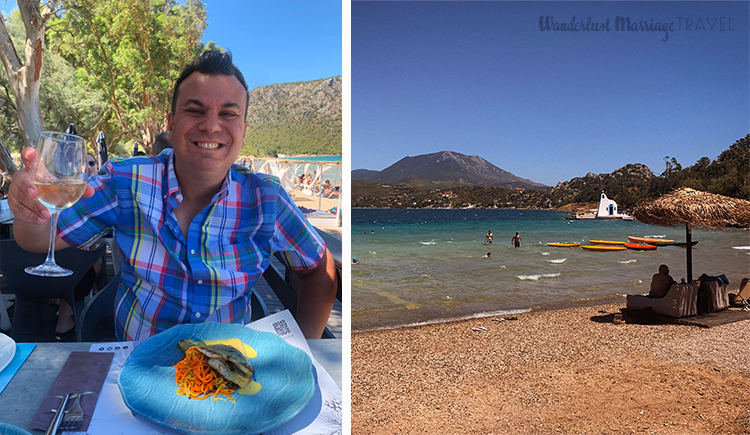 Where to Stay in Loutraki?
I stayed at the beautiful 5-star Club Hotel Casino Loutraki. The gorgeous property offers private beach access where guests can take shade under umbrellas after swimming in the sea. Magnificent palm trees and olive trees (dating over 1,000 years old) sit alongside a gorgeous seaside pool that's fantastic for cooling off in the summer heat.
Breakfast and dinner buffets are scrumptious, offering a huge selection of dishes, including many Greek favorites. Deluxe rooms at Club Hotel Casino Loutraki feature spacious marble bathrooms, comfortable beds and large balconies with sweeping views overlooking the property and Gulf of Corinth. Weekday summer rates start at €90 ($92 USD). A stay there perfectly complements a thermal Greek spa getaway.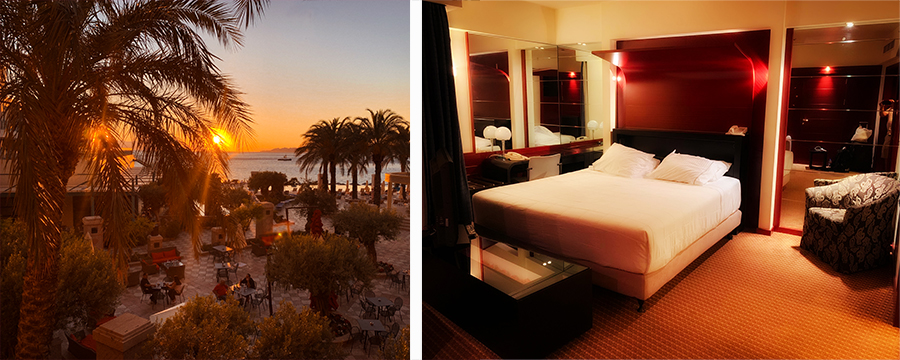 Almopia – Loutra Pozar
Almopia is a gorgeous destination in the mountains of Central Macedonia, Greece, near the border of the Republic of North Macedonia. Tall mountains and cascading waterfalls offer a wonderland of natural beauty. Slightly cooler temperatures offer a welcome reprieve from the summer heat elsewhere in Greece. Its outdoor thermal springs draw visitors year-round. Fresh and delicious local dishes round out a great experience.
Loutra Pozar Thermal Baths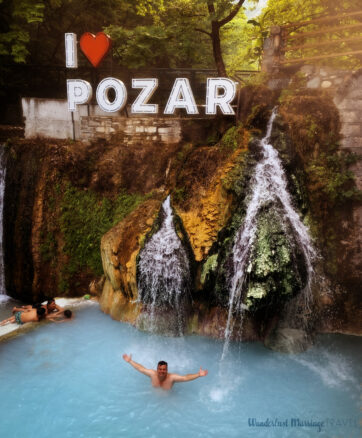 Jumping into the natural thermal waters of Loutra Pozar is fantastic. Warm and cold waterfalls and pools are nestled side by side, alongside a lush forest and tall mountains. Both the thermal waters and scenery are fantastic for relieving anxiety and rejuvenating your body.
It costs €2 per person to access the outdoor waterfall pools and €4 per person to access the Olympic sized outdoor pool. That's an amazing deal to enjoy such a stunning thermal Greek spa!
There are also indoor thermal pools, sauna and steam rooms (Hammam). While visitors can enjoy the outdoor pools even in winter, the indoor pools are protected from the elements. Book a therapeutic massage at Spa to Spa to complement your wellness treatment.
Almopia Hotels
I stayed at the charming Paradosiako Hotel & Restaurant. Spacious rooms have balconies, air conditioning, desks and offer lovely mountain views. Prices to stay at the hotel start at around €55 ($56 USD) per night.
Their on-site restaurant offers delectable local meat and vegetable dishes. Order a succulent mixed grill of meats along with a plate of regional feta stuffed peppers. Wash it down with tasty local wine or tsiporou (a ubiquitous Greek spirit made from distilled grapes). Paradosiako Hotel & Restaurant is just 3km from Loutra Pozar thermal baths.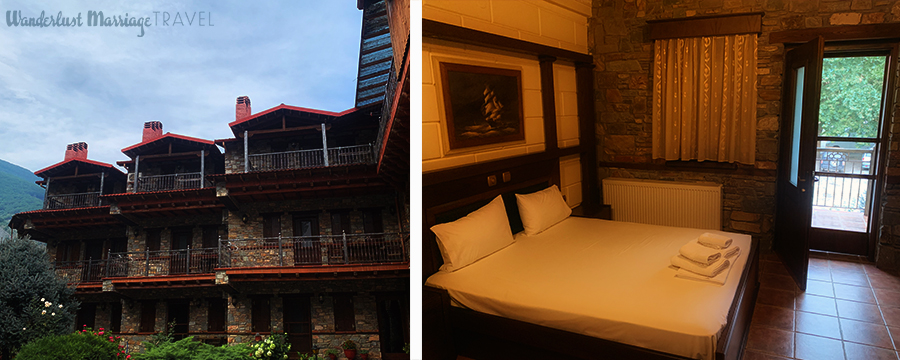 Kavala, Greece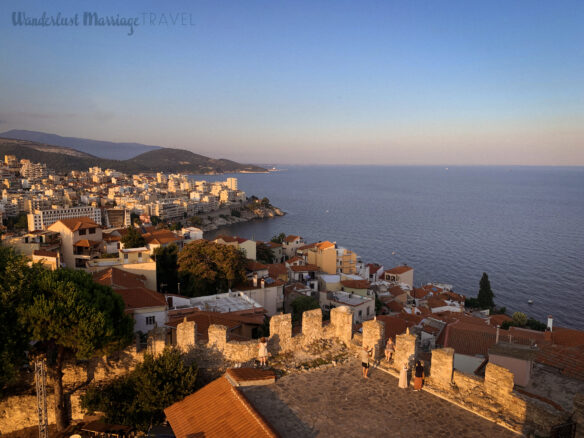 Kavala is a strikingly beautiful seaside town in eastern Macedonia, Greece. It's ideal for a beachside getaway, packed with history and thermal treatment. Climb to the top of the Acropolis for sweeping views of the Bay of Kavala and nearby island of Thasos. Another impressive highlight is the beautiful mural depicting St. Paul's travels to Kavala at St. Nicholas Greek Orthodox Church.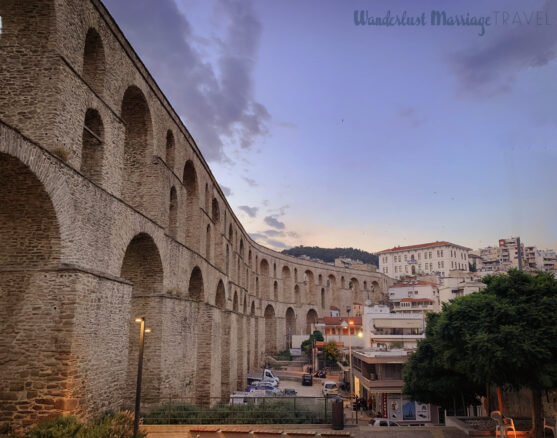 The Aqueduct of Kavala, otherwise known as Kamares, is a well-preserved aqueduct that dissects the city. The aqueduct was built during the Ottoman occupation of Greece in the 16th century. It was previously used to transport water into the city. Today, it's an impressive landmark and one of the best-preserved aqueducts in Greece.
Krinides Mud Baths
The Krinides Mud Baths in Kavala is a lovely property adjacent to a beautiful sunflower field. It offers a unique experience so be ready to get muddy! Mud therapy can provide relief for skin conditions like eczema. It can also assist in alleviating certain injuries, while providing therapeutic wellness.
Soak and roll around in the mud pool, which is mixed with natural thermal water. Then dry off in the grass, repeat, and wash off under their high-pressure shower. The open pool mud bath and thermal water shower costs €6 per person.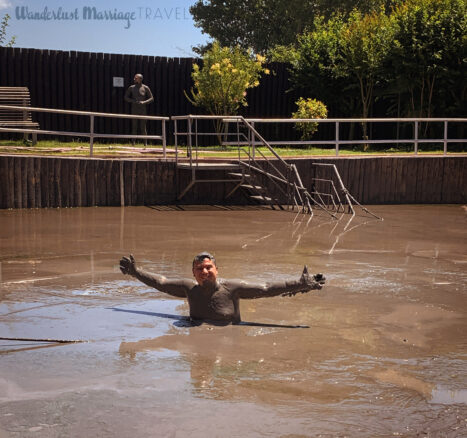 Book an on-site massage in conjunction with mud therapy for maximum benefits. A 30-minute athletic, relaxing or reflexology massage costs €20 per person. It's a great idea to add a massage for optimum relaxation, rejuvenation and wellness.
I really enjoyed lunch on the property of Krinides Mud Baths as their on-site restaurant offers deliciously fresh local meat and vegetable dishes. Krinides staff are extremely friendly, welcoming and helpful. You can tell that they really want their guests to enjoy their thermal Greek spa.
Archeological Site of Philipi
The Archeological Site of Philipi is a UNESCO World Heritage Site. The ancient city was founded by the Macedonian King Philip II (father of Alexander the Great) in 356 BC. Following Roman occupation, the city developed as a "small Rome." Apostle Paul was imprisoned at Philipi, and following his visit, it became home to some of Europe's earliest Christians.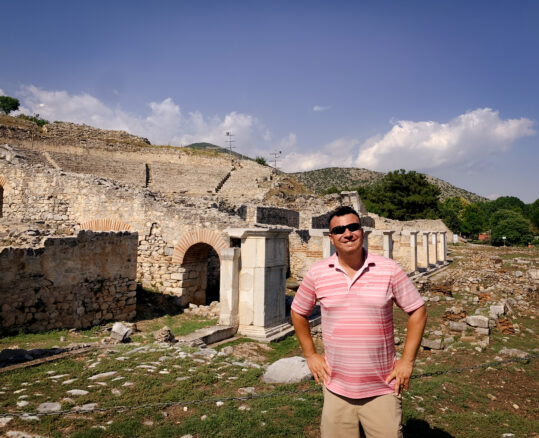 Philipi is a vast archaeological site. It's home to an impressive amphitheater that's still used for performances today. Visitors can also see remnants of thermal baths, which existed in ancient Greece well over 2,000 years ago!
Book a tour of the Archeological Site of Philipi with a licensed guide to gain in-depth knowledge of the ancient city. I had a great private tour of Philipi with Kokkonaki Sotivia, a licensed Greek tour guide. You can email her at [email protected] to enquire about her tours.
Lucy Hotel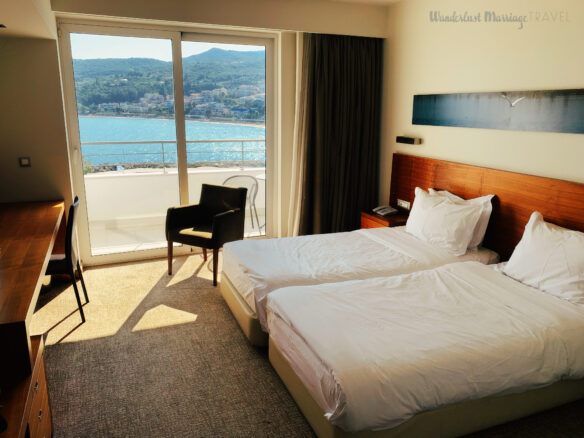 The 5-star Lucy Hotel Kavala offers a luxurious beachside stay. Comfortable rooms feature spacious balconies with fantastic views of the Aegean Sea, beach and city. Guests can utilize complimentary beach umbrellas to relax and go for a swim. It's the perfect reprieve from the summer heat.
Buffet breakfasts at Lucy Hotel are scrumptious. They feature a variety of hot breakfast favorites like scrambled eggs, sausage and crepes, alongside Greek favorites like Spanakopita (spinach pie), delicious homemade jams, excellent fresh baked breads, croissants, pastries and more.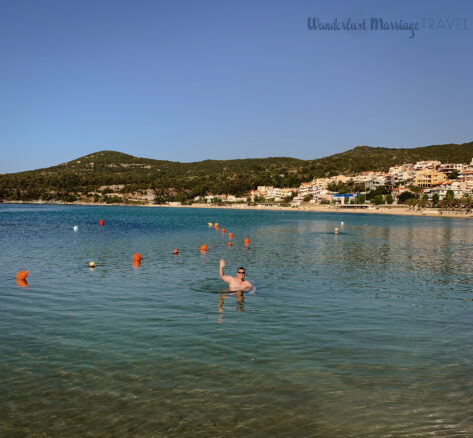 Kassandra, Halkidiki
Halkidiki is a popular vacation destination in northern Greece that's around a 90-minute drive from Thessaloniki. It's known for its jutting peninsulas, featuring Mediterranean forests and sandy beaches in sheltered bays. Kassandra is the westernmost peninsula and the most developed for tourism. It offers modern resorts, excellent seaside restaurants like Takis Fish Tavern in Fourka, nightclubs and thermal spas.
Halkidiki Spa (Agia Paraskevi)
Agia Paraskevi (Halkidiki Spa) is a beautiful thermal spa along the Kassandra Peninsula of Halkidiki, famous for its crystal clear turquoise water. It's located in the town of Loutra, which means "bath" in Greek. The thermal waters at Agia Paraskevi are sourced from a natural sulfur spring below the mountain.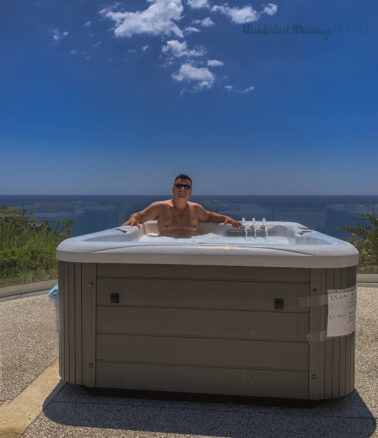 Halkidiki Spa features indoor and outdoor thermal pools, saunas and steam rooms (Hammam). The outdoor pools, jacuzzi tubs and spacious terrace feature sweeping views of the sea. It's a wonderful spa to relax and rejuvenate during your vacation. Indoor and outdoor pool use at Thermal Spa Agia Paraskevi costs €8 per person.
Book an on-site therapeutic massage at Halkidiki Spa. I had a wonderful massage by Eleni, who applied the right pressure and used a variety of techniques. Methods include lomilomi (using elbows) to apply more pressure to relieve aches and improve blood circulation.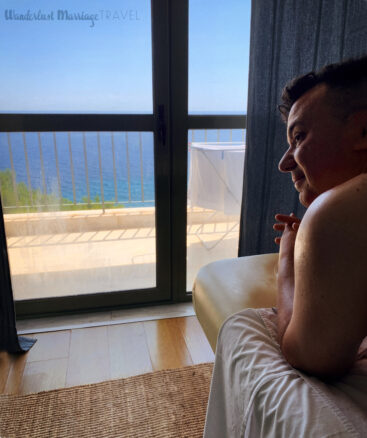 Ultimately, I walked out of the spa feeling much more relaxed than before entering. A pro tip for going is to wash your swim trunks separately from the rest of your clothes since the water is very sulfurous! There are a number of picturesque thermal Greek spas, and Halkidiki Spa is certainly among the prettiest.
Loutra, Kassandra Hotels
I stayed at the Artemis Plaza Hotel in Loutra. It's just 300 meters from Halkidiki Spa, so just a few minutes walk. Rooms are spacious, with comfortable beds, air conditioning, full-sized refrigerators, kitchenettes and large balconies.
Artemis Plaza is also a short walk from the beach, so guests can easily enjoy swimming in the gorgeous crystal clear turquoise waters of Halkidiki! The cost to stay at Artemis Plaza starts at around €55 ($56 USD) per night.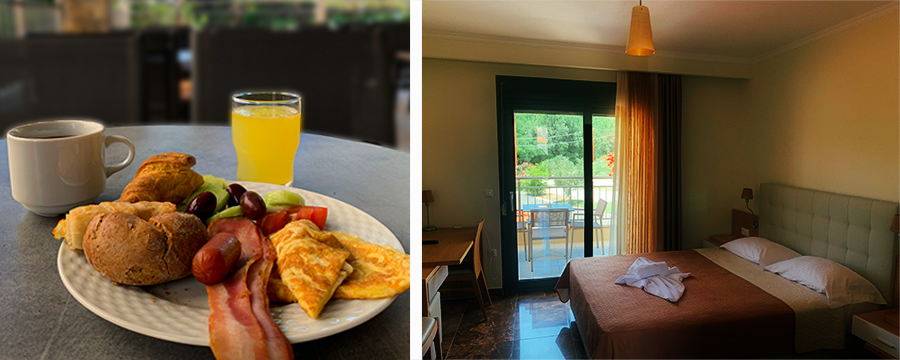 Agkistro (Agistro)
Agistro (Agkistro) is nestled just a few kilometers from the Bulgarian border. It offers a relaxing retreat amidst forested mountains and natural thermal springs. Nearby, Lake Kerkini, is home to a huge variety of birds, making it a bird watchers' paradise. There's also important Greek history to explore at Fort Roupel. The local culinary scene, featuring a fresh trout farm and fantastic local meats and vegetables is wonderful.
Agistro Hamam
Agistro Hamam offers a variety of great indoor thermal pools ideal for wellness. Ornate tiles adorn the walls of the baths, offering a throwback to a bygone era. After alternating between hot and cold pools, enjoy the sauna and steam room (Hammam).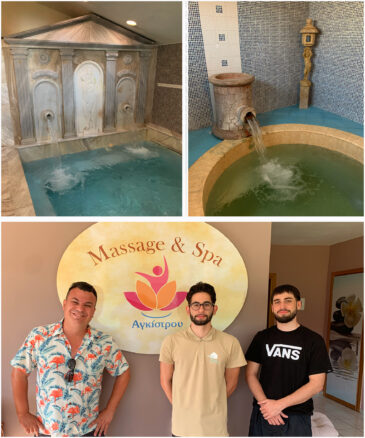 Visitors can also book an on-site therapeutic massage to enhance the experience. I enjoyed my visit to Agistro Hamam as it's a charming Greek spa. The thermal waters and massage left me feeling rejuvenated and relaxed.
Agistro Highlights
Fort Roupel
Fort Roupel is a fortress at the border of Central Macedonia, Greece, near the Bulgarian border. It was built in 1914 and became part of the Metaxas line fortifications. The Greek military won an important battle at Fort Roupel during World War 2, delaying the Nazi occupation of Greece.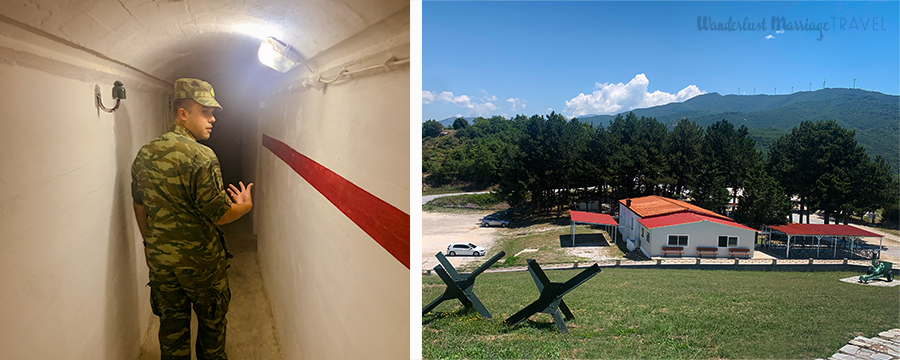 Visitors can take a tour of Fort Roupel, led by a Greek military guide. The tour includes a section of a staggering 38km of underground tunnels at the fort. The view atop the forested mountains, including sweeping vistas overlooking Bulgaria, are beautiful.
Lake Kerkini National Park
Lake Kerkini National Park protects Greece's second largest lake and is one of Europe's most impressive wetlands. Located in northern Greece near the border with Bulgaria, it's a breathtaking setting for bird watching. Thousands of birds like flamingos, pelicans, cormorants and ibis congregate along Lake Kerkini during their migrations. It's the bird watching equivalent of viewing diverse wildlife along the vast plains of the Serengeti in Tanzania.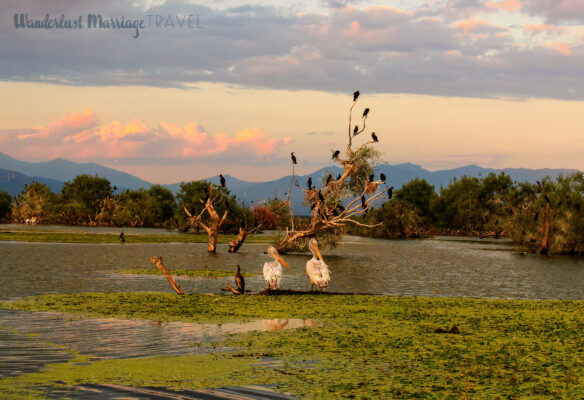 Visitors can take a small boat birdwatching and photography trip along Lake Kerkini with Nikolaos Gallios at Itavros Tours. He's a friendly and knowledgeable guide who is passionate about the preservation of Lake Kerkini and its wildlife. Itavros Tours are also incredibly well-priced for soaking in postcard worthy scenery. In summer 2022, the price was 10 euro per person for over an hour long boat tour. We could not have dreamt of better sunset photo opportunities while touring Lake Kerkini!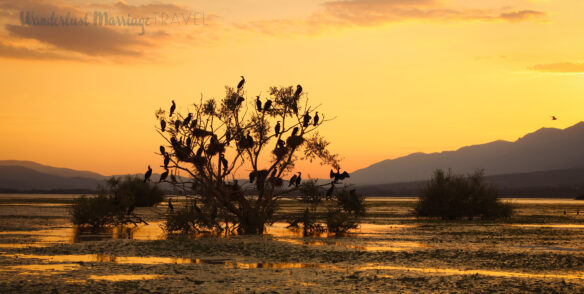 Fun fact: Lake Kerkini is actually man-made, as it formed in 1932 following the construction of a nearby dam along a terrain that included extensive marshlands. Touring the lake in the evening offers an opportunity to capture beautiful photos, like the glorious golden sunset photo above.
Agistro Trout Farm
The Agistro Trout Farm is an impressive facility. A fresh waterfall cascades down the mountain, feeding the local trout a clean water source.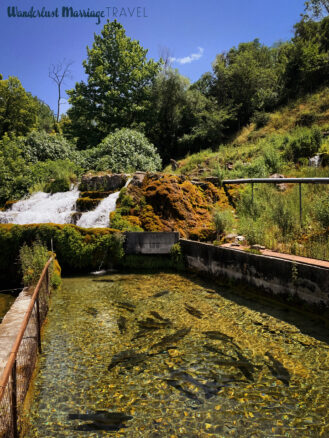 Enjoy a delicious farm-to-table meal overlooking the trout farm. Trout simply doesn't get any fresher or tastier than what you'll enjoy there. I also really loved how fresh the local vegetable dishes were. The local wine is also very tasty and pure, meaning it's less likely to leave you with a headache afterward!
Agistro Hotels
I stayed at the lovely Wooden Village (To Xilono Chorio) in Agistro. Spacious and modern wooden and stone cabins feature great amenities like comfortable beds, air conditioning, refrigerator, flat screen TV, fireplace and large patios & balconies.
The cost to stay at To Xilono Chorio starts at around €50 ($51 USD) per night. The peaceful and pretty property makes for a great stay during a thermal wellness getaway.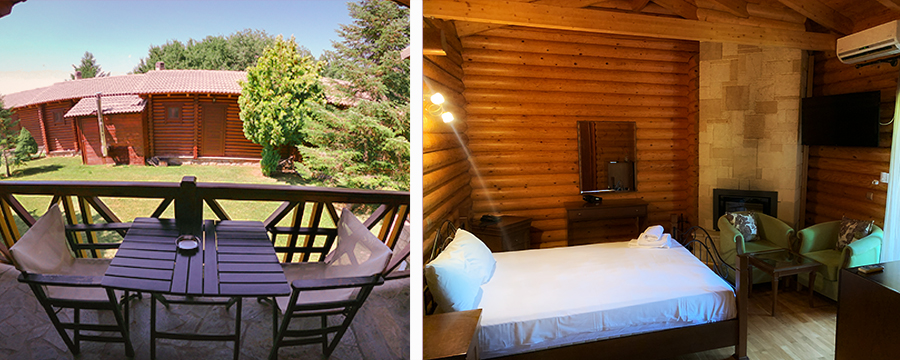 To Xilono Chorio's on-site restaurant is superb – offering a variety of delicious local meat and vegetable dishes. The expertly grilled water buffalo steaks I ate there were the best steaks I've had in a long time, and reminded me of a high quality Argentinian or Brazilian steakhouse. Owner and operator Lefterios does a masterful job of ensuring the kitchen at the Wooden Village is ace.
Getting Into and Around Greek Spa Towns
Thessaloniki is the second largest city in Greece. There are direct flights to Thessaloniki from many airports around Europe including Frankfurt, London, Paris and Amsterdam. Thessaloniki is a good starting point for a road trip around northern Greece that includes beautiful destinations like Halkidiki, Kavala, Agkistro and Loutra Pozar.
For travel to Loutraki, it's best to fly into Athens International Airport. Pick up a rental car at Athens Airport and take the national road to Loutraki. The drive is only around 90 minutes.
For road trips in Greece, there are a wide variety of rental car companies to choose from. If you need an automatic vehicle, try and book that on your reservation in advance.
Ferry Travel in Greece
For ferry travel around the Greek islands, as well as neighboring European countries, check ferry schedules on Ferry Scanner. You can travel between Italy and Greece on overnight ferries. If you book a cabin, it's similar to paying for a night's hotel.
If you have a Eurail Pass, the pass includes ferry travel between Greece and Italy. You'll need to pay a supplement if you want to book a private room on the ferry though.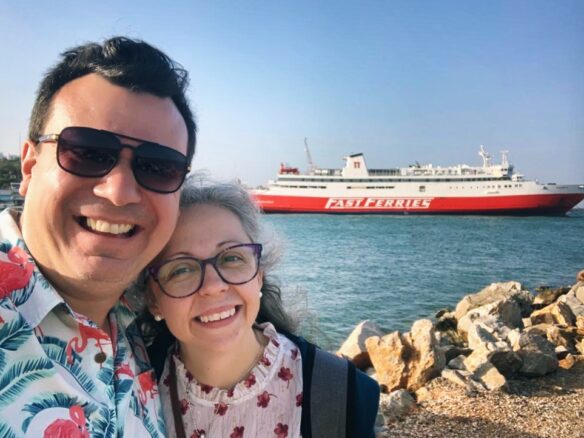 The fastest ferry connecting Italy and Greece is Brindisi to Corfu, which takes 8 hours. For travel to the north of Greece, the port of Igoumenitsa is also a good option. For travel from Italy to southern Greece, the ports of Patras and Piraeus are the best options.
Questions on Greek Thermal Baths?
Have questions or comments on visiting thermal Greek spas, or thermal baths in Europe? Leave a comment below. You can also email me at alex(at)wanderlustmarriage.com if you have questions on planning a trip to Greece or elsewhere in the world!
Disclosure: This article was made possible thanks to a collaboration with European Historic Thermal Towns (EHTTA), Visit Europe and a wide variety of destinations around Greece. A big thanks to all the wonderful people I met in Greece while putting this together. Special thanks to Simone Zagrodnik, Catherine Lloyd, Markos Danas and Miguel Gallego for their hard work in making this Greek spa article possible. Also, this article contains some affiliate links. All photos and opinions in this article are my own.