I've been living away from Australia for around 8 and 1/2 years now. Yep, it is creeping up on a decade! But the reality for Alex and I is that one of us will always be an expat. Since we've lived in several countries, a lot of people ask us how we organize our visas to live abroad. We are pretty fortunate as Alex has multiple passports (Jason Born style!). I can usually convince employers to give me a work visa. But here I want to share my American green card story, and how I'm struggling to keep it.
Marriage Does Not Equal Automatic Residency or Citizenship
Many people assume that because Alex and I have been married for so long and because Alex is American I can just go live in the USA at my leisure. Unfortunately, it's not so straight forward. The US government has a pretty strict set of rules about not just obtaining a residency card, but also keeping it. Additionally, the green card process is costly, and filled with frustration and headaches. Rewinding back about 9 years, Alex and I planned to obtain the fiancé visa (K-1 nonimmigrant visa). That meant that I could enter the USA and then we had 90 days to get hitched… Las Vegas anyone?!
Spousal Visas Take Less time to Process Than Fiance Visas
However, when Alex called US immigration, with 6 months left on his temporary Australian working holiday visa, he was told it would take 8 – 10 months to process the K-1. So Alex said, ok, how can I speed that up? The US immigration officer's response was, you could get married now and apply for a spousal visa (IR1 or CR1 – visa for a spouse of a U.S citizen), and the application process would then take 4 – 6 months. So we had to apply for the CR1, which is the conditional resident visa. In laymen's terms, if you've been married to an American less than 2 years, this is what you can apply for and it is restrictive on your travel outside the USA.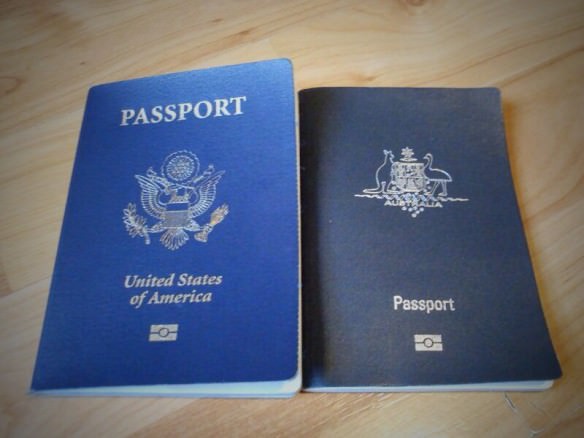 30 Days to Plan a Wedding in Australia
Alex called me and we met that evening to apply for our marriage license because in Australia, unlike Vegas, you have to wait 30 days… probably not a bad thing! We planned our beautiful special day in 30 days and put in the paper work for the CR1. So while I was planning our wedding, Alex was putting together the paper work and deciding on wedding cake! We chose not to hire a lawyer to help with the process as we simply didn't have the extra few thousand to pay for this service. But we did use the help line the US government provides, and while there are high call rates to this line, it was money well spent because the application can be confusing.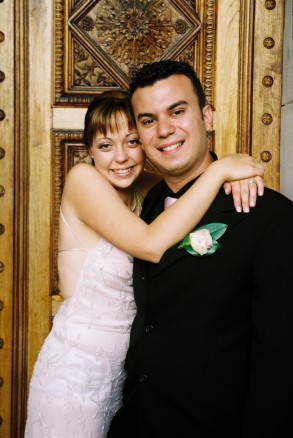 Medical Tests Required for US Residency
The non- American will also need to see an approved doctor to prove they are healthy, which is not covered by Australian medical insurance. You'll have to pay out of pocket for this visit and bring with you as many of your vaccination records that you can find. Because I was born back before these things were digital, the city council of the town I grew up in could only provide me with an incomplete list (thanks mum for losing my records!!) so I had to pay more to have a few extra booster shots for measles and something else I couldn't prove I'd had.
Proof of Financial Support for US Residency Required
Proof of financial support is very important to the green card process. Alex had been in school/college pretty much his whole life before this. So he could not "sponsor" me because he'd never made "enough money". Your forms will be easier if it is your spouse who sponsors you, but that may not be possible. I was super lucky that Alex's half brother, who had never met me, was cool with being my sponsor.
This person is financially responsible for you until you are eligible to be a citizen. Or at the time, for up to 10 years should you ever be in a position where you might need financial assistance from the US government. So again, John, thank you!  If it can't be your spouse we advice finding a family member who has their tax records in clear order for at least the previous 3 years!!
US Permanent Residency Interview at US Consulate
With all this in place we had to fly to Sydney for our interview. The USA Consulate in Melbourne does not process USA residency visas. So we booked flights and a private room in a hostel in Kings Cross, a lively neighborhood of Sydney. We had our friends write us letters saying what an awesome couple we are and printed old emails and packed our wedding album. Alex and I discussed what we would say if we were in separate rooms, because we thought it would be like in the movies. WRONG!
We arrived at the US consulate with our paperwork in hand. We felt super nervous at 8am the morning of our interview. We went to hand over the paper work only to be told it was out of order and to sort it out! So Alex and I were that couple in the corner trying to get organized and whispering not so loving things to each other. But we tried to act "normal" as we knew we were being watched. After that we waited and watched other people's interviews because it is actually like going to the bank.
Proof of Marital Relationship
Yes, you go up to the window. The US immigration interviewer then asks you questions that all can hear. The guy before us had met his fiance online. Alex and I giggled when the interviewer was probing into the amount of real time this couple had spent together. The US immigration officer quipped that he had spent almost as much time with the guy! Amusing himself clearly helped that officer get through his day.
Next we were up, but we were together, not like in the movies! We told our story, and the most "interesting question" we were asked… what annoys you the most about each other? My response- he cracks his fingers all the time, like even when he is sleeping (seriously this is still annoying!). Then he started processing us, and I was like hang on mister, don't you want to see all the wonderful things I put together, just for you?… his response… no you guys are fine. Gaaah!! So back to our seats to wait. Mr internet got his visa before us and finally we were called and I was handed my passport with my pretty American visa in it!
Celebrating an American Green Card
So off we went to celebrate. And there is no better place then to sit by the Opera house, with a view of the Sydney harbor. Given the circumstances, that was the most celebratory bottle of wine in our lives. After months of planning and stress had finally come to a conclusion. We thoroughly enjoyed our afternoon on the harbor.
Ok, that story ended up longer than I first anticipated, but where am I now. Well I'll just back up and say when Alex and I left the US for Europe I was just 6 months shy of being eligible for my US passport, yes we were that dumb! But we were young (well youngish) and thought we'd be abroad forever. So now 5 and 1/2 years later I am probably on the verge of losing my green card (which is not green, it's beige) if we don't move back to the US soon to live for awhile.
There are ways to avoid this, but they require spending three months in the US. You can obtain a re-entry permit for extended stays out of the US (I-131). Documents can be found though the US citizenship resource center. But the problem with this is that you need to be in the US long enough (around 3 months) to get this processed, and you cannot do this from outside the US.
Advise Residency Require Warnings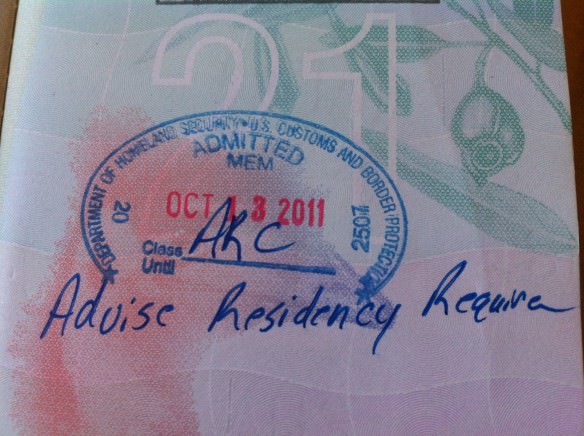 Over the last few years, I have received 3 warning stamps in my passport upon returning to the USA for family visits or work. The last time I was yelled at by American immigration, which sucks. So until I have a job contract I guess I will not be visiting the US again. I would like to keep my US visa. The main reason for this is because Alex and I don't share a common passport.
If something horrible happened I would be sent one way and he the other. The other is the cost. In the years since we first applied for a USA green card, the price of obtaining a visa has significantly increased. Alex and I have a lot to think about in the nearish future about staying in Europe. Stay tuned for updates on that! And if you have any visa stories we would LOVE to hear them!
USA Green Card Conclusion
Be sure to read documents carefully. Have all your paperwork in order. It's worth talking to people at US immigration. While we were able to avoid hiring a US immigration lawyer, it costs time. It may be worth hiring an immigration adviser, depending on your circumstances. Also, upon arrival, establishing credit in the USA is very important. Read our tips for that!