Amsterdam is one of the world's most beautiful cities. Its well preserved 17th century guild houses and lovely canal-side terraces offer a charming backdrop. We were fortunate to live in the UNESCO World Heritage listed city center for 3 and 1/2 years, and have written about the city many times. Here are greats tips to have a wonderful experience in Amsterdam!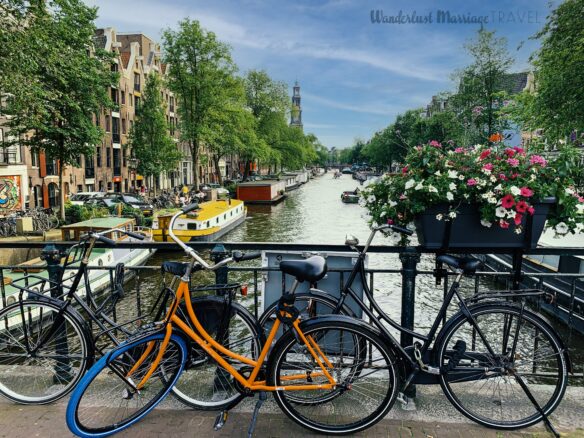 Avoid Amsterdam's Busy Summer Weekend Crowds
Unless you're going for a bachelor or bachelorette party, you probably shouldn't visit Amsterdam on weekends in summer. Amsterdam is ridiculously crowded during the warmer months on weekends, even through September.
During the busiest times, visitors will have to wait longer for Amsterdam's top attractions. And it's also harder to get a table at charming canalside restaurants. Busier crowds also equate to higher prices. So it's best to visit Amsterdam during the week during the popular months. Or visit during on a spring or fall weekend.
Amsterdam Museums and Attractions
There's really 3 must things to do in Amsterdam: The Rijksmuseum, Van Gogh Museum and a canal boat cruise. The Anne Frank House is also popular, but given its typical long lines, we don't consider it one of Amsterdam's best places to visit.
There are a lot of canal boat cruise options from inexpensive one hour tours to romantic dinner cruises. Large canal tour boats are conveniently located near Amsterdam Central train station. The tours typically last one hour and it's a good way to tour Amsterdam's beautiful historic center. But they are big boat tours, with information in several languages, including English, French, German and Dutch.
You can also book a niche Amsterdam canal boat cruise. The 75 minute tour is on an old wooden captain's boat and includes cheese and a drink. The tour costs $30.57 per person.
The Rijksmuseum features centuries of important Dutch works. A significant highlight is Rembrandt's The Night Watch. It's one of the most amazing paintings you'll see (and easily a hundred times larger than the Mona Lisa too).
The Van Gogh Museum is exceptional for impressionist art. Highlights of its permanent impressive collection of Van Gogh paintings includes Self Portrait with Grey Felt Hat, Sunflowers and the Potato Eaters.
Tips on Visiting Amsterdam Restaurants
Generally, you should avoid eating anywhere on the main thoroughfare of Damrak/Rokin. There's some very worthwhile places tucked in alleys just off the main street. De Struisvagel (The Ostrich) and Haven Van Texel are two of our favorite restaurants in Amsterdam for delicious Dutch food and drinks. Check google reviews carefully, as some establishments worldwide inflate their ratings with fake good reviews.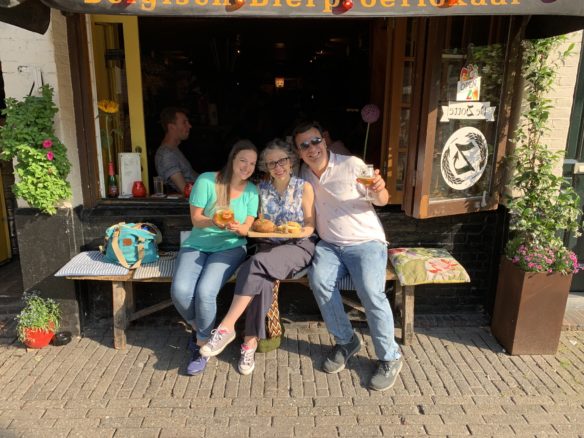 If a restaurant has a "tourist menu" posted, we don't recommend eating there. Tourist menu restaurants generally equate to mediocre or even poor quality food. Most Dutch restaurants have menus in several languages and nearly every Amsterdammer speaks English very well. So there's no reason to throw money at a cringe worthy tourist menu restaurant unless you enjoy dry spare ribs and overly processed burgers.
Don't Stay in the Red Light District, Rembrantplein or Leidseplein to Avoid Late Night Noise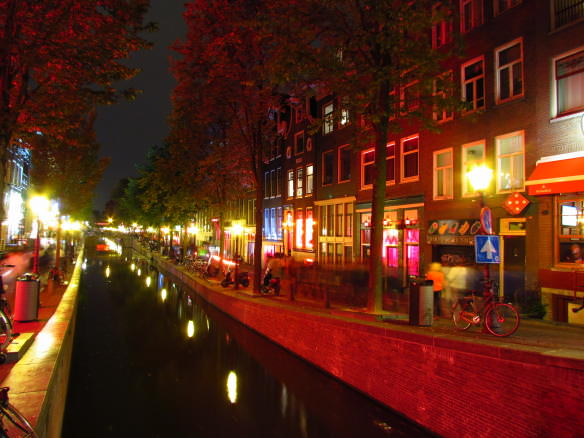 Even if you're 18-21 years old, it's probably not worth staying in the Red Light District (and I'm speaking from experience as a young tourist from my backpacking days). If you're older than 21, it's definitely not worth it. This advice pertains even to those who want to party and tour the Red Light District.
Amsterdam is a very walkable city. So don't stay right next to clubs blaring music until 3am, or areas where people are loud on the street until the wee hours of the morning. So you should also avoid staying in or near the popular squares of Rembrantplein or Leidseplein. Both squares have a lot of clubs and bars packed tightly together with small hotels and hostels.
Where to Stay in Amsterdam?
Hotel prices in Amsterdam vary depending on time of year and availability. Book something with free cancellation well in advance when possible, especially for busy summer and holiday visits!
Luxury: 
It doesn't get more luxurious than the 5 star Waldorf Astoria Amsterdam. Set along the UNESCO World Heritage listed Herengracht canal, the hotel is made up of six monumental 17th century canal palaces. The 2-Michelin star restaurant Librije's Zusje Amsterdam is perfect for an on site gastronomic experience.
Pulitzer Amsterdam is a great luxury choice located within 25 interlinked 17th and 18th century canal houses, between the famous Prinsengracht and Keizersgracht canals. Combining traditional and modern Dutch design, the hotel has 225 unique guest rooms and suites. It's walking distance from major attractions, but on a quieter end of the picturesque western canal belt.
Radisson Blu is the one of the best value luxury stays in the center of Amsterdam. Spacious rooms are decorated according to colorful themes. Their on site restaurant serves international meals and an extensive breakfast buffet.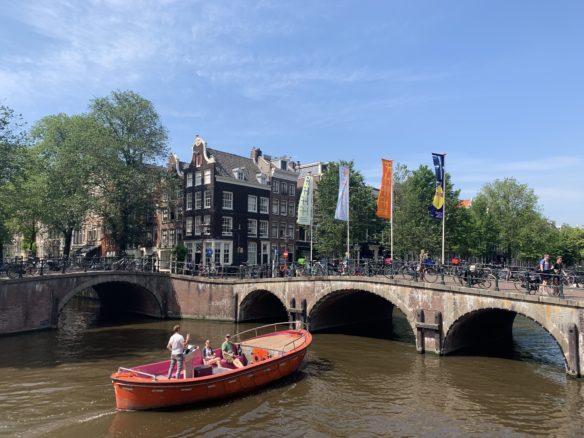 Mid Range:
Citizen M is a comfortable and ultra modern hotel in Amsterdam. Every room at citizenM Amsterdam has wall to wall windows and large beds with luxurious linens. Guests can modify room color, temperature, control the smart TV and also adapt the black out curtains all from an Ipad mini.
We also recommend Motel One Amsterdam and Motel One Waterlooplein as they're good bang for buck, with a great breakfast buffet featuring delicious higher end bakery quality breads, pastries and croissants. All rooms have a private bathroom, air conditioning and flat screen TV.
Budget:
You'll generally find the best value booking short stay apartments in the Netherlands on sites like Airbnb. Especially in Amsterdam's historic center during summer and popular holidays like New Year's and King's Day. If you've never used Airbnb, be sure to book listings with consistently good reviews, for the best experience.
Backpackers should consider fun options like the popular Flying Pig Downtown and Flying Pig Uptown.
Amsterdam Pubs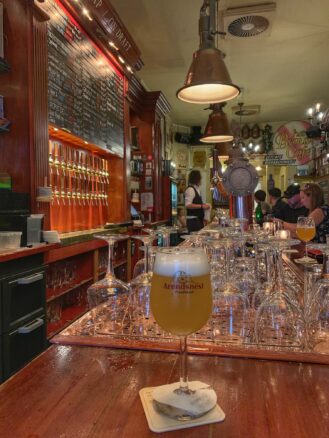 If you only visit one pub in Amsterdam, it should be t'Arendsnest.  They serve the best selection of Dutch micro brews in town, with an outstanding menu of jenevers (Dutch gins). Housed in a typically gezellig (cozy) Dutch bar on the beautiful Herengracht canal, it's a cozy setting. When the weather is warm, sit on their canal side terrace and watch all the boats and bicycles cruise by. If you love craft beer, read our article on the Top 5 Most Unique Pubs in Amsterdam.
If You Love a Party, Visit Amsterdam for King's Day
Celebrated yearly on April 27th (April 26th if the 27th is a Sunday), the date marks the birth of King Willem-Alexander. It's the biggest national party and Amsterdam is packed with a sea of orange, in celebration of the House of Orange, and the national colors. The party begins the night before, on King's Night, so don't miss that either. New Year's is fun too, but the Dutch go totally wild with fireworks then, which is intimidating in a crowded city center. That's the only time fireworks sales are legal in the Netherlands.
When we lived in Holland, the celebration was for Queen's Day, until Queen Beatrix abdicated the thrown to her son in 2014. Here's more on what you can expect if you visit Amsterdam for King's Day.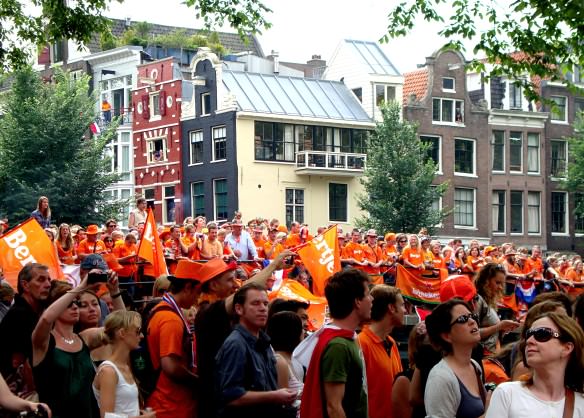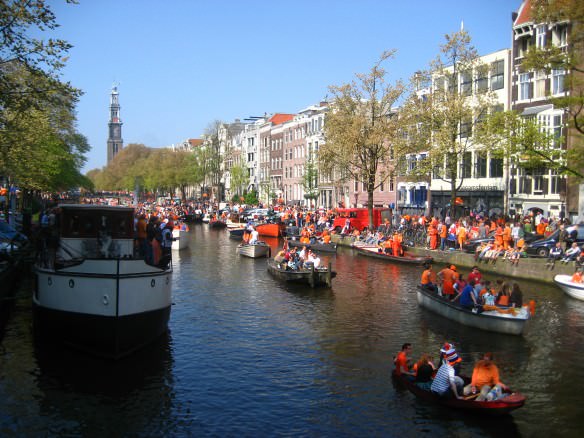 Enjoy a Picnic: Tips on Visiting Amsterdam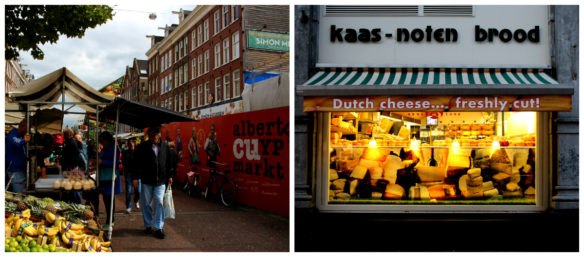 There are a lot of great spots to enjoy a picnic in Amsterdam. One of our favorites is the boat dock in front of the Hermitage Museum. It's a spacious dock, especially if you're with a group of friends. Grab some baguettes, sliced goudse kaas (cheese) and consider trying local favorites like ossenworst (raw beef sausage) or filet Americain (steak tartare). Buy the items from a small deli or one of Amsterdam's street markets like Albert Cuyp. But grocery stores like Albert Heijn work well for picnic supplies too.

Amsterdam Day Trips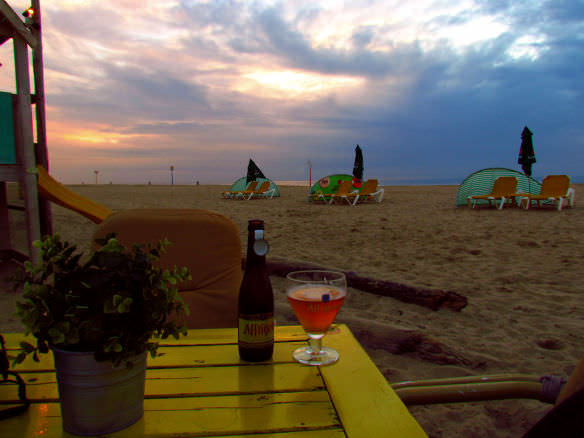 Make time for a day trip, it's one of the best tips on visiting Amsterdam we can give. Holland is filled with picturesque towns. Think mini-Amsterdams without hordes of tourists. The Dutch have one of the most efficient train systems connecting their densely populated country. So there's little reason not to experience another town for at least a few hours. Great day trips under 45 minutes from Amsterdam include Haarlem, Utrecht, Leiden, Zandvoort Van Zee and Den Hague (The Hague). Read much more in depth on our popular post on 10 Awesome Day Trips from Amsterdam.
You may also want to take a guided tour to Zaanse Schans Windmills, Marken and Volendaam. This half day tour starts at $31.81 US.
Use Uber Over Taxis
Amsterdam has one of the world's most walkable city centers. It's also one of the most bicycle friendly cities the world. Extensive public transportation includes the metro, trains, trams, buses and even some free local ferries. But when you need a ride somewhere, use Uber over taxis if you want to safe money.
Do Not Take Photos of the Prostitutes
Amsterdam's Red Light District is a very popular tourist attraction that draws even couples to gawk at the scantily women flaunting their goods in windows. But if you take a photo of them: best case you will get a massive earful. Worst case, your camera gets thrown in the canal! Consider this offbeat Amsterdam Red Light District tour with a local guide to learn about the history of prostitution in Amsterdam. Read our in-depth tips on visiting Amsterdam's Red Light District at night.
Amsterdam's Olympic History
The stunning beauty of a canal filled bicycle wonderland makes Amsterdam one of the best Olympic cities to visit. The city hosted the 1928 Summer Olympics. Sports and history enthusiasts should visit the Amsterdam Olympic Stadium. The venue is currently used mostly for athletics, other sports events and concerts.
Recap on Amsterdam Travel
Amsterdam is one of the most popular cities in the world. It often struggles with overtourism during peak summer and holiday periods. If you only have a layover in Amsterdam, read our article on How to Spend One Day in Amsterdam.
Want to travel to Amsterdam Cheap?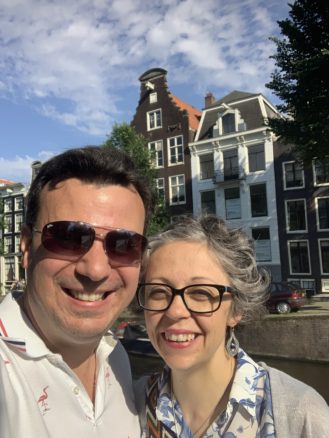 Play the credit card points game to earn free flights with everyday spending. Lots of credit cards offer tremendous value in introductory bonus miles and travel credits. We use these to save thousands of dollars every year on travel. Read our article on travel hacks to learn more. If you need specific tips, leave a comment below or email me at [email protected]. I previously even guided a small group tour through Belgium and Holland. Happy trails and travel planning!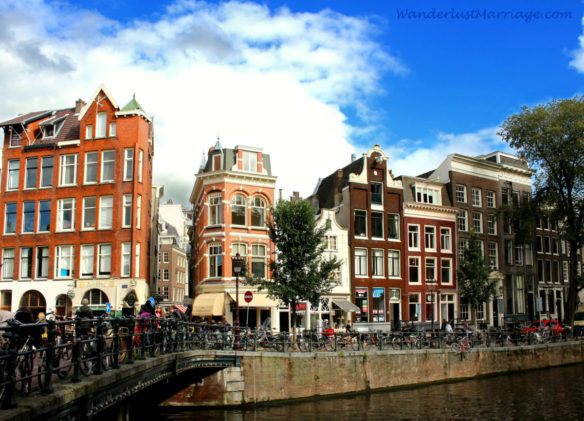 Disclosure: This article contains some affiliate links. We receive a small commission when you book or sign up through these links and it costs you nothing extra. When it suits you, please use them, as it helps us help you!