Brugge is the capital of West Flanders and home to around 120,000 people. Canals, cobbled streets and medieval buildings are distinguishing features of this well preserved medieval town. Markt square has a 13th-century belfry with an 83m tower offering great panoramic views. Oh, and all the delicious chocolate and beer make Brugge romantic, indulgent and fun.
Fun Backstory on Brugge (Bruges)
Alex and I were young and exploring the world in February of 2002 and fate, as Alex likes to tell it, threw us into the same bed at a hostel in Brugge, Belgium! We were both staying at the Bauhaus hostel near the center of the charming old town. The Bauhaus is certainly not the most luxurious place one could imagine meeting their future spouse. But there we were and Alex was sitting on the bunk bed above mine asking me where the bathrooms were. Being that we were in Belgium and that we were backpackers it isn't so surprising that the evening lead to a pub with many Belgian beers consumed and subsequently our first kiss. The romance and indulgence in Brugge had captured us!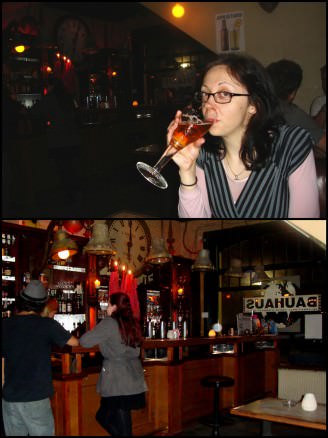 Fast forward a few years. While living in the Netherlands, close to where this all started, we decided we needed to make a long-awaited trip back. We laughed about trying to book the same room again at the Bauhaus, but ultimately decided that while that would have been cool on one hand, it wasn't the romantic getaway weekend in Brugge we were looking for.
Where to Stay in Brugge?
Romantic Bed and Breakfast:
We stayed at the B&B Lady Jane, which is a lovely place for a romantic getaway. And the friendly owner, Hugo, has many great tips for enjoying the town. We highly recommend this intimate Bed and Breakfast that features 3 unique and lovely themed rooms. We stayed in their African room, which featured tribal adornments and even antique rifles mounted to the wall.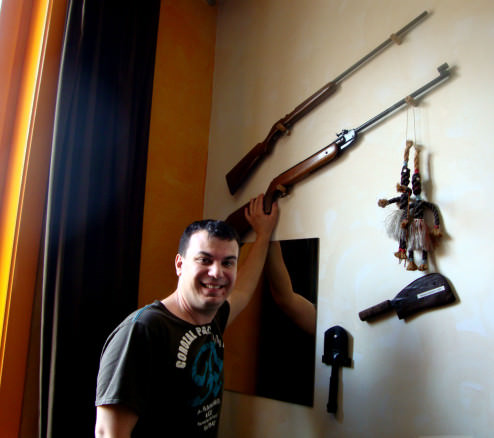 Backpacker/Budget
St. Christopher's Inn Hostel at the Bauhaus holds a special place in our hearts. It's where Bell and I first met as solo travelers backpacking Europe after college! Their pub features around 17 Belgian beers on taps and even some locals hang out there. Maybe you'll meet your future spouse here too.
Families will often find the best value booking short stay apartments in the Brugge. If you've never used Airbnb, sign up here for free and receive $40 credit off your first stay! Look for properties with consistently good reviews in the gorgeous historic center of Bruges.
We did make a trip back to the Bauhaus, which has its own bar that even the locals hang out in. It was honestly surreal and funnily enough not quite how we remembered it after a decade! But there were still copious amounts of tasty Belgian beers on draft, with a lively atmosphere, making it worthwhile for anyone looking for a fun time to swing into.
What to Experience in Brugge?
Delicious Belgian Chocolate 
Enjoy lots of chocolate in Brugge! And with some 80 chocolate shops around town, you can probably find a great chocolate while sleep walking. Don't buy too much from any one store. Stroll around and savor the experience, buying little bits here and there. That way you'll also get more free samples and you won't feel like you missed out on a phenomenal window display later. Definitely, have a hot chocolate as it will be one of the best you've ever tried. There's even a chocolate museum called Choco Story which we found to be worthwhile. Their life-size chocolate replica of President Obama was a little tacky, but entertaining too.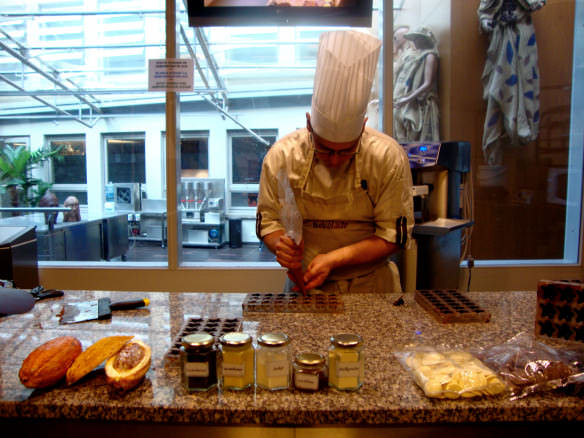 De Halve Maan Brewery 
We've been to some great breweries and De Halve Maan ("the half moon") is one of our favourites. The brewery is housed in the historic center of town and features a fun tour through their tasty Belgian beer making process. You also have the opportunity to swing up to their rooftop and enjoy an amazing view of gorgeous Brugge. The beers are pretty good too, while not our absolute favorite, we'll still occasionally grab a bottle of Brugse Zot from a bottle shop. It's much better quality than the mass-produced Leffe blond, which is now found in many bars worldwide because it's owned by Anheuser–Busch InBev.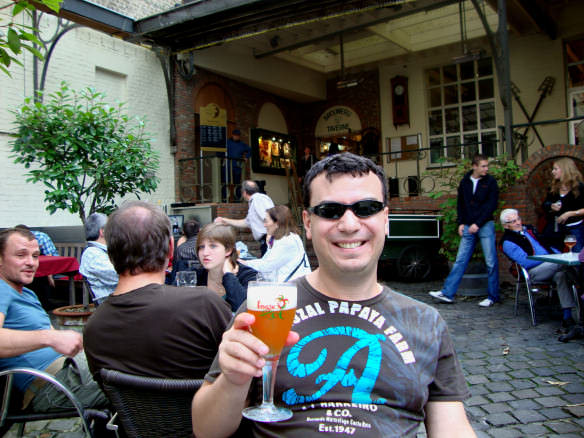 You Will Eat Well in Brugge
Residents of Brugge speak the same language as the Dutch, Flemish. But taste the food in Belgium and compare it to the Netherlands. You'll then understand why they are different countries (Sorry Dutch). The Netherlands has historical ties to Calvinism, so food is generally viewed more as sustenance rather than something to take pleasure in. That mentality is changing though as the culinary scene in Amsterdam has vastly improved.
But Belgians have taken their cuisine more seriously for far longer. While the French prefer to cook with wine, the Belgians typically cook with their delicious beers. A popular Belgian brew dish is rabbit stewed in lambic beer.
"French Fry" History at the Friet Museum
And did you know that "French fries" actually originated in Belgium? During WWI, American soldiers fought alongside French-speaking Belgians who deep fried delicious cut potatoes in oil. Even though they were Belgian, the American soldiers decided to call them French fries, much to the dismay of some 21st century Americans. While we did not visit the fry museum in Brugge, but you can learn way more about this storied potato history at the Friet Museum.
Belgian Waffles
And of course there are waffles, which are indeed Belgian as well, and absolutely delicious, generally. Always stick with the freshly made ones and not the ones sitting around in window sills waiting to be devoured by drunk people (though this is a more common trend in certain areas of Brussels). Waffles generally come topped in chocolate, sugar or strawberries and cream.
And if this isn't enough you'll also find delicious crepes around town with an abundance of other tasty treats at great patisseries and candy shops. Enjoy the romance and indulgence in Brugge as much as you can, worry about dieting when you get home!
Canal Boat Ride 
Many cities claim to be the Venice of somewhere…Places like Amsterdam, Hamburg and Mykonos come to mind. Basically anyplace where you can cruise a small boat or gondola among gorgeous historic buildings can lay claim to this, and Brugge is no exception. If you want to save your legs for chocolate shopping, hop on a boat that will tour you through one of Europe's most quintessentially beautiful towns.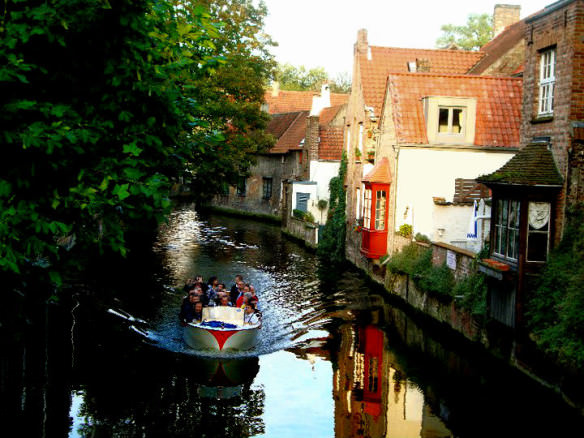 There's no doubt that romance and indulgence in Brugge is easier to find than most places, and our marriage of nearly 9 years can personally attest to this!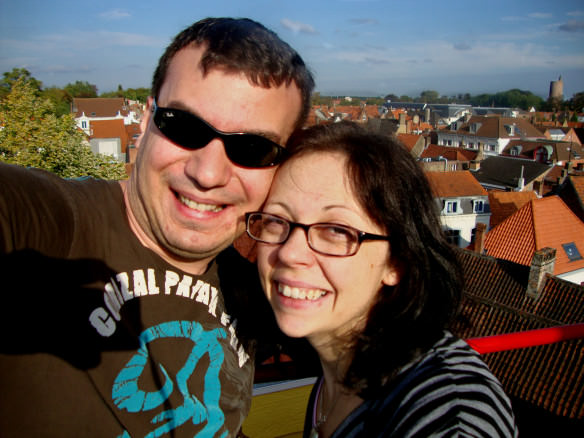 Disclosure: This article contains affiliate links. If you use them, we receive a small commission at no extra cost to you. Thanks for using them!