Most of us have been there, lugging too much stuff through an airport, then arriving at our destination wondering why we brought so many damn things! Years ago, it made economic sense to overpack, since checked bags were typically included in the airfare. But these days, even if a checked bag is included in your airfare, like on an overseas flight, you may want to think carefully about what you bring. Here are some reasons why you should travel light.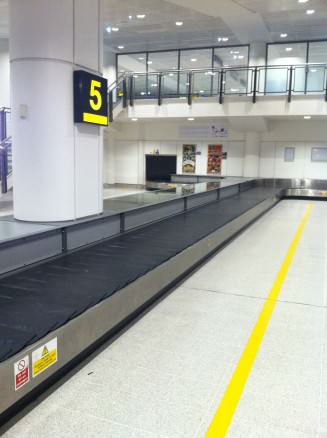 Checked Bags Typically Cost Money 
Major airlines in the US have now raised their checked baggage fees to upwards of $60 roundtrip. An additional $60 USD round trip for a checked bag can greatly increase a plane ticket. Many airlines in the US allow you to gate check for free if the bag isn't obviously oversized. There simply isn't enough room in the cabin if it's a full flight.
You Can Buy It At Your Destination 
I like to be prepared for everything and I hate waste, because waste costs money. With that said, if you're spending $60 on a checked bag so you can pack oversized shampoo bottles or other toiletries, you might be spending too much. Pour toiletries into smaller 3 ounce bottles that fit in a clear plastic bag, suitable for carry on. Or re-purchase that item at your destination. $15 worth of toiletries is cheaper than $60.
Lugging Around Too Much Stuff Sucks 
We love flying Ryanair in Europe (obviously not for customer service or comfort) but because it can sometimes be dirt cheap to fly. We recently bought plane tickets to Manchester from Dublin for €20 each ($28 USD)…round-trip! And in January we flew to Madrid from Dublin round-trip for €67 each ($100 USD). On shorter getaways we don't pay for a checked bag. Ryanair's limited carry on allowance has made us re-think the way we pack. We only pack the things we really need and along with saving money, this makes it easier to get around.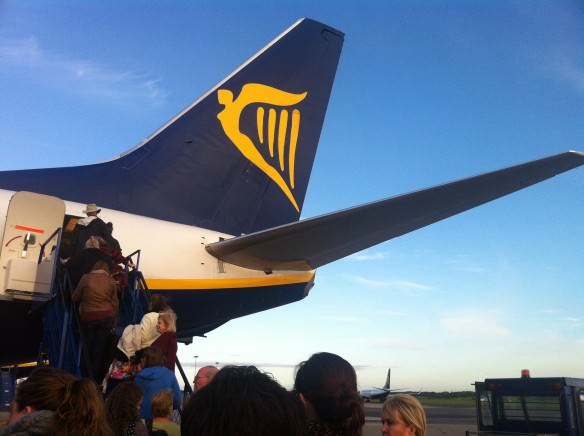 Pay for the Smaller Checked Bag on Discount Airlines
When we fly Ryanair for a trip longer than four days, we'll pay €30 ($42 USD) for one 15 kg (33 pound) checked bag to split. A large lightweight backpack can maximize 15 kg of weight. We don't pay the extra €20 for the 20 kg checked bag not only because we save money, but because we've realized we usually don't need the extra weight. Pack a portable luggage scale so you don't have any pricey surprises at the airport or have to scramble to throw layers of clothing on (we've seen this!).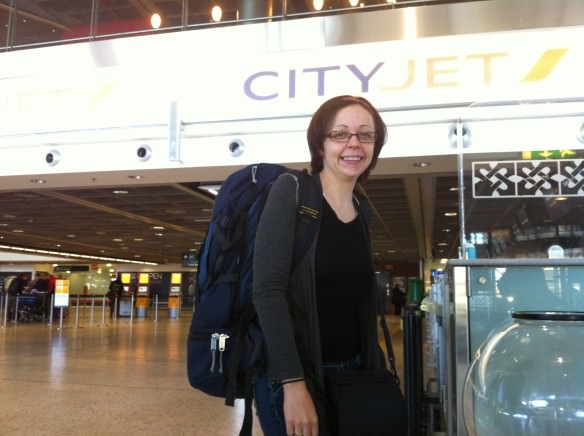 Easier to Use Public Transport Which Saves Money 
European cities generally have great public transport connecting airports to city centers, within cities and between cities. Taxis can be expensive and if you've packed too much stuff, you may find yourself into a situation where you'll be relying on taxis more than necessary. If you've been on a crowded subway during rush hour with too much baggage (we've done it too!), you know it's a lousy and frustrating experience. The less stuff you can manage, the less of a headache catching trains, buses and subways will be.
Travel Underweight If You're going to Shop 
If you're going to Southeast Asia, Mediterranean Europe or certain American cities, you may want to pack less than usual. Asia can offer great value in clothing and other items, and so can countries like Spain, Portugal, Italy and Greece. If you're traveling to Scandinavia on a budget though, you may want to bring everything you need, as those countries are generally expensive.
Reduce Your Carbon Footprint 
Hardcore environmentalists might advocate not getting on a plane at all, but we love traveling and we're not that extreme. As mentioned previously, waste not only costs money but has an environmental impact. If everyone travels around a bit lighter we collectively put less strain on resources.
This post isn't sponsored by Ryanair, and they make additional money off checked baggage anyway. They just generally dominate the discount airline market in Dublin. We've flown other deeply discounted carriers from other European cities like EasyJet, Norwegian Air , AirAsia in Malaysia, and Tiger Air in Australia and found them to be an efficient and affordable way to get around, and they save you additional money and hassle by making you think about what you really need to pack on your travels.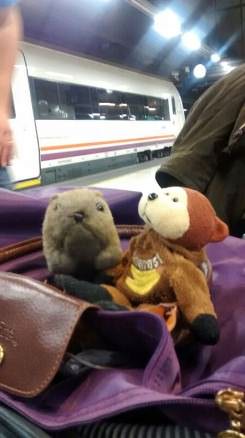 What are your thoughts on packing? Do you pack light or do you overpack? Share your tips or concerns in the comments!