By Alex Kallimanis: The capital of Greece is truly an all time classic. Athens is dominated by 5th-century BC landmarks, like the Acropolis, which offers stunning views overlooking the city and Aegean Sea. Hospitable people, amazing food and wonderful scenery around the country continue to inspire generations of travelers. Trendy restaurants and bars of modern Athens mingle with a plethora of remnants from thousands of years of history – from Byzantium to ancient Greece.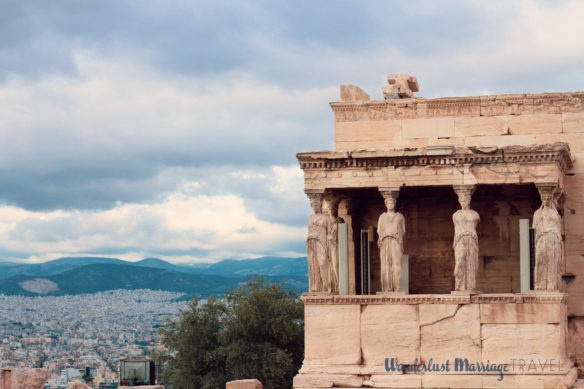 The Olympics, followed by the economic recession and partial recovery, have made Athens as well equipped for visitors as ever. Over 30 million people travel to Greece on an annual basis. With gorgeous photos plastered around social media, tourism should continue to grow again post pandemic. Greece remains a great travel deal outside the busy summer months of July and August. May and September are two of the best months for great travels deals, ideal weather and thinner crowds. Here are more tips for visiting Athens! 
1) Pick an Ideal Place to Stay in Athens
First, you'll need a place to stay in Athens. Book well-reviewed accommodation with free cancellation as soon as you can, given how busy Athens can be. Then if plans change, you can cancel your booking.
Luxury Athens Hotels
Grand Bretagne
The Grand Bretagne is a historic 5-star hotel in Athens with a history dating over a century. It's where all the visiting world leaders stay. Rooms have marble bathrooms and some have balconies facing the Acropolis and the daily changing of the guard at the Parliament. Its rooftop terrace offers sweeping views of the Acropolis over a meal and drinks. 
From their Roof Garden Restaurant, you can see the Acropolis and original all marble Olympic Stadium. The Grande Bretagne Spa offers a thermal suite, complete with herbal bath, grotto, ice fountain, couples retreat and indoor pool. Guests can even pamper themselves with ouzo oil massages.
Mid-Range Athens Hotels
The Artist Athens
Included breakfasts at the Artist Athens are amazing. You have a choice of gourmet coffees like authentic cappuccinos, fresh orange juice, excellent croissants and spreads and a choice between delicious made to order items like croque madams, Greek omelets and more. It's in the Psyri neighborhood, which is centrally located and one of the most vibrant neighborhoods in Athens. This is a great area for wonderful taverna restaurants featuring live Rembetika music (Greek blues).
Athenaeum Grand Hotel
Athenaeum Grand Hotel is a modern hotel offering a comfortable stay at a good price. Rooms and suites are fitted with hardwood floors, nice furnishings and a modern bathroom. All rooms even include use of a smartphone that's programmed with a guide to Athens, that you can use while touring the city. Beds are really comfortable and the breakfast buffet is great quality. We enjoyed our stay there.
Budget Athens Hotels
Still Athens
Still Athens is one of my favorite budget stays in central Athens. Mattresses are comfortable, rooms are well appointed, and they also feature an espresso machine. Located in the Athens City Center district, just off Athinas Street, Still Athens is located less than 1 km from Monastiraki Square, at the foot of the Acropolis. It's just 5-minute walk from Ermou Street-Shopping Area and a mile from the Roman Agora.
Owner and operator Alex Diamantis is extremely friendly, giving his guests the best tips on what to see, where to eat and where to drink. Breakfast is included and provided upstairs at a nearby pizzeria. Air-conditioned rooms provide a city view and come with a desk and free WiFi.
Selina Athens Theatrou
One of the best hostels in Athens is Selina Athens Theatrou. Selina is a chain of hostels around the world that also offers co-working space for digital nomads. Asides from shared rooms, the property also offers private rooms with en-suite bathrooms, balconies and comfortable mattresses. This is the perfect stay for solo travelers as the hostel organizes nightly fun events like welcome drinks on their rooftop terrace, traditional Greek tsiporou (raki) spirit tasting and pub crawls on weekends.
Selina Athens Theatrou offers a roof top terrace restaurant and bar with stunning views of the Acropolis and all around Athens. The property is located 500 m from National Theater of Greece and 800 m from Monastiraki Square. Among the facilities of this property are a restaurant, 24 hour front desk service and free WiFi. The accommodations also features a shared lounge, kitchen, cinema and co-working space.
City Circus Athens
For solo travelers (and backpackers), City Circus Athens is a good place to stay. They offer dorm rooms for backpackers and private rooms if you have a bigger budget. If you book on their website they include complimentary breakfast at the lovely adjacent restaurant Zampano, which also caters well to vegetarians.
City Circus Athens has evening happy hours and organizes local pub crawls that bring travelers together. It's a nice place to stay for solo travelers. Located in Psiri, it's close to one of Athens' liveliest neighborhoods, packed with trendy bars, authentic restaurants and venues to listen to live rembetiko music (Greek folk music). City Circus Athens is not as modern as Selina Athens Theatrou, but its location is better for walking at night.
Short Term Apartment Rentals in Athens
Families and groups of friends should consider renting an apartment with good reviews. Book apartments with many consistently great reviews for the best experience! You can find apartment listings on booking.com as well as other websites. 
Our family trip to Greece in October 2017 was my 89-year-old father's final planned trip to the place of his birth. As we were traveling around the country, we were in and out of Athens several times. We stayed in a combination of apartments and hotels in Athens and the nearby port of Piraeus.
Our trip began in a charming 3 bedroom apartment in central Athens. For $125 US per night for an apartment that comfortably slept our group of 5, this was a much better deal compared to booking three hotel rooms. The apartment featured a throwback art deco interior with modern amenities like a large stainless steel refrigerator and a top end stove.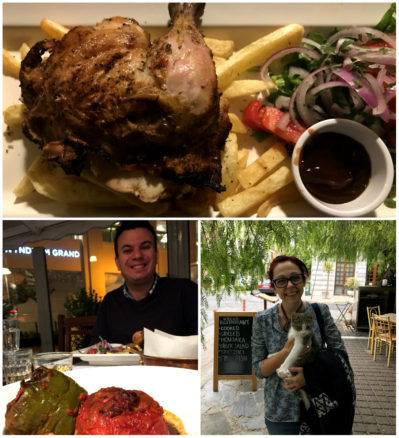 Pireaus Port 
When we returned from the beautiful Cyclades island of Naxos, we had not booked our Athens accommodation in advance and found weekend prices to be very high for October. There was much better value staying in nearby Piraeus, which is conveniently connected to Athens via metro. It's also a handy place to stay if you are catching an early morning ferry to the Greek islands.
Poseidonio has some family rooms with kitchenettes and all their rooms have big balconies with a beautiful view of Saint Nicolas Church and Piraeus harbor. On a side note, the Piraeus marina is lovely for a stroll and there are good seafood restaurants there.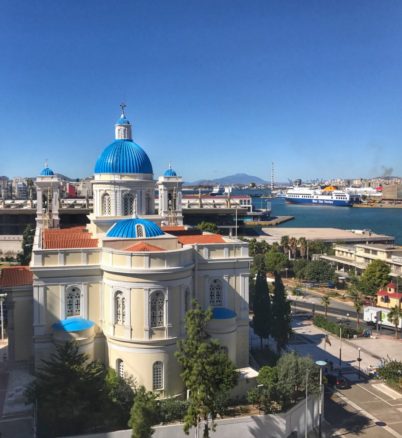 Faliro, Glyfada and Athens Beach Areas
Athens is one of the few capitals in Europe to have beaches. You can even catch the Athens coastal tram to the beaches from Syntagma Square (home of the Greek parliament) going towards the seaside town of Voula. If you want to stay on the beach in Athens, consider the Poseidon Hotel in nearby Faliro Beach or a stay in Glyfada Beach. It's also not so far of an Uber or taxi ride to go into Athens to visit the Acropolis and other attractions from the beaches, especially from Faliro, which is closer to the center of Athens compared to Glyfada.
Dine over Live Rembetika (Greek Blues) and Pop Music (Laika) in Psyri
Psyri is currently the coolest area to drink and dine in Athens in our opinion. While it may lack in terrace views of the Acropolis compared to restaurants in Plaka and Monasteraki, it makes up for with authentic live rembetika music and delicious well-priced food in the tavernas.
We highly recommend dinner and drinks at To Souvlaki Stou Psyiri (which doesn't have much of an online presence). They have live rembetika (Greek blues) most nights. They serve good food and on the night we visited, the rembetika musicians were the best we heard during our trip. If they aren't featuring live music head over to Taverna Tou Psyri.
Go where there's live music and lots of Athenians dining and most likely you're going to have a great meal and a wonderful time. Check out my short YouTube video featuring live rembetika and Greek dancing in Psyri!
Here is a list of 10 great bars with live music in Athens!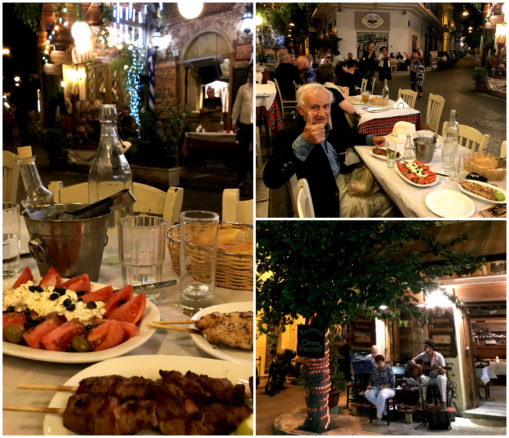 Atlantikos
I've eaten many seafood dinners out in Athens, from casual restaurants to higher end. Atlantikos is my favorite seafood restaurant in Athens. Enjoy whole fish expertly prepared, with a glass of local Greek wine, beer or raki. I especially love the grilled seabass served with fresh roasted greens. Atlantikos is just a 3 minute walk from the ancient Agora.  
Atlantikos address and details
Klimataria
Close to Pysiri, Klimataria is a wonderful hidden gem of a taverna in business since 1927. We enjoyed a large family reunion dinner there. The dishes and atmosphere were authentic and excellent. If a Greek restaurant's decor features wine barrels, like Klimataria does, that's usually a good sign. Klimataria features live Greek music on weekends. One downside is that the neighboring area isn't the best (though not totally unsafe). Walk in a group or Uber back after dinner to be on the safe side.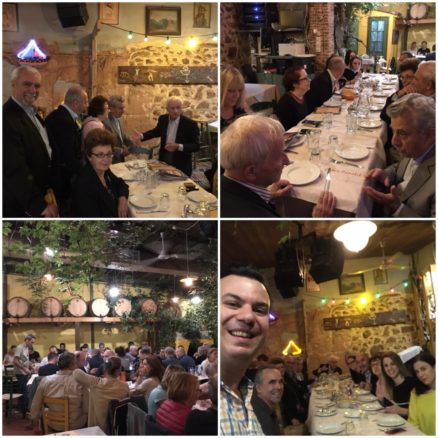 Read Greek travel blogger Matt Barrett's Psiri Nightlife in Athens Guide. It's a fantastic read on the history of the area and why it has become the hippest hangout in Athens. Matt's been writing about Greece for over 20 years. His website and Facebook group are a tremendous resource for planning your travels in Greece!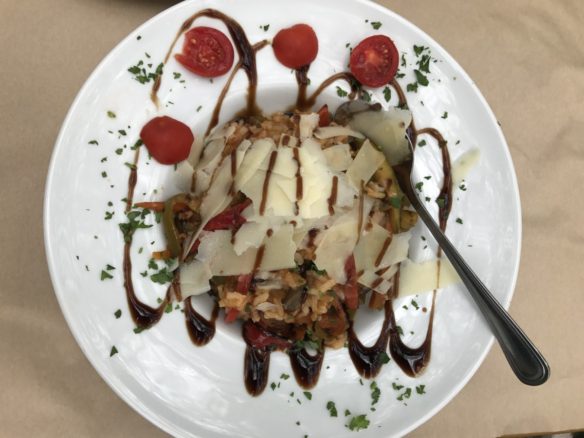 Gazi is also another hip neighborhood for restaurants, bars and nightclubs. Gazi draws huge crowds of young people for nightclubs, especially on weekends. While there are some good taverns, Pysiri is better for that.
Plaka is also fun and charming. It's worth having dinner there with a view of the Acropolis, but it's very touristy. So the prices are higher at many places, and the food is often mediocre. 
Tips for Getting Around Athens: Use Uber, Along with the Metro
Like many places, some Athenian taxi drivers can be unprofessional. Uber still exists in Greece, but now it's a taxi that will come and pick you up from the Uber app. The advantage of using the Uber app to order a taxi is that the driver is reviewed. If the driver's reviews are not good, you can choose to cancel the ride.
Before Uber struck a deal with the taxi companies, they would not pick up from Piraeus ferry terminal and the regional bus station due to disagreements. Athenian Uber drivers had also been wary of dropping off near taxi stands or large congregations of taxis. Fortunately, they worked out a deal and travelers can use the Uber app in Greece without issues again!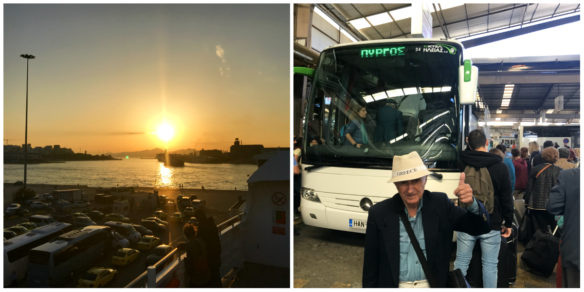 Athens also has a great and inexpensive metro system that is one of our favorites in the world. Several Athenian metro stops like Acropoli and Syntagma (where the Greek Parliament building is located) have beautiful Greek sculptures. They're like miniature museums. Do utilize the Athenian metro. Just be wary of pickpockets like in any city. New York City's metro can be much scarier in comparison!
Athens Museums
Offseason Tip (November – March): On the first Sunday of each offseason month, all the main archeological sites and museums in Athens are free. Athens museums are also free on the holidays listed below! 
March 6th  (in memory of Melina Mercouri)
March 25th Greek Independence Day (free admission to Acropolis Museum)
April 18th  (International Monuments Day)
May 18th  (International Museums Day)
The last weekend of September annually (European Heritage Days)
October 28th  (National Holiday), and
every first Sunday of each month from November 1st until March 31st
If you have time, buy the multi-day ticket for €30 ($36 US) that allows you to see all the ancient sites. If your time is short, asides from visiting the Parthenon, other significant highlights include the Acropolis Museum, National Archeological Museum and Temple of Hepheaustes (Theseum).
Acropolis Museum
The Acropolis Museum is separate but next to the Acropolis. The museum houses impressive artifacts found at the Acropolis like statues, pieces of the Parthenon and the original Karyatides. It also offers amazing views of the Acropolis, especially from the cafe terrace on the second level. Definitely plan time for a drink there! And maybe even have lunch as they have a full menu of hot entrees. Admission is just €10 ($11 USD)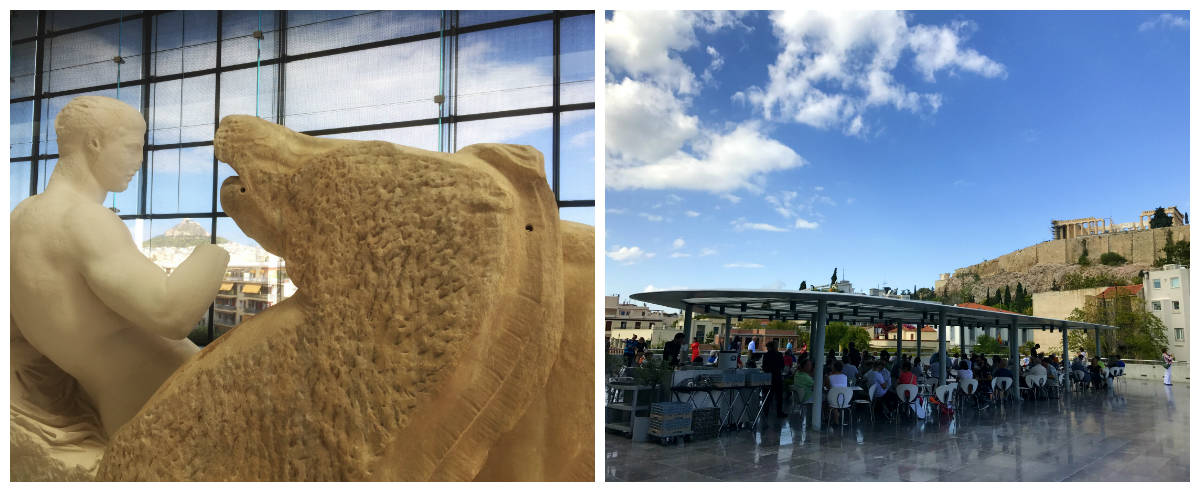 Temple of Hepheaustes
The Temple of Hepheaustes (Theseum) dates back some 2,500 years. It is the best preserved ancient Greek temple in Athens, as it was not destroyed during wars like the Parthenon. Don't miss seeing this temple up close. But if you're very short on time, you can get a nice bird's eye view of it at the gateway to the Acropolis (Propylaea).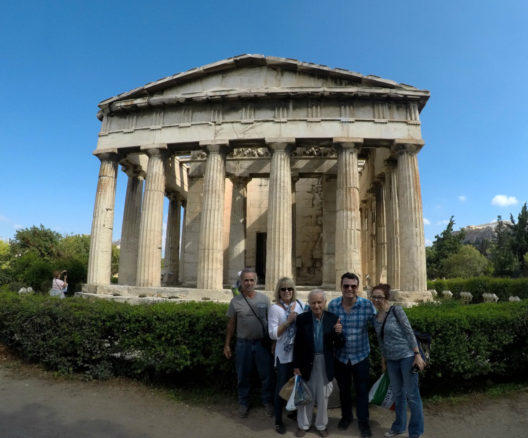 National Archeological Museum
The National Archeological Museum houses an incredible collection of Greek antiquities. If you're a history buff, you should visit here plus the Acropolis Museum. If you don't have time for both, choose the Acropolis Museum as it also has an incredible collection. The Acropolis Museum is also more centrally located to other Athenian attractions compared to the National Archeological Museum. 
Marisa Tejada, over at TravelGreeceTravelEurope has a great article breaking down which Athens museums are always free and which ones are free on certain days. Some Athens museums, like the Benaki Museum, are free every Thursday night. 
Go for a Romantic Dinner with an Amazing View, on top of Mount Lycabettus just before sunset
We had dinner at Orizontes at the top of Mount Lycabettus. This is a beautiful restaurant with incredible views over Athens, including the Acropolis and the Aegean Sea off in the distance. We'll be honest in saying that the food wasn't our favorite meal in Athens, but it was good enough, especially with the phenomenal view. Prices are reasonable too. Try to make a reservation just before sunset. Request a table next to the wall, with the best view overlooking Athens. Orizontes means "horizon" in English, which is a great name for the establishment. Check out my short YouTube video to see what dining at Orizontes looks like!
Athens Massage
Plan to get a massage in Athens. Full body oil massages in Athens start at just €20 ($21 USD)! That's significantly cheaper than the USA and many other countries. Bell and I enjoyed a relaxing full body couples massage in the same room for €40 ($42 USD) by Greek massage therapists. Massages are professionally done, with proper draping.
A variety of options include Swedish relaxation, deep tissue, lomi lomi, Thai massage, reflexology and a mixed variety of massages. Like many things in Greece, a generous amount of oil is used in a Greek oil massage!
If you walk around Ermou street in the afternoon, there are women handing out fliers for establishments like Massage House. These are reputable establishments that generally provide great service. Massage providers are generally Greek or Thai, and the Thai providers are also professional. I've had a few massages in Athens along Ermou Street, and one of them was possibly the best I've had in my life, for just €20!
The Greek masseuse combined a variety of techniques, from Swedish to lomi lomi, alternating between a relaxing full body oil massage, to stretching my arms and legs. She used her elbows to apply deeper pressure. I felt extremely relaxed afterwards.
Greek Thermal Spas
I recently returned from covering thermal Greek spas around the country. There are fantastic thermal springs, Hammams and state of the art therapy centers throughout the country. They're often set to stunning backdrops of scenery. Read my article on thermal Greek spa towns to learn more! 
Hammam Spas in Athens 
For even more luxury and pampering, there are a variety of Hammam spas in Athens. These Turkish style baths offer massages, steam rooms and Turkish style soap scrubs. Check reviews on google and find establishments that match your budget. This is a great option for a romantic couples trip or honeymoon in Athens! 
An Athens massage is a great way to begin your trip after a long flight from the USA. It's also great after a day or two of walking around the city, to get some pampering for your legs and body. 
Explore Idyllic Greek Islands from Athens' Ports of Pireaus and/or Rafina
The Greek islands are one of the world's most popular destinations to vacation. There are around 6,000 islands in Greece, but only 227 are inhabited. You can visit some of the uninhabited islands on day trips, which are fantastic for pristine beaches or archeological sites, like Delos. Delos is considered the "Athens of the Greek islands" and can be visited on a day tour from Cyclades islands like Mykonos. Idyllic villages hanging above the sea, mouth watering gastronomy and breathtaking sunsets over sun kissed beached make this a popular vacation destination for celebrities too.
Santorini, Mykonos and Rhodes are three of the most popular islands. Especially in summer, they draw huge throngs of tourists, also because many of the large cruise ships dock there. There's good news for those that want to avoid the crowds – there's plenty of other islands! And you can also plan a trip to the most popular islands outside summer, when crowds drop off significantly and prices are cheaper.
Andros is the closest and second largest Cyclades island. It's especially popular with Greek tourists and hikers. Its charming capital of Andros Chora features neoclassical buildings that have been home to Greek shipping merchants for centuries. You can travel to Andros by ferry from the port of Rafina. A great island hopping trip is to continue on to Tinos, Mykonos, Paros and Santorini. We recently embarked on that trip in April 2022, and had a fantastic time. 
Visitors can book a cruise, tour, or plan your own trip to the Greek islands by searching sites like Ferry Scanner. Greece is a popular tourist destination so English is widely spoken, especially on well visited islands. That means you shouldn't have a problem putting together your own itinerary. Visitors are spoiled for choice on which Greek island to visit. Here are highlights on 25 popular and hidden gems!
Planning a Trip to Greece?
Check out some of our other articles on Greece for more tips and insight on the country!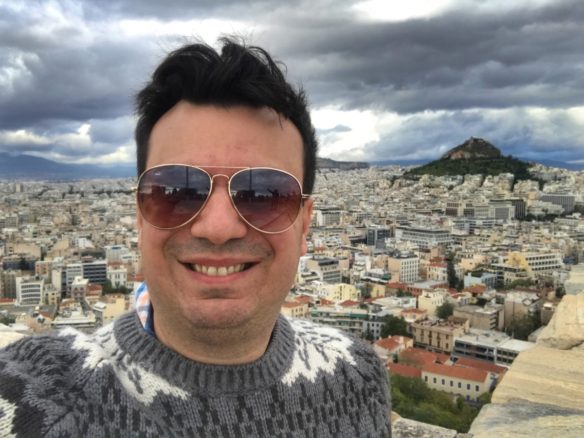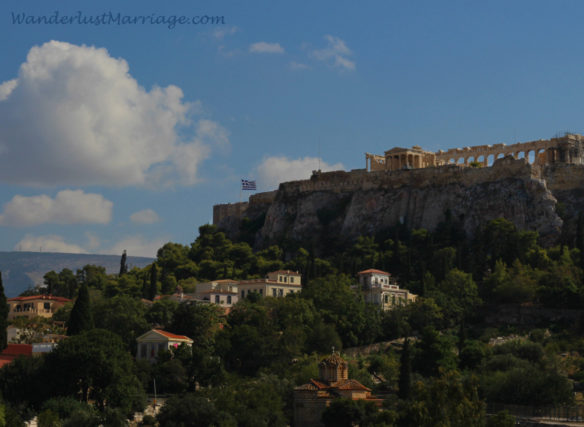 Reasons Greece Should be Your Next Vacation
What Else is There to do Near Olympia, Greece?
Athens One Day Cruise: 3 Greek Islands in One Day
Reasons You Will Love Chania, Crete
Palace of Knosos: Europe's Oldest Civilization
Syros: The Best Greek Cyclades Island to Visit in Winter
5 Reasons Athens is Worth Visiting
7 Reasons Athens Might be Europe's Greatest City
Want to save Big Money on travel to Greece?
Play the credit card points game to earn free flights with everyday spending. We take advantage of credit card bonus sign-ups to earn free international flights and hotel stays. There is a system to cycle through cards and earn thousands in travel rewards bonus credits every year. Read our dedicated article on travel hacks to save big money, packed with tips. Be sure to be responsible with credit charges, and don't blow your budget (being irresponsible is the main catch here).
Planning a trip to Greece and have questions? Email me at [email protected] and I can assist you! 
About the Writer and this Website
Alex Kallimanis is a UCF graduate who grew up in the Orlando, Florida area before living in destinations like Australia, the Netherlands, Ireland and east coast destinations like Boston and Washington, DC. I'm also a Greek citizen that has made around 15 trips to Greece throughout my life. As a travel journalist and travel consultant, I enjoy assisting readers with getting amazing experiences and value from their trips. I've visited 60+ countries and counting!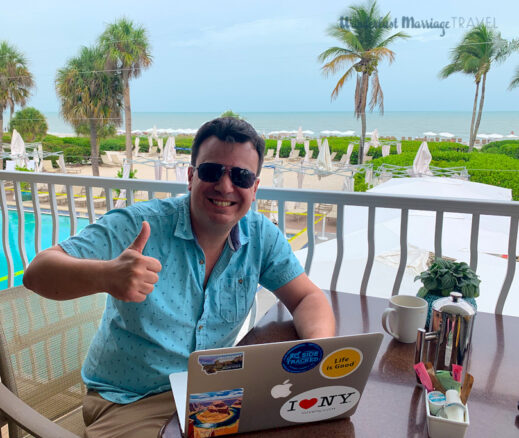 My wife of nearly 17 years, Bell, is an Australian scientist working in cancer research. We first met in a hostel in Brugge, Belgium while backpacking Europe solo after college. You can read more on that story in our about page if you're interested.
I encourage you to browse some of the other destinations we've covered for helpful tips. I also share advice in our resources page that could save you thousands on travel costs!
Disclosure: This article contains some affiliate links. We receive a small commission when you book or sign up through certain links and it costs you nothing extra. Thank you for using them!