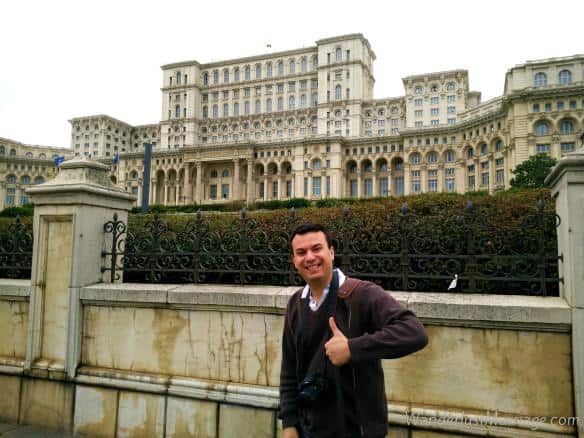 1) It's Hard to Travel in Romania with English
Some people complain that they found it difficult to travel in Romania while only speaking English. And perhaps this is perspective, because Bucharest isn't Amsterdam, where everyone speaks English. However, 40% of Romanians speak at least a moderate amount of English. We didn't partake in any organized tours in Romania and were fine organizing trains and buses ourselves on the ground. Most people who work at hotels and train stations speak a moderate amount of English and we found Romanians generally helpful. Is traveling in Romania more challenging with English than the Netherlands? Yes, but is it
hard
? Not really, because if one Romanian doesn't speak English there's a great chance the next person will.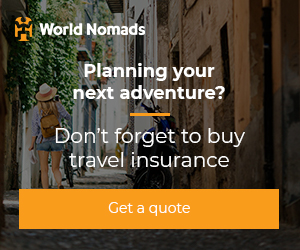 2) Romanians Are Rude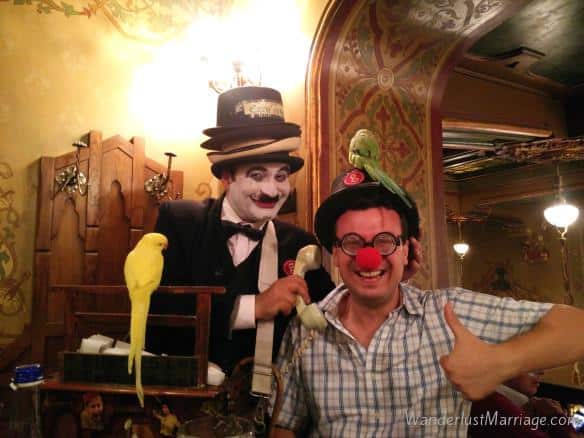 Like anywhere, there are cultural differences and sometimes Romanians come off as being a little more gruff and less polite than English speaking cultures, but this doesn't mean they're rude. It's not the custom in some cultures to interact with the same pleasantries as nations like the USA, Canada, England, Ireland and Australia, but approach people with a smile, respect their country and you'll find most Romanians to be very helpful and nice people. We were even given free shots by a friendly bartender in Brasov who knew nothing about this website.
3) Aggressive Wild Dogs are a Major Problem in the Cities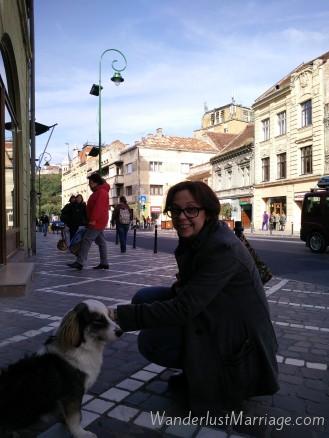 Wild dogs were apparently a big problem in Romania in the recent past. But the situation has improved in recent years. We saw very few stray dogs in the centers of Bucharest and Brasov. And one stray dog in Brasov was extremely cute and friendly. We saw him repeatedly and Bell even named him "Dracula." He really grew on us and we honestly wanted to take him home after we found him huddled up sadly on our final night, which was pretty cold. Unfortunately, we weren't coming straight home from Romania. There were a couple bigger wild dogs that approached us in the gardens of Bran Castle (Dracula's Castle), but they weren't at all aggressive. The occasional mean looking wild dog can be found almost everywhere. The problem isn't as bad as many people say because during our week-long stay we never once felt threatened by a single dog. So this isn't something that should put you off from visiting Romania,
unless you have a serious fear of dogs.
4) Romanians Will Constantly Try to Rip You Off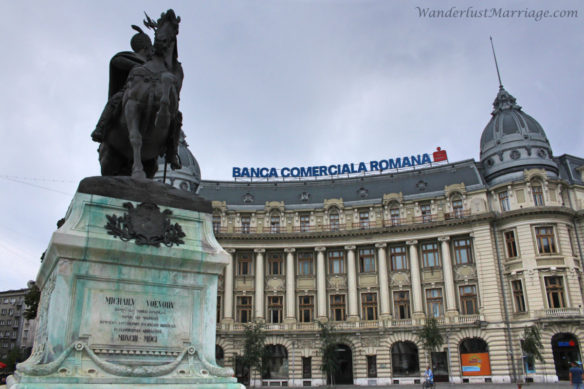 The vast majority of Romanians are very honest people. In fact, after purchasing our first pastry in Bucharest, the cashier made a mistake and gave us 
more
money back than she should have, which we were of course honest in returning. We even received an excellent currency exchange rate at Otopeni International Airport (airports and train stations in western countries are notorious for giving terrible exchange rates). On a side note, the currency exchange booths in the departures terminal did give bad exchange rates, but the bank inside the airport gives an excellent rate. During our week-long stay, we didn't have any transactions where anybody tried to short change us. Of course, it could happen, but it's definitely not prevalent. We usually ask drivers to approximate the fare before entering a cab. Taxis can be a problem when they don't want to run the meter. Taxi drivers at both Bucharest and Brasov train stations asked a flat fee significantly higher than the honest metered fare. In those cases we just said no thanks and found taxi drivers who would run their meters. Taxis are very inexpensive in Romania. We traveled 15 minutes from our hotel in the old town of Bucharest to the train station for the equivalent of $2 US. Sometimes we couldn't find a taxi to run the meter so we just negotiated a fair price for both parties, around $5 for a moderate distance. Taxi drivers can be a problem everywhere, they certainly can be in our current home in Boston! While many taxi drivers are honest, you certainly can't judge an entire nation by this profession. With that said, Bucharest is a big city, so you should take the same precautions there as you would in any city in the world.
5) Romanian Food Isn't as Good as Many Other Countries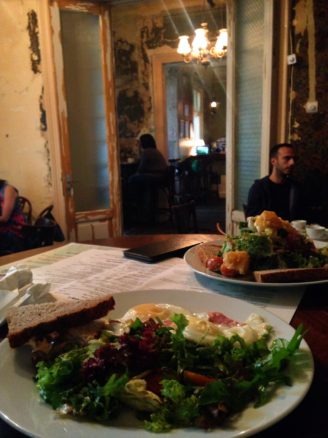 Romanian food
can be… amazing! Our recent nearly four week trip through Europe also saw us visit France and Belgium, two of the best countries in the world for food. But a couple of Romanian dishes we ate very much so competed for the best meal of our trip. One of which was a beef stew called Tocana de Vita with Mamaliga (polenta with cheese), which we ate at
Hanu Lui Manuc
in the old town of Bucharest. The dish had been marinating for 12 hours, and was definitely just as delicious as the wonderful stews we ate in Belgium and France.
Romanian desserts are more hit and miss than Belgium and France but we found wonderfully fresh and delicious pastries from a couple of middle eastern patisseries, and some of the Romanian patisseries were also very good. Sweet pretzels (covrigi) are one of the most common Romanian desserts, with chocolate filling and honey and walnut being two of the most prevalent flavors. A lot of travelers also complain that Romania isn't good for vegetarians as the dishes are very meat centric. While this is generally true, most restaurants in Bucharest and Brasov had a nice salad selection. To balance our meals we usually split one heavy Romanian meal and one salad main, comparable to a Greek salad. Of course, some vegetarians may want more than just salad, in which case, the selection can be limited. We really enjoyed most of the food we ate in Romania, and we didn't eat anything extremely expensive. We almost chose to visit Sicily instead of Romania because we enjoy food a lot and the island has a reputation for amazing food. While eating in Romania, we didn't wish we were in Sicily instead. Now the cold wet weather in Transylvania, that's another story…
Best Hotels to Stay in Bucharest
Consider booking hotels in advance with free cancellation, especially during peak travel times. Booking offers free cancellation on many rooms, which is more flexible than many Airbnb listings.
Epoque
is a stylishly and elegantly decorated boutique hotel with spacious and air-conditioned rooms, as well as free on-site parking and free WiFi in all areas. It is centrally located near the Cismigiu Central Park, away from Bucharest's noisy boulevards. Designed in a Neo-Romanian architectural style, some rooms have a french balcony and views of the garden. All guest room have a well-lit work desk as well as a comfortable living area fitted with a plush sofa. All suites have 2 flat-screen TVs. Guests at the Epoque enjoy free access to a spa centre with a Finnish sauna, a wet sauna, a hot tub, an indoor pool and a fitness centre. Massages can also be booked. Guests can taste the refined French Haute Cuisine with a contemporary touch in L'atelier – l'art culinaire restaurant.
JW Marriott Bucharest Grand Hotel
offers elegance and comfort with 402 deluxe rooms, 6 restaurants, a convention centre, health club and spa, shopping gallery and the Grand Casino. Rooms and suites of JW Marriott Bucharest Grand Hotel are fitted with flat-screen TVs with cable and satellite channels, including HBO and CNN. Bathrobes, slippers and free toiletries come standard. Free WiFi is offered in public areas. This is the perfect place to stay in you're redeeming Marriott Bonvoy points. We stayed at the
Europa Royale Bucharest
. The location is great to bar hop in the Old Town at night. It's great to not worry about having to catch a taxi at night if you do not have to. While it's not an amazing stay, it is comfortable enough.
Want to travel to Romania for cheap?
Play the credit card points game to earn free flights with everyday spending. We take advantage of credit card bonus sign up bonuses to save thousands every year on travel. If you need tips on travel hacking, leave a comment below or get in touch by email!
Have questions about traveling to Romania? Email me at al[email protected] and I'll be happy to assist you!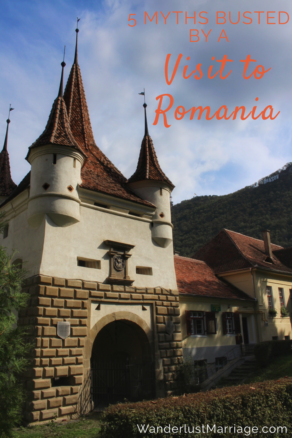 About the Writer and this Website
Alex Kallimanis is a UCF graduate who grew up in the Orlando, Florida area before living in destinations like Australia, the Netherlands, Ireland and east coast destinations like Boston and Washington, DC. As a travel journalist and travel consultant, I enjoy assisting readers with getting amazing experiences and value from their trips. I've visited 58 countries and counting.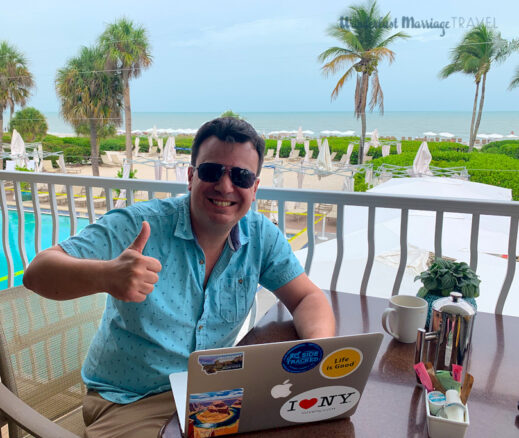 I'm also a Greek citizen that has made 10+ trips to Greece. My wife of nearly 17 years, Bell, is an Australian scientist working in cancer research. We first met in a hostel in Brugge, Belgium while backpacking Europe solo after college. You can read more on that story in our
about
page if you're interested. I encourage you to browse some of the other destinations we've covered for helpful tips. I also share advice in our
resources
page that could save you thousands on travel costs!
Disclosure: This article contains affiliate links. We receive a small commission when you book or sign up through certain links and it costs you nothing extra. Thanks for using them!