Eastern Europe is fascinating and can also be a romantic slice of the globe to explore. It also generally offers far better value than Western Europe. The secret has long been out of the bag with Prague, which doesn't offer nearly the same value as it did 15 years ago. But there are several cities that rival Prague, where you'll find better deals than the Czech Republic's capital. Here are some great off the radar Eastern European cities to visit, with tips for romantic getaways!
Bratislava, Slovakia

The capital of Slovakia is like a sibling to Prague. They were both part of Czechoslovakia until the country peacefully split in 1993. Bratislava has a beautiful historic center that's easily navigable and is dotted with good restaurants, shops and pubs. Bratislava Castle, perched on a hill above town, offers fantastic views for miles, including the Danube River below.
Bratislava has a vibrant nightlife and draws a party crowd on the weekends. But it's also a romantic city, given the charming architecture and Danube River. There are some boat hotel accommodations on the Danube, and many more romantic options in the Old Town. It's only an hour train ride from Vienna, making Bratislava worth a day day trip from Austria's capital. The city is also well connected with the rest of Europe thanks to discount airlines like Ryanair. It's worth combining Bratislava and Vienna on the same trip. Read our article on tips for visiting Vienna.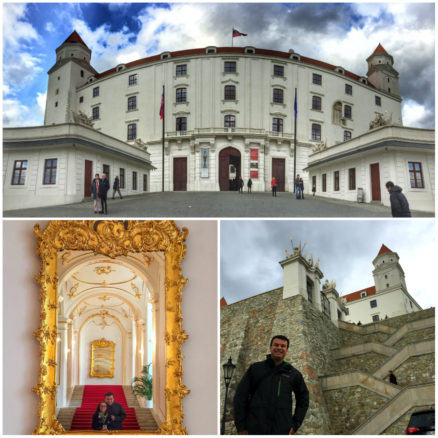 Krakow, Poland
Krakow has one of the largest and most beautiful squares in Europe. Elegant white horse and carriages line Main Market Square and carry passengers around magnificent centuries old structures like Wawel Castle. On an evening with good weather, sitting out on the main square is truly a fairy tale like setting. So Krakow is wonderful for a romantic getaway, with cheaper prices than Prague.
A lot of visitors are drawn to Krakow for its Jewish history. The Kazimierz district houses the Jewish quarter, which is filled with great Jewish restaurants. The concentration camp of Auschwitz and Birkenau is located in the medieval city of Oswiecim, about 66 kilometers west of Krakow. It's easy to organize a tour there, if you want to add very disturbing history to your trip.
We've previously published several articles on Krakow including 5 Must Things to Do in Krakow, Tips on Areas to Stay in Krakow and Scams to Avoid in Krakow.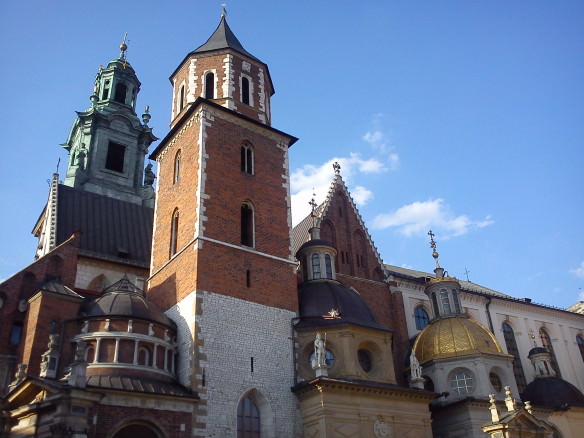 Bucharest, Romania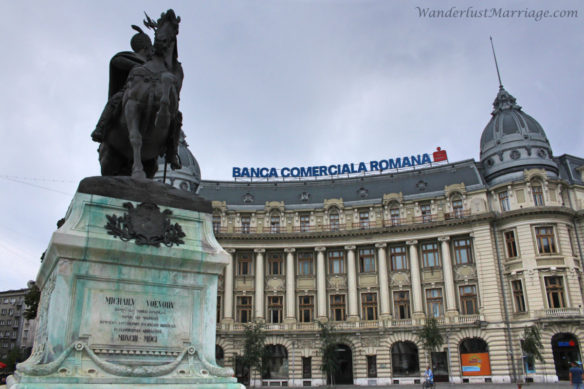 Bucharest is a little rough around the edges. But its old town is pretty, and the nightlife is as good as anywhere else in Eastern Europe. It also has a better than you'd expect food scene, though not so much if you're vegetarian.
One of the highlights of Bucharest is a visit to The Palace of Parliament (Palatul Parlamentului). It's the biggest parliament building in the world, and the second biggest administrative building in the world. Only the Pentagon in Washington, DC is bigger. A tour of this building is fascinating and a little creepy since they don't even run all the lights. This building was part of what cost brutal dictator Nicholae Ceaușescu his life when the iron curtain fell in 1989. Thousands of Bucharest's residents were displaced in the early 1980's to make room for this monstrosity (I didn't know that during this thumbs up photo).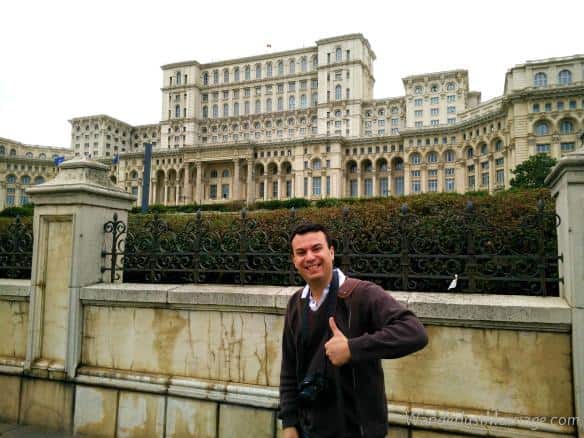 Visiting busted some myths we had about Romania, as is often the case with travel. While Bucharest may be the least romantic city on this list, it has some redeeming qualities for a romantic getaway. And we would both re-visit Bucharest over Sofia, Bulgaria.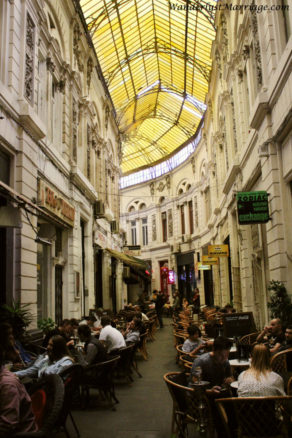 Where to Stay in Bucharest?
Consider booking hotels in advance with free cancellation. We stayed at the Europa Royale Bucharest during our stay. It was fine, but we didn't love it.
Families and budget travelers can find awesome value on apartments on Airbnb. If you've never used Airbnb, sign up here for a discount off your first stay! Book listings with consistently great reviews for the best experience.
Sofia, Bulgaria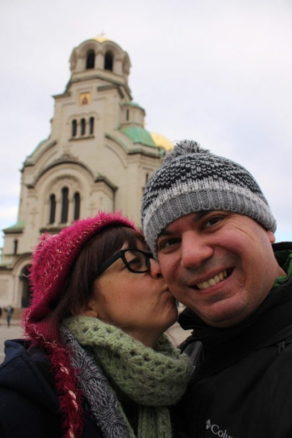 Sofia is the European Union's cheapest capital city, so that's certainly appealing for travelers looking to maximize budgets. We enjoyed some delicious meals in the Bulgarian capital for great prices. While Sofia lacks the wow factor of some other Eastern European cities, there's enough to keep you occupied for a few days. Sofia is one of the best cities for value shopping on this list. It shares a border with Turkey, which has a significant manufacturing sector.
Sofia is one of Europe's oldest capitals, with a storied history influenced by Greeks, Arabs, Jews and others. The Square of Tolerance features a mosque, a Catholic cathedral, an orthodox church and a synagogue, within a few minutes walk from each other. And the Alexander Nevsky Cathedral is one of the largest in the Eastern Orthodox world.
We weighed many of the pros and cons in our article, Is Sofia, Bulgaria Worth Visiting?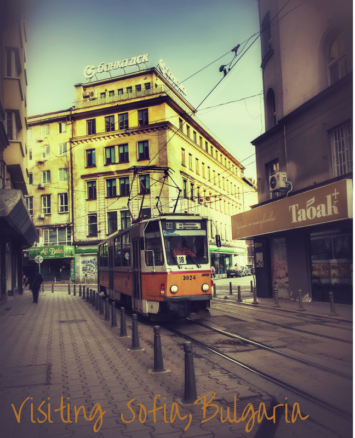 Budapest, Hungary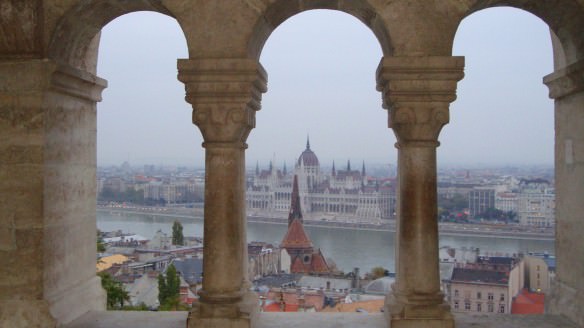 Budapest isn't off the radar, but in comparison to Prague it still is, especially among a large segment of American travelers. While Budapest gets a lot of tourists, it's a bigger city than Prague, so the center absorbs the crowds a little better. The architecture in Budapest is very impressive, and the Hungarian Parliament is possibly the most beautiful in the world.
Mineral baths are really popular in Budapest, and Hungarians have been using them for centuries to relax and aid a wide assortment of ailments. Budapest is one of the few major cities in the world that lies atop an array of hot thermal springs. Asides from healthy minerals seeping into your pours, the baths are also therapeutic because they're fun and relaxing. Baths and spas are awesome on a romantic getaway. Which bath should you visit? Read our previous article, Budapest baths- Széchenyi or Rudas?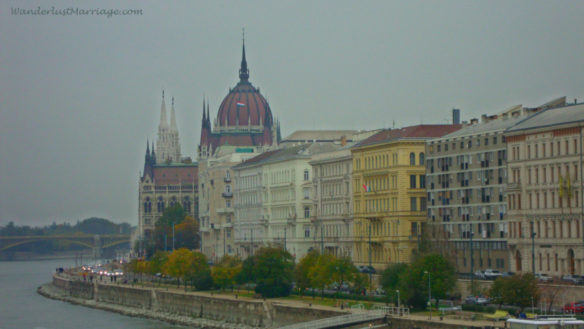 Riga, Latvia (Or Vilnius or Tallinn)
Traveling to Riga is a little like traveling to a mini-Russia, except you don't need a visa. The city has a large Russian population, with grand buildings in a charming historic center. There are some delicious Russian restaurants and even communist themed pubs, with old Soviet memorabilia.
Riga is the largest capital of the 3 Baltic countries and boasts excellent architecture, food and nightlife, for great prices. It used to be difficult to visit Riga, given that it was formerly part of the Soviet Union. But now that several European discount carriers fly there or to neighboring Vilnius, Lithuania and Tallinn, Estonia, more people are traveling to Riga.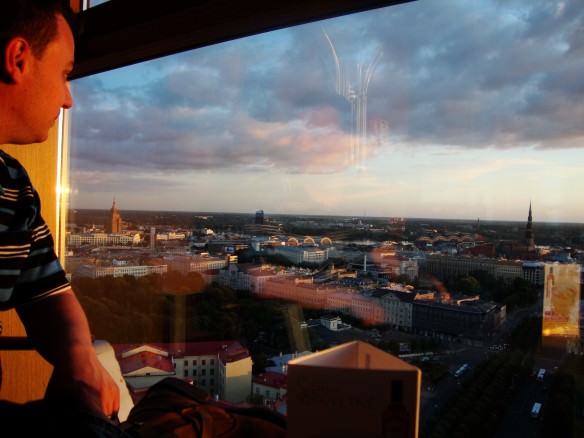 All of the Baltic capitals are worth visiting. We also enjoyed our time in Vilnius and would return if the opportunity arose. While we haven't been to Tallinn, Estonia, we consistently read and hear great things. In the future, we're planning to travel to Tallinn and visit St. Petersburg, Russia on their free 72-hour visa. The free 72-hour visa is only available for travelers visiting St. Petersburg by ferry, which you can also take from Helsinki.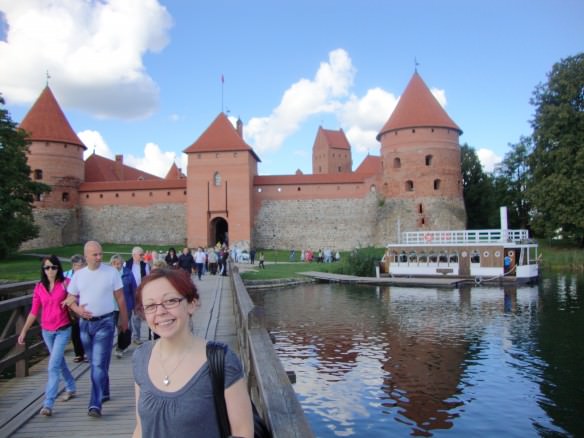 Travel Tips for Great Off the Radar Eastern European Cities to Visit
Use Uber over taxis in Eastern Europe. It's cheaper and on average more reliable because of GPS tracking. If you've never used Uber, sign up here free and receive credits off your first rides!
You'll often find the best hotel prices on booking.com. You can also find awesome value on apartments with consistently great reviews on Airbnb. If you've never used the service, sign up here free and receive a discount off your first stay! Just be sure to book apartments with consistently good reviews.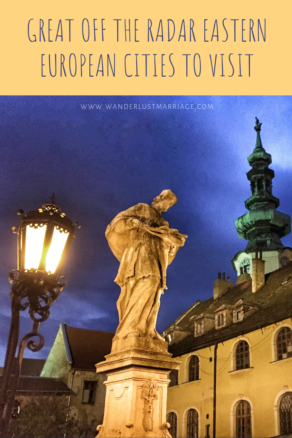 Have questions on great Eastern European cities? Email me at alex@wanderlustmarriage.com or leave a comment and I can assist you!
Disclosure: This article contains some affiliate links. We receive a small commission when you book or sign up through certain links and it costs you nothing extra. When it suits you, please use them, as it helps us help you!