During our recent week long trip to Romania, we were torn whether to visit Varna, Bulgaria or Transylvania. We were leaning Transylvania, but to be sure, we put the question to a vote on our Facebook page and Transylvania won. We flew from Brussels Charleroi Airport to Bucharest where we spent three nights staying in Bucharest's intriguing old town. The highlight of Bucharest was a visit to the world's largest parliament building, "The People's Palace," which in part cost former dictator Nicolae Ceaușescu and his wife Elena their lives, when communism fell in 1989. We then embarked on a 2 and 1/2 hour train ride north from Bucharest to Brasov, Transylvania, a beautiful medieval town nestled in a valley in the Carpathian mountains. Brasov was our three day base for our visit to Dracula's Castle, Bran Castle, and our search for the world's most famous vampire, not long before Halloween 2015.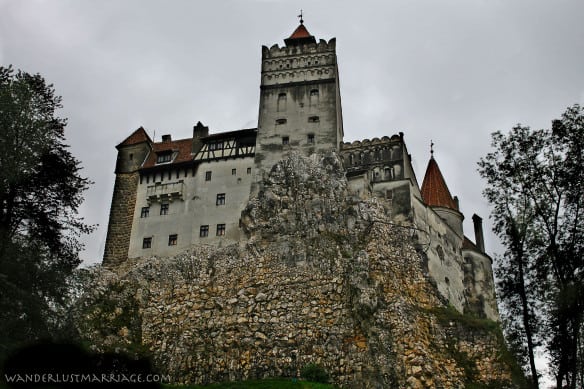 You can visit Bran Castle, and other castles in the region via tours that leave from Bucharest. And upon arrival in Brasov, taxi drivers will also offer to drive you to Bran Castle and Pele's Castle, which is more lavish for around 150 lei for 2 people ($42 US). But we decided to take a 40 minute public bus ride instead, which aside from saving us money, also gave us more insight into local Romanian life and allowed us to have as much time as we wanted at Bran Castle. There's several great castles and fortresses in and around Brasov, including beautiful
Rasnov Fortress
, which we passed by on the bus, but as we didn't want to rush around during our vacation, we decided to only visit Bran Castle and take our time exploring the grounds and a little of the small town of Bran itself.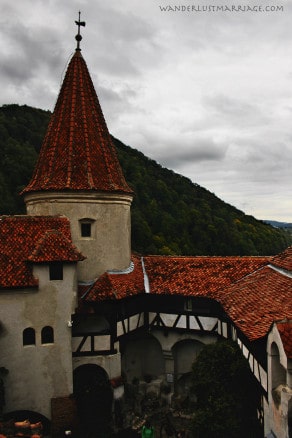 The legend of Dracula stems from the work of Irish writer Bram Stoker, who never actually visited Transylvania. But based on photos, and his imagination, he weaved a tale of a menacing vampire who feasted from his lair at Bran Castle. Dracula himself, was inspired by the ruthless rule of Vlad the Impaler (Vlad Tepes), who ruled parts of Transylvania during the mid 1400's.
On our bus (the roof of which was filled with an assortment of hanging air fresheners), we met an Australian who was also traveling from Brasov to Bran Castle. The three of us disembarked from the bus in Bran, and the ominous castle was just a short walk uphill, past an array of merchants selling trinkets, pottery, clothing and food. There was even a haunted house, which shouldn't come as a huge surprise. And the grey sky made for the perfect backdrop for a visit to the supposed home of Dracula.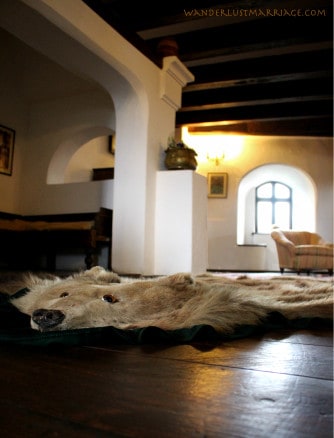 Tourism is growing in Romania and despite being low season, there were still a lot of visitors at Bran Castle from all over the world. It becomes especially crowded after tour buses drop off groups. A small group of Norwegians traveling on their own, visited in 18th century dress, making for nice pictures. When asked why they were dressed up they said "just for fun!" That was a pretty good idea, and now that Halloween is approaching, we're sure quite a few "Draculas" are visiting the castle.
Bran Castle was built in 1388 by order of Hungarian King Louis the Great. The castle originally doubled as a fortress and was meant to help protect Transylvania from Ottoman expansion. Vlad the Impaler (the inspiration for Dracula) moved through Bran in 1459 to attack nearby Brasov, burning its suburbs and killing hundreds of Saxons. The history of Vlad ever taking residence in Bran Castle is ambiguous, but he supposedly spent two months as a prisoner there.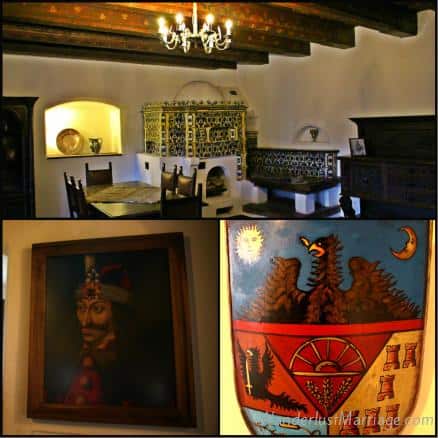 Bran Castle changed hands and roles for centuries, and became part of the Habsburg Empire in 1687. By 1836 Bran Castle lost its military importance when the Transylvanian borders were moved by the Austro-Hungarian Empire, ending its duty as a border and customs checkpoint. In 1918, Transylvania became part of greater Romania and in 1920 the citizens of Bran decided to give the castle to Queen Marie of Romania as a gift. Marie took a liking to the castle and had renovations made so that it would be a summer residence of the royal family. After the death of Marie in 1932, it became the summer residence of Princess Illeana before she was forced into exile in 1948 after Romania became communist and the Hapsburgs were forced from power. In 2006, after a lengthy legal battle,
the castle was returned to the Hapsburg family
, who have kept the castle as a tourist destination. Last year Bran Castle reported that they received 560,000 visitors and the Hapsburg family has been looking to sell the castle…
Trump's Dracula Hotel and Casino
?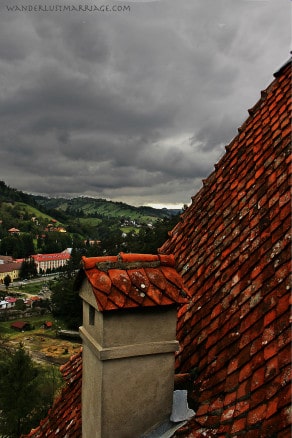 Bran Castle was fun to visit and has some elegant furniture along with knight costumes to honor its military history, but people also rave about nearby
Peles Castle
, and if overly lavish is your thing, that's the castle you should probably visit if you only have time to visit one castle. But the views of Bran and the surrounding mountains are very picturesque and worth sitting to admire for awhile. We'll be featuring more of
Romania
in the future, in the meantime read about
5 myths that we busted during our trip to Romania
.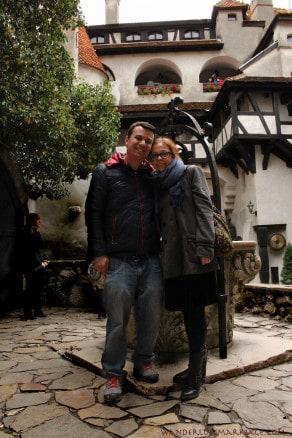 Getting to Bran Castle from Brasov via public transport:
Head to Autogara No 2 (bus station 2), this is not the bus station attached to Brasov's train station, it's a few kilometers from there
Buy your ticket either inside the bus station ticket office or on the bus for 7 lei each way (around $2 US)
Get off at the Bran stop, cross the road, and walk through the row of craft stalls to the base of Bran Castle to purchase tickets (30 lei for regular admission and 15 lei for students)