Brasov is a charming town nestled in the Carpathian Mountains of Romania. Just 2 and 1/2 hours by train from Bucharest, it is the perfect base to explore this famous region. Brasov's close proximity to the capital makes it an easily accessible destination for moderately experienced travelers. While Brasov does not yet have an airport, there is one set to open this year, which will make it even easier to plan a long romantic weekend there.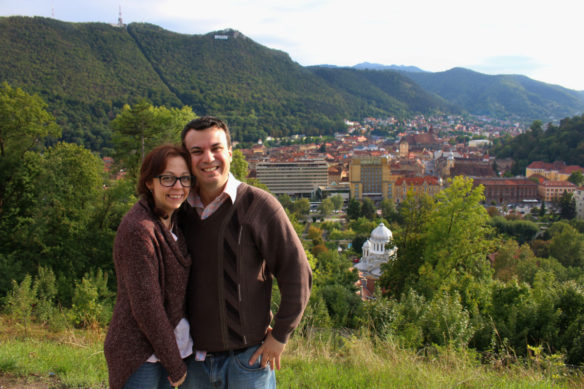 What to See and Do in Brasov?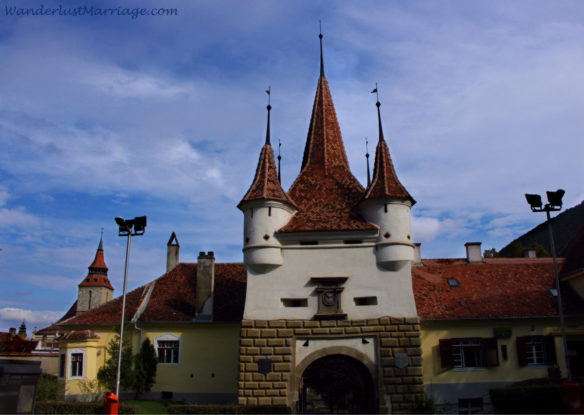 Brasov is home to around 250,000 people, with a charming and walkable historic center. The iconic Yekaterina's Gate (pictured above) is a must see. Built in 1559, it is beautifully preserved and lovely to walk around. On the mountain beside the gate there's a sign reminiscent of the iconic one in Hollywood. Throughout many places in town, you can gaze up and see "Brasov" high up in the mountain. You can hike up the mountain or catch the funicular train up. A warning to would be hikers is that there are bears living on this mountain (though that would be the case in many places).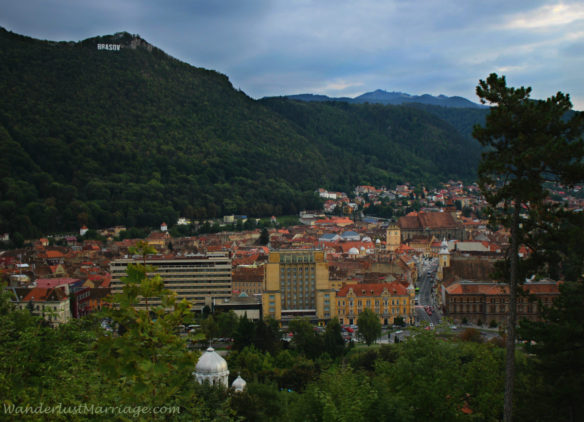 Alternatively, you can wander up to the Brasov Citadel (fortress) and have an amazing view of the town and the Hollywood-esque sign. It is an easy walk up paved roads and well worth it. Unfortunately, the fortress was closed during our visit, but we enjoyed the surrounding view immensely. And as that hike is residential, you're much less likely to stumble into a bear!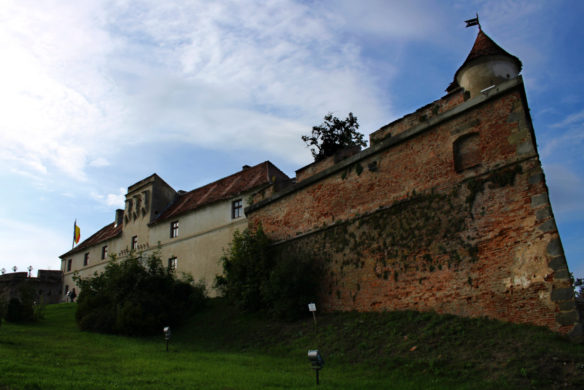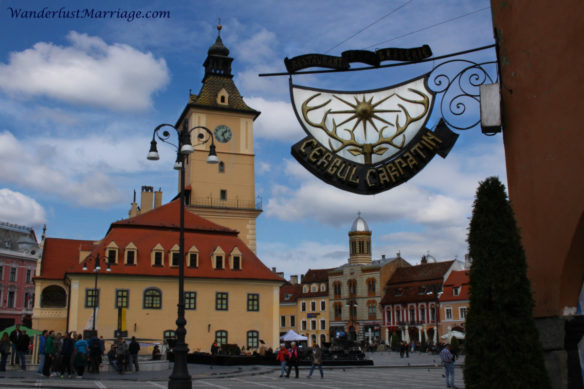 Brasov's old town is lovely, highlighted by a large central square. Pass by the rope street, which is the narrowest street in Europe. You should also visit the Black Church (Biserica Neagra), a Gothic style cathedral that was partially destroyed in 1689 due to fire, which is the reason for its current name.

Exploring the Area: Bran Castle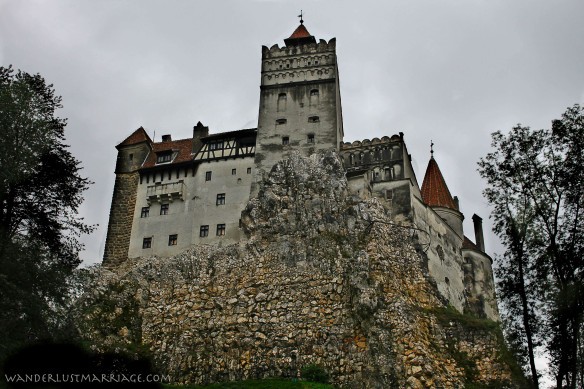 While it now belongs to the famous Hapsburg family, Bran Castle has a sinister history. It's associated with Vlad the Impaler and the setting of Bram Stroker's Dracula. It's an eery place with a pretty view of the town of Bran and the surrounding mountains. To learn more, read our article on Bran Castle, Searching for Dracula in Transylvania.
We traveled to Bran Castle from Brasov via the local bus so we could experience it at our own pace. But it takes time to navigate public transportation in Transylvania.  So it's much easier and less stressful to take a tour. There are tours that combine Bran Castle and Rasnov Fortress which means you'll see a lot. The best other option to see both in a day is renting a car, which might not be worth it. 
Getting to Bran Castle from Brasov via public transport:
Head to Autogara No 2 (bus station 2), this is not the bus station attached to Brasov's train station, it's a few kilometers from there.
Buy your ticket either inside the bus station ticket office or on the bus for 8 lei each way (around $2 USD)
Get off at the Bran stop, cross the road, and walk through the row of craft stalls to the base of Bran Castle to purchase tickets. Admission price is 35 lei ($8.20 USD) for regular admission, 25 lei for seniors 65+, 20 lei for students and 7 lei for kids.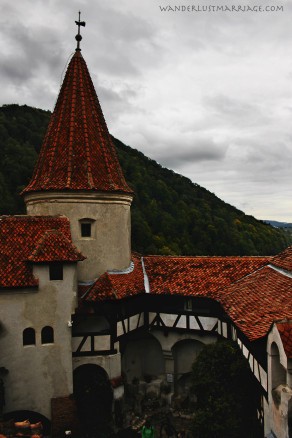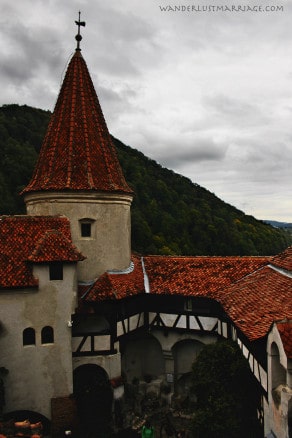 Peles Castle
Peles Castle, a masterpiece of German new renaissance architecture, is considered one of the most beautiful castles in Europe. It was completed in 1883, after being commissioned by King Carol I in 1873. The castle was the summer residence of the royal family until 1947. Its 160 rooms are decorated with the finest pieces of European art, Murano crystal chandeliers, German stained-glass windows and Cordoba leather-covered walls. Peles Castle is located in Sinaia, 40 miles south of Brasov. Many companies also offer tours from Bucharest, which can combine Bran Castle and Peles Castle together.
Rasnov Fortress
Just 9 miles (15 km) from Brasov, Rasnov Fortress sits on a rocky hilltop 650 feet above the town of Rasnov. Dating back to 1331, the old fortress has been restored and you can visit the remains of a fortified village. There is also a museum, with a skeleton buried beneath a glass floor, in addition to its collection. Rasnov Fortress last fell during the final Ottoman invasion of Transylvania in 1690. The fortress's final use came during the revolution of 1848, as a place of refuge, and was abandoned afterwards.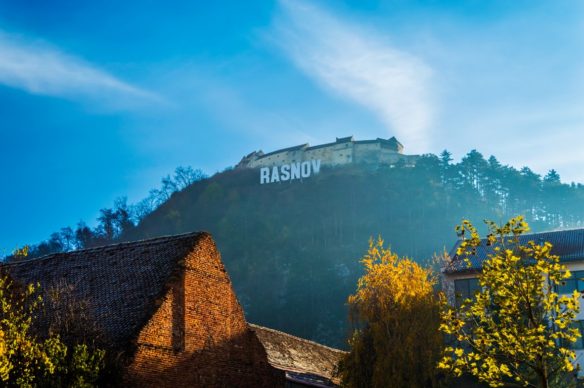 Where to Eat in Brasov?
If you only have time for one dinner in Brasov, you should head to Sergiana (though maybe not if you're vegetarian). This place is pork lovers heaven. Instead of giving complimentary bread, they bring a complimentary plate of fried pork before your meal. Holy heart attacks! The food and drink menu is extensive and diverse, and the cellar ambiance is lively. Sergiana was an interesting enough experience to warrant two dinners, which is extremely rare for us. We seldom give a restaurant a second try on a short trip, but Sergiana is that good.
Brasov covers vegetarians mostly in the form of a couple token salads on menus. Covrig cu ciocolata, is a popular dessert, which is chocolate filled bread. It typically costs just 2 leu (50 US cents). The basic type is a simple bread ring with no filling, but they can also include fruit. All the covrigs are delicious, but the chocolate filled version was definitely our favorite.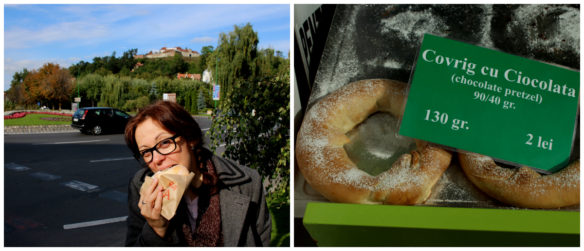 Where to Stay in Transylvania?
For hotels and small apartments, you'll often find the best deals on booking..com Booking.com lists apartments in Brasov as well. Consider booking well reviewed accommodation in advance with free cancellation! That way if plans change, you can cancel your booking without penalty.
If you're planning a trip to Romania, check out our articles on Why Bucharest, Romania is Worth Visiting and 5 Myths Busted by a Visit to Romania.
Brasov is lovely, and we even made a new friend who we felt strangely connected to. As the town is small, we randomly saw the same stray dog around the city each of our three days there. We nicknamed him Dracula and we wished we could have brought him back home with us. We were sad to leave him behind, especially as the weather was turning bitterly cold for the season.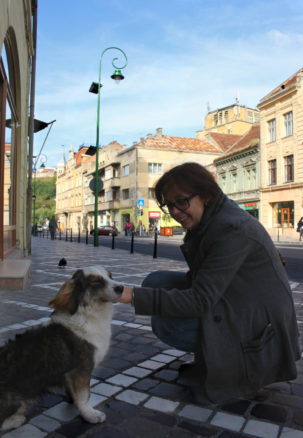 Planning a trip to Romania or elsewhere? Lave a comment below or email me at alex(at)wanderlustmarriage.com if you need assistance!
Disclosure: This article contains affiliate links. We receive a small commission when you book or sign up through these links and it costs you nothing extra. When it suits you, please use them, as it helps us help you!