As someone who studied history and political science in college, the world's largest parliament building, 'The People's Palace,' in Bucharest, Romania had been on my bucket list for years. The Palace of the Parliament (Palatul Parlamentului) measures a staggering 3.7 million square feet (340,000 square meters) and is the second largest administrative building in the world, with only the Pentagon in the United States being larger. There was a lot we enjoyed about our week long stay in Romania, and the Palace of the Parliament in Bucharest lived up to its hype as a building that's both seriously impressive, absurdly lavish and creepy at the same time.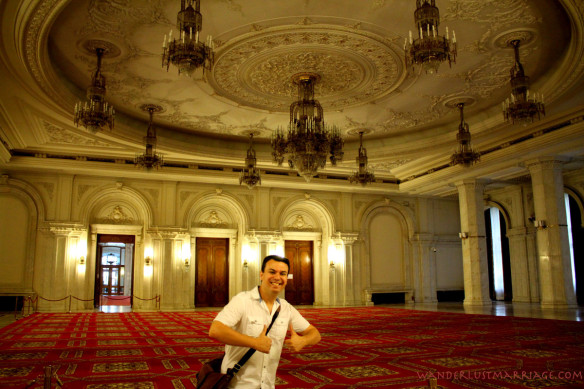 First Impressions of the Palace of Parliament in Bucharest
While the exterior of the People's Palace looks somewhat like a classical Greek revival building on steroids, the building's interior is where you really see the excessive opulence. The building contains 1,100 rooms and is filled with thick marble columns, staircases & crystal chandeliers. There's so many lights in the People's Palace that most of the fancy chandeliers aren't even turned on when not in use because the electricity bill would be too high. Even on our guided tour, most of the lights were turned off, giving a small sense that a giant Frankenstein was the real owner of the place.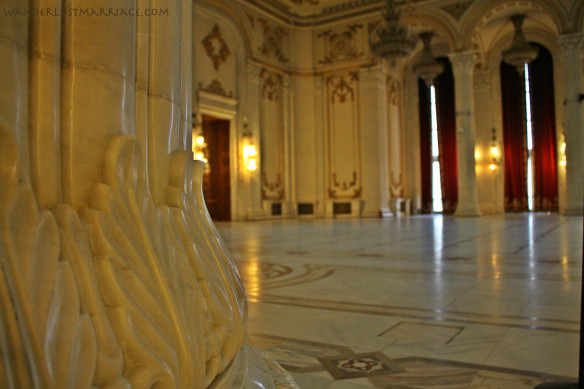 The People's Palace was commissioned by long time 'communist' dictator Nicolae Ceausescu and building began in 1980. A team of 700 architects was led by Anca Petrescu (who should have been named Time magazines 'Man of the Year' just for managing that many architects) in construction of this beauty and the beast monstrosity.
Arriving for a Tour
When visiting the Palace of Parliament it's important to call ahead and make an appointment and you have to bring your passport. Your passport will be held during the tour and returned to you upon completion (nice throwback to communism there). It's also pretty staggering that the world's largest administrative building that allows civilians has one of the smallest waiting areas. Expect to be a little crammed before going through security. But while you're waiting you can buy coffee and snacks from a small stall. Tickets can be purchased with cash only by taking your reservation ticket into the gift shop. There's a fee for taking photos and visitors are told that those who wander from the tour will be treated as threats and are subject to arrest.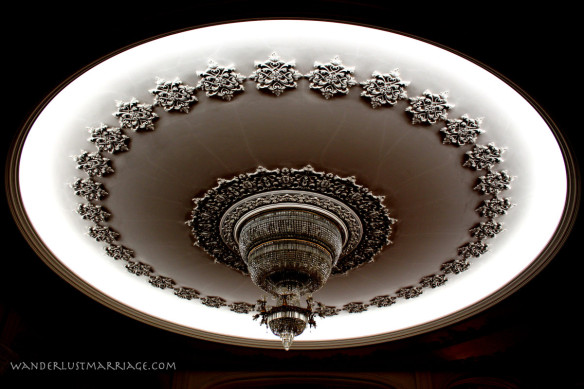 There's an additional 30 lei ($7.50 US) camera fee if you want to take photos, and those who pay the fee are given a separate badge for it. The guide told off a few young Greek guys who were taking photos without a camera badge and told them "you need to delete those photos" but then didn't check and the guys just smirked about it. They continued to sneak photos and during the second half of the tour, the guide was much more lax about who was taking photos. By the time we were gathered on the large terrace, with a beautiful view overlooking Bulevardul Unirii (Unity Boulevard), everyone was taking photos, whether they paid the fee or not. But each guide and tour may be different, so if you definitely want your own photos, it's best to pay the camera fee to be safe.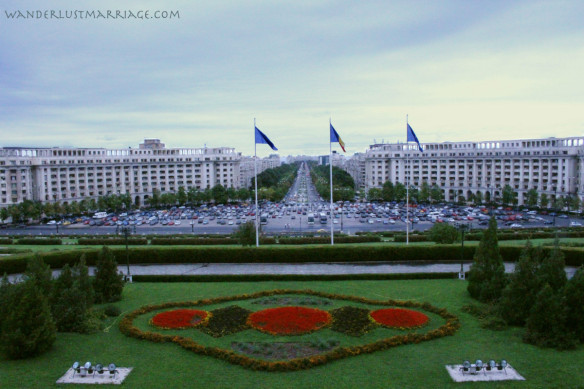 Palace of Parliament Tour
Our group consisted of around 30 people and was led by a knowledgable English speaking Romanian guide. We'd read TripAdvisor reviews where some people complained that their guide ignored communist history and the regime of Nicolae Ceausescu, but that wasn't the case with our guide. He discussed issues like a lack of central air and heat and said there was speculation that Ceausescu didn't want that as he was fearful that someone could put poison gas in the air vents. Though he said probably the reason was that it was a relatively new and expensive technology in the 1980's.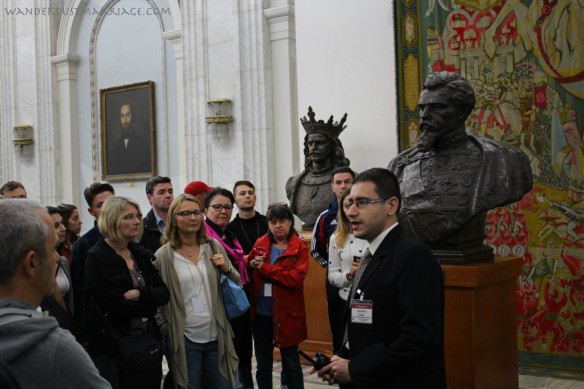 Nicolae Ceausescu and the History of Bucharest's Palace of Parliament
Our guide spoke extensively about the Ceausescu regime, saying that around 40,000 people were displaced from their homes in order to build 'The People's Palace.' "Some were compensated, but some were not" our guide said. As we took the tour on a week day, we sporadically saw Romanian officials walking the halls but we were not taken into either parliamentary chamber for a viewing. Given how massive the building is, we only saw a fraction of it, but what we did see was both impressive and disturbing in light of the fact that so many Romanians were going hungry in the 1980's due to the greed of the Ceausescu regime.
Due to expense, some Romanian officials in the past suggested moving parliament to a smaller building and converting the Palace of Parliament into the world's largest casino. "There was speculation Donald Trump was interested in buying it" our guide said. Yes, there's speculation that the man who finished 3rd in the bidding to buy the Buffalo Bills NFL football team (behind the Jon Bon Jovi group) can buy anything and I couldn't believe that even in the Romanian Parliament we couldn't escape Donald Trump's name.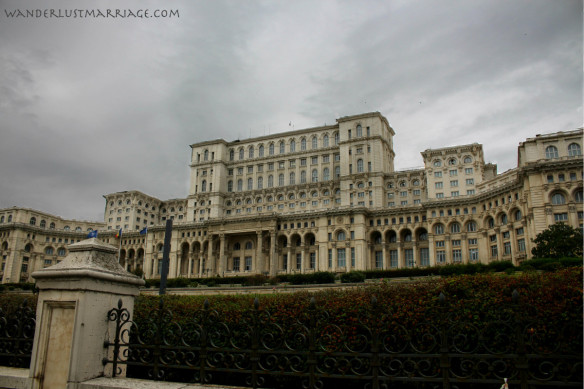 Fall of Communism in the Eastern Bloc
When "communism" was falling throughout the 'Eastern Bloc' in 1989, Nicolae Ceausescu refused to step down until anarchy filled the streets of Bucharest. Nicolae and his wife Elaina fled via helicopter but were eventually captured by the Romanian military. On Christmas Day, 1989 a very short trial took place, led by the National Salvation Front, Romania's interim regime, and they were both sentenced to death for genocide and a host of other charges including illegal enriching themselves. They were then immediately escorted outside and shot to death together (worst Christmas present ever). Interestingly, in 1990, Romania abolished capital punishment, making the Ceausescu's the last Romanians officially executed by the state.
The 1980's gradually saw a substantial decrease in the quality of life of Romanians due to the poor leadership and priorities of the Ceausescu regime. Aside from ordering the extravagant Palace of Parliament, during the 1970's, the Ceausescu led government had borrowed heavily from the International Monetary Fund and other western organizations and during the 80's he decided to repay the debt entirely. Romania gradually re-paid $13 billion in foreign loans through large scale shipments of agricultural and industrial exports, while too many were starving with food shortages and struggling to survive within Romania.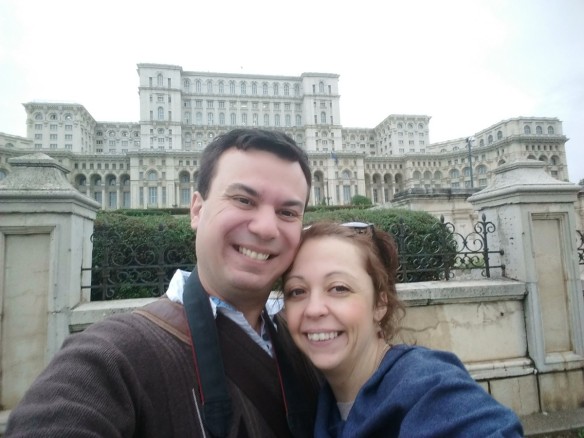 Ceausescu did not live to see the Palace of Parliament finished, as construction wasn't fully completed until 1997. Along with being the world's largest parliament, it stands as a testament to the greed and poor leadership that mired the end of Ceausescu's regime, after the former peasant had been admired by so many Western regimes in the 1960's and 70's for balancing socialism, liberalism and fostering good relationships with western nations. For fellow political and history buffs, a visit to 'The People's Palace' should be on your bucket list, as well as reading more into the compelling life and regime of Nicolae Ceausescu.
Getting there
Metro: Izvor
Entry fee: Standard tour 23 lei ($5.50USD)
Camera fee: 30 lei ($7.50 USD)
Visit the Bucharest Palace of Parliament website to see updated information on a tour.
Best Hotels in Bucharest


Consider booking hotels in advance with free cancellation, especially during peak travel times. Booking offers free cancellation on many rooms, which is more flexible than many Airbnb listings.
Epoque is a stylishly and elegantly decorated boutique hotel with spacious and air-conditioned rooms, as well as free on-site parking and free WiFi in all areas. It is centrally located near the Cismigiu Central Park, away from Bucharest's noisy boulevards. Designed in a Neo-Romanian architectural style, some rooms have a french balcony and views of the garden. All guest room have a well-lit work desk as well as a comfortable living area fitted with a plush sofa. All suites have 2 flat-screen TVs.
Guests at the Epoque enjoy free access to a spa centre with a Finnish sauna, a wet sauna, a hot tub, an indoor pool and a fitness centre. Massages can also be booked. Guests can taste the refined French Haute Cuisine with a contemporary touch in L'atelier – l'art culinaire restaurant.
JW Marriott Bucharest Grand Hotel offers elegance and comfort with 402 deluxe rooms, 6 restaurants, a convention centre, health club and spa, shopping gallery and the Grand Casino. Rooms and suites of JW Marriott Bucharest Grand Hotel are fitted with flat-screen TVs with cable and satellite channels, including HBO and CNN. Bathrobes, slippers and free toiletries come standard. Free WiFi is offered in public areas. This is the perfect place to stay in you're redeeming Marriott Bonvoy points.
We stayed at the Europa Royale Bucharest. The location is great and it's comfortable for Bucharest. It's at the edge of the old town, walking distance to many bars and clubs at night. You can also easily walk to many of the cities attractions during the day.
Visiting Romania
There is a lot to experience in Bucharest and nearby Transylvania. Read our popular article on 5 myths busted by a visit to Romania. If you visit Transylvania, you can catch the train to Brasov and use that as a base to explore Bran Castle and Peles Castle.
Have questions or comments on traveling to Romania? Leave a comment or you can email me at alex(at)wanderlustmarriage.com and I can assist you! 
This article contains some affiliate links. We receive a small commission when you book or sign up through certain links and it costs you nothing extra. When it suits you, please use them, as it helps us help you!