When Alex was a kid, his father took his family on road trips across the east coast of the United States that featured many baseball stadium stops. And in 1993, as a 14 year old avid sports fan, life didn't get more exciting than popping up in new ballparks while exploring America. We weren't loaded with money so we always sat in the cheapest seats, anywhere from the 3rd deck to standing room, paying between $5-$10 maximum per ticket. In two summers we saw games in Atlanta, Baltimore, Philadelphia, Pittsburgh, Cincinnati, Cleveland, New York (The Mets at Shea Stadium), Boston, Toronto and Montreal (when they had a team that Canadians could care less about). Every stadium was exciting, even the crap ones, but the highlights were experiencing the buzz of opening year at Camden Yard in Baltimore and of course, America's oldest ballpark, Fenway Park in Boston.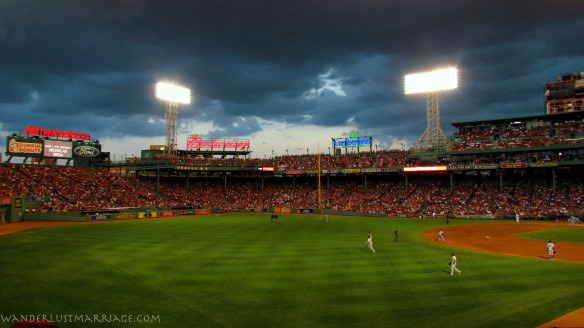 Fenway Park was built in 1912 and has been coined 'America's Favorite Ballpark' due to its history, quirkiness and asymmetrical dimensions. Twenty years ago there was a stark contrast between Camden Yard, which was a brand new ballpark built in an old fashion style and Fenway, which was crumbling and ownership wanted it to be demolished. Part of what made attending that game so special was because I believed Fenway's days were numbered, that it was only a matter of time before wrecking balls and dynamite made it a footnote in history. But Bostonians, who have a particular affinity for history, did not want to see their baseball shrine disappear, and pressured Red Sox ownership and city officials to keep it. Ultimately, the Red Sox were sold and the new owners decided to renovate Fenway rather than destroy it.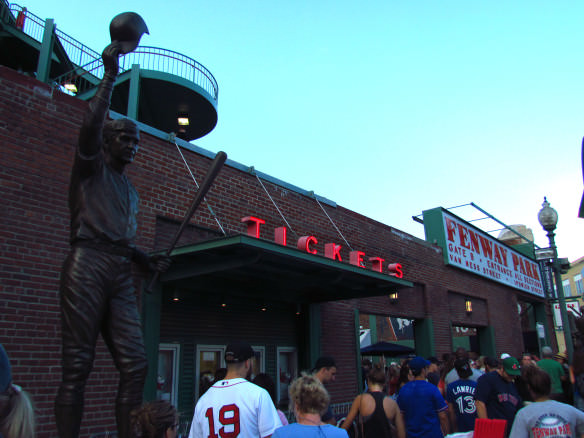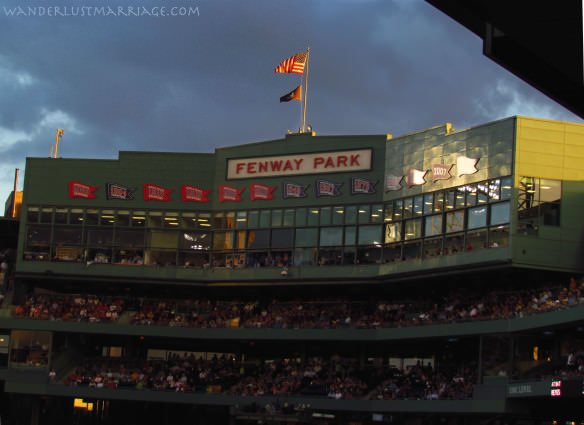 So 
Fenway Park
remains after 102 years and is fortunately still here for new generations of Bostonians and travelers passing through town to enjoy. And twenty years later, as new residents of Boston, I was able to return with Bell, and relive one of my most exciting childhood moments. The buzz inside Fenway is amazing, and short of cell phones and modern clothing, there's a sense you've been transplanted decades back in time. Because Red Sox games are almost always sellouts (though there are some official tickets held for sale at Fenway on game day so scalpers don't buy them all) they're slightly higher in price than the national average of baseball tickets. We bought two tickets in the left field grandstand, in section 33, right next to the famously mammoth 'Green Monster' fence for $32 to watch my favorite team since I was a boy, the Toronto Blue Jays take on the Sox. Section 33 is a great experience for the budget conscious because you're right up against 'The Monster' and tickets to sit on top of it sell for around $175 per ticket!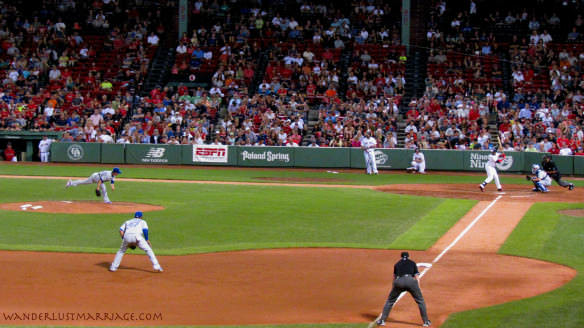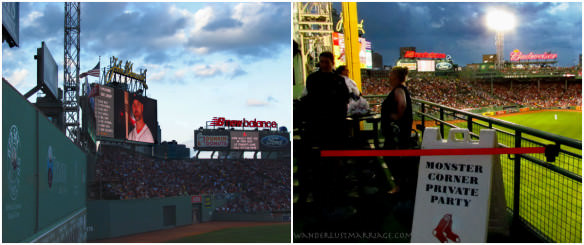 The downside to sitting in section 33 or some of the even pricier grandstand seats is that some seats have obstructed views because of the pillars that support the upper decks. If you're on a budget and want to be sure you can have a clear view of the playing field, it's best to buy bleacher seats in the outfield. Those seats start at $28 per ticket but you're a little further from the action. There's also standing room only seats that generally start at $20 a ticket and offer an affordable way for a family to experience Fenway Park together. And if you have some cash to burn and want to sit in the dugout with the players, you can do so for around $600 per ticket. If you've done this please leave a comment and let us know how it was and whether 'Big Papi' provided any sweet batting tips!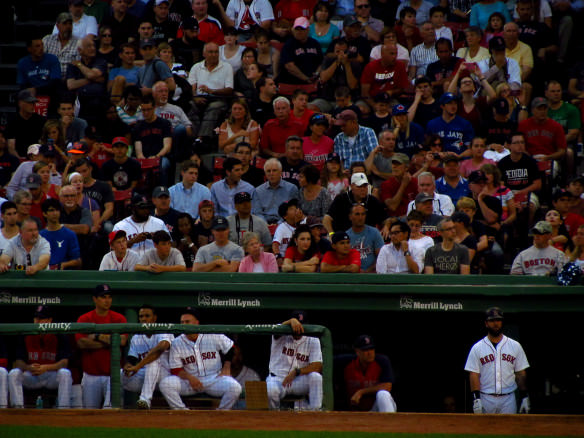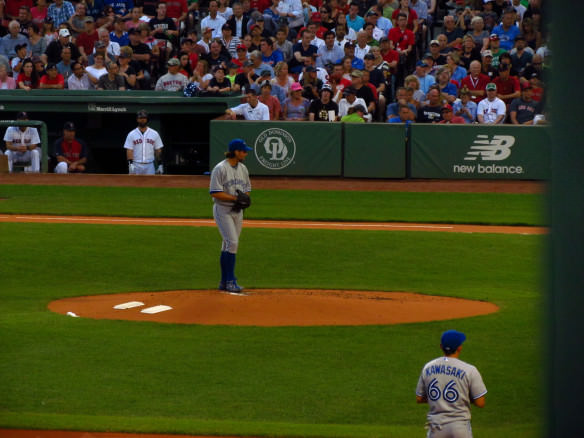 As the Red Sox were taking on a Canadian team, the Canadian anthem was played before the American anthem and we were impressed with the class shown by fans in attendance. Almost all Bostonians stood for the Canadian anthem and I even saw one Boston fan hold his hand on his heart for both anthems (though perhaps he was confused). Baseball is a little like cricket so for the un-initiated it can be a little boring, so Bell didn't enjoy the game quite as much as me, but she did enjoy the allure and charm of Fenway. And with the Blue Jays winning 14-1 over the Red Sox, we both left Fenway with another great memory together!
For tickets check out the Red Sox website. If you're near Fenway Park days ahead of a game you can swing by the stadium and save around $8 per ticket in convenience charges by purchasing directly from the box office at 4 Yawkey Way.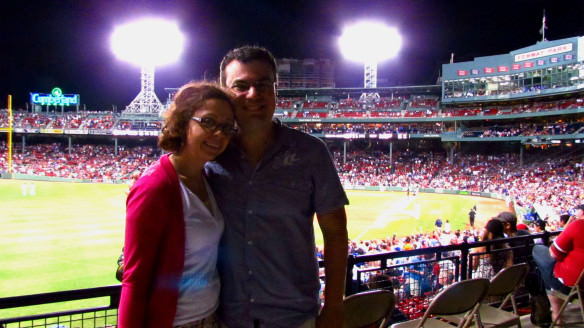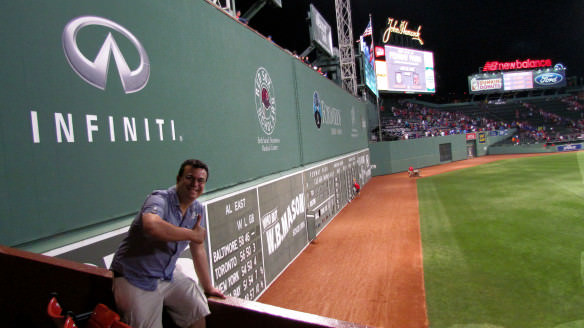 If you're in Boston while the Red Sox are away,
Fenway Park offers guided tours
of the stadium for a fee. And if you're in Fort Myers, Florida, the Red Sox recently built a miniature version of Fenway Park in 2012 called
Jetblue Park at Fenway South
, for their spring training games in March. There are less seats, but the quirky dimensions and Green Monster are there to enjoy. With globalization, perhaps Fenway Park will soon become an international franchise and we'll see the next one pop up somewhere in…Japan?
Bonus: If you want to watch the action inside Fenway Park for free you can do so by having drinks at one of the world's coolest sports bars, Bleacher Bar, which is connected to the park on Lansdowne Street. It's a fantastic pub, and amazingly you can even see the field while using the men's urinals!