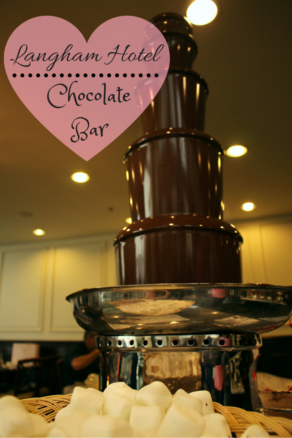 Who loves chocolate? We're guessing about 99% of humanity. So when we discovered that Cafe Fleuri at the The Langham, Boston offers an all you can eat chocolate bar on Saturdays, we were sold, especially since it's been featured on the Travel Channel. And after experiencing this chocolate extravaganza, we believe the head chef is secretly Willy Wonka!
So Many Choices at the All You Can Eat Chocolate Bar!
This is the 27th year The Langham, Boston has run the all you can eat chocolate bar. This year's theme is The Art of Chocolate, which combines two important themes of The Langham Hotel. Elaborate chocolate sculptures were a fitting addition to stations featuring so many delicious treats. We especially loved the made to order crepe station, chocolate fountain, cotton candy machine and choosing between hundreds of treats to pile on our plate. It's seriously impressive, as it takes a dozen workers two days to put together each buffet.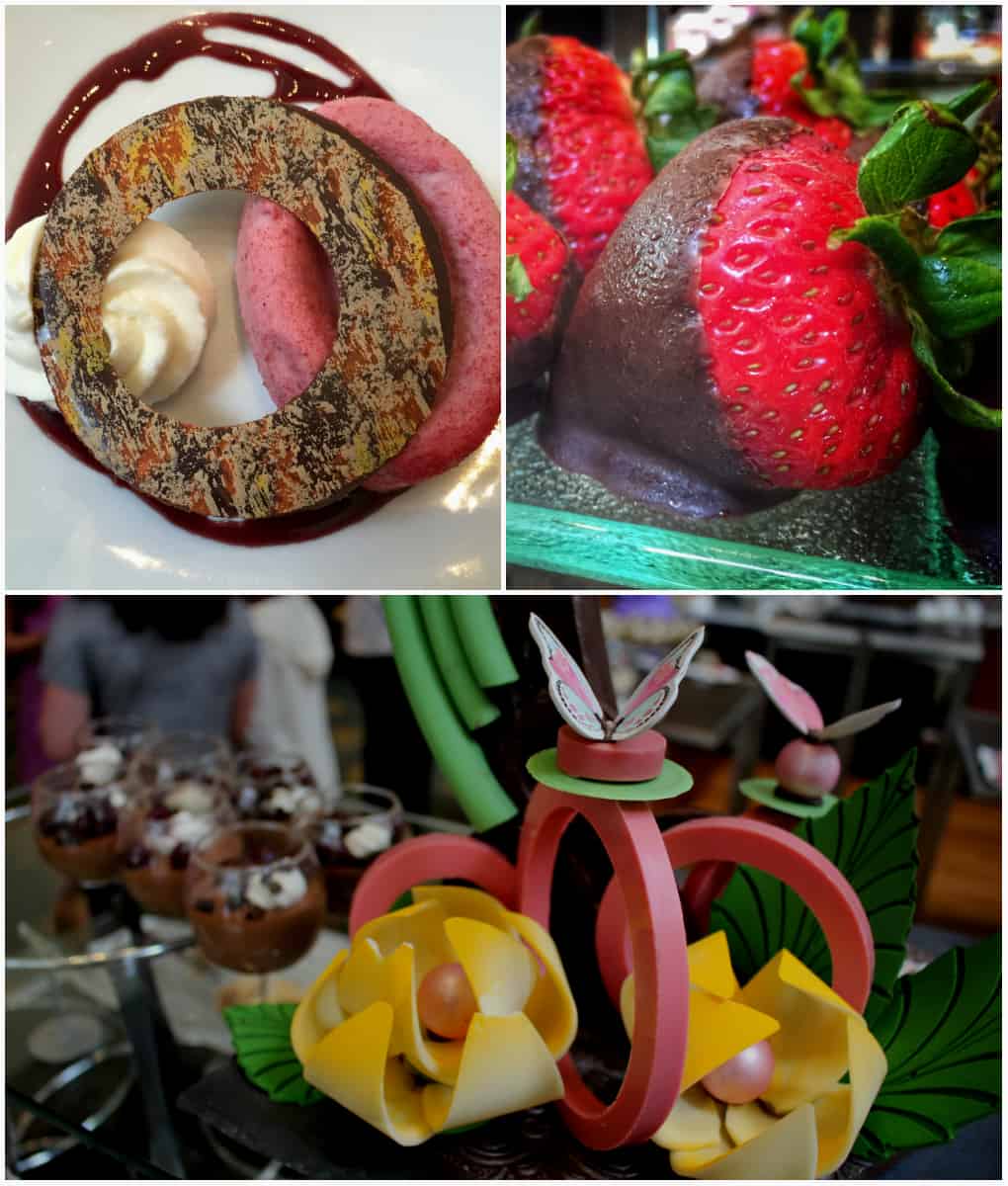 Made to Order Chocolate Crepe Station
There's a lot to love about an all you can eat chocolate buffet, but the made to order crepe station was a favorite worth highlighting. You can choose from either a milk chocolate or vanilla crepe, then choose to add more chocolate, fresh berries, nuts or toasted coconut to your crepe. Your final decision is whether to have your crepe flambéed. Tough choice, but how many times have you seen a crepe in flames? Go with it, it's delicious.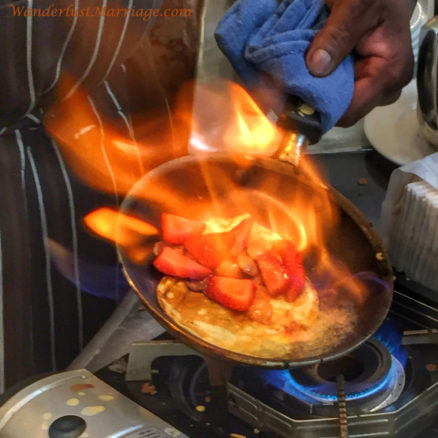 Live Jazz Music
What adds to the ambiance of an all you can eat chocolate bar? Talented Jazz musicians certainly do the trick. Chocolate makes people happy, and jazz is relaxing, so the combination is perfect. We really enjoyed the band's performance while enjoying so much wonderful chocolate.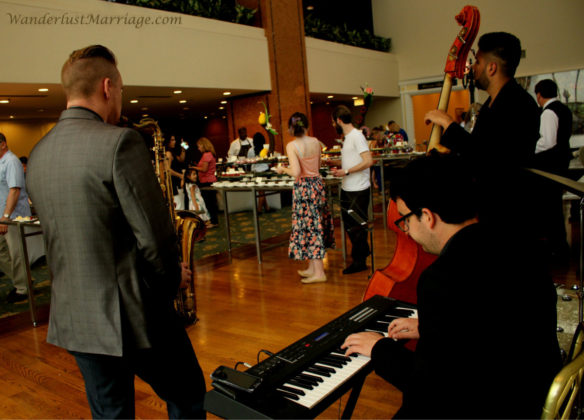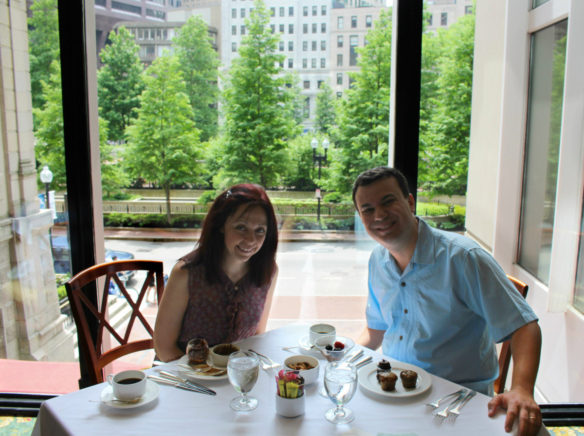 Savory Menu
In addition to chocolate galore, Cafe Fleuri also has an excellent savory menu. We decided to order a quintessentially New England sandwich, and it was one of the best lobster rolls we've eaten. Big pieces of succulent lobster were piled high on top of a delicious brioche bun. How did the lobster roll pair with chocolate mouse in a martini glass? Great, and it was another cool first for us at Langham, Boston.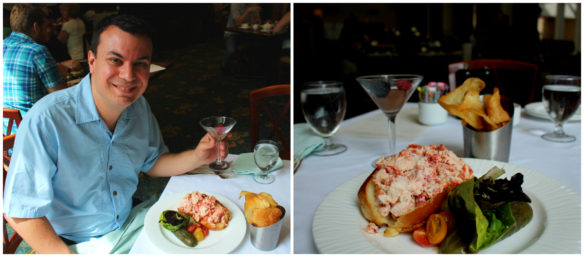 Treats for People with Dietary Restrictions at the All You Can Eat Chocolate Bar
There were several chocolate treats for people with gluten and dairy allergies. As I'm lactose intolerant (Bell is fine), I really appreciated tasty options like the vegan chocolate mousse, chocolate chip banana muffins and dark chocolate truffles. I made sure to bring some Lactaid tablets and still put together this awesome plate to enjoy.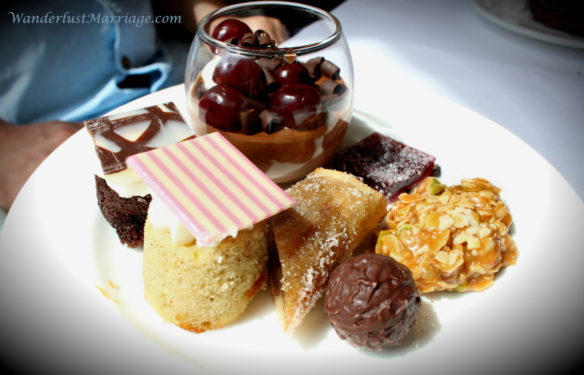 Schedule, Seating Times and Prices
The Langham Boston's all you can eat chocolate bar is perfect for celebrating a special occasion, or just indulging. You should make reservations in advance and you can choose 11am, 11:30am, 1pm or 1:30pm seatings (Saturdays only). The chocolate buffet ends for the season, Saturday, June 25th, 2016 and will return again in September with a new theme! Prices are $42 for adults, $32 for children 5-12 and free for kids under 5.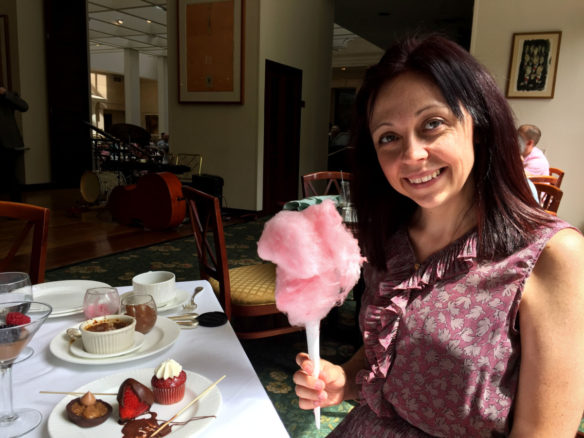 We were hosted by The Langham, Boston and thank their friendly staff for the opportunity to highlight Cafe Fleuri's all you can chocolate bar. All photos and opinions included in this article are our own.