2015 was another big year of travel for us, though it was the most American centric year for us since 2007, the year before we relocated from Tampa to Europe to live between 2008 and 2014. There was only one major European trip in 2015, but it was a big one that saw me organize my first small group tour of Belgium and Holland, followed by travels to Romania and France. We embarked on a couple big road trips, with one that included a 1,200 mile (2,000 km) roundtrip drive from Boston to Canton, Ohio. In total we traveled through 6 countries, 16 US states and made two separate visits to Washington, D.C. Here's a recap of where we traveled in 2015!
New Hampshire and Vermont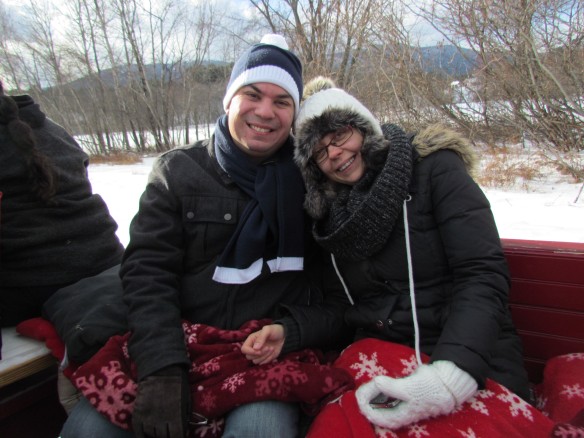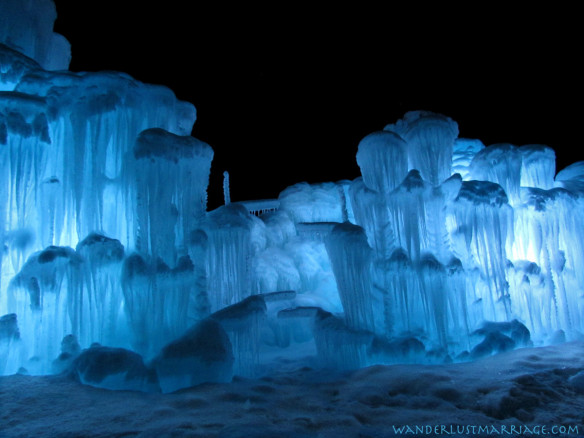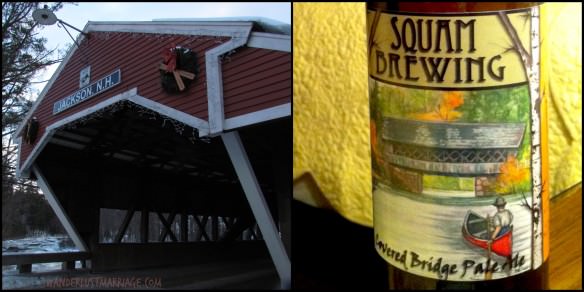 We'll combine these two states as they were our first trip of 2015, back in January. And it was the coldest weather we've ever experienced with temperatures dipping below -20 fahrenheit (-28 celcius)! Highlights of two days in New Hampshire included seeing the White Mountains covered in snow, a horse and sleigh ride in Conway and an incredible Ice Castle in Lincoln. Highlights of two days in Vermont included seeing Lake Champlain completely frozen, with cars and ice fishing taking place, Ben and Jerry's original factory, the startup nano brewery Four Quarters Brewing in Burlington and strolling the capital of Montpelier. This was a five day road trip and we stayed two nights in each state, enjoying fantastic micro brews in both!
Massachusetts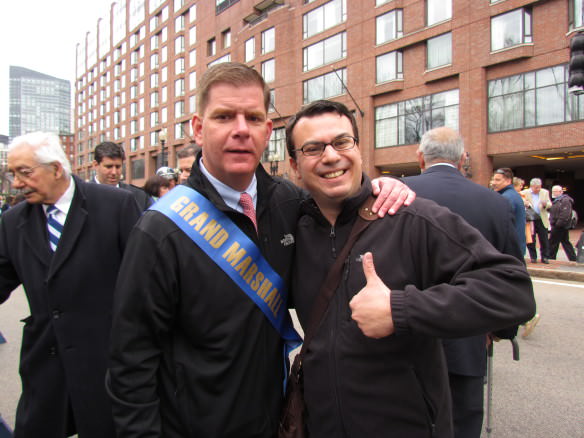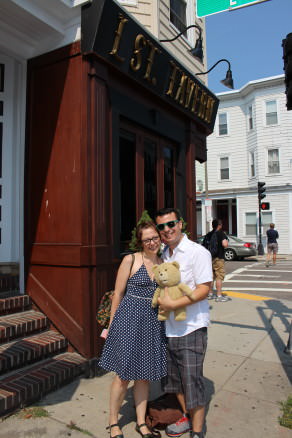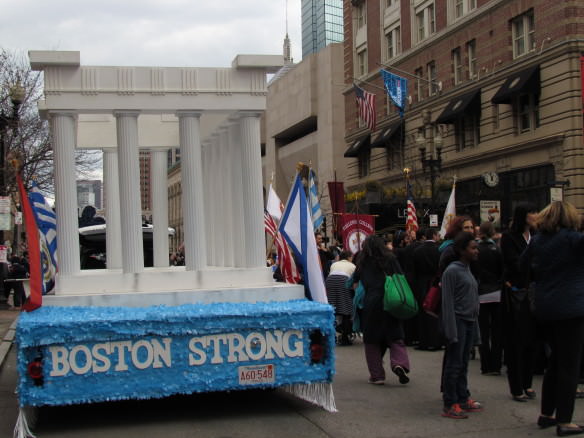 We've continued to explore our new home state and it's strange that we've now lived in Boston for a year and a half. Time flies. Some highlights of living in Boston in 2015 have included ringing in the New Year with fireworks over Boston Harbour, a ferry boat ride to the nearby Boston Harbour Islands, President John F. Kennedy's childhood home, a movie tour with On Location Tours, meeting Mayor Marty Walsh at the Greek Independence Day Parade and discovering a few great new places on the restaurant scene, like Boston's oldest French restaurant Marliave and eating an original Boston Cream Pie at the Omni Parker House, where the famous dessert was first made.
New York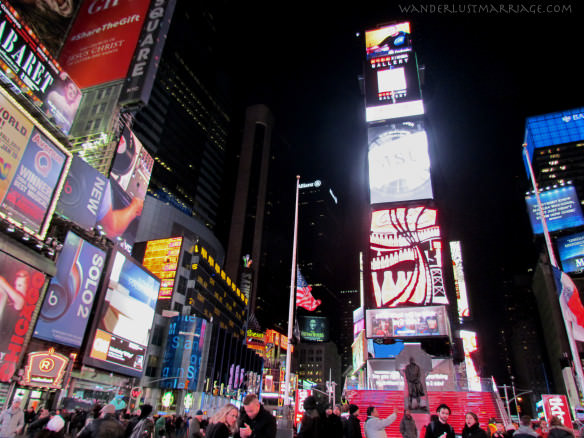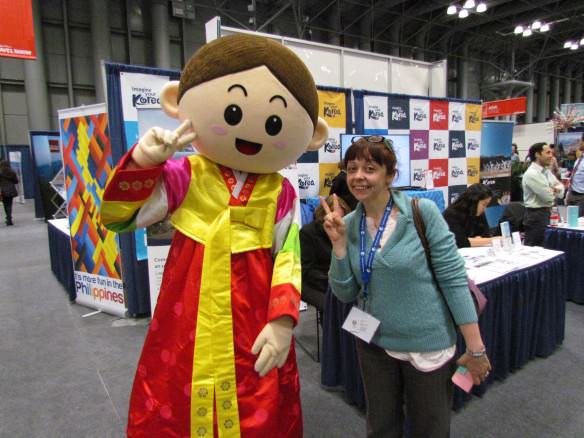 Our second trip of 2015 included a visit to the New York Times Travel Show in January, the largest travel trade show in the USA. There was also a November visit for another travel related event with Travel Massive. We made some time for fun and highlights included being in the audience for Comedy Central's Nightly Show with Larry Wilmore, catching up with old friends over delicious beers in Hell's Kitchen and a swanky midtown pub called Cask, eating the best pastrami sandwiches of our lives, delicious pizza, gazing up at the jungle of incredible skyscrapers, strolling through Central Park, crossing the Brooklyn Bridge at sunset and just the sheer frenzied energy for the fastest paced city in the western world. We'll be attending the 2016 New York Times Travel Show this January and we're excited about it!
Washington, D.C & Maryland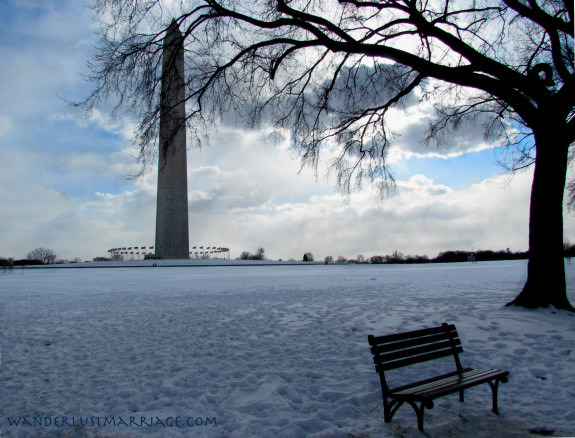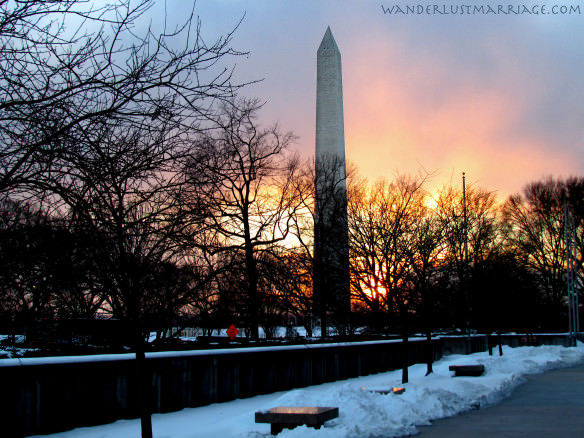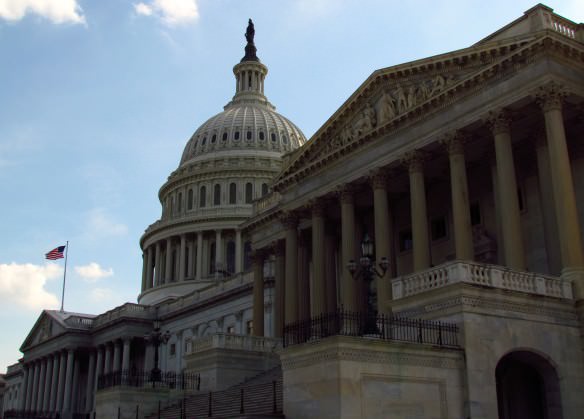 We'll lump these two places together, because our trips to D.C have involved staying in Bethesda, which is where the US headquarters of Bell's company is located. Bethesda is just a 20 minute metro ride from downtown D.C. and while hotels are expensive during the week, you can find good deals in Bethesda on weekends if weekend prices in D.C. are high (and hotels in D.C. are usually also much cheaper over the weekend, which is great). A few highlights of our visits to D.C. and Maryland have included seeing America's capital blanketed beautifully in snow, visits to the world's largest collection of free museums in the Smithsonian, attending a Washington Nationals baseball game, touring US Senator Roy Blunt's office and the Washington Capitol building and eating delicious Russian food at Marivanna.
We also embarked on an afternoon trip to Baltimore via Amtrak from Washington's Union Station. Baltimore's harbour was disappointing because the area has been completely bought up by chain restaurants. We asked our Uber driver from the train station where we should eat and he said "well we have Cheesecake Factory, Joe's Crab Shack, Bubba Gump Shrimp…." Our visit was one month after the riots took place and there was an African American festival taking place. There was some good food there, but a lot of it was a little too fried for our tastes. But what was most interesting was hearing speeches from community leaders calling for peace and an end to the violence in the communities.
Pennsylvania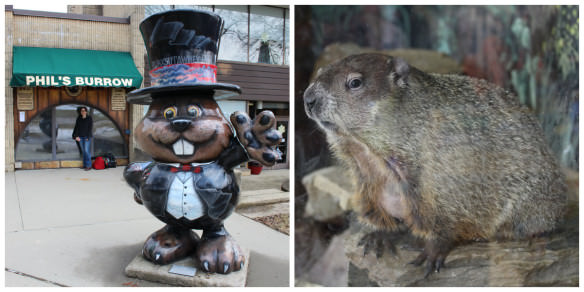 We visited Pennsylvania twice in 2015 and saw a lot of the state. And we actually celebrated our 10 year wedding anniversary in this state, which is a long and crazy story told here! We drove the length of the state on our way to Ohio for a combined work, anniversary and family trip. Highlights of our road trip included a visit to the Little League World Series Museum in Williamsport, stopping in Scranton (home of the hit show 'The Office' and the birthplace of electric rail in America), strolling the riverwalk in Pittsburgh, staying in Harrisburg (the capital), meeting the world's most famous groundhog, Punxsutawney Phil, eating a delicious breakfast at an Amish run diner and visiting the sacred and moving battle grounds of Gettysburg (where the bloodiest battle of America's civil war took place in 1863).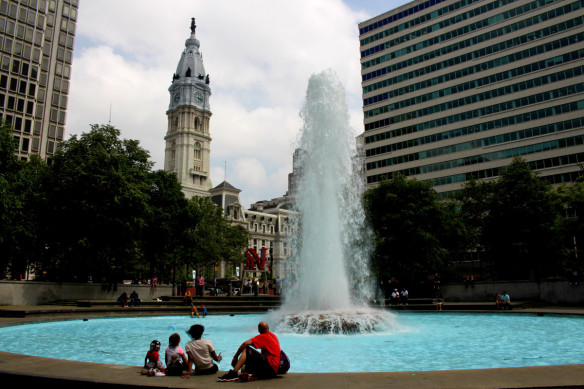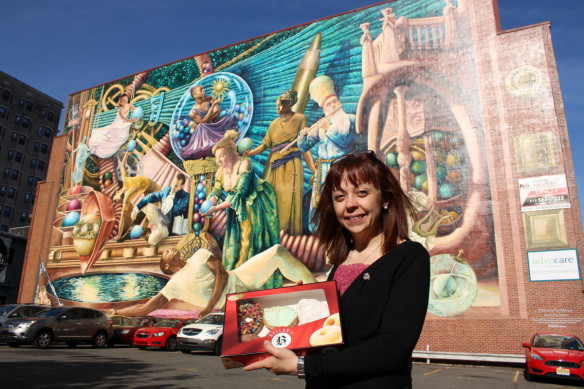 We re-visited Pennsylvania just two months later, flying into Philadelphia for several days, once again combing work and pleasure. Highlights of Philadelphia included a delicious walking tour with Chew Philly, seeing the famous Liberty Bell, Monk's Cafe (the coolest Belgian bistro we've patronized outside Belgium), eating amongst the beautiful baroque architecture of the French Quarter at Rittenhouse Square, eating at historic Reading Terminal Market, staying at the largest hotel in Pennsylvania at the Marriot (though they broke our suitcase and the customer service was bad), and eating in the Italian Quarter. Eating was a big theme of our visit to Philly! We were extremely impressed with the city and left feeling that it's probably the nation's most underrated major city, especially since it was the US capital for 10 years before Washington, D.C was built.
West Virginia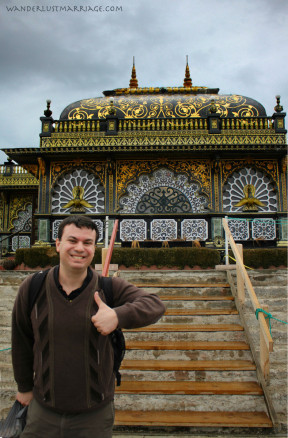 We only drove through West Virginia, but thanks to the folks at the stateline visitor center, we ended up actually experiencing the state. In the few hours we had, we visited a Golden Palace, yes, the Gold Palace, America's Taj Mahal! And also found time to stop and enjoy a fish fry at a local school, where we ate our fish and sides on an indoor basketball court in the gym.
Ohio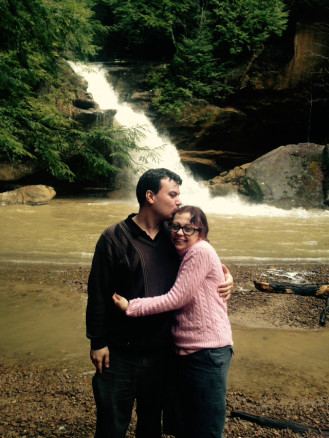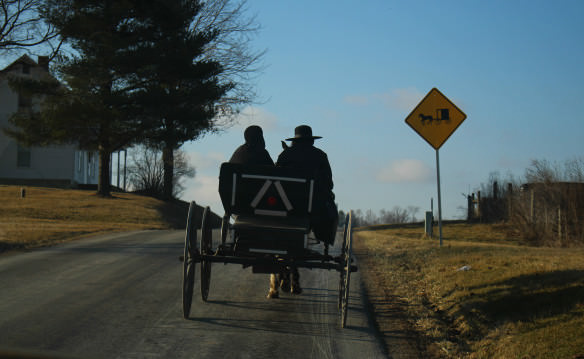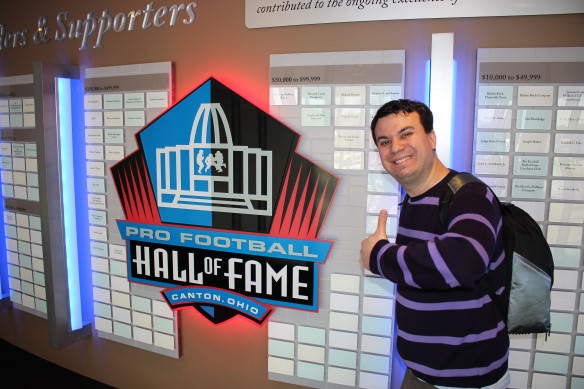 Bell had two trips to Canton for her day job, but on the second we were together, and it was part of our epic road trip. We visited my brother John, an hour south of Columbus, and hiked the beautiful Hocking Hills state park, filled with an abundance of lovely waterfalls. My brother lives near Amish country so we also watched Amish families on their way to church Sunday morning via buggy!
The two main highlights of Canton were touring the Pro Football Hall of Fame and the William McKinley Presidential Library. The NFL has supported the Hall of Fame staying in Canton because the league was founded there in 1922, when Jim Thorpe played for the Canton Bulldogs. William McKinley was a lawyer in Canton before becoming the 25th president of the United States. You can also visit the National First Ladies Library, in the home of former first lady, Ida Saxton McKinley. This small American town of only 80,000 packs a lot of great history!
Maine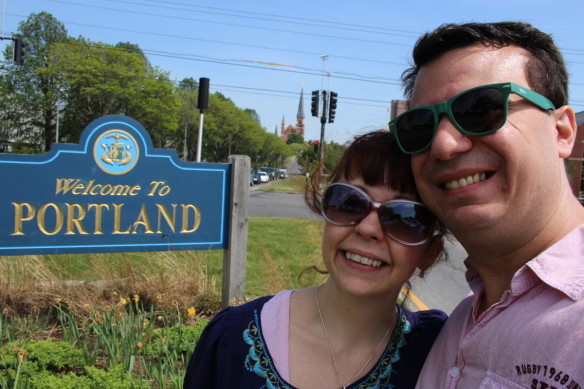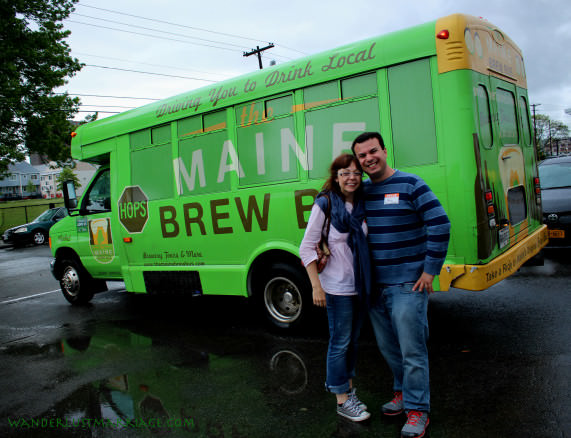 We spent a lovely weekend in this beautiful town that is considered the culinary capital of New England. Highlights included a great brewery and distillery tour with Maine Brew Bus, staying at the oldest bed in breakfast in town at the Inn at St. John and eating delicious fresh seafood. We enjoyed some good weather in early June and it was lovely strolling along the rocky coast and visiting a farmers market. Portland, Maine reminded us a little of being back in Galway, Ireland, which is also a fantastic town.
North Carolina
Bell partook in a weeklong workshop across the street from America's oldest public university, the University of North Carolina in Chapel Hill. We stayed at the historic Carolina Inn, which dates back to the 1924. Highlights of our time in Chapel Hill included drinking delicious micro brews at establishments like the aptly named Beer Study, eating delicious southern food like beer braised beef at Top of the Hill and touring the Carolina Basketball Museum. And the Carolina Inn was a gem of stay, with hallways and our room packed with history on the university and cutting edge research that's come from it.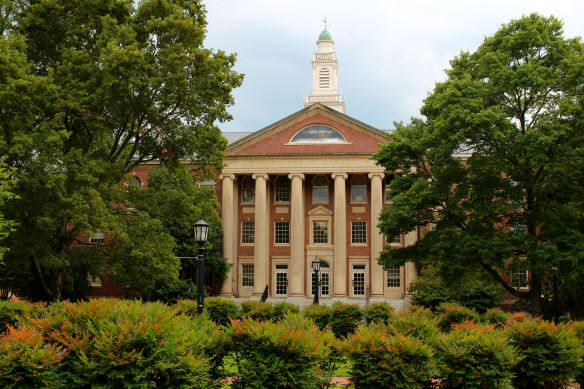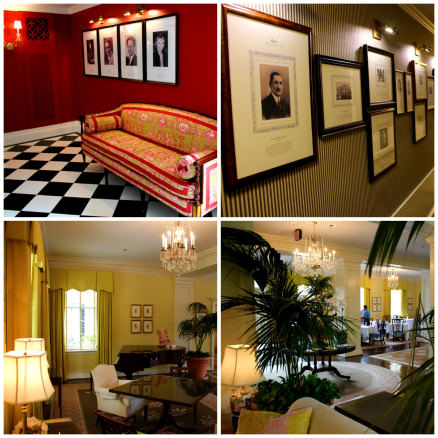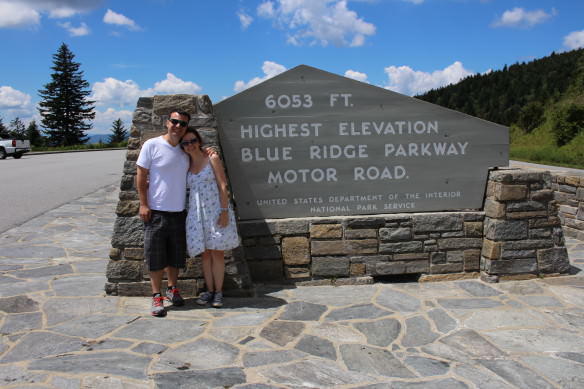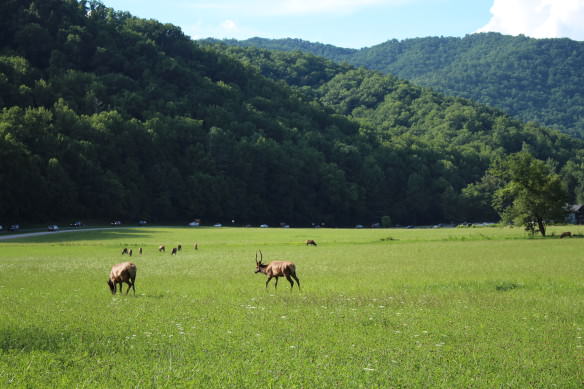 We also caught up with a few friends in the brewery capital of the south in Asheville, North Carolina, which is also a foodie haven. We then drove along the beautiful Blue Ridge Parkway, where the captivating scenery surely lowered our blood pressure a bit. We stopped on the Cherokee Indian Reservation for ice cream and saw packs of deer in the valley before entering the Great Smokey Mountain National Park. In the park we were fortunate to see a bear lead her litter of three cubs behind her next to the road!
Tennessee
The Great Smokey Mountain National Park divides the state of North Carolina from Tennessee. We crawled through slow traffic in Gatlinburg, Tennessee, which was packed in summer and before left for another time. We stayed one night in Pigeon Forge, which is just down the highway from Gatlinburg and is home to the amusement park, Dollywood, and an assortment of attractions and outlet shopping. Pigeon Forge wasn't our typical cup of tea, but we enjoyed the tacky novelty of the place!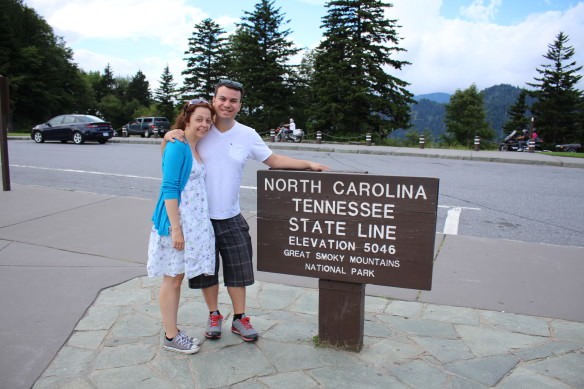 Florida
My Dad lives in Florida and I grew up in Orlando so we actually visited Florida from Boston on three separate occasions this year! We came for Easter and Christmas and in between Bell had some work which brought her to Hollywood, which is in between Ft. Lauderdale and Miami. We stayed at the beautiful Diplomat Resort and had an amazing view of the Atlantic Ocean and surrounding area. Highlights of our visit to Hollywood included fantastic Cuban food and feeling warm sand between our toes.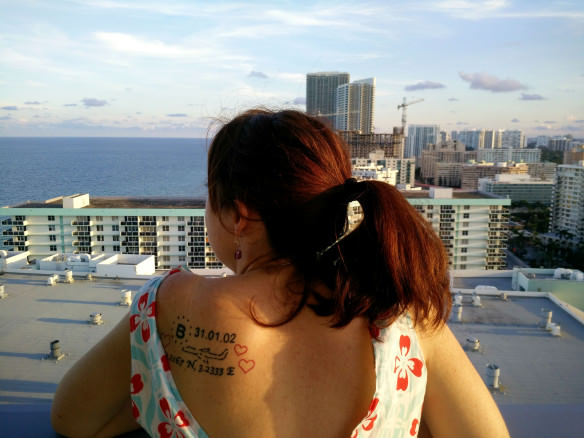 Having spent more time in Orlando, I've been doing some firsthand research on great places to eat and drink, and will be publishing a story on that in the near future. Disney and the theme parks are great, but Orlando has a lot more to offer. If you visit, be sure to have a stroll around Lake Eola and grab a lakeside lunch at the appropriately named Relax Grill. A lot of Floridians decorate their houses beautifully for Christmas and we stumbled on this fantastic house less than a mile from where my Dad lives, called the 'Fye's Crazy Christmas House.'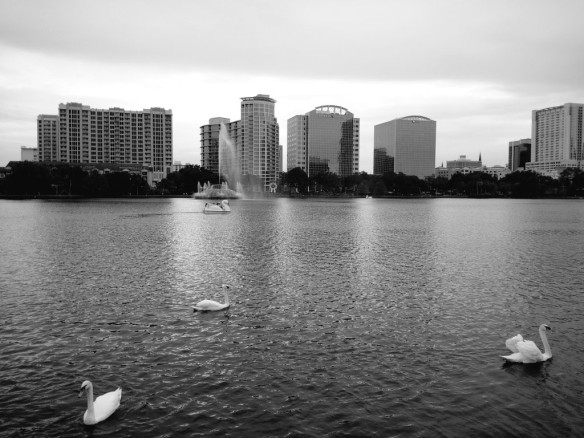 Rhode Island
We rented a zipcar from Boston one night and made the hour drive to Providence to catch up with an old friend. We watched an old flick outside that's part of Providence's summer series, 'Movies on the Block.' We then enjoyed drinks on the terrace of the picture Rooftop bar that overlooks the city. We've made previous short trips to Providence over the years and it's a city we enjoy, because it's like a smaller version of Boston.
New Jersey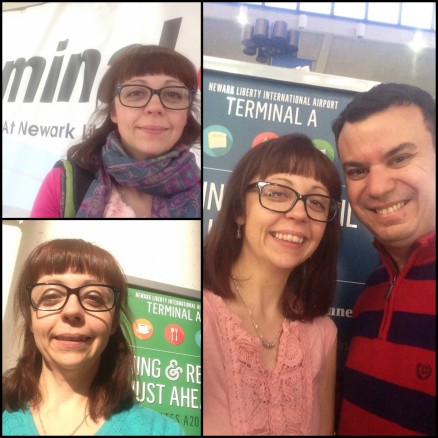 Incredibly, Bell flew in and out of Newark airport 3 days in a row because of her work trip to New Jersey, and then a trip to Vancouver that had us connect in Newark the very next day after returning to Boston. She is keen not to return to Newark airport any time soon! While Bell saw very little of the Garden State, she did enjoy a delicious and massive Italian dinner there at Nonna's. Another customer even stopped on his way out to ask if she was planning on eating all of all it, to which she replied "I'm going to give it a shot!"
Texas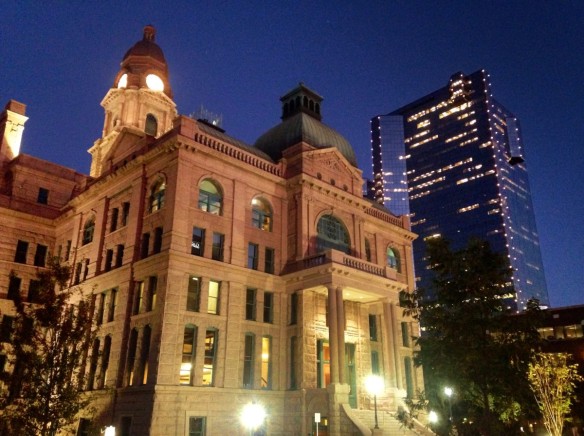 Another long commute for work had Bell in Fort Worth, Texas for 48 hours. Again, she had little time to explore, though she did have an hour to walk around downtown Fort Worth. As she was traveling with colleagues there was little time to explore food options, though if you are staying in Fort Worth, the Omni hotel is very comfortable and in a central location for exploring downtown.
Stay tuned for the European edition of our 2015 recap, where we'll also discuss some of our upcoming trip plans for the new year.  You can read our 2013 and 2014 recaps on their respective links. We both wish you all a fantastic New Year and thank you for reading!