This is a guest contribution from Clementine and Nicolas, a lovely French couple who recently married. They first met abroad at an Irish summer camp to learn English when they were teenagers. We thank them for sharing their great story with us. If you're interested in being featured in our Couples Share Travel Advice series or contributing on a specific destination, email me at alex(at)wanderlustmarriage.com and tell me your story.
By Clementine and Nicolas: We are two happy French travellers who recently got married and are about to go on a special honeymoon. We moved out of our comfortable flat and quit our nice jobs in London where we were expats to go on a crazy one to two years' world tour! You can follow the world tour on our new travel blog: voyagedemiel.com.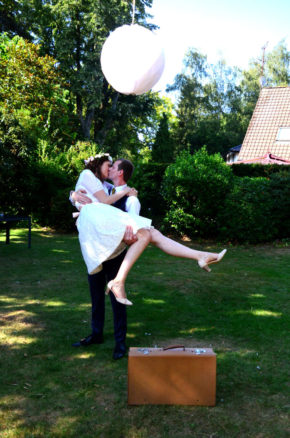 This is not our first time traveling. We lived as expats in San Francisco and New York and travelled around the USA. In Europe we lived in cities all over France as well as London and explored many European countries (mostly to visit friends we made along the way).
Clémentine has a few years of sales and marketing experience in the book trade, working for publishers, booksellers and book fairs in France, the USA and the UK. She is passionate about writing and defending human rights.
Nicolas is a software engineer interested in web technologies. He loves cooking, learning new technologies and going on adventures. He is concerned about being eco-responsible on the road.
1) How did you meet? 
Nicolas: We met in 2006 in Ireland in a summer camp to learn English (we were only teenagers). Clémentine had to beg her parents to let her go her while it was a punishment for me. At the airport my father told me I should cheer up because I would meet the love of my life on this trip. He was right and he is quite happy to tell everyone whenever he can. We became friends at the time and started dating in 2008 when Clémentine worked for a summer in Lille where I was studying.
2) Describe your ideal trip
Nicolas: My ideal trip involves discovering another culture and learning from the destination by meeting with the locals. The ideal trip should make you grow and view the world in a different way.
Clémentine: I love trips that include a mix of spooky mystery and history (like Scotland or New Orleans). I also think visiting bookshops and libraries make anywhere I travel more interesting. To me, a great trip involves both the possibility to be alone in the midst of spectacular natural scenery and the possibility to socialise in villages and towns (and experience the local vibe by hanging around in shops, bars, restaurants and parks).

 3) What's your best piece of couples travel advice?
Nicolas: Have a plan but give yourselves the opportunity to be spontaneous. Leave some time for the unknown (this is actually the piece of advice we collected from a cab driver in London who told us he has been happily married for more than 40 years).
Clémentine: First of all, I think traveling together is the best thing you can do as a couple, it will teach you so much about yourself, your loved one and how you work as a team. This is something we both mentioned in our wedding vows. This is a great test to know if you have the same interest (from how many hours you can spend in a museum to how much you think is worth spending on a beer) as well as how you respond to stress and the inevitable travel dramas.

4) What are your most important items to pack and why?
Nicolas: A cell phone to be connected to your family and friends but also in case of an emergency. A good backpack because it contains all the items you will ever need. Good shoes and the rest can be easily bought or replaced during the trip.
Clémentine: Books because I LOVE to read and I hate missing an opportunity to do so! Traveling is full of those opportunities, beginning with transport from A to B. Nicolas said he wouldn't carry my books during the world tour so he convinced me to buy my first e-reader. I bought a KOBO, after years of working in publishing and bookselling I believe this is the best (and most ethical) product on the market.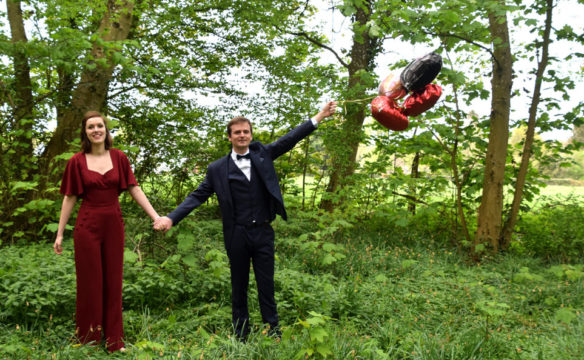 5) How do you resolve conflict on the road? 
Clémentine: The same as we do at home, by communicating on it as soon as possible. We always share if something is bothering us and we will never sleep before resolving a conflict (even if it means sleeping 2 hours before an important day).
Nicolas: I wrote the exact same answer!


 6) What's the most romantic destination you've visited and why?
Clémentine: This is going to sound very cliché but whenever we travel together I feel like the destination is romantic! Going to New York City felt really romantic because it is a place we promised each other we would go together in the first few days we were dating. I also remember Prague as being very romantic because it was our very first trip together. Our favorite destination lately is Romania; we highly recommend it! There is one place I don't understand why tourists find romantic and that is Paris. This might be because I am French but I think Paris is one of the most unsafe and dirtiest cities I have lived in.
Nicolas: Lou Riouclar, a mountain resort in the beautiful French Alps. My mother won the trip at her grandkids' school raffle and gave it to us. It was the best holiday for a few reasons: we just got engaged, it was free and there were very few people in the hotel (this means we had the spa and swimming pool to ourselves). We felt very special during our stay and the surrounding was amazing. We went skiing and hiking in the snow. We also had a completely different mindset for this holiday compared to the other trips we did because we didn't feel the need to do all the possible activities and get the most from our money. So it was very relaxing.


 7) Why is travel important to your relationship?
Clémentine: Travel has always been a huge part of our relationship. It's how we met, and how we realised we were truly in love and we were meant to be together for the rest of our lives. Not necessarily travelling together though, but our solo trips were also fundamental to our relationship. Those tears at the airport when I lived for 6 months in New York and when Nico had to leave San Francisco where we were staying for a few months because he couldn't get a Visa. Traveling can be challenging and we realised how strong our relationship was when we couldn't find an affordable room and almost had to sleep under a bridge in San Francisco. Also when we had to work two jobs to pay for our London rent after we first moved in. More than anything these experiences gave us the certainty that together we would do everything possible to live our dreams and we will always be able to push each other to the better versions of ourselves.
Nicolas: It's important because it brings us closer. It opens our minds and gives us the opportunity to grow together.
You can find Clementine and Nicolas on social media at:
Facebook : https://www.facebook.com/VoyageDeMiel
Instagram : https://www.instagram.com/voyagedemiel/
Twitter : https://twitter.com/voyagedemiel
Pinterest : https://www.pinterest.fr/voyagedemiel/
You can also subscribe to receive their newsletter at https://voyagedemiel.com/en/newsletter.
Read our previous interview in our Couples Share Travel Advice series. Zac and Virginia shared their story, along with great tips on how to score free international plane tickets thanks to travel hacks! It's safe to say we all share a healthy dose of travel mania!