By Alex Kallimanis: I recently returned from Affiliate Summit East 2018 in New York City, one of the world's biggest conferences for affiliate marketing. Typically I focus on travel, but occasionally I disclose how this website is monetized. Last year I wrote an article titled How to Make Money Off a Travel Blog and submitted it to the organizers of ASE 2018 in NYC and they issued me a press pass for their conference. That gave me free registration for the three-day conference and reserved front row seating in sessions. The conference was held at the New York Marriott Marquis, conveniently located next to Times Square. Here are some takeaways, with tips on how to grow your online business.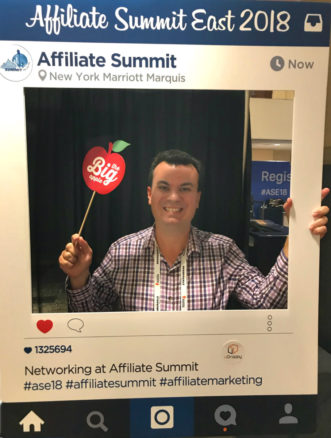 New York City
As this is a travel site, I'll start with a NYC travel tip. I recommend having drinks at 230 Fifth Rooftop Bar. This was where the welcome reception for ASE 2018 was hosted. The venue has a wonderful view of the Big Apple's skyline including the Empire State building. There were some inventive cocktails including a delicious "froze", a frozen rose wine and vodka drink.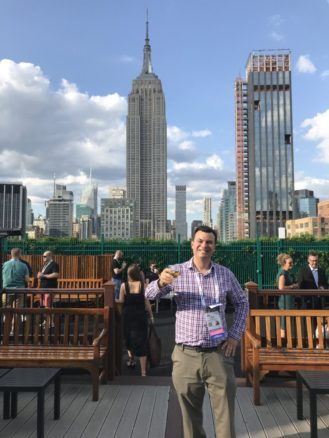 The New York Marriott Marquis has excellent views overlooking Times Square at several of their restaurants, including their rooftop restaurant, The View. While I personally find Times Square too crowded, I gained a renewed appreciation overlooking it at lunch.
We know New York City pretty well having recently covered tours like a Little Italy and Chinatown Food Tour with Ahoy and a Craft Cocktail Tour with Urban Adventures. We've also been issued press passes for the NY Times Travel Show in three different years.
Affiliate Marketing
Many readers of blogs, including this one, are accustomed to reading disclosures regarding affiliate marketing. Websites are required to disclose when they earn commissions off bookings. This transparency is aimed at protecting consumers.
In the case of travel writers, good affiliate partners include hotel, car, and airline booking sites. In these cases, the needs of consumers, businesses, and publishers can align. Many people who read travel blogs are looking for help in planning their trips. I receive a lot of emails from people looking for assistance with their itineraries and am happy to help.
If you're an online publisher of any topic, affiliate marketing should be part of the way you make money off your website. Jeannine Crooks from Awin (a global affiliate marketing network) told me it's bad business practice for a travel blogger not to include the link of a hotel recommendation because it can even lead to the wrong booking for the reader. Jeannine was part of a panel discussion on The 7 Keys to Successful Affiliate Marketing.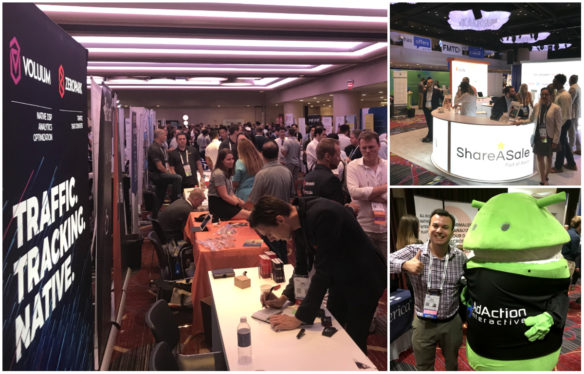 Publishers of all topics should be including appropriate links on websites as out clicks are also good for SEO (search engine optimization). So if you have a great blog about gardening it would be bad practice for you not to link to the essentials in growing a fantastic garden. And since a website like that deals in homes, potentially successful partnerships can even extend to homeowners insurance and home security systems.
If you're thinking to start a website, remember there's an audience for everything. Bluehost is a great company to launch a website, with plans starting at just $3.95 per month.
Need to boost the sales of your product?
Let's say you have an apparel company and you want more eyeballs on your product to boost sales. This is where digital influencers can assist. But you need to find the right type of influencer who fits in well with your brand. If you're selling hats you could potentially partner with a travel brand, but fashion influencers will probably lead to a better return on investment. The metric public relations folks often look for is around 10,000+ Instagram followers, with authentic engagement. Be wary of Instagram accounts with big followings, but with very few comments on all their posts.
Building an Audience: Grow Your Online Business
You need to build a good-sized audience before you'll make money as a publisher or digital influencer. But if you consistently produce useful, comical or beautiful work you'll start gaining a following. It's ok to deviate a little, but try to be consistent with your brand and publishing dates.
It can be painfully slow to grow an audience without spending a little money to promote yourself. After producing some quality content, sign up for a service that can help you gain real social media followers. Don't buy fake followers because it does nothing for your brand long-term and is just a waste of money. But an authentic social media following is important to help advertise your products, services, and affiliate partners. The larger your following, the more quality opportunities will start landing in your inbox.
Affiliate Marketing Networks
There are a lot of companies that connect publishers with advertisers. I already mentioned Awin, who was one of the main sponsors of ASE 2018. They work with 100,000 publishers and 13,000 advertisers. According to their website, they helped generate 148 million sales in 2017.
I had a meeting with Tanya from TravelPayouts at ASE. TravelPayouts is an affiliate platform specifically focused on the travel industry. They don't have a massive number of clients, but they have some good ones like booking.com, Rail Europe, and Viator. I love how user-friendly their platform is for travel publishers compared to bigger companies like CJ.
Webgains is another large affiliate marketing network. I'd never heard of them prior to attending Affiliate Summit East. But they work with 250,000 publishers and 13,000 advertisers. They help connect publishers with major advertisers like Nike, Samsung, and Oakley.
I'm personally not a huge fan of CJ (formerly Commission Junction), one of the biggest affiliate marketing networks in the world. I don't find their platform very user-friendly. CJ manages the accounts of major affiliate hotel networks like Expedia and Hotels.com along with many big companies outside travel like eBay.
Better Business Practices
There were several speakers at Affiliate Summit East who were focused on better business practices.  One of them was Bill Rothbard of FTCAdLaw. Mr. Rothbard is a former Senior Staffer with the Federal Trade Commission (FTC) who now runs a law practice that helps businesses with legal issues. His presentation at ASE 2018 was on Tips from an FTC Pro: How to Avoid Becoming an FTC Target. A couple of basic things businesses need to be aware of are making sure to not make unsubstantiated claims and to treat customers well. The FTC will often go after companies when they have received a lot of complaints from consumers.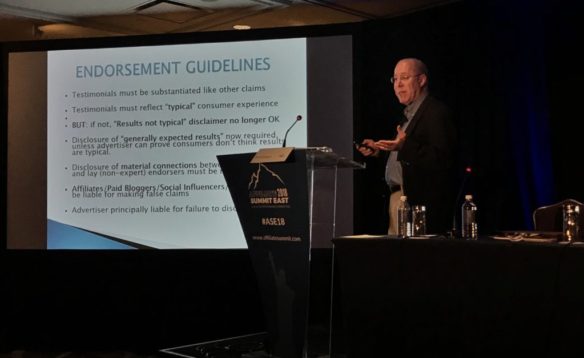 Some of the Affiliate Summit Speakers
Geno Prussakov, CEO of AMNavigator gave his 18th speech at an Affiliate Summit conference. His session was titled Evergreen Techniques to Rock at Affiliate Marketing. As an affiliate manager and consultant, he's contributed to the online marketing success of large brands like Forbes, Hallmark, and Skype. Mr. Prussakov finds that influencers with a minimum of 100,000 cumulative followers are most effective for campaigns involving higher priced products.
But AMNavigator still on-boards influencers with much smaller followings into the affiliate programs they manage. There are still great branding benefits as well as opportunities for the influencer to make money. Mr. Prussakov believes the influencer's engagement with their followers counts the most.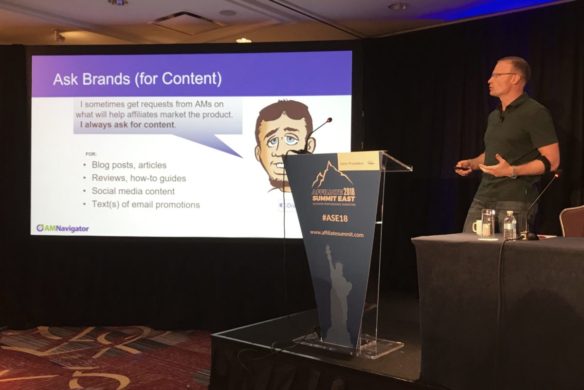 John Chow presented on The Business of Blogging: 7 – Figure Blogger Mastery. According to his website, "John Chow rocketed onto the blogging scene when he showed the income power of blogging by taking his blog from making zero to over $40,000 per month in just two years." I don't know his financials, but John Chow has some things going in his favor. He started his website in 2005, so he has a lot of content and his site ranks well in search engines. But I'm a little wary of anybody that makes claims like "How to Retire in Next 100 Days As A Super Affiliate."
Email Marketing
Email marketing is seeing a resurgence in popularity, to the chagrin of many people tired of receiving so many spammy emails. There are a lot of companies out there that assist online businesses to manage and grow email lists. Just be aware that the European Union recently passed the 2018 reform of data protection rules, partly aimed to curb unwanted email marketing. US laws on email marketing remain more lax, but if you have a substantial European following, you should read the EU laws and be compliant.
Buying Traffic
There were a lot of vendors at Affiliate Summit that deal in buying and selling web traffic. If you're a publisher, chances are you would LOVE more traffic to your website. But you have to be careful that the re-directed traffic are actual people that care about the topic you're covering. I have no experience in buying traffic as I've read a lot of warnings on the subject. Know some good case studies on buying traffic? Please share in the comments.
Registration Costs for Affiliate Summit
Affiliate Summit sells a range of passes for their conferences. Prices range from $199 for basic registration to $599 for VIP registration. The $199 admission is for the full three days registration, but caps sessions at six, so choose wisely. VIP registration includes unlimited sessions, premium meals and access to reserved front row seating in sessions.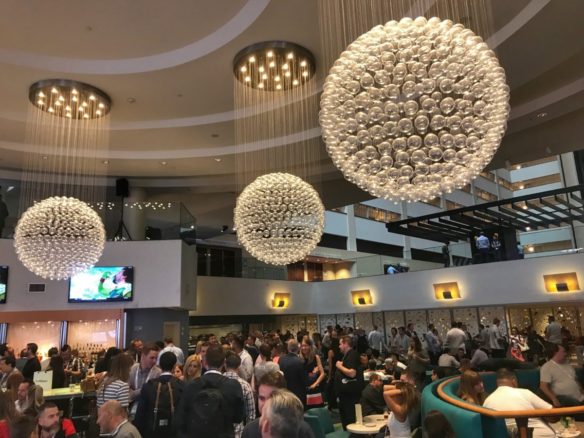 Is Affiliate Summit East Worth Attending?
I made some great connections and already forged a couple new partnerships at ASE. There is also a lot to learn from speakers. I recommend exercising a healthy dose of skepticism with some of the vendors though, but that's business. There are some smooth operators at ASE as the affiliate marketing world is a jungle of opportunities.
I didn't see a lot of travel publishers at Affiliate Summit East, but they were around. I saw Ryan Biddulph of Blogging from Paradise, who's been traveling and blogging around the world for years. There is definitely value for travel publishers in attending an Affiliate Summit conference. Just be wary of certain vendors!
Upcoming Affiliate Summit Conferences Around the World
Here are dates of upcoming Affiliate Summit conferences coming up!
Affiliate Summit East 2021 is taking place July 19 – July 20, 2021 in New York City at the Marriott Marquis.
Affiliate Summit West 2021 is taking place November 2 –
November 4, 2021 at Caesars Palace Hotel in Las Vegas. 
Upcoming dates and locations for Affiliate Summit Europe and Affiliate Summit Asia are still TBD.
Affiliate Partnerships to Consider in the Travel World
In some cases, if you book through our affiliate links you receive a discount! When you don't, it doesn't cost you extra. When publishers are negotiating with brands, they should ask for a discount for readers if it's not offered. It's good business practice.
Booking.com usually offers the best deals on hotel rooms. We always double check prices on Google, but booking usually beats or at least matches their competitors prices.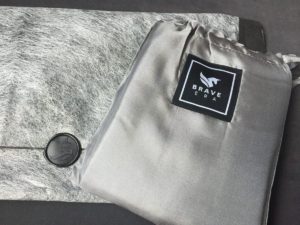 Where to Stay in New York City for ASE 2019?
Hotel prices can vary wildly in New York City. During busy periods like summer and holidays, hotels are especially pricey. During off-peak times in winter, hotel prices are significantly cheaper. We visit New York City often and have stayed in a lot of different hotels.  Here are some recommendations to suit all budgets. Consider booking a well-reviewed hotel in advance that offers free cancellation.
Luxury:
The Plaza is an iconic 5-star hotel at the base of Central Park. Spacious rooms include iPads and are gilded with 24-carat gold plating. There's an on-site elegant Champagne Bar, the famous Rose Club, and Guerlain Spa.
The Mark is located in New York's upscale upper east side, a block from Central Park and a short walk from the Metropolitan Museum of Art. Spacious marble bathrooms feature a large soaking tub and mini flat-screen TV. Each room is decorated in ebony and sycamore furnishings.
Mid Range:
CitizenM is great for a comfortable stay with modern amenities, at a price that's easier on the wallet. Rooms feature a centralized digital system that controls lighting, music, and electronics. They have two locations: CitizenM New York Times Square and CitizenM New York Bowery.
W New York – Times Square is great if you want to stay in the heart of the city, in a modern hotel. A plasma TV, terry cloth bathrobes, and Bliss bath amenities are included in all rooms. Rooms are equipped with a stocked mini-bar and light snacks.
Budget:
The Pod Hotels are a good deal in New York City, though more so in winter. Pod 39, is a little better than Pod 51 because it's newer and has a rooftop bar. The newest edition is Pod Times Square which just opened in January 2018.
The Jane is a historic and fun budget option with a rooftop bar and adjoining club. Rooms can be small, but it's hard to beat the price in NYC, especially since they have a great location in Greenwich Village near the Hudson River and High Line.
Have questions or comments on starting an online business, affiliate marketing or the Affiliate Summit conference? Leave a comment below!
Disclosure: I received a press pass from the organizers of Affiliate Summit East which gave me complimentary admission to ASE 2018. This article contains some affiliate links, where we receive a share of revenue when you book through the links, at no additional cost to you.