Travel is important to many relationships. It offers inspiration, time to connect or also, time to miss each other when apart. In honor of Valentine's Day, we asked couples around the world three questions on how travel impacts their relationship. This is our second annual Valentine's Day feature. To read last year's, check out
Couples Share Travel Tips for Valentine's Day
. Here are the three questions we asked couples this year:
1) Why is travel important to your relationship?
2) Do you buy travel as a gift for Valentine's Day?
3)Where is the most romantic destination you've visited, and why?
1) We first met at our pre-departure training for the Peace Corps in Washington, DC, and happened to be seated next to each other on the first leg of our flight to Jordan. We then spent the next two years living in different parts of the country (Albert in Madaba and Carrie near Petra) and traveling monthly to see each other. Less than a year into our relationship, and our service, we took our first international trip together to Cyprus. Little did we know that those hours on the flight to Frankfurt would lead to a lifetime of travel together. With each trip we learn more about each other and get to see each other in different ways.
2) We typically don't buy travel as a gift for Valentine's Day because our birthdays fall so close to the holiday and we tend to buy travel for our birthdays. If we had more time off from work, we definitely would try to incorporate more travel, including for Valentine's Day.
3) It has to be Saba, a small volcanic island just south of St. Martin. We traveled in the low season last year and stayed in a hillside boutique hotel, Queen's Garden Hotel. We spent the day doing our new favorite thing, diving and enjoyed some of the best gin and tonics of our lives at a very quiet hotel with stunning views of the island's dramatic green hills and the Caribbean Sea in the distance.
We both saw the positive (and negative) impacts that tourism can have while living in Jordan, and we went on to explore the role of tourism and development in our master's work. Check out our travels on Backpacking with the Bonds as we explore impactful travel, the type of travel that incorporates local entrepreneurs in travel and tourism within their community.
Connect with Albert and Carrie: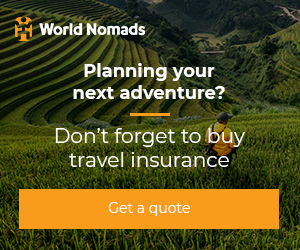 Stacey Jones and Jay Ruud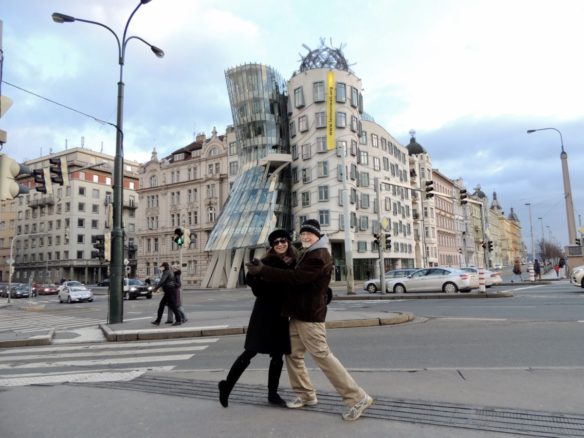 The above photo is from a trip to Prague in January 2015 in front of the "dancers building," by architect Frank Gehry along the Vltava in Nove Mesto (New Town).
1) Travel is important to our relationship because it gives us shared experiences that are just for us. Only we can recall them to each other, and only we know what those trips meant to take together. We share many interests (art, history, literature) and learning about those things together freshens and enriches our relationship trip after trip.
2) Sometimes we travel for Valentine's Day. A couple of years ago, we saw the Tulsa Opera performance of Romeo and Juliet for Valentine's Day, and enjoyed our weekend exploring that city only 4 hours away by car. Our anniversary is only two weeks later, so we sometimes save our travel for that. This year we are going to Arizona; two years ago we went to Tulum, Mexico.
3) We always find a romantic spot for a dinner (or two) on our trips, but I think the most romantic place I've been with my husband was the Röisheim Hotel near Lom, Norway. It's a historic boutique hotel from the 1700s (it used to be a coaching station in the mountains), with four-course meals by a famous Norwegian chef each night. Its spectacular mountain setting happened to be near my husband's Norwegian ancestor's farmland, so we were able to return him to his roots during our stay at this beautiful Roisheim boutique hotel, with all its pampering and history.
Stacey Margaret Jones is an independent market researcher, writer and yoga teacher in central Arkansas. Her novel Mr. Catherine will be published in 2019 by Creators Publishing. Check out her blog at
SportingLifeArkansas
.
Connect with Stacey at:
Mei and Kerstin from Luxembourg. Most romantic destination: Bruges, Belgium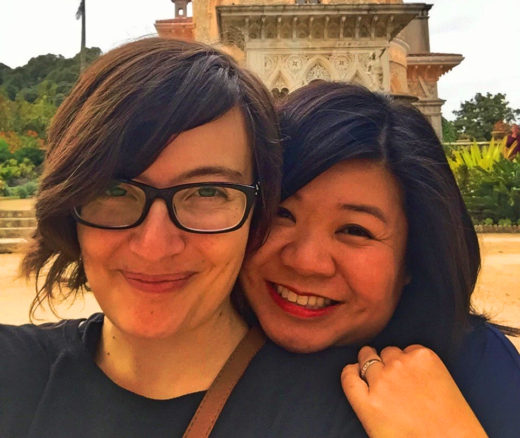 1) Travel is important to our relationship, because travel is what started to bond us over 16 years ago! When Kerstin and I first met, we immediately knew that we're compatible as we started to talk about all the places we wanted to explore. Our dream back then was to leave Luxembourg and roam the world. So as soon as we graduated from high school, we went to study in Paris, where we ended up staying for 10 years. During that decade, we travelled extensively to 4 different continents, and later spent 6 months in Athens, Greece and another couple of months in San Francisco. In 2013, we returned to our motherland, where we have a full-time job now, but keep traveling as much as we can.
2) While many couples buy jewellery or sexy underwear for Valentine's Day, we prefer to offer each other a trip for that special occasion (or any other occasion actually)! My favourite present for my wife is to "kidnap" her for a surprise road trip!
3) A couple of years ago, I drove us to Bruges in Belgium, which ended up being one of the most romantic destinations we've ever visited! Strolling hand in hand through the cobbled streets in the "Venice of the North", watching the swans from the canal bridges and savouring exquisite candlelight dinners was simply perfect! Now we're hoping to return to Bruges soon to explore this romantic city once again.
Mei is an Archaeologist and Kerstin a French teacher. They've been roaming the world together since 2002, and you can find their travel stories on Travel with Mei and Kerstin, travelwithmk.com
Connect with Mei and Kerstin:
Facebook: travelwithmk
Twitter: @_travelwithmk
Instagram: travelwithmk
How does travel impact your relationship? Share a story or tip in the comments!