Traveling is fun, enlightening, and inspiring. Regardless of your budget, there are many ways to save big money on trips. Travel hacking allows you to spend more money at your destination of choice or stretch out your time there. We want our readers to get the best bang for their buck because everyone loves a great deal. Here are some of our top travel hacks and tips to keep in mind while planning your next vacation!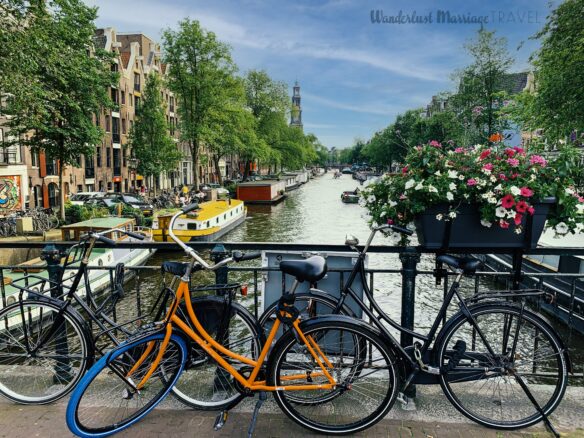 What is Travel Hacking?
Travel hacking encompasses ways to earn travel bonus points often without even traveling. Popular methods, for example, credit card reward programs, can net substantial bonus airline miles, hotel points, or convertible points. You can redeem those points and miles for discounted (and often complimentary) hotel stays, flights, and other perks.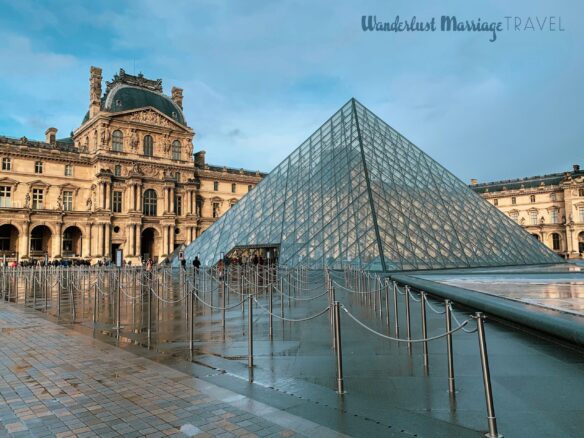 Always sign up for Frequent Flyer Miles and Points Programs to Maximize Your Travel Hacks
Anytime you fly or stay in a hotel, always sign up for their loyalty program, or make sure to register your rewards number if you're already a member. These rewards programs are always free. Then grow your points as you travel. If you're on a budget, don't stay loyal to one single airline or hotel. But if you have a larger budget or travel frequently for work, upgrades can make program loyalty worthwhile.
One of the biggest hacks is to use your points. Basically, don't hoard millions of points and miles to take to your grave! If you have the miles for a redemption that's a good deal, cash them in.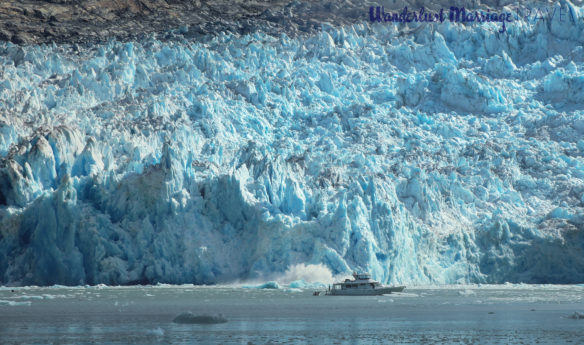 Over the past decade, some points and miles programs have become a little diluted. The best value on redemptions is typically in the off-season. I usually weigh the value of redemptions and sometimes decide to pay out of pocket if the points redemption is less than the equivalent cash value.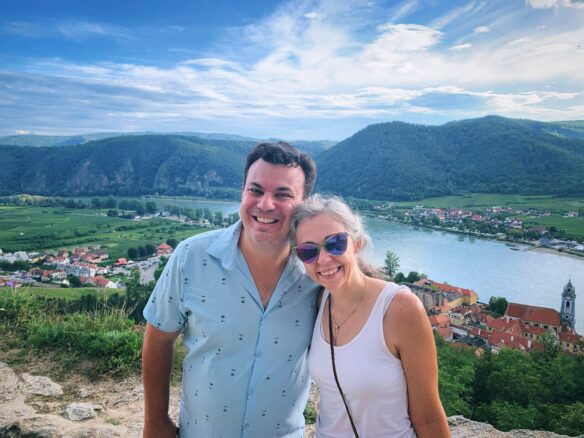 Airline Credit Cards for Hacking Flights
Play the credit card points game to earn free flights with everyday spending. There's really no catch as long as you're responsible with credit. Try and pay off your monthly balance to best maximize this hack. The best choice for you will depend on your budget, style and what city you live in as airlines have hubs that will make some airlines easier to travel hack. For example, those living in the Atlanta area will want to prioritize looking at Delta Skymiles credit cards.
Delta Skymiles Platinum AMEX
The Delta SkyMiles Gold American Express Card and Delta Skymiles Platinum AMEX cards are great cards for Delta customers. Delta ranks as the best US airline for customer service. We prefer Delta over other major/legacy USA-based carriers.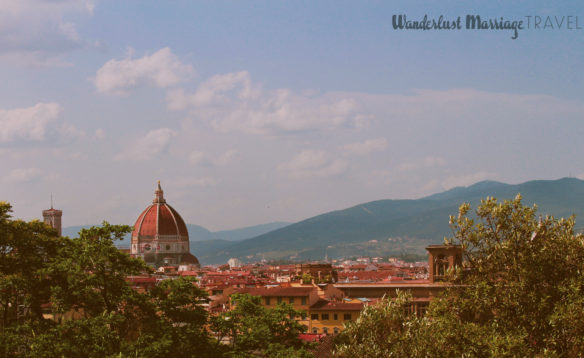 The Delta Skymiles Platinum AMEX card sometimes offers up to 90,000 SkyMiles as a signup bonus. That can be enough miles to fly multiple roundtrip international flights during off-peak times. That card also includes a companion pass for domestic travel in the lower 48 US states each year. Additional perks included a complimentary carry-on bag and priority boarding when you book Delta cards with the bag. The $250 annual fee for the Delta Skymiles Platinum AMEX is offset by the companion pass alone.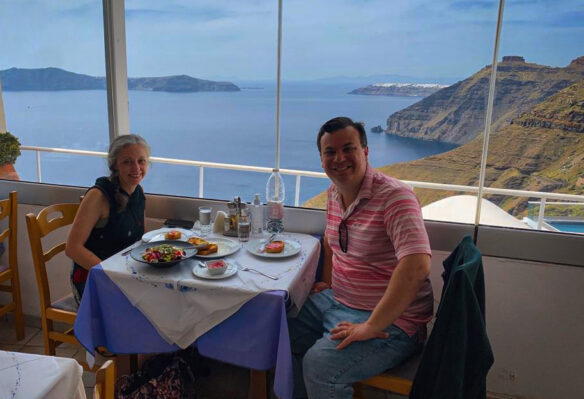 I have flown roundtrip from Washington, DC to Tokyo, Japan on Delta for 70,000 Skymiles and $60 in taxes. If I paid out of pocket for the ticket it would have cost me around $1,300. So I saved over $1,000 on that ticket! Then I was able to replenish Delta miles even during the pandemic. Read how I earned over 120,000 Delta Skymiles in a year without flying and how you can too!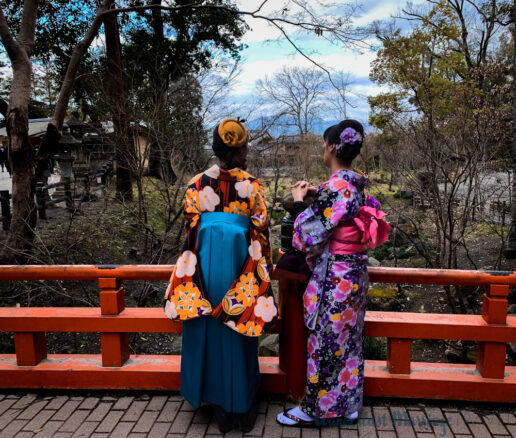 Travel Hacking: Free Airport Lounge Access with Priority Pass
Rewards credit cards that offer a priority pass are great for free lounge access. Having lounge access makes any flight, especially a long one, more relaxing and enjoyable. We've now taken advantage of free lounge access in cities around the world like Istanbul and multiple airports in Tanzania during our safari trip.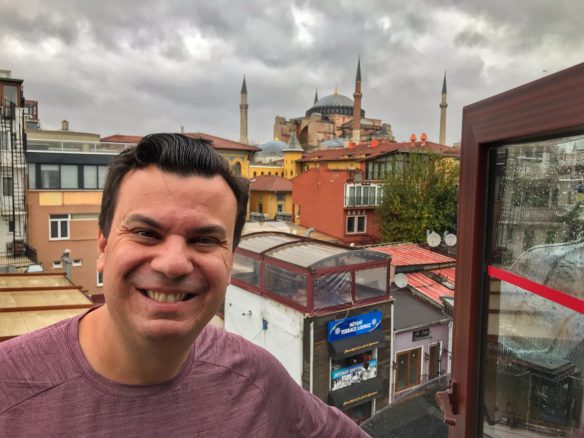 Cards like Chase Sapphire also offer a Priority Pass, but the annual fee is $550! There's a $300 reimbursement for travel credit, and even Uber counts toward that. With so many cards on the market, that card is not worth keeping beyond a year for some. Bell had this card and canceled it during the height of the pandemic as she wasn't in an airport for a year.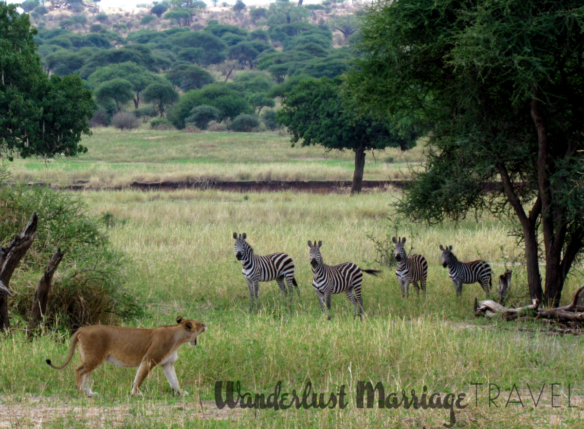 Save on Plane Tickets When Paying out Of Pocket
While you can often get free flights by utilizing credit card points and airline frequent flier miles, sometimes you have to pay out of pocket. When you do, it's best to check multiple sources. Google flights is one of our favorite resources to begin our search because it's so easy to use. Check out this article I wrote on how to buy cheap plane tickets.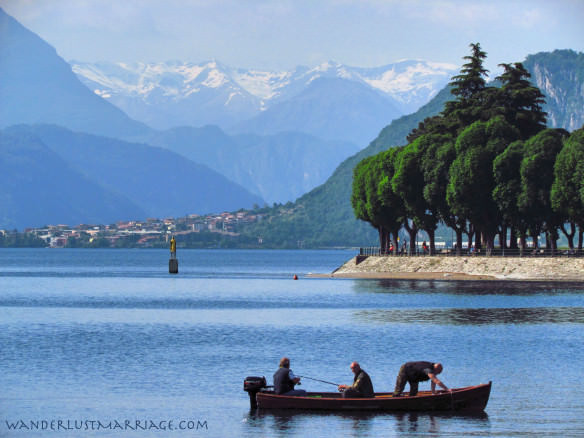 There are many discount airlines in Europe. There are often deeply discounted airfares on legacy carriers during off-peak times. Sometimes its worth paying a little extra to fly a bigger airline for comfort and flexibility in case you need to change your ticket.
Travel Hacks: Hotel Points With Travel Reward Card Bonuses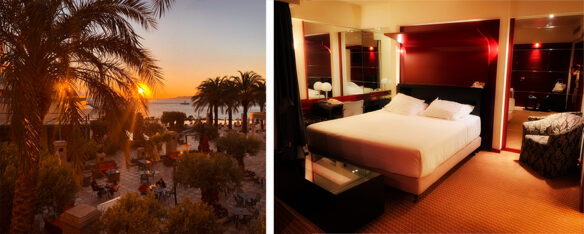 If you travel a lot for business, there's value in brand loyalty. So it's typically not worth alternating between Hilton and Marriott stays unless there's a massive price difference. These points will add up over the long haul, and loyalty has the added value of status. So you can get extra perks like complimentary room upgrades and free breakfast with a higher status.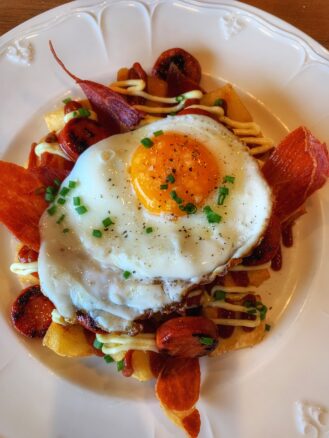 The exception here is with travel hacking – because with big sign-up bonuses it can be worth alternating between hotel branded travel rewards cards. Many of them even include automatic status upgrades, so you can hold higher status at hotels like Marriott and Hilton simultaneously, even if you barely stay there!
Hilton Points
Many travel rewards cards offer big sign-up bonuses. The Hilton Honors American Express Surpass Card is an excellent travel rewards card to have. It offers 130,000 Hilton Honors Points that you can use towards multiple free Hilton stays after the introductory spend. Those points are worth around $700 in Hilton credit. Another excellent perk of this card is the automatic Hilton Honors gold status. Hilton's gold status equates to complimentary breakfasts and room upgrades when available.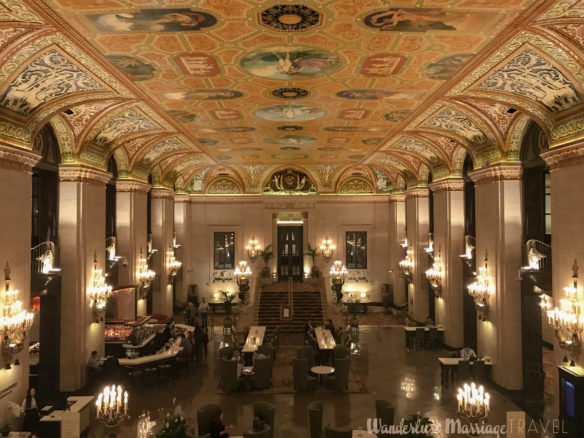 You can receive a free Priority Pass, which allows you 10 lounge visits in over 1,200 lounges worldwide. At $95, this is the lowest annual fee card that includes free lounge access! One downside is that sometimes the lounge is in a terminal you can't access. But this is a fantastic travel perk when you can access the lounge. You can enjoy complimentary snacks, drinks and comfortable seating with outlets to charge your devices – away from hordes of people milling in the terminal!
Marriott Points
Marriott is now the largest luxury hotel brand in the world. Westin, Sheraton and Le Meridian are among the hotels that fall under Marriott's umbrella. So points with the Marriott Bonvoy Brilliant American Express can be redeemed at many hotel brands around the world. I used this card to book a Sheraton stay in Venice Mestre for two nights for just €6.20! Yes, 6 euros and 20 cents!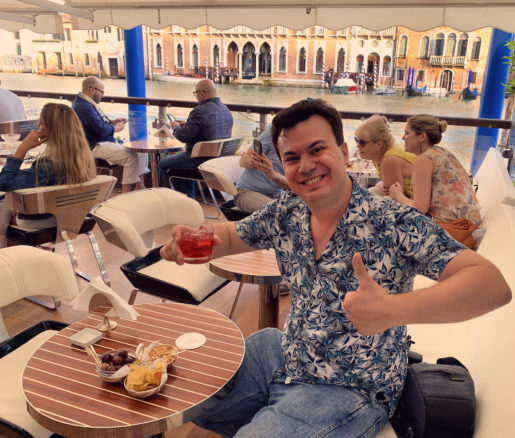 Among the perks of the Marriott Bonvoy Brilliant is the automatic Marriott Gold Elite Status. That means guests automatically receive free room upgrades when they're available. The card also comes with a Priority Pass so you can get complimentary lounge access in over 1,200 airports around the world. After the initial spend, the current bonus is 75,000 points, which is good for about $700 in hotel credit according to the Points Guy. You also receive a complimentary reward bonus night each year.
Not everyone resides in the United States, and travel hacking through credit cards is not for everyone. So here are some other tips to save money on travel.
Other Ways to Earn Points and Miles
Miles with Delta, United and JetBlue don't expire. American Airlines miles expire after 2 years if you don't fly or make a purchase through their program. But you can sign up for free for the Advantage dining program and have a meal at a participating restaurant. That alone *should refresh American Airlines miles, just don't leave it until the 11th hour as miles are not processed in real-time.
Check your balance too, miles will be posted to your account roughly between 6 to 8 weeks after eating at a participating restaurant. Delta has a similar dining program for Skymiles.
Other alternatives for collecting points include linking your Delta Skymiles to your Lyft account to earn extra points, rides to the airport are worth more! Delta also has a partnership with Airbnb for miles as well as Ticket Master and Starbucks.
Travel Outside Peak Summer and Holiday Seasons When Possible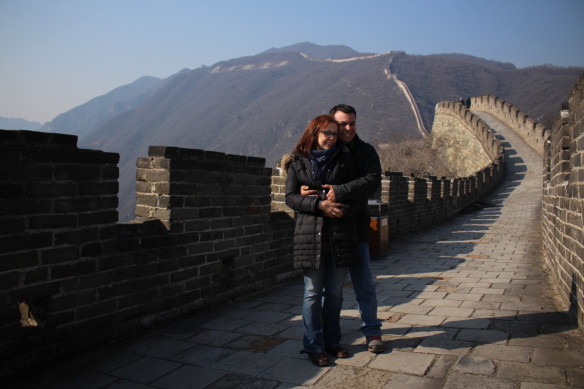 Off-season travel is typically significantly cheaper. It also doesn't require as careful planning in advance for those that like to wing trips a little. Popular destinations like Paris, London, Amsterdam, Venice, Santorini and the Great Wall of China can be very crowded in the summer. However, these destinations can be enjoyed in the off-season.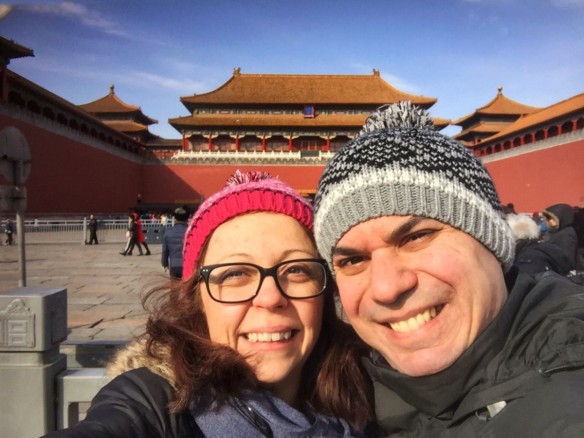 We've gotten incredible value in fantastic destinations traveling off-season. Flights, hotels and car rentals can cost just a third of what they run during peak season. We've even been given rental car upgrades to luxury vehicles like Audi when we booked a compact simply because the rental car company had so much inventory.
Traveling in the offseason also means it's easier to get photos with nobody else in them at famous sites! In case nobody is around when you need to snap a photo, you can use the best tripod and a remote camera trigger to take a breathtaking picture.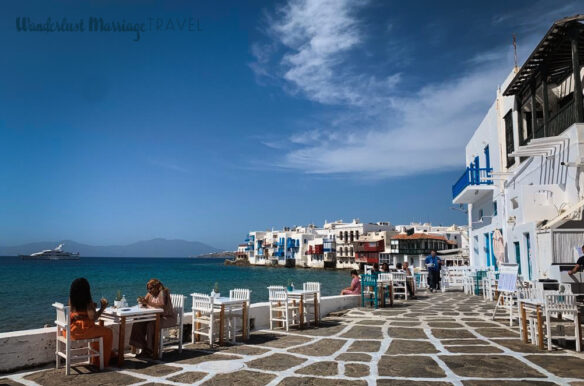 There are so many beautiful destinations off the main tourist paths too. Read our guide to maximizing Europe travels to learn more!
Always Pay in the Local Currency
Often times at touristy establishments abroad, you'll be prompted with a choice. Do you want to pay in the local currency or your own currency? It seems tempting to pay in your own currency and many make that choice. But it's the wrong decision because businesses do an extra conversion where they inflate the exchange rate to their benefit. Our travel tip: Always pay in the local currency to save money!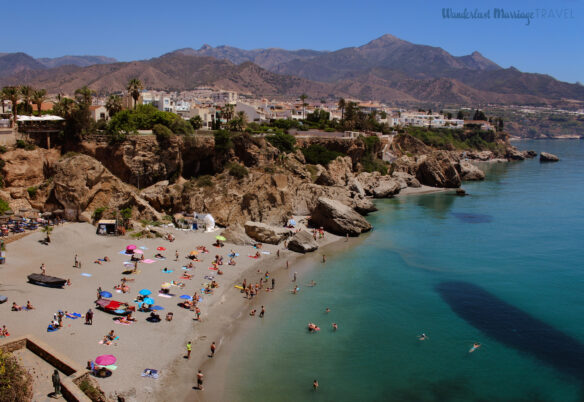 Choosing the Right Accommodation
Small independently run hotels can be a great way to experience the local culture. Families and groups of friends will often find the best value on short-term apartment rentals over booking multiple hotel rooms. Short-term apartment rentals can also be booked through sites like booking.com or Air BnB. While we appreciate that there are fewer hidden fees on Booking, it may be cheaper on Air BnB, our hacking tip here is to check both sites. Book listings with consistently great reviews for the best experience.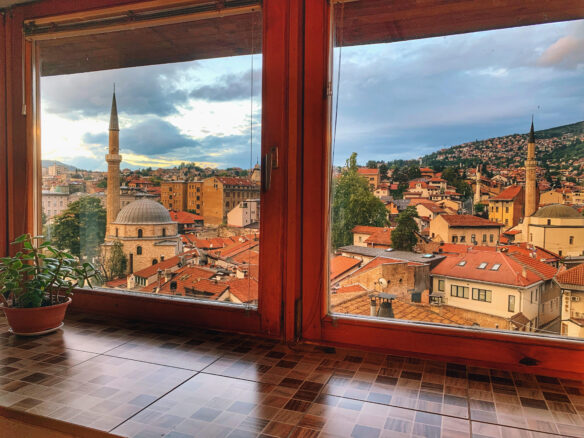 With an apartment in a pricier location, you can utilize the kitchen to save money on meals. Even if you don't cook, utilizing the refrigerator to make sandwiches and store cold drinks and saves a family a fair bit of money over a week. Of course, many hotel rooms include a fridge so be sure to check the room's amenities before booking.
For some travelers, the best value can be found in staying at independent hotels because they have less overhead compared to large chains. For travelers that enjoy cashing in points, and like to know what to expect, read our article on some of the best American chain hotels for the money!
Book Hotel Rooms with Free Cancellation When You Know Your Travel Dates
If you have to cancel your trip or you find a better deal later, you can make changes without paying a penalty. We typically use booking.com because they usually offer the best prices. They also seem to offer a higher inventory of rooms with free cancellation compared to many of their competitors.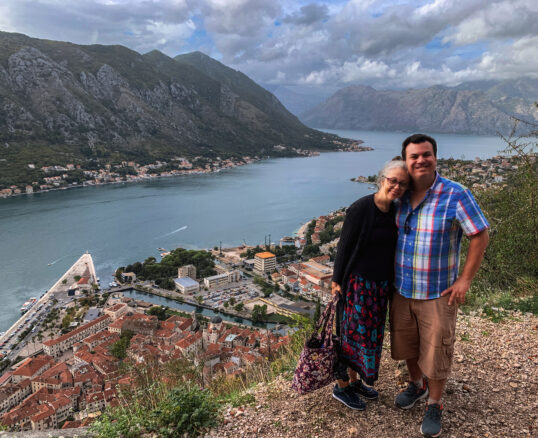 Quickly double-check prices by searching the hotel on google before booking. Often times the hotel charges more if you book directly on their site, which is peculiar. But some hotels offer specials for direct bookings – like complimentary breakfasts or room upgrades.
Research Hotel and Restaurant Reviews
Be wary of fake reviews though. If there are a lot of rave reviews by people that have only left one review on sites like Tripadvisor and Yelp, the business owner might be rigging the system. But reviewers can also be overly critical. So dismiss reviews that seem far-fetched or ridiculous. Yes, hotel rooms in some cities, for example, New York City, are absurdly small and some folks will leave 1-star reviews because of this. We recommend ignoring those reviews!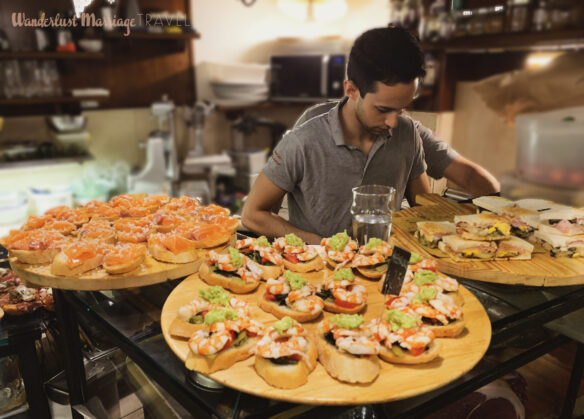 Sometimes it's best to just look at negative reviews to see if there are consistent problems with an establishment. If a restaurant or hotel consistently receives bad reviews concerning a particular problem, it's generally pretty accurate that you will have the same problem too. When in doubt, consider emailing a travel or food blogger you trust for specific recommendations.
Negotiate at Markets
Business often involves negotiations. Perhaps not on every transaction, but on a macro level this is the case. In some countries we've visited, like Morocco, vendors can charge upwards of a 500% markup on the price they're willing to sell at item, like a rug.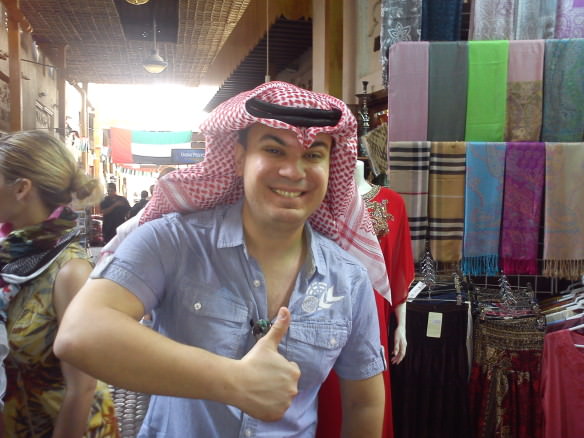 Countries we've visited like Thailand, Turkey and Vietnam are a hagglers paradise. Read our negotiating tips for traveling overseas that can save you big bucks. Don't be a jerk, but responsible negotiating is part of the experience. Some vendors completely rip-off tourists, simultaneously sending the wrong message to honest merchants.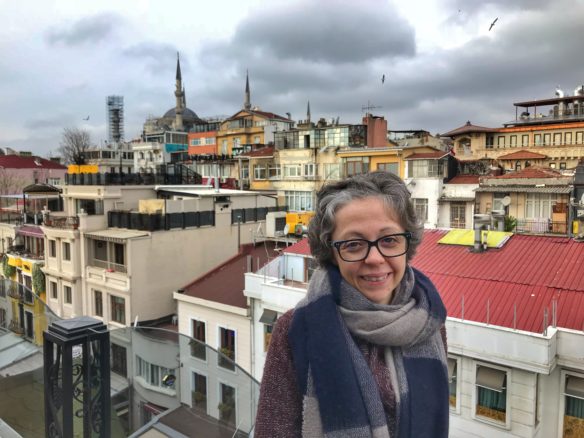 Travel Hacks Conclusion
There are a variety of ways to save big money on travel. By utilizing the above tips, you can have the best experiences for your budget. Here are some additional articles we've written to help you with travel hacks and planning for a wonderful couple's trip!
5 Ways to Save Big Money on Travel
7 Great Tips for Saving Money to Travel
10 Tips to Save Big on Plane Tickets
The Benefits of Taking Time Off to Travel
For any questions about planning a trip or travel hacking with bonus point programs, email me at alex @ wanderlustmarriage.com and I'll be happy to assist!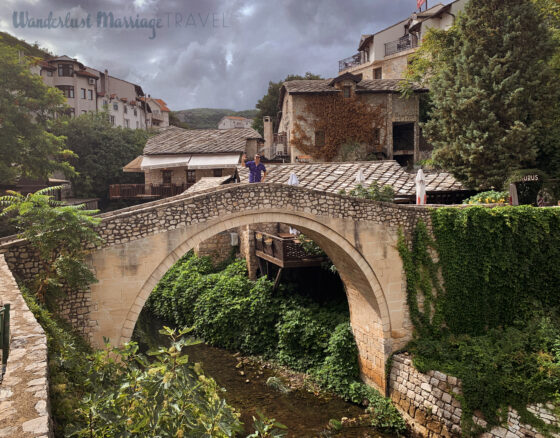 About the Writer and this Website
Alex Kallimanis is a UCF graduate who grew up in the Orlando, Florida area before living in destinations like Australia, the Netherlands and Ireland. As a travel journalist and travel consultant, I enjoy assisting readers with getting amazing experiences and value from their trips. I've visited 60+ countries and counting!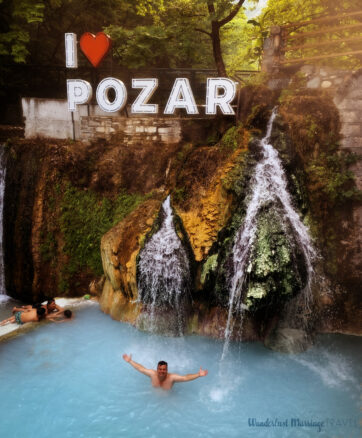 I'm also a Greek citizen that has made around 15 trips to Greece. My wife of nearly 17 years, Bell, is an Australian scientist working in cancer research. We first met in a hostel in Brugge, Belgium while backpacking Europe solo after college. You can read more about that story on our about page.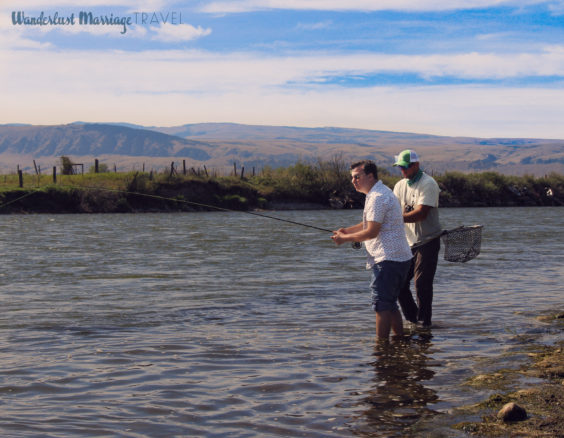 I encourage you to browse some of the other destinations we've covered for helpful tips. I also share advice on our resources page that could save you thousands on travel costs!
Disclosure: This post contains some affiliate links that we receive a small commission from when you use, but costs you nothing extra. Please consider using them because it helps us help you get the best experience from your travels!