New Hampshire and Vermont are beautiful states with picturesque mountains and some of America's oldest and most charming towns. Both states are a relatively short drive from Boston and New York City. Over the past few decades both states have been culturally reshaped by the migration of Bostonians and New Yorkers who wanted a temporary or permanent break from city life. We loved the friendly, chatty, patient and laid back nature of many people we spoke to extensively and we'd be lying if we didn't say our recent five day road trip didn't make us question living in the "rat race" of city life. Another thing we enjoyed about these two beautiful states: wonderful craft beer in imaginative settings!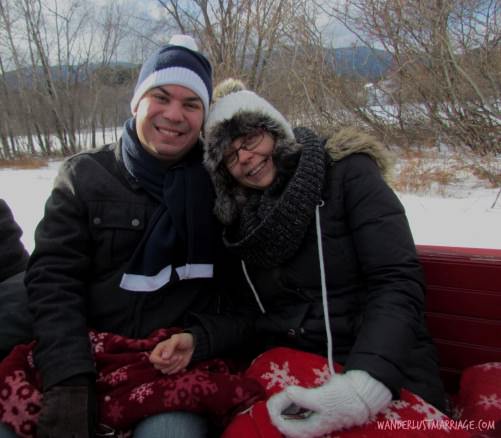 Woodstock Inn and Brewery
In New Hampshire we stayed in the town of Woodstock, in the snow covered White Mountains and visited the Woodstock Inn, Station and Brewery. One of our biggest regrets of the trip was not spending a little extra to stay in our first Brewpub Inn, but instead staying a couple blocks down in a cheaper mediocre place on our first night. The hotel proprietor and the local news warned us that temperatures outside were "dangerously cold." And given the windchill that evening was -20 fahrenheit (-29 celsius), it was the longest two block walk of our lives between our hotel and the Woodstock Brewery!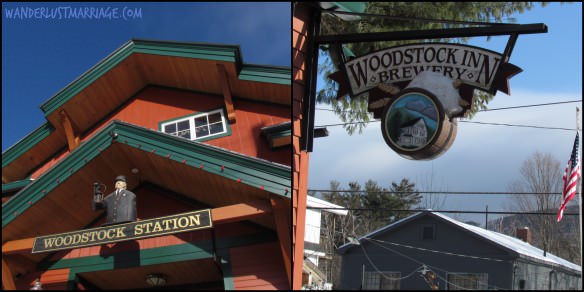 We thoroughly enjoyed dinner and drinks at the Woodstock Brewery, which is somehow both spacious and intimate simultaneously. The laid back dining room resembles a cozy wooden lodge and has a view of the brewery. It also has a massive fireplace that we enjoyed for awhile after dinner.
We sat at the bar for dinner, and Bell asked the bartender about the large circularly engraved lamp above us. He said country music star Randy Travis had the lamp commissioned for himself but then found it to be too small, and the Woodstock Inn then purchased it off Ebay. "So I guess Randy Travis' trash is our treasure" the bartender joked.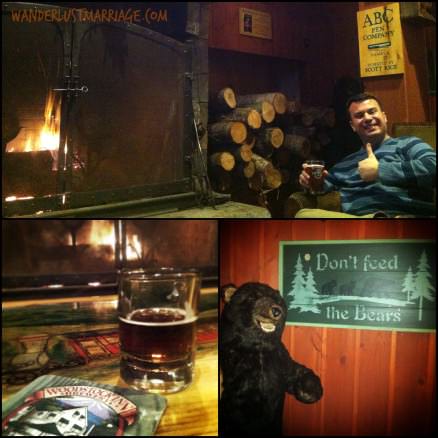 At Woodstock Brewery we drank Pemi Pale Ale (which placed 2nd overall at the United States Beer Tasting Championship), 4000 Footer IPA (exceptionally hoppy at a whopping 82 IBU's), and Fellowship Ale, a citrusy IPA that was the most complex and our favorite of the bunch. What equally stood out was Woodstock Brewery's food. I ordered the barbecued quarter chicken meal with rice and vegetables, a similar meal to what I ate at a brewpub in Boston on New Year's Eve.
Better Than a Big City Brew Pub
The food was better at the Woodstock Brewery compared to "gastropubs" like Rock Bottom Brewery in Boston. The quality of the chicken was the best we'd tasted since living in Ireland. Nicely seasoned brown rice rather than the plain white rice served at Rock Bottom Brewery is a welcome side dish. I don't want to totally bash Rock Bottom Brewery though because the restaurant is lively, has good beer and the food is decent. We also had a fun time there on New Year's Eve. But the Woodstock Brewery is special. Sitting in front of the huge fireplace at the end of the evening added a rare touch of romance to a brewpub!
Award Winning Craft Beers
But while the Woodstock Breweries beers have won awards, they weren't our favorite beers of this trip. In a nearby convenience store in Woodstock, a friendly sales assistant spoke to us extensively about quality New England beers and recommended Covered Bridge Pale Ale by a New Hampshire Brewery called Squam Brewing. What also sold us on purchasing this beer was that the artwork on the label was designed by the mother of the two brothers who run this brewery. The label is a painting of a covered wooden bridge, which is quintessential New Hampshire and Vermont. We drank this beer in our hotel room and found it smoother and more balanced than most pale ales.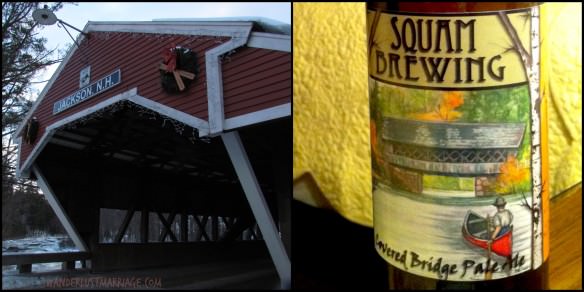 Bent Hill Brewery
Maple syrup is quintessential to New Hampshire and Vermont and if you like the taste, be sure to pick up some maple syrup flavored beers. We bought three different maple syrup flavored beers produced by Bent Hill Brewery, out of Braintree, Vermont, in a bottle shop in Burlington. The Maple Red Ale and Maple Brown Ale were both delicious. The Maple Brown Ale was quite sweet and the Maple Red Ale was on the drier side, with less maple syrup. We also purchased an Imperial Maple Stout which we brought home and have yet to crack open.
The Alchemist's Famed Heady Topper
We learned about a rare beer that has recently been named the world's best beer with a 100% rating on Beer Advocate. The Alchemist brewery is located in the town of Waterbury, Vermont, which is also home to the Ben & Jerry's factory (which you can tour for just $4)). For several years the Alchemist has focused solely on producing one excellent beer, their signature American Double IPA, Heady Topper, featuring a blend of six hop varieties.
If you're in this area and are fortunate to find Heady Topper on a store shelve (we did not), don't pass up the opportunity to buy it. We saw an empty shelve in one shop with a sign limiting the purchase of Heady Topper to one 4 pack per person. It's usually sold out by the weekend. So your best bet is to find it in a local specialty pub. We simply didn't look hard enough, to be honest.
The Alchemist only sells Heady Topper to breweries and shops within a 30 mile (50 km) radius of Waterbury. So you are more likely find this beer in certain pubs from Montpelier to Burlington.
Four Quarters Brewing
In Winooski, Vermont, just outside Burlington, we visited Four Quarters Brewing, where we drank the best beer of our road trip through New Hampshire and Vermont. Founder and brewmaster, Brian Eckert, recently opened Four Quarters in March, 2014 after home brewing for 14 years.
Four Quarters us a small operation. But because Brian is excellently skilled at brewing, his beers are top notch.
We sampled two wonderful Belgian Trappist influenced beers called Opus Dei ("the work of God") and Opus Ferum ("the work of the wild") which are Belgium style tripels and lambics respectively. We also tasted an excellent oatmeal brown ale called The Great Bear, named after his son, and Red Eye, a coffee red ale (which is one of the best red ales we've ever drank).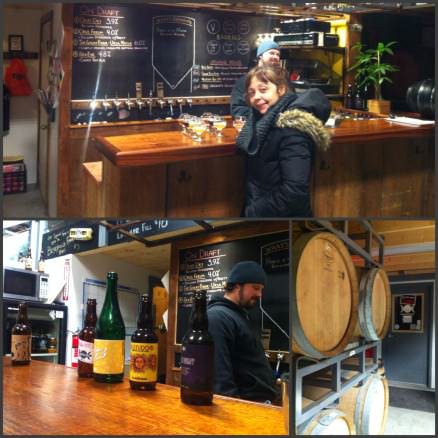 The other unique experience about visiting Four Quarters is that we had the opportunity to chat privately with the brewmaster for almost an hour, something we've never previously done, partly because this is the smallest brewery we've ever visited. It's a great new business and Four Quarters is currently in the process of expanding its license to serve full pints and food with table seating. Brian chatted with us about some of his previous brews and discussed his thought process and creative methods behind his labelling, which are art works of their own.
We also tried two beers not yet fully matured in their respective casks. Janus is a wonderful beer that includes Vermont grown white grapes, chamomile, saison yeast and continues to mature in red wine barrels. If you're in the Burlington area, definitely swing into Four Quarters Brewery. Brian Eckert's imaginative beers are definitely good enough to sell outside Burlington and Winooski area craft pubs in the future!
New Hampshire and Vermont Highlights
During our five day road trip we stayed in four different towns- Woodstock and North Conway, New Hampshire and Montpelier and Burlington, Vermont. We drove as far north as the Canadian border, along Lake Champlain on U.S. Route 2, and seeing one of America's largest lakes frozen over, with remote cars parked atop and ice fisherman in certain spots, was beautiful, thought provoking and something we've never experienced.
We're excited to return to the mountains of New Hampshire and Vermont during the summer or for the fall foliage, as each season offers a different dimension to the landscape, and additional food for thought over well crafted beers.