During our recent road trip through New Hampshire and Vermont, we drove through the White Mountains, explored some unique craft beers and visited an amazing outdoor Ice Castle. When researching our trip, Bell was thrilled to discover that we could partake in a horse drawn sleigh ride in either Vermont or New Hampshire. So as any non-brain dead husband should do, I agreed it was something we should plan for and added "you do realize you're a 34 year old career woman who's about to embark on every 9 year old girls dream vacation, right?"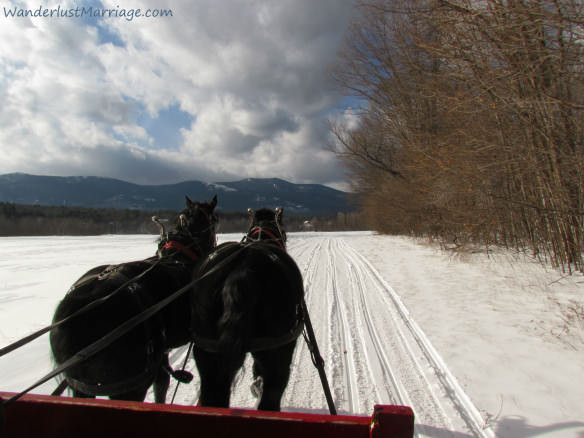 Conway, New Hampshire
We arrived in Conway, New Hampshire and drove through a quintessential covered bridge in Jackson to arrive at Nestlenook Farm, where we inquired about the sleigh rides on a Thursday in January. Nestlenook Farm also offers outdoor ice skating amid colorful nighttime lights and snow shoeing during the day. Unfortunately, they were only operating Friday, Saturday and Sunday and we already had plans for the following evening. "Maybe we can wait until Vermont?" I said to Bell. But fearful that something might go amuck and ruin the opportunity, she preferred that we did the sleigh ride as soon as possible.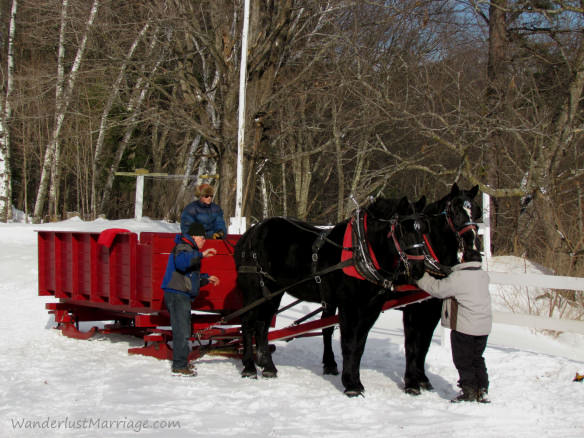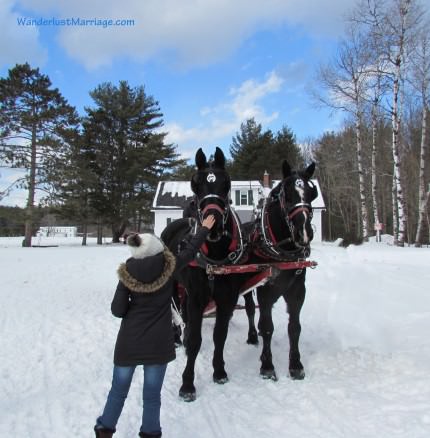 New England Inn
After negotiating a great price on a wonderful cabin rental for the night at the New England Inn in North Conway, New Hampshire (which we highly recommend), we learned of a local farm that operated sleigh rides earlier in the day on Friday. That still allowed us time to keep our plans of visiting the world's largest candy bar at Chutter's in Littleton (which has the best fudge we've ever eaten) and arrive in time for the opening of the Ice Castle in Lincoln.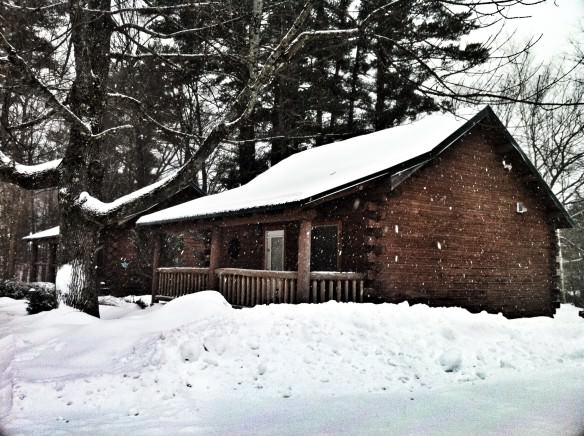 Farm By the River Horse and Sleigh Rides
Farm By the River offers private sleigh rides for couples starting at $109 and sleigh rides in groups, which costs $18, in which you'll share the sleigh with up to 10 other people. As we've been married nearly ten years and don't have loads of money, we opted for the more economical ride, which was a lot of fun.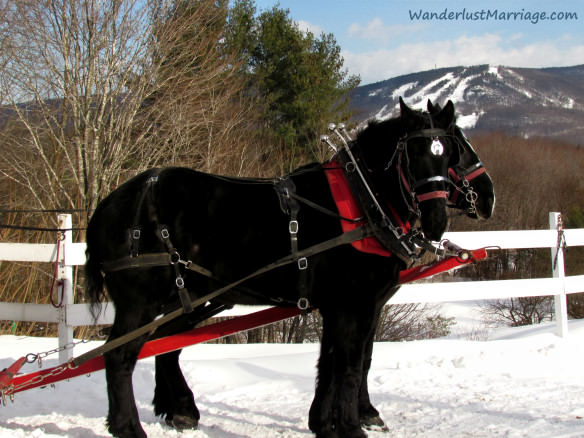 The scenery on the sleigh ride was a wonderful white landscape with vast open spaces, clusters of trees and nearby snow covered mountains. We shared our sleigh ride with a family from Long Island who were also in the area to escape the busy area they reside in. We remarked to one of the sleigh operators, who was originally from Boston, but had happily relocated to rural New Hampshire ten years prior, that we loved how open and chatty the residents of Conway were. "I love it here. In the city everyone lives on top of each other and builds walls. Here we have so much space, so we don't need any walls between us" she said.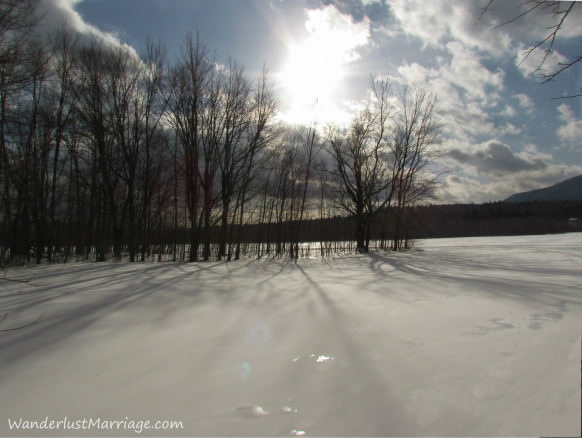 Our horse drawn sleigh ride lasted 30 minutes, which was perfect considering the temperature was 20 degrees Fahrenheit (-7 Celsius). We were all given blankets for additional warmth, but you should still bundle up really well. I wore man tights underneath my jeans for the first time ever on this trip, and was absolutely glad I did. This is a great activity for couples on a romantic getaway or families with children. For new couples, a special anniversary, or simply a splurge, consider doing the private sleigh ride for $119 as it also includes a small bottle of champagne, chocolates (and additional brownie points for men).