Maine is a wonderful state, featuring some of the country's most rugged and pristine coastline and forests, historic lighthouses, fresh lobster galore and lots of delicious craft beer. Maine is currently home to around 60 breweries, but since it's generally not a good idea to drink and drive, we took Maine Brew Bus' afternoon 'Drinks About Town' tour, where we visited two craft breweries and a mead distillery on a rainy Sunday (great timing). Our afternoon was packed with flavor, learning and most importantly, a hell of a good time!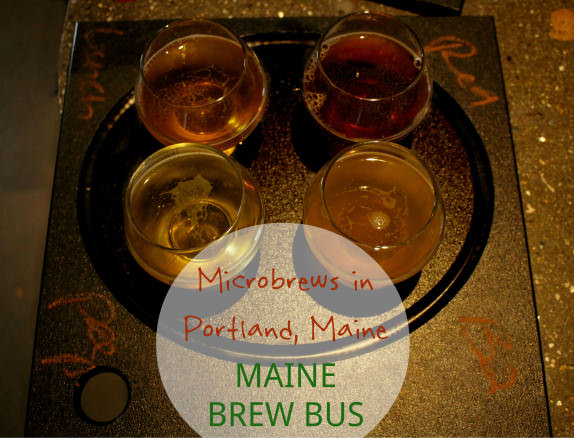 Maine Brew Bus Meetup: Craft Beer Cellar
Maine Brew Bus' slogan is "Driving You to Drink Local." The 'Drinks About Town' tour started at 1pm at the convenient, centrally located meet up point of the Craft Beer Cellar. Our guide Paul signed us in before we boarded the green bus that would be driving us around. On board the bus, cutely named Mabel, we found old school lunch boxes that were a hilarious throwback to our childhoods, containing snacks and water. The seats next to ours had a Hot Wheels lunch box, and ours was New Kids on the Block. We hadn't had a sip of beer yet and we were already laughing!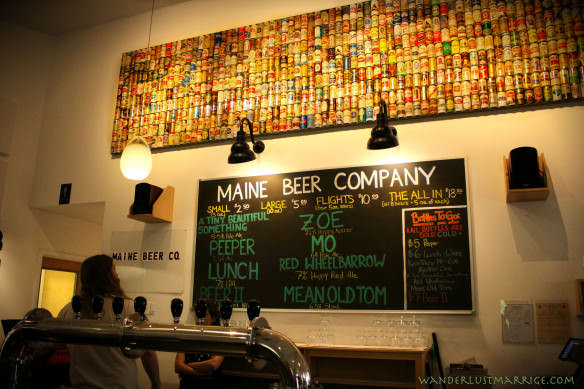 Maine Beer Company
Our first stop was the Maine Beer Company, which was a 20 minute drive north of Portland in Freeport. We were given a tasting tray of four out of their eight beers currently available on draft. We were given 'Lunch'- a delicious, smooth and well crafted IPA that they're becoming famous for throughout New England, along with 'Peeper' (American ale), 'Red Wheelbarrow' (hoppy red ale) and 'Beer II' (a session IPA). We've recently become big fans of session IPA's because at 4.7% abv, they're flavorful beers you can enjoy for awhile at a barbecue or other function without falling over yourself!
All of the beers at Maine Beer Company are quality, and the tasting room was lively with conversation. We wound up striking up a fun chat with a couple visiting Maine from Miami, who weren't even on our tour! And we really enjoyed talking to our driver Joshua, a Maine native who previously resided in Denmark. I purchased an additional sample of 'Mean Old Tom,' an American stout, because I had to try it. While I enjoyed all of the Maine Beer Company beers, Mean Old Tom was my personal favorite because it's harder to find a great stout in the USA compared to a good hoppy beer. I asked our guide Paul what his favorite was and he said it depends- "sometimes it's Lunch and sometimes it's Mean Old Tom. Yesterday the weather was sunny and I enjoyed Lunch, today it's cool and rainy so Mean Old Tom hits the spot." Agreed, Mean Old Tom probably wouldn't taste quite as amazing while lounging on a sunny beach (though perhaps a social experiment is in order!).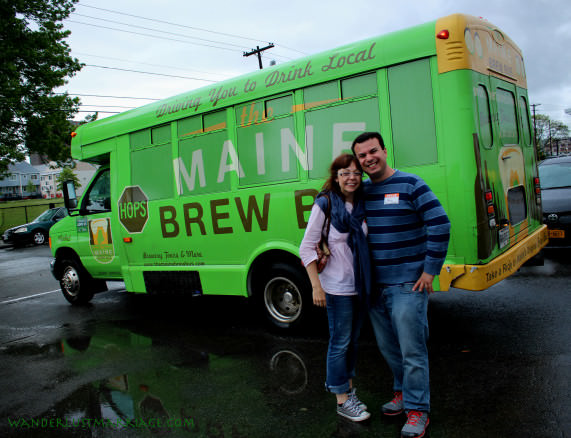 As we boarded the bus to drive to our next stop, the bus was considerably more chatty than when we'd started the tour. Yet another perk of delicious beer- social bonding! Paul decided to play a game of beer trivia where he asked questions and we could just shout out the answers. One question was "what is the oldest brewery in the world?" While we all shouted a bunch of answers, nobody actually came up with the correct one. The oldest continually running brewery, dating back to 1040 is the Bavarian brewery Weihenstephaner, located just north of Munich in Freising. And incredibly, they haven't been bought out by a beer goliath yet as the company is owned by the state of Bavaria and operates in conjunction with the Technical University of Munich. God bless those brewmaster Germans, they don't fool around with beer.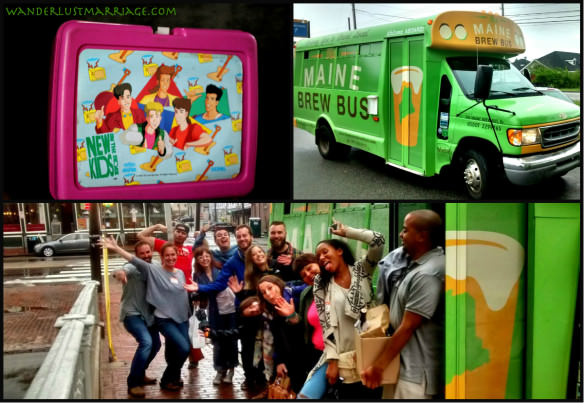 Maine Mead Works
Our second stop was Maine Mead Works, to sample honey wines that most people aren't very familiar with, even though mead is apparently the world's oldest fermented drink. The company was established in 2007 and places their focus on working with family run honey, lavender and fruit farmers within Maine. We sampled four meads, two of which were flavored with Blueberry. The first was a light summer drink, whereas the second was a lot sweeter, but not too sweet. Next was a semi-sweet mead and the final mead was a lavender mead. Our favorite however, was their Ram Island Lavender Lemonade (ABV 7%), which would be lovely on a summers day. After enjoying our drinks over more fun conversation, Paul took us for a backstage tour to explain how mead is made while showing us the distilling equipment.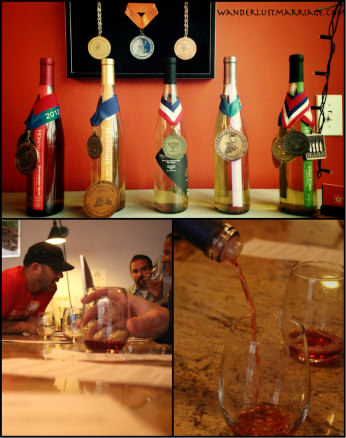 Rising Tide Brewery
Our final stop was at Rising Tide Brewery, a great brewery just outside the center of Portland. We sampled several of their beers and our favorite was Daymark, a delicious American Pale Ale made with locally grown rye. I'd actually drank this beer the night before at Bull Feeney's pub in Portland and absolutely loved it. The pub also offers a great whisky selection. But it was great to drink the beer again at the brewery, along with enjoying several other great varieties.
At Maine Beer Company you're slightly more removed from the brewing process but can look down at it through a large window from the tasting room. But Rising Tide Brewery is a huge open warehouse and the tasting room and brewery aren't separated, giving an even more intimate feeling to the brewery visit.
Our time with Maine Brew Bus ended at 4:30pm, three and a half hours after we started. Perfect timing, as we then had just enough time for our early dinner at Duck Fat before boarding the last Megabus for a short 2 hour drive back to Boston. By the way, Duck Fat mixes actual duck fat into their milk shakes, which are incredible! They also featured more tasty Maine beers, a unique opportunity to try foie gras at an affordable price, but unfortunately no Belgian beers on their menu.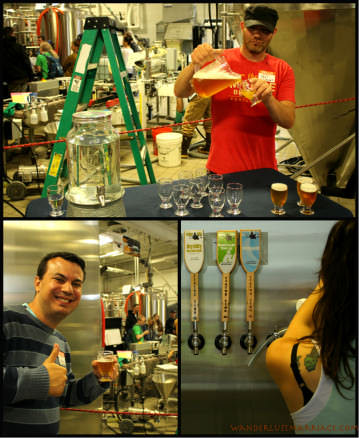 Where to Stay in Portland?
We loved our three day weekend in Portland. We stayed two nights at the oldest continually running hotel in the city, the Inn at Saint John. It is a charming Victorian themed bed and breakfast in business since 1897.
Where else to eat in Portland?
Along with all the great food and beer, don't miss buying some of the most delicious and quality donuts you'll encounter at The Holy Donut, which includes real Maine potatoes in their unique selection. We also highly recommend lunch at either Local Sprouts or Portland Pottery Cafe (which, as it says in their name, doubles as a pottery store).
And Maine's largest city, Portland, is a great seaside town with an excellent culinary scene beyond fresh seafood, like the delicious Belgian inspired food we enjoyed at Duck Fat. 
Thanks to the crew at Maine Brew Bus  for hosting us on a fun and tasty afternoon! Their 'Drinks About Town' tour costs $55 and offers great insight into not just beer and mead making, but the essence of the quirky creativity of small businesses in a beautiful state. It's the #1 rated tour in Portland in the category of food, beer and wine on Tripadvisor, which is no small feet in this area!