We recently attended the opening of an amazing Ice Castle in the ski town of Lincoln, New Hampshire in the beautiful White Mountains. Upon posting photos on Instagram, one friend asked "is this magical?" At times it felt that way because we'd certainly never seen anything like it previously. This is the 2nd consecutive year that the outdoor ice castle has been built in the White Mountains and we were thrilled to be among the first to view this wonder on opening night (even though the ice castle wasn't yet finished).
Ice Castles, began when Brent Christensen moved his family from California to the Rocky Mountains of Utah. During his first winter, he wanted to do something special for his son and built him an ice rink, with an ice slide and a 20 foot tall ice tower, which his son coined "Ice Castle." The structure drew a lot of local attention and in 2011 he built his first large scale Ice Castle in Utah that was open to the public.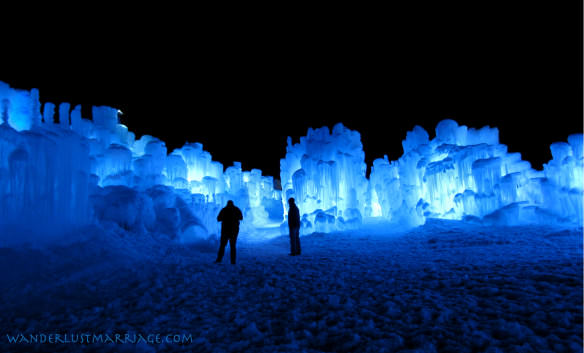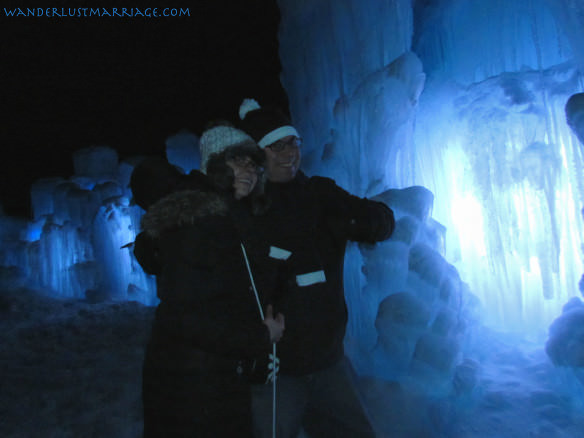 This winter there are 4 outdoor Ice Castles to visit across the United States. There is the Ice Castle in Midway, Utah which opens January 25th; Stratton Vermont which opened January 17th; Eden Prarie, Minnesota which opened January 9th and Lincoln, New Hampshire, which also opened January 9th (when all photos in this post were taken).
Twelve sculptors spent three weeks working on the Lincoln Ice Castle prior to opening night. Because of unseasonably warm weather over Christmas, several days of work unfortunately melted away, but the builders weren't deterred. We spoke with one sculptor on opening night, an environmental planning student from Plymouth, New Hampshire who was working on an ice tower that wasn't yet completed. His plan was to have a waterfall flow down from the beautiful tower. "We'll continue building here as long as the cold weather allows us" Brian said, "For probably around two more months."
The stalactite looking formations of the Ice Castles are created by over night sprinklers spraying water upwards, over ice, in temperatures well below freezing, and then the team sculpts certain segments to built intricate structures. On opening night, the temperature was 17 degrees fahrenheit (-8 celcius) and after an hour of touring the ice castle and photographing it, our toes felt frozen, particularly since we'd been walking on ice. If you visit be sure to wear boots, thick socks and warm clothes!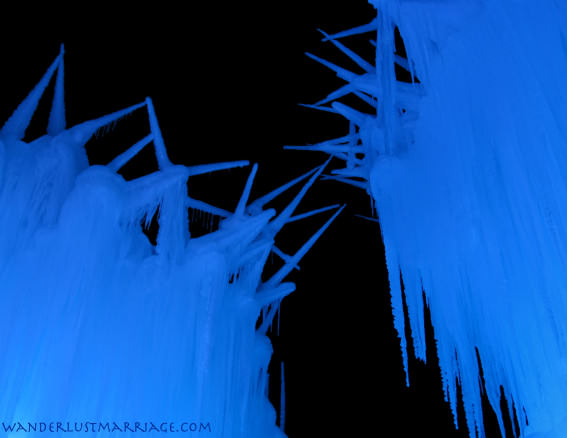 If you're in any of the areas where the Ice Castles are on display, they're definitely worth the $12.95 admission for an adult, and $8.95 admission for children between the ages of 4-11. The workers take pride in their work and we gathered this from our conversation with Brian, who even said "We're in competition with Minnesota to make sure we opened the same day as them, and to make sure that we were bigger!"
The Ice Castle in Lincoln, New Hampshire will run as long as mother nature allows in 2015:
Sunday – Thursday – 2pm to 9pm
Friday – 2pm to 10pm
Saturday – Noon to 10pm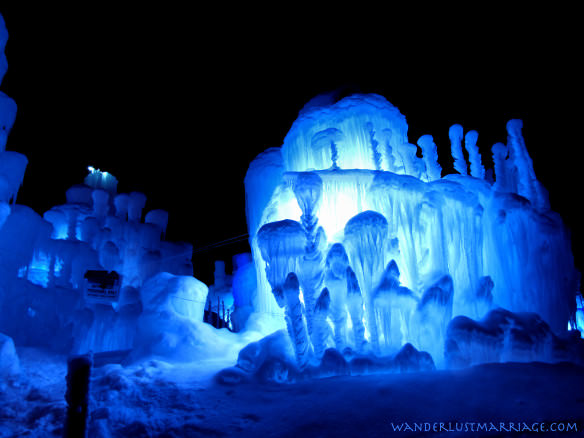 A big thanks to Visit New Hampshire for their assistance, and Ice Castles, who provided us with complimentary admission for opening night.
This hasn't affected this article, and all opinions expressed are entirely our own.