A popular excursion for many tourists in the south of Spain is to take a day trip to Tangier, Morocco. Bell and I booked a tour through a local travel agency while staying with friends on the Spanish/US Naval base in Rota, Spain. The guided tour included the ferry ride from Tarifa, Spain to Tangier (which takes 1 hour and 15 minutes each way), guided bus tour of the Tangier area, lunch in a local restaurant, and guided walking tour of the city. Here are some pros and cons if you're considering whether a day trip to Tangier, Morocco is worth it, specifically a big guided tour.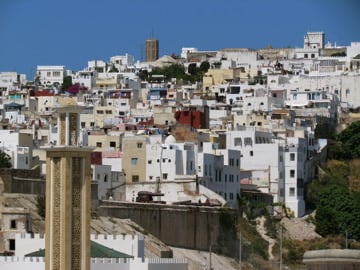 Possible Once in a Lifetime Opportunity to Visit Morocco = Pro!
For some, this might be a once in a lifetime opportunity to see Africa and tick it off the bucket list. The view of Morocco's Atlas mountains from the ferry and approach into Tangier is dramatic, and a beautiful memory you will never forget.
Tangier is Not the Best Moroccan city to visit = Con!
Tangier is not the nicest Moroccan city and many that visit never want to set foot in Morocco again. This was the case with friends we traveled there with and also others in our tour group. If you know you'll visit a more picturesque Moroccan town in the future, you might want to skip the day trip to Tangier. Towns like Marrakesh, Essaouira and Fes are all more worthwhile compared to Tangier.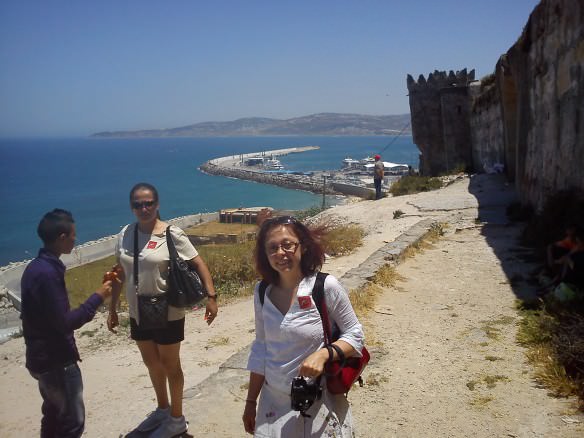 You Can Ride a Camel in Africa = Pro?
You have the opportunity to ride a camel in Africa. Yes they are smelly and a bit erratic, but this was one of the highlights of the day. It's your opportunity to feel like Lawrence of Arabia, even if you're with a large tour group and are simply led around in a small circle, with lots of people taking photos amid a circus like atmosphere. Stare off in the distance, not at your husband pointing the camera at you.
If You Do a Tour, You May Not Have an Opportunity to Patronize Authentic Moroccan Businesses = Con!
You may not have the opportunity to patronize any small business not affiliated with the tour company. This was the case during our tour. During the guided walking tour of Tangier's old quarter we were taken past several small bakeries along small alleys. The guide quickly pointed out how bread is made the old fashioned way, in stone ovens. The bread looked and smelled amazing. But when one member of our group asked if we could buy some bread he was told "chop chop, there's no time, we must go!"
There was, however, plenty of time to patronize their friends. We had an hour a piece in the carpet and trinket shop and an hour with the spice doctor. But no time to give a few bucks to a local small business where people actually wanted to spend money. There was never an opportunity to even have a coffee at a local cafe (you could have one at lunch which was decent, but Restaurant Hammadi is just a big tourist joint affiliated with the tour company).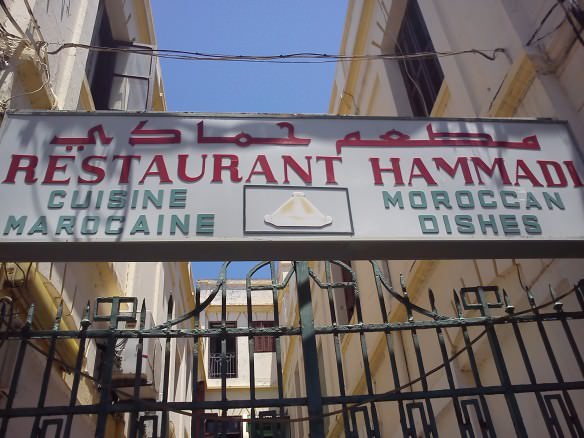 Purchasing Moroccan Spices in Morroco = Pro!
It is a great opportunity to buy all kinds of Moroccan spices, one of the most typical items associated with Morocco. The spice "doctor" gave a long presentation of everything on hand. There are spices to help you sleep, diet, improve sinuses, stop snoring and even for treatment of herpes. I think he was even selling a natural cure for cancer too (cue eye rolling).
Some of the spices are cheap and good quality. We bought three orange blossom oils which are very relaxing before bed. And at three for 10 euros, that's much cheaper than the Body Shop. The cooking spice we bought is also pretty good. We wished there were more cooking spices for sale as the choices were small.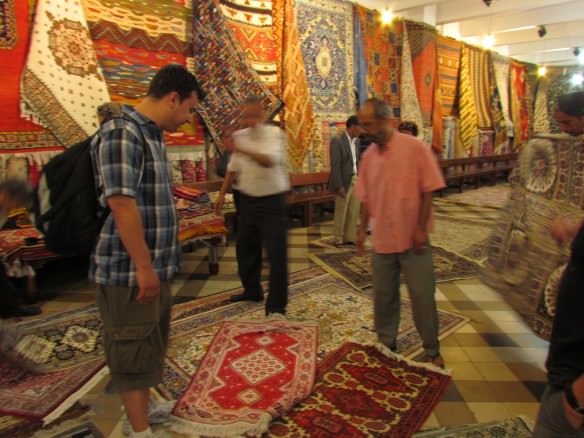 You Will Be Hassled to Make Purchases Much of the Day = Con!
You will be hassled much of the day. Street vendors will follow you around after lunch (when the tour goes very downhill). They will get in your face and persistently pester you to buy their trinkets. If it's hot and if you're already tired and dehydrated, you'll lose interest in negotiating with the street vendors, even if you're interested in their items. They initially ask huge markups and it's an unnecessary war to bring them down to a fair price.
We discovered that the guides were behind 90% of our hassling. You might even miss your scheduled ferry out of Morocco and subsequent bus connection from Tarifa to Cadiz. The guides dropped us off at the ferry port late, after senselessly leaving us in a small side street for one last bombardment of extremely pushy street merchants. A group of us missed our ferry and had to wait an additional two hours for the next one. This caused some to miss their "included" bus connection and be responsible for a very late transfer out of pocket. You can read all about the day in our article Day Trip to Tangier: The Morocco Fiasco.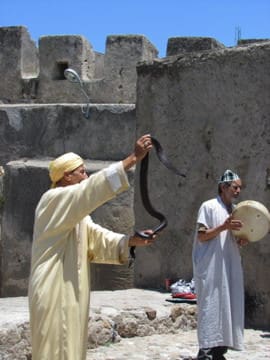 Day Trip to Tangier, Morocco, worth it?
It's a tough call and depends what you want. If you want a relaxing day in Morocco, don't do the day tour. You'll probably be hassled less if you tour Tangier independently. So consider just buying the ferry ticket from Tarifa to Tangier and exploring the town at your own pace.
Tips on Visiting Tangier, Morocco
If you do the day tour make sure you have plenty of bottled water with you. After lunch the opportunities to purchase water were senselessly obsolete. Beverages were never offered at the carpet factory (unlike in countries like Turkey where they have the common courtesy to offer customers a drink). Prices asked by street vendors and the carpet factory are drastically inflated by at least least 400%. You can get items for 1/4 of the initial asking price, but the key is to feign interest.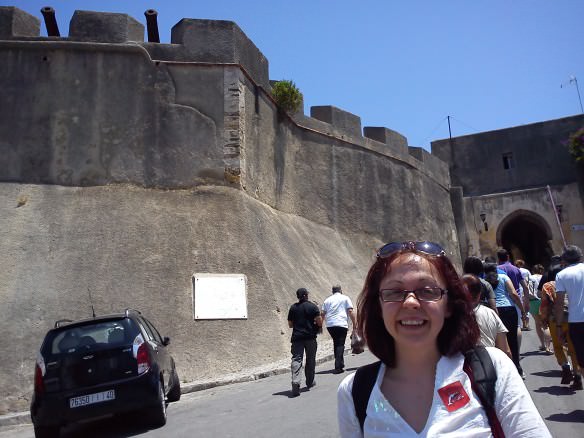 Where to Stay in Tangier, Morocco?
If you visit Tangier, it might be a good idea to spend a night to get to know the city better. You'll often find the best hotel prices on booking.com. Book something in advance with free cancellation if you're spending the night.
Families and groups of friends may find the best value booking short term apartments. Make sure the property has consistently great reviews for the best experience. That's important anywhere, but especially in places like Tangier.
Want to travel to Morocco for Very Cheap?
We save thousands of dollars on travel each year thanks to travel hacks. Read about some of our best tips. You can also email me at [email protected] if you have travel questions!
Disclosure: This article contains some affiliate links. We receive a small commission when you book or sign up through these links and it costs you nothing extra. When it suits you, please use them, as it helps us help you!