It was Bell's first time touching African soil, and barely my second, having done a day trip to Cairo, Egypt a decade ago while part of a discounted off season cruise from Cyprus. We were staying with friends in Rota, Spain and a small group of us made the early one and a half hour drive to Tarifa to catch the one hour FRS ferry for a day trip to Tangier. In a nutshell, the tour with FRS Maroc S.A.R.L was a major thumbs down. This is the full account of what happened during the tour, you can also read our article on Day Trip to Tangier, Morocco, Worth It?
Initial Hesitation On Traveling to Morrocco
We set off expecting an interesting day. Bell and I were a little apprehensive because a family friend of hers randomly got their throat slashed in Morocco many years back. He died in his wife's arms. We weren't sure if we would ever set foot in Morocco but the vast majority of visitors return fine.
The morning started off wonderful. The Spanish countryside was lovely, the company was great, the ferry, albeit packed, was comfortable and it was truly a thrill to gaze upon the Atlas mountains as we approached the Moroccan shore.
Arrival in Tangier and Start of Tour
Upon arrival in Tangier, we boarded a large tour bus to set off about town. The beach was nice, unfortunately we were never given the opportunity to walk on it. We drove by cafes and saw many men sitting outside with coffees and smoking flavored tobacco from hookahs. Our tour guide informed us that "the cafes were for men, and the women were out…shopping," with a cheerful intonation in his voice. It was like he was implying they were out shopping leisurely like the Sex and the City girls.
Tangier Camel Ride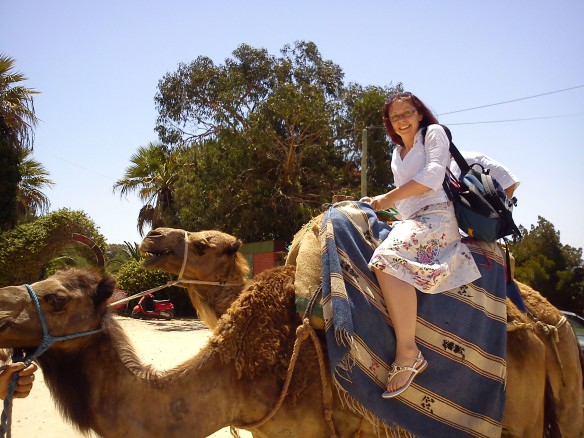 We then drove to the outskirts of town and arrived at the highlight of the day for many. It was a small camel ride park, set up for gullible tourists like us. As we departed the bus we were immediately bombarded by people selling overpriced trinkets. The short camel rides were cheap though, only 1 euro, and fun for everyone, grown men and women alike.
Touring the Old Town of Tangier
Then it was back on the bus and off for a stroll around town. We walked down narrow streets and our guides told us to stay close. When we arrived at a large public fountain, were informed that many locals did not have running water in their homes so they used that fountain. This part of the tour is interesting for westerners because it highlights a different way of life.
As we walked around town, our two guides used the opportunity to gauge who we were and attempt to build our trust. They shoed away children who pestered us and promised to let us know where the best deals were. We came across a small stone oven bakery that filled the air with the delicious smell of fresh bread and one of our friends asked if he could purchase some. "No no, there is no time…chop chop!" our guide said, as he led us away. We would later come to the realization that they did not want us to spend even a euro from anyone they were not receiving a kick back from.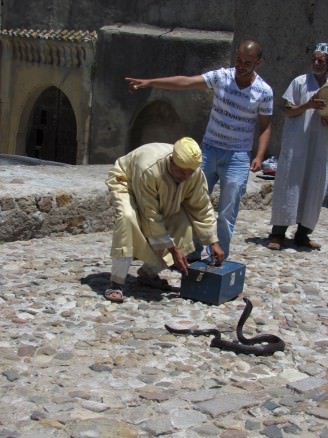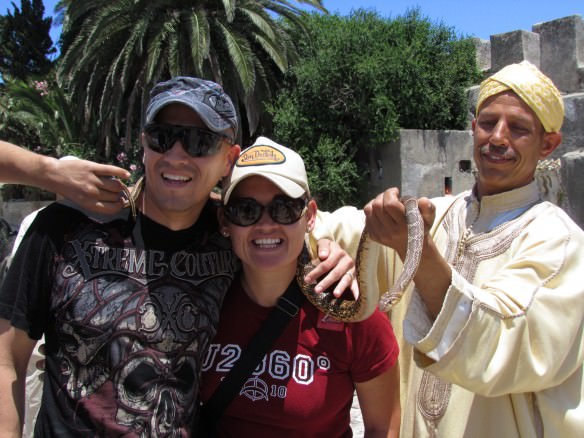 Tangier Street Merchants
In the medina we were shown a snake charmer show and given the opportunity to hold a non-poisonous snake (not the cobra). Our friends did but Bell and I were too chicken. Just before lunch a random man on the street attempted to sell me a Morocco soccer jersey for 35 euros, far too steep a price for a rip off. I offered him 10 euros from the start, final price, no negotiations on my part. As we stepped into the restaurant he came down to 20 euros, final price on his end. As we walked up the stairs to the restaurant, my guide informed me that was a good price and he was "a good man to buy from." It was at that moment that I became very dubious of our friendly guide.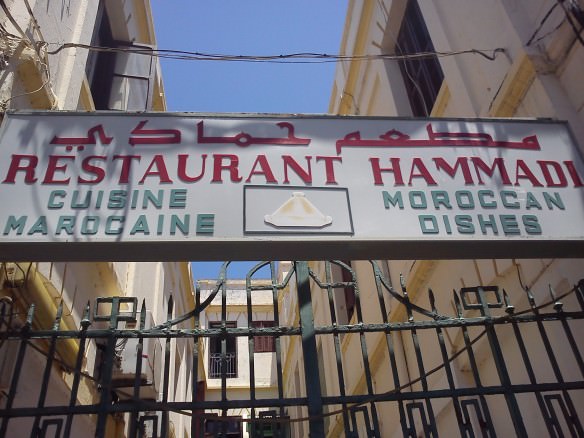 Lunch in Tangier
The restaurant was fairly nice inside but jam packed with tourists, albeit our meal was included with the tour. It was hot and there was no air conditioning. Fans darted the restaurant but the one facing our table was broken. I asked our waiter if there was an extra fan in the back. Of course there…wasn't. Lunch was typically Moroccan and reasonably good- couscous with dates and chicken kebab skewers. Drinks were extra and given what happened later in the day, it was a good thing I ordered soda and not beer, otherwise I would have passed out.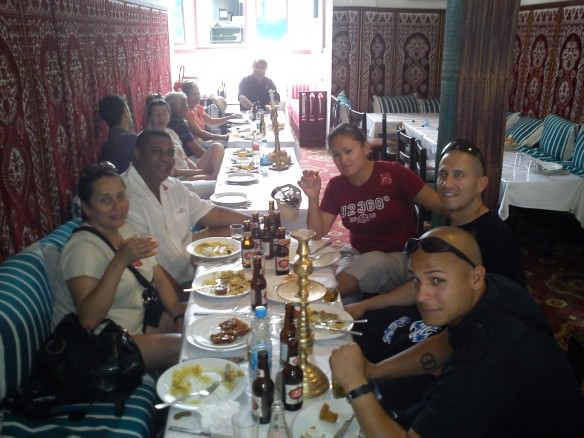 Lunch lasted an hour and after we left the restaurant, no surprise, the man with the Moroccan soccer jerseys was back to pester me more. His price was still 20 euros. But over lunch I decided that I didn't even want the jersey anymore because I probably wouldn't wear it. I declined and continued walking with the group. As he saw I was no longer interested he finally came down to 10 euros.  After I declined again, he said "We had a deal! You wasted my time!" I replied "No, I made you an offer, you declined and then I changed my mind." He was furious and showered me with obscenities.
To that point, the day with FRS Maroc S.A.R.L had been frustrating but also fun. After lunch, absolutely nothing about the guided tour was fun and everything drastically spiraled downhill. Continue reading about our bad Tangier tour…
Disclosure: This article contains affiliate links. We receive a small commission when you book or sign up through these links and it costs you nothing extra. When it suits you, please use them, as it helps us help you!