The famed holiday to celebrate the patron saint of Ireland is celebrated the world over. Cities such as Boston, New York and Chicago throw huge bashes, even dying rivers green. So if you're making the trek across the Atlantic or Europe to Ireland on March 17th, what to expect from St Patrick's Day in Dublin?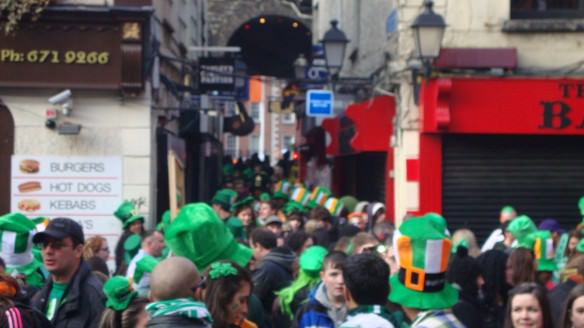 Bell and I have lived in Ireland for just over a year and we spent our first St. Patrick's Day in Dublin last year. We live in the south of the city, about a 20 minute walk from the center. We left our apartment a bit early to make it into town for the 12pm parade along central Dame Street and were struck by the lack of green. We previously resided in the Netherlands and the biggest holiday there, Queen's Day, finds the whole nation in a sea of orange, adults and children alike. Not so in the neighborhoods of Dublin.
It's only in the city center that you'll find the sea of green- tall leprechaun hats, etc, mostly adorned by tourists. You'll encounter huge crowds to see the parade so we definitely advise arriving early. Last year we watched the parade from upstairs in the Trinity Bar, and if you don't mind crowds (and this will be unavoidable during the parade) this is a good place to catch the action. It was also the official St. Patrick's Day meeting place of couch surfing last year.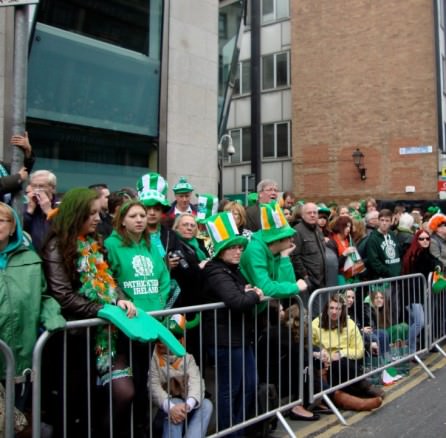 What about the St. Patrick's Day parade itself? Honestly, we were pretty disappointed  It's much less green and Irish themed than you would think and more of a kind of hodgepodge of random stuff. There were American high school marching bands and Warlocks and….of course there were a few leprechauns peppered in the mix, but still it was tame and not the festive atmosphere we were expecting.
After the parade, the rest of the day just revolves around getting sloppy drunk at the pub, and when you live in Dublin like we do, we already see this several times a year. Other massive, city wide sloppy nights include Arthur Guinness Day, New Year's Eve and the two big "12 pubs of Christmas" Saturdays before Christmas. So if you just want to experience Dublin very drunk, those nights are also just as good if you can't make it for St. Paddy's Day.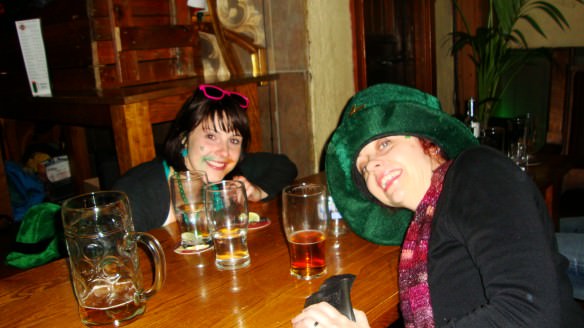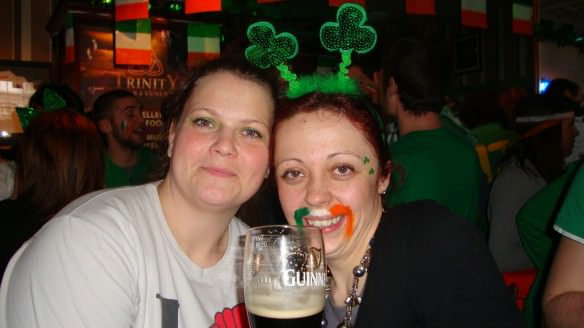 This year may even be a little more festive as Ireland is hosting The Gathering, 2013, and are inviting up to 8,000 people around the world to march in the St. Patrick's Day Parade in Dublin. In short, the Gathering is a promotional year long series of events that is inviting anyone who has a link to Ireland or just a love of the country, to come to Ireland.
So would we recommend making the trip over? Well, if you haven't booked yet, good luck finding a place to stay as you generally need to book a hotel at least 6 months in advance. Some people are a little disappointed with the experience, but if you have Irish roots or are really hankering for the experience of saying you did it, you'll certainly find a very good craic! (Good time in Irish). We celebrated last year with a cool couch surfer who stayed with us, from New Zealand, and she felt like it was worth coming to Dublin for St. Patrick's Day. And we all did have a great time.
All the details for what is going on where and when during the St Patrick's day celebrations can be found here.
Just be warned, it is St Patrick's day or St Paddy's, call it St Patty's and you'll get an ear lashing from an Irishman! There is no St Patty and Patty is a girls name!