Have you just decided to tie the knot, and now you're embarking on planning your dream wedding? This might be the happiest moment of your life and, let's face it…also the most stressful. You undoubtedly want your dream wedding, and that means hundreds of small and big decisions, all of which need to fall within a set budget. You need a checklist of ideas that can help you create an unforgettable destination wedding without breaking the bank.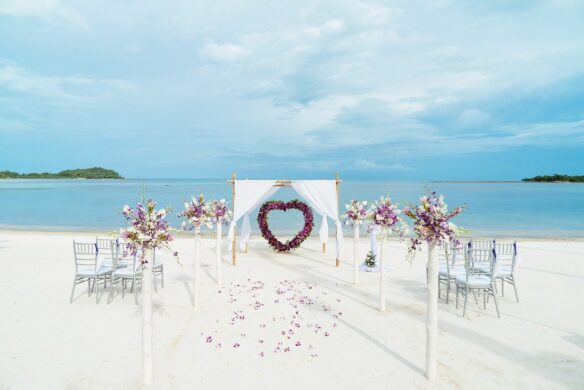 How To Plan Your Dream Destination Wedding
The venue quickly becomes the primary cost for a destination wedding, mainly since most resorts or destination wedding venues include decor, catering, officiating, and even the couple's honeymoon. But, again, this is a decision you need to make with your partner after considerable deliberation about the available destinations and travel requirements.
Decide On A Realistic Destination
While every couple imagines a real utopia for their destination wedding, it's important to be somewhat realistic when making travel plans. What if you secured the most sought-after destination for a dream wedding ever but fell into debt for years, or it was too expensive for any of your loved ones to travel to? Remember, joy only counts when it's shared with friends and family. Not to mention, online polls have indicated the staggering number of couples who went into debt (sometimes for a few years) because they had a destination wedding they couldn't afford.
Planning a dream wedding includes researching how much the tickets will cost, where you'll stay, how many days you can afford, tropical vs cold destinations, whether your loved ones will be able to make the trip, and what dates best suit them. You should also consider how easily you (or your guests) can move from the airport to the venue, especially for those with health problems. And don't forget the weather. Look up the year-round weather charts for the location you have settled on and investigate how equipped the venue is to deal with unforeseen challenges. Many venues, and even airline tickets, cost much less in the off-season, so that's definitely something to consider.
Take The Planning Process Into Consideration
Destination weddings are incredibly romantic and dream-like, but planning them remotely can be challenging. Remember that every aspect of the wedding, from flowers, food, decor to the photographer, will all be decided and booked beforehand. Opt for a venue that can communicate with you properly via video chat while making these decisions, as successful coordination is key. And make sure to use a wedding day checklist to keep you organized and on schedule. You may also want to do a clean sweep of all the available venues in the area you have chosen by paying special attention to their wedding packages.
Make It Unique & Non-Traditional
Because you'll probably incur additional charges for a destination wedding (like a welcome party or possibly brunch for your guests the following day before they leave, extra nights in the hotel, travel expenses, etc.), you should consider other ways to cut down the costs and save money. The goal isn't to go into debt for your dream wedding, so it's essential to determine what's most important and where you can cut back. Here are some ideas on how to have your dream destination wedding without breaking the bank.
1. Use digital wedding invitations to save money
In today's fast-paced digital world, printed invitations are rather unnecessary, not to mention many couples prefer to skip them as part of a sustainable wedding concept, so they waste as little paper and cardboard as possible. You can certainly hire a freelance graphic designer to design your digital wedding invitations, but there are many online options when you're trying to stay on a budget. Multiple free online sources like Canva allow you to make wonderfully designed, aesthetic wedding invitations. And they're easy to use!
2. Skip the live band and create your own playlist
While everyone loves a live band or, better yet, a mini-orchestra (just kidding), a well-put-together playlist does wonders to get your guests on the dance floor. A destination wedding has more to offer than a more traditional wedding such as a scenic backdrop and exotic cultures to experience. This means having a live band for your music may not be as crucial for creating an unforgettable experience. Instead, you can do without a live performance, save a little dough, and simply have a killer wedding dance playlist.
3. Do simple wedding favors/edible ones
You and your guests will all be traveling, so it doesn't make sense to give them huge gift baskets or heavy items as wedding favors. Instead, opt for edible treats like specialty chocolates, wedding popcorn or a mini whiskey, as they'll undoubtedly want extra luggage space for souvenirs! As a thank you, you could even let the wedding favor be a gift card to a spa or a donation to your favorite charity, for example.
4. Rent your wedding dress
Everyone's heard that old joke of how you can shorten your wedding or bridesmaid dress to wear it again. No matter how gorgeous your wedding dress is, it's one of those pieces that'll hang in the back of your closet forever. Consider renting your dream wedding dress; you could even go vintage! Many online companies rent out positively royal and magnificent wedding dresses you can check out, allowing you to save money on this expense. But, if renting doesn't work out for you, you can always sell your gown to another bride to recoup some of the money spent after the wedding.
5. Skip the cake
If you've opted for a destination wedding, you'd surely want to experience as much of the area's indigenous culture as possible? This might be the time to do things differently and incorporate some wedding traditions from your chosen destination. For example, maybe that three-tiered red velvet cake no longer makes sense for a beach wedding. Not only will you have tried something new, but you'll also save on the enormous expense of a designer wedding cake.
Don't be afraid to ask for discounts from the hotel or resort you're staying at, especially if traveling with a large wedding party. You never know they may even offer lump-sum discounts or freebies (edible or otherwise) for couples. It all adds up!
Pack Your Bags
The dream destination wedding of the decade is well within your grasp with some sensible planning and decision making as well as having your finger on the pulse of new trends (elopement, micro weddings, waste-free weddings). You'll have a dream wedding fit for a global audience without the high price bracket. Insta-worthy photos are on the horizon. So, choose your location, pack your bags, and celebrate your dream wedding with your closest loved ones.
This article was contributed by Wedding Hashers. If you're looking for assistance with a fun hashtag for your wedding, their team of US based writers will help you create the perfect hashtag for your big day!