After previously living in Amsterdam for 3 and 1/2 years, we often reminisce on the beauty of the Netherlands. We also miss some quality and quintessential Dutch foods. Now that we live in Boston, the pace of life is faster and excellent cheese is a lot more expensive. But there's a lot more Dutch food that we miss, so we decided to ask a few blogger friends to share a favorite Dutch food of theirs, while including our own. Thanks to Twitter (god bless that ADHD social media tool), in addition to bloggers we already knew, we were able to track down a few more. We're grateful for the wonderful responses and photos we received- a couple bloggers even chose to submit two foods. They definitely made us miss Holland even more, and we can't to return in September to show a small group the highlights!
Stamppot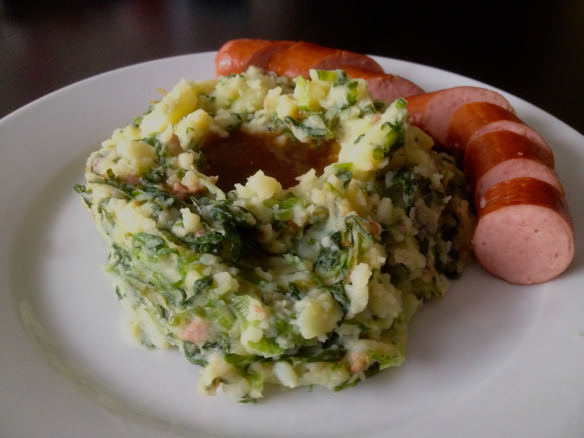 Stamppot is a Dutch staple. Typically prepared in the winter months, this classic comfort food is a mashed mixture of potatoes and a vegetable, usually endive, carrots or kale. Warm, savory gravy is ladled on top of the potato mound to provide additional flavor. Sausage is served on the side and often dipped in mustard. We make stamppot at home, but
Moeders
and
Haesjes Claes
are two great restaurants in Amsterdam to taste this dish. Here you can also try other Dutch specialties. Reservations are recommended. As the Dutch say, "Eet smakelijk" (translation: "Enjoy your meal").
Bitterballen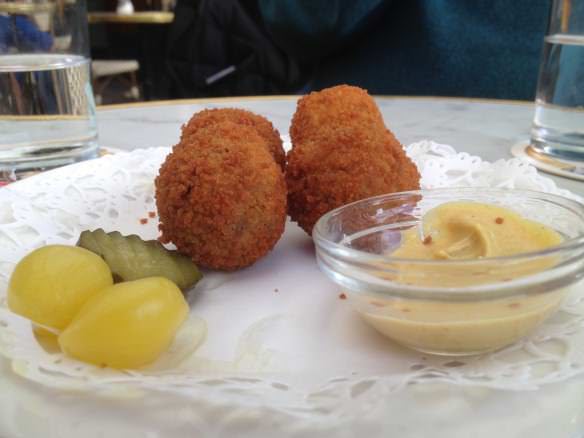 Bitterballen are small, round deep-fried snacks, crispy on the outside and warm and savory on the inside. The thick gravy-like filling is made from bits of meat, bouillon, flour and butter as well as other spices and seasonings. The Dutch favorite, usually consumed after work or in the weekends and paired with beer, is dipped in a spicy mustard and accompanied by pickles and pickled onions. One of my favorite places to order bitterballen is at
Café Hoppe
on the Spui. This popular brown cafe, dating back to 1670, is one of the oldest cafes in Amsterdam and is frequented by locals and visitors of all ages.
Originally from Detroit, Michigan, Jessica Lipowski moved to Amsterdam in February 2011. She is currently working on a non-fiction book that documents the stories of 62 restaurant owners in Amsterdam from around the world, originating from 41 different countries. This project, combined with her travels over the years and life as an expat, has enabled her to view food, travel and culture through a different lens. www.jessicalipowski.com
Kibbeling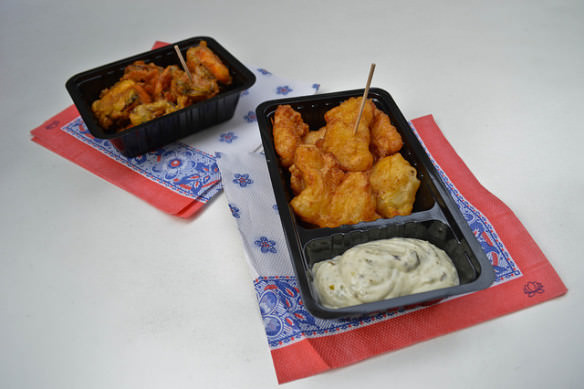 My favorite Dutch food is kibbeling, which is essentially small pieces of fried white fish. Maybe it stems from my love of fish and chips (I am from the UK, after all) or maybe it's the unique smoky seasoning they toss the fish in and the creamy tartare sauce that accompanies it – either way, it's one of my favorite snacks to pick up at markets and fish stalls around Amsterdam. You can even pair it with some local frites and recreate a Dutch version of fish and chips for yourself!
After travelling the world for two years, Julia decided that she wanted Amsterdam, one of her favourite cities from her travels, to become her new home. She now lives there with her American boyfriend and their Basset Hound, and writes about her unpredictable life and adventures over at her blog
confusedjulia.com
Appel Stroop Met Bruin Broodje en Oude Kaas (Apple Syrup with Brown Bread and Aged Cheese)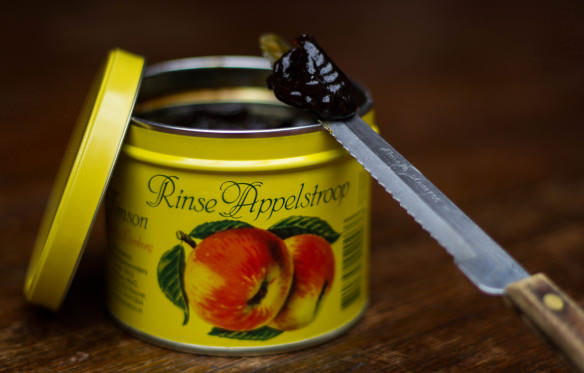 It's one of those things that always reminds me of home. Appel Stroop (apple syrup) is a thick sweet paste with lots of apples in it. Preferably in that typical yellow bin, just as it was when I was a little girl. When I was a child I ate it on pancakes. Nowadays I still do, but I've come to appreciate it another way- on brown bread with aged cheese. Placing the apple stroop on top of the cheese is an amazing combination of sweet and salty!
Many tourists coming to the Netherlands go to the cheese shops in the center of Amsterdam. But I would advise against this because you will miss out on some great local experiences! Go to a daily market for the bread and cheese- Dappermarket is a good one. There's lots of cheeses to choose from- aged (oude), young (jonge), from cow or sheep or goat, with herbs or without, white or yellow, hard or soft….. If you can't decide, you can always ask for a cheese sample!
This is best prepared fresh and especially great for breakfast or a picnic in the park!
Grietje describes herself as an experienced flashpacker with a great human interest. She has a vlog at travelgretl and also owns Travel by Polaroid. Both are about connecting and telling stories. If you pass by, she asks that you say hello!
Broodje Kroket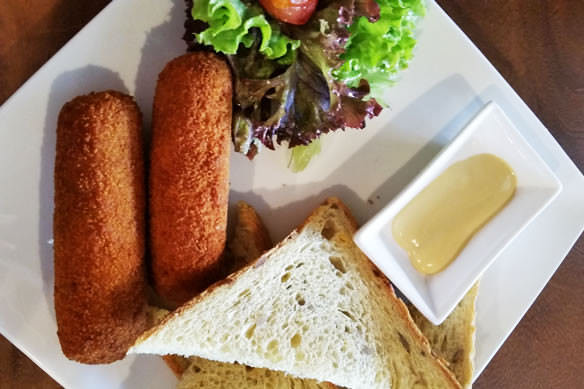 I'm a Dutchie living in London, and every time I get back to The Netherlands there is one thing that I always try to eat: a 'broodje kroket' or as you know it: a 'croquette sandwich'. A typical Dutch kroket is made of meat ragout covered in breadcrumbs and deep fried until golden and crispy. They can come in many different forms such as filled with chicken satay, goulash, shrimp or even vegetarian. You can eat them on their own, usually accompanied with some thick fries with lots of mayonnaise, but the classic way is to eat them on bread, perfect for lunch! You can order this in most Dutch lunch places. You would usually get 2 kroketten, some mustard, sometimes salad and either some fresh sandwiches or -even better- a white soft bun. Yummie, or as we would say: 'Mmm… Lekker!'
Nienke Krook
URL: 
www.thetraveltester.com
Speculaas  
Since I moved to Holland, my favorite foods are speculaas and herring. Speculaas are a type of biscuit- super thick, crunchy, and often have a hint of nutmeg. If you love nutella, you will absolutely adore speculaas on a sandwich (as it also comes in a delicious spread), so don't miss out when visiting Amsterdam.
Herring
I was initially quite skeptical to try
raw
herring covered with onions, however when I was finally convinced to do so I realized it simply tastes like a pickled herring with garlic sauce or olive oil. Real yum! Tip: The best and always fresh herring is served at
Dutch Markets
. ​
Agness Walewinder is originally from Poland, but currently resides in Amsterdam and provides wonderful advice on how you can enjoy cities for under $25 a day at etramping. 
Stroopwafels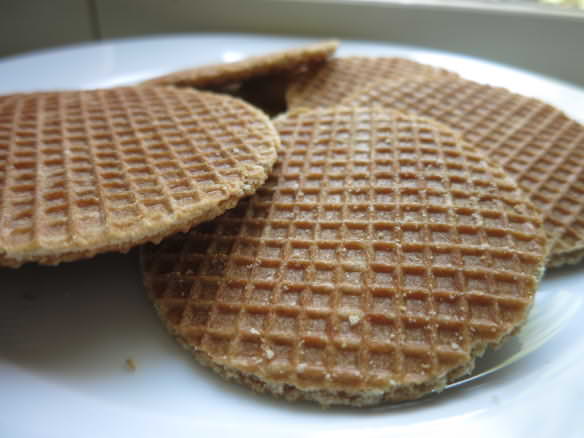 I have a sweet tooth, so I'd have to say my favorite Dutch food is the
stroopwafel
(pronounced strope-waffle). It's a cookie made of sugar beet syrup sandwiched between two thin waffles. You can get them in any supermarket here, but the real ones, the originals, are sold every Saturday here in Groningen at the market in the center of town. One of the stalls makes them fresh, pouring the batter to press into waffles and smearing warm, melted syrup on them to form the sandwich. Those fresh ones are far messier and bigger than the store-bought ones. Nibble one as you stroll the market stalls: the sticky syrup is likely to end up on your chin and all over your fingers, but they're sweet heaven.
Rachel Heller is an American (and now Dutch) writer and teacher living in Groningen, in the north of the Netherlands. She blogs about travel, expatriate life and other topics at http://rachelheller.org.
And the Final Two Submissions Are From Us: First from Alex and then Bell.
Ossenworst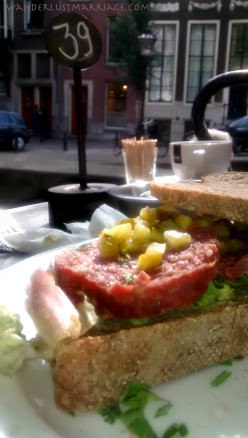 One of my favorite popular Dutch foods is ossenworst. Traditionally, ossenworst was a raw sausage made from oxtail, but today the sausage is typically made from raw lean beef that's smoked and seasoned with salt and pepper. Funny thing is, I've never eaten raw beef in the United States, but I used to eat it frequently in the Netherlands and never had a problem. Sometimes I bought it in the super market either pre-sliced or whole for sandwiches or for a picnic in the park or on a canal. But ossenworst is always best from a good butcher or quality restaurant or pub that sources good meat.
Ossenworst is typically served on a sandwich with onions, pickled gherkins and a side of mustard. It can also frequently be found on a platter of delicious Dutch cheeses and sausages. On our visit back to the Netherlands last September I enjoyed this delicious ossenworst sandwich canal side at Spanjer en van Twist. They have excellent food and a beautiful terrace on the canal!
Kip Sate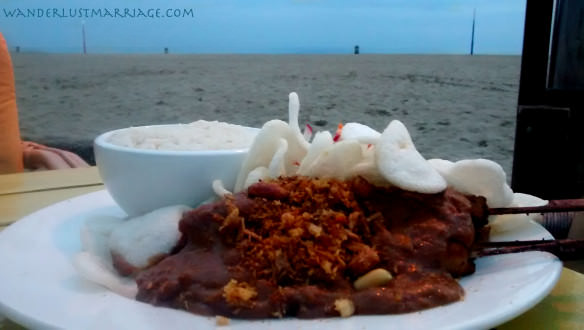 Kip Sate is a wonderfully tasty dish that is an influence of previous Dutch colonization of Indonesia. It's basically chicken satay but the spicy peanut satay sauce is thicker and richer than most satays you'll find in other countries. This was always one of our favorite mains to order in a typical Dutch pub (eetcafe). What's great about a good kip sate (and often there's also a pork option) is that it's so flavorful. There's so many spices in the sauce- frequently lemongrass, coriander, garlic, turmeric & chili flakes to go along with all those mashed up and whole peanuts. Kip Sate is often served with prawn crackers and either white rice or fries with a side salad.
The kip sate pictured was eaten on Scheveningen Beach, also on our previous visit to the Netherlands in September 2014. The Dutch beach scene is great and there's so many different ethnic food choices right on the beach. Beach food is typically on the pricey side and often not the best, but it's damn relaxing and often good enough. In Amsterdam, De Haven van Texel is a great place to enjoy kip sate because the food is good and they have one of the prettiest canal side terraces in Amsterdam.
Thanks again to all the great bloggers who contributed to this post and a special thanks to Jessica Lipowski who's also been providing me with a wealth of additional great tips for my food and drink tour of Belgium and the Netherlands in September!