We've discovered a recent trend in the United States: Belgian inspired restaurants that sell little to no actual Belgian beers on their menu. We noticed this on recent visits to Duck Fat in Portland, Maine and Saus in Boston. Both restaurants have a quality selection of craft beers, just not Belgian ones. While many American bottle shops carry Belgian beers, the selection is often limited regarding one of the world's greatest beer producing nations. So how can Americans learn more about the wonder of Belgian beers, like monk brewed Trappist ales?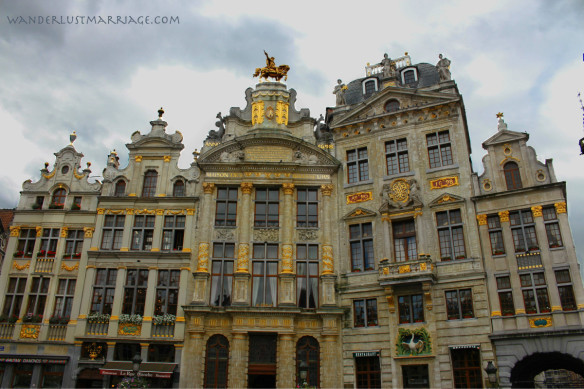 What is an Authentic Trappist Product?
Authentic Trappist beers are produced by Trappist monks of the Benedictine faith. Some monasteries been brewing Belgian beers for centuries within their abbey walls. These are not to be confused by 'abbey style' ales, which are produced by a wide range of Belgian breweries outside current Belgian abbeys.
There are only six Belgian monasteries that produce beer, and even among them, there's varying philosophical differences in how they brew and how they interact with the outside world. Listed below are all six, in descending order from largest to smallest beer production.
Trappist Breweries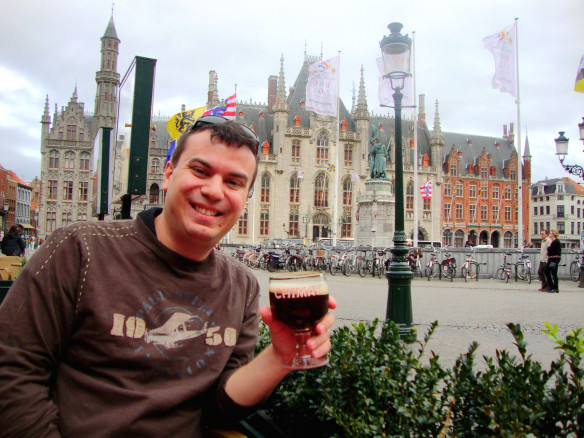 Chimay
Chimay opened in 1863. They brew around 3.2 million gallons of tasty beer per year. Chimay is the most commonly found Trappist beer in the United States and many other countries.
Chimay Grand Reserve is a delicious complex dark brew with notes of mocha, packing a kick at around 9% abv. Cinq Cents is a strong 8% abv golden ale, with a harmony of floral flavors. Chimay Premier is a dark brown 7% abv ale with toffee, orange, peach and apricot notes.
Chimay also produces a variety of monk made Trappist cheeses. The key ingredient to the delicious creaminess of their cheeses is high quality Belgian countryside milk. The cheeses pair wonderfully with Chimay's beers!
Westmalle
Westmalle opened in 1836. They brew almost as much beer as Chimay, but they don't export quite as much of their beer outside Europe.
Westmalle Tripel is one of my favorite Trappist beers. The 9.5% abv golden ale combines fruity notes of ripe banana with a subtle hop bitterness. Westmalle Dubbel is a delicious 7% abv brown-red ale with caramel, malt and fruit flavors. At 4.8% abv, Westmalle Extra is a golden blonde Trappist beer that can be considered a "session ale."
Westmalle products can be purchased in the United States at large bottle shops like Total Wine. I recently bought some at Leuken's in Dunedin, Florida. When I lived in Amsterdam, I bought Westmalle Tripel at Albert Heijn grocery stores to take on canal side picnics.
Orval
Orval opened in 1931 and brew 1.2 million gallons of beer per year. This is a really interesting beer because it tastes extremely different when drank chilled compared to not chilled (that's all beers, but this one especially). When not chilled, the beer tastes much sweeter than when it's cold, which I always found striking.
Not only can you visit their abbey for spiritual advice, but you can also stay with these monks for free if you don't have the money to pay. Their website quotes Saint Benedict – "Let all guests be received like Christ, for he will say "I was a stranger and you let me in." Now that's the essence of what Christianity should be, but this is not the norm of Trappist monasteries, most of which do not allow overnight stays.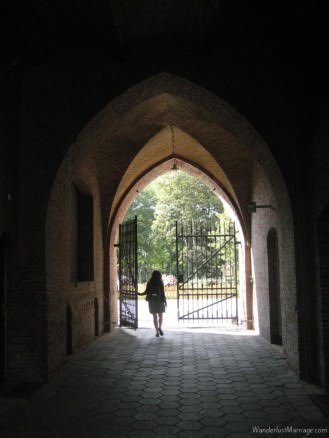 Rochefort
Rochefort dates over four centuries to 1595. They brew around 480,000 gallons of beer per year. Rochefort 8 and Rochefort 10 are two of my favorite beers in the world. Be especially careful with the Rochefort 10 as it's a whopping 11.2% alcohol! This is a beer to savour slowly, as the depth of malty fruit flavors is complex. And it's a beer that can age like wine, as its taste can mature for years. We aged some while living in the Netherlands and wish we had some ageing now!
Achel
Achel only came about in 1998 and the monks struggled a bit with their brewing in the beginning, not receiving a very good reputation. These brothers have vastly improved though and their Achel Bruin (brown) in large 75 cl bottles is a quality beer.
Westvleteren
Westvleteren dates to 1838 and has previously been rated as the best beer in the world. It is an extremely rare beer, especially on the global market, but even within Belgium. The monks at the abbey of Sint-Sixtus typically don't brew on a large commercial scale. Three years ago they increased production for a limited period and sold special 6 pack gift boxes to build a new roof for their abbey. Typically they only sell their small batch beer straight from their abbey gate.
Where to Buy Westvleteren?
You can find Westvleteren in some speciality Belgian and Dutch bottle shops and pubs but expect to pay around €12 ($13.50) and up for a small bottle. That's very expensive for a Trappist beer, and if you want to drink it cheaper you'll need to visit the cafe across the street from the abbey called In de Vrede, or order in advance directly from the abbey itself.
The monastery and brewery of Sint-Sixtus is never open to the public, so if you want a case of 24 bottles you can pre-order their beer during limited hours and each car's license plate entitles you to a maximum of one case per month. The monks then arrange a time to hand deliver your beer at the gate of the abbey.
Authentic Trappist Products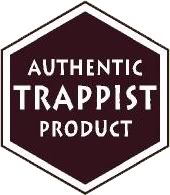 Only officially licensed breweries attached to monasteries are allowed to print the official 'Authentic Trappist Product' logo on their bottles. This signifies that the beers are brewed within Cistercian abbey walls. The majority of the world's 'Trappist' breweries are in Belgium but there are a few elsewhere – including the Netherlands, Massachusetts and Austria.
Trappist Breweries Outside Belgian
The Netherlands has a Trappist brewery at the abbey of De Koningshoeven, which brews the popular Dutch beer La Trappe (and is a gorgeous place to visit). There are relatively new Trappist breweries in Austria like Engelszell, Tre Fontane Abbey in Italy and the St. Joseph's in Massachussetts (producers of Spencer), all which only began brewing the last couple years and have been influenced by the Belgian monasteries.
Types of Trappist Beers
Trappist beers are generally classified in four categories: enkel (single), lowest in alcohol but still typically over 5% abv, dubbel (double), which are usually around 7% alcohol and are sweet malty beers, tripels (triples) which are usually around 8% alcohol and are golden ales, and quadrupels, strong malty beers that are over 10% alcohol.
Monks also typically produce what's called patersbier (father's beer), that is only consumed within the monasteries. If you see a Belgian beer in the store marketed as 'patersbier', such as St. Bernardus, this beer was not actually produced by the monks themselves- which can be a little confusing to some!
Close to Heaven in Taste (Belgian Family Brewers)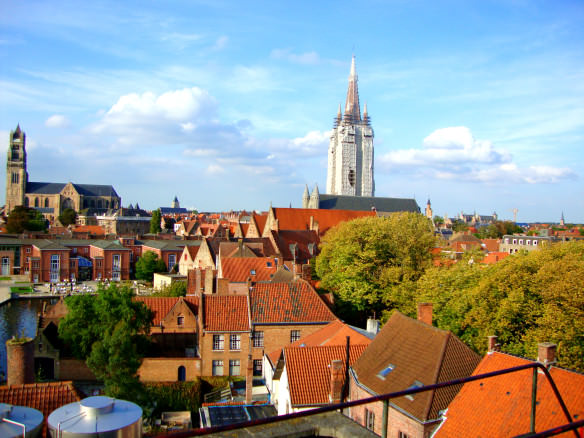 There are some fantastic Belgian breweries that have run in the same family for centuries. One of our favorites is Tripel Karmaliet. It's a fantastic beer and a great selection in the Belgian Tripel category. It's not only one of the best beers in Belgium, but also one of the easiest of the best Belgian beers to find in the USA and elsewhere around the world in specialty shops. Beers like Tripel Karmaliet, brewed by Brouwerij Bosteels, has remarkably been in the same family since 1795! Duvel also falls under this label but as they're a far bigger brewery, we don't find their beers to be among Belgium's best.
Some Scientists have even made claims that certain Belgian beers can help you lose weight. That is thanks to the good bacterias in their overly yeasty beers. This is in moderation of course, not a six pack a night!
Lambics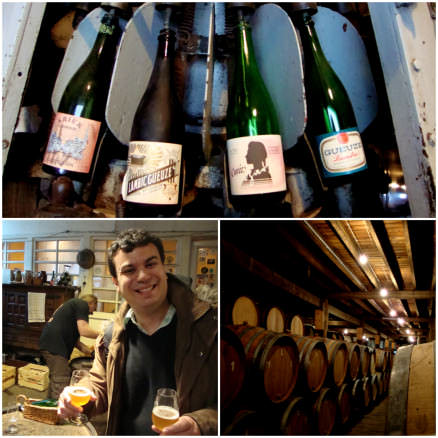 Lambic beers are typically produced in
Brussels
and the surrounding area.
Cantillon
in Brussels is one of the best lambic breweries and we loved our prior visit there. Before our tour, the owner's daughter told us "throw out any pre-conceived notions you have of beer. This will be unlike anything you've tasted before." And indeed they were.
Fruit Lambics
Lambics are sour beers uniquely produced through spontaneous open air fermentation. They're then aged for in oak casks for between one to three years.The beers are also produced using aged hops, adding to their unique sour flavor.The beers are brewed without fruit, or most commonly with raspberries (framboise) or cherries (kriek).
Gueuze
Gueuze is another type of lambic. It's made by blending young and old lambics, which are bottled for a second fermentation. Since the young lambics are not fully fermented, the blended beer contains fermentable sugars. This allow for a second fermentation to occur.
While not for everyone, many develop an affinity for lambic varieties once they've tried a good one. Fruit lambics brewed by Lindemann's are most commonly found in the United States. But they're too sugary, and not indicative of a traditional Belgian lambic.
Anheuser Busch-Inbev Beers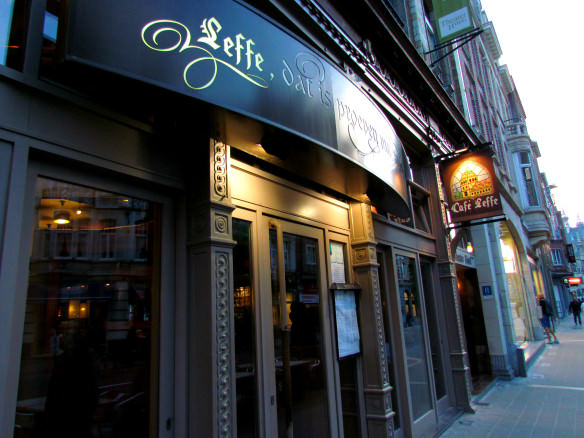 If you see Belgian beers at a corporate event, chain restaurant or chain hotel, it's likely to be Stella Artois, Hoegaarden, or Leffe which are now brewed by the largest beer company in the world, Anheuser Busch- Inbev. Some of the beers are tasty. But because they're mass produced and contain additives, they're not as good of quality as many small batch beers.
Cafe Leffe
Cafe Leffe's are located throughout Belgium. They're like a Belgian version of TGI Friday's, meaning better beers and cuisine compared to its American counterpart. We dined at Cafe Leffe in Leuven and found their dishes to be good quality. Leuven is where the headquarters of Anheuser Busch-Inbev is located.
Cafe Leffe's beer selection surprised us by extending far beyond just Anheuser Busch-Inbev products. Their Trappist beer selection, among other varieties, is very good!
Belgian Pils (pilsners)
Belgium also makes some great pilsners that are better quality than Stella Artois. Some people outside Belgium consider Stella Artois fancy. But many regard it as a lower quality pilsner, even in countries like England. Maes is a very nice Belgian pilsner and Jupiler is very drinkable for a mass produced beer in the region.
Belgian Beer Conclusion
To read more about what defines a quality pilsner, read this. If you love pilsners and no other variety, we'd also highly recommend visiting the Hessen region of Germany or the Czech Republic. The local pilsners are as good as you'll find anywhere in the world thanks to delicious locally grown hops. Just be sure to give several varieties of the best Belgian beers a try. Afterwards, you may be inspired to get a logo maker to start labeling your own homemade brews!
These are some of the best day trips from Brussels, to enjoy delicious Belgian brews! If you're planning a trip to Belgian, leave a comment or get in touch. What's your favorite Belgian beer?