Where to stay in a city can be difficult to decide. Cost, location and cleanliness (no bed bugs please!!) are important considerations. We were recently looking for a hotel recommendation in Seville, Spain, and the splendid Hotel Simon was recommended to us by a colleague. We probably would not have picked this for ourselves off a travel website, as the reviews were very mixed, and a 1 star hotel in Europe might not even get you a floor (or you'll be sleeping in a closet). But Hotel Simon is a shockingly wonderful 1 star hotel!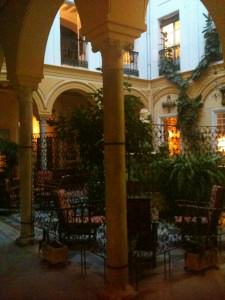 Hotel Simon
is perfectly located, literally within crawling distance from the main Cathedral in the center (100 meters), clean, and not a cookie cutter chain. There is no TV in the room, but who needs a TV when Seville is at your door step? And your favorite soap opera probably doesn't run on Spanish television anyways. The hotel has an old world charm that you just don't get when staying at the Best Western. Our room had amazing Moorish tiles on the walls, a tradition started by the Moors in the 12 century and was comfortable and spacious, unlike so many European hotels. The staff were friendly enough and late night beers can be purchased from the vending machine in the lobby, it just says "beer" but produces Cruz Campo, which is very nice Spanish lager.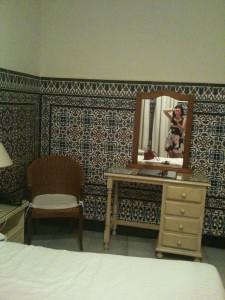 Breakfast was not included in the price and we were never offered to purchase it, but why eat at the hotel when there is a fantastic bakery across from the Cathedral? They have freshly baked goods, jamon (Spanish ham) sliced in front of your eyes right and aromatic espresso all for your enjoyment with a view of the Cathedral and the opportunity to watch the people of Seville go about their business.
If you're looking for a truly Andalusian experience, a great deal and awesome location, this is an ideal hotel in the heart of Sevilla. If you're planning a trip to Costa del Sol, read my article for tips on other destinations to round out for itinerary!