This month there are events happening around the city to celebrate the centenary of Bram Stoker's death in Dublin. Tonight, we attended readings from Dracula by actor Laurence Foster in the magnificent St Patrick's Cathedral in Dublin. It was a fantastic evening and amazing to see the cathedral with spooky lighting and to hear the beautiful organ add to the suspense with such pieces as Bach's toccata and fugue in D minor.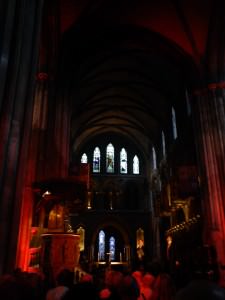 Other events are being held around the city until the 10th of July. There will also be a Bram Stoker festival the 27th and 28th of October, and details can be found on the same site.
While Stoker is famous for his Dracula, it is perhaps not so well known that Stoker was born in Clontarf, Ireland, just outside Dublin. And while his famous novel is set in Transylvania, he never actually traveled to Romania. He simply spent years researching the mythology of the region.
If you are in Dublin during the above dates, be sure to check out some of the events! We're pretty sure nobody will suck your blood in the process 😉