Costa del Sol translates to "Coast of the Sun" in Spanish. The popular vacation destination comprises coastal towns and communities in Andalusia. Sandy beaches, year-round sunshine, vibrant towns and delicious Andalusian cuisine make it a fantastic vacation destination. In June, I spent 12 days in Andalusia while attending the TBEX travel media conference in Marbella. Here are great places to visit in Costa del Sol, with tips to help you choose which towns to visit during your holiday!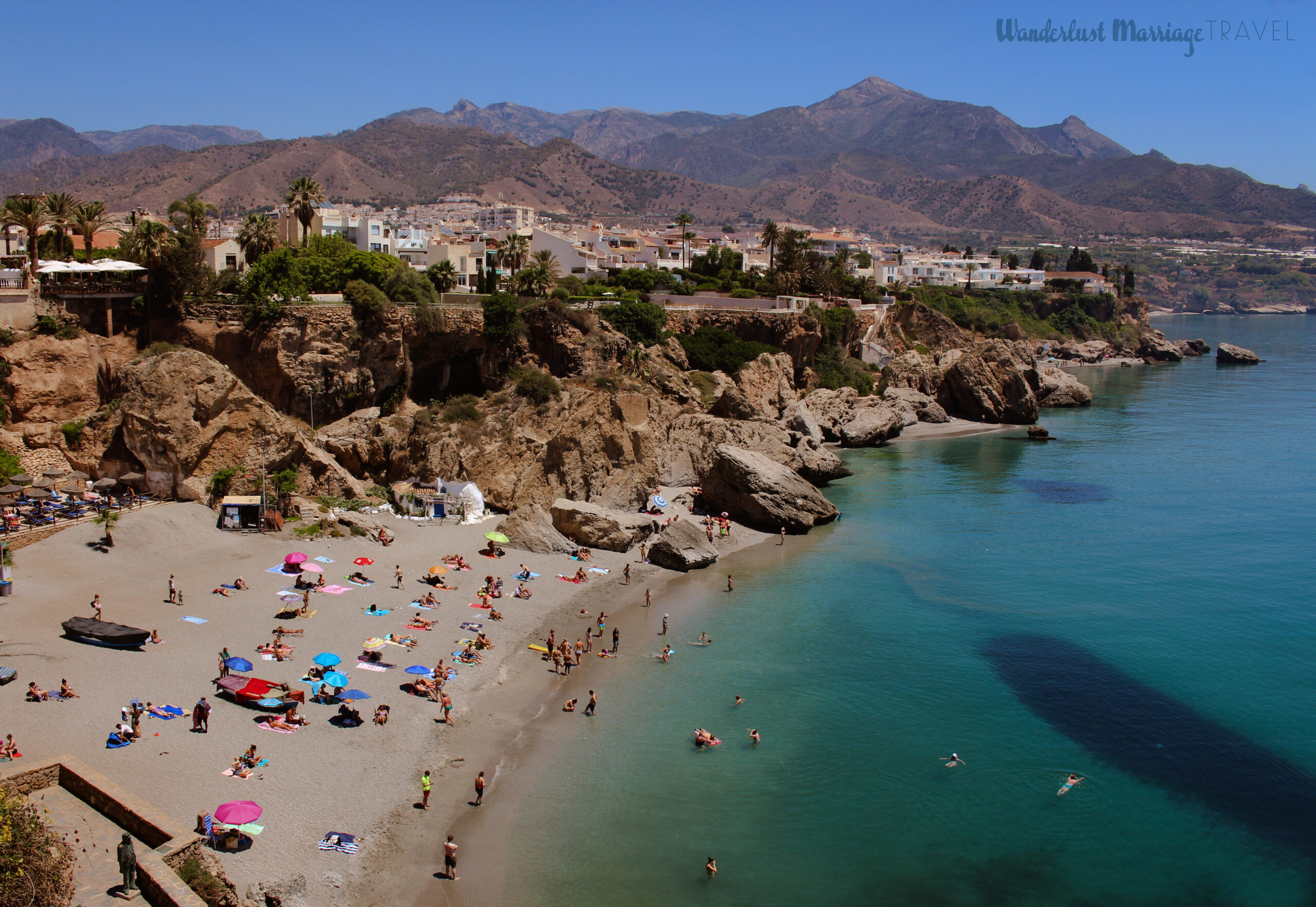 Malaga
There's an excellent chance that your Costa Del Sol journey will begin in Malaga. Malaga Airport is the largest in the region and the gateway for throngs of international visitors. The port city has evolved into a popular tourist destination known for its vibrant culture and excellent culinary scene. Its high-rise hotels and resorts jut alongside sandy beaches filled with holiday goers.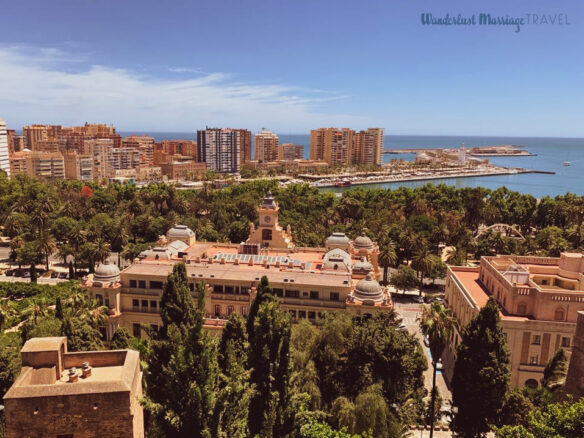 Malaga was founded in the 8th century by the Phoenicians. The city's two massive hilltop citadels, the Alcazaba and Gibralfaro are remnants of Moorish rule. Nicknamed La Manquita ("one-armed lady"), Malaga's impressive Renaissance cathedral is strangely left missing a tower.
The Alcazaba is a palatial hilltop fortification adjacent to Málaga's historic center, built during the period of Muslim-ruled Al-Andalus. Construction of the current complex began in the 11th century and was modified several times through the 14th century. It is one of the best-preserved alcazabas in Spain (alzazaba comes from the Arabic word 'AL-qasbah,' meaning fortress). Enjoy sweeping views of the city and sea, along with impressive Arabic tiles and architecture from atop Malaga's Alcazaba.
If you appreciate history, don't miss these Malaga highlights.
Explore the art and history of Pablo Picasso in his birthplace
Malaga is also a fantastic destination for art and culture. The birthplace of Pablo Picasso charms visitors with its quaint laneways and vibrant nightlife. Walk the historic center on a Friday or Saturday night and its many restaurant terraces and bars spill into the laneways with people. It feels like the entire town is hanging out or strolling the city with you, in a good way.
Art enthusiasts will be inspired by the Picasso Museum (Museo Picasso Malaga). Located in the Buenavista Palace since 2003, it features 285 works donated by Picasso's family. The "Casa Natal" houses the birthplace of Pablo Ruiz Picasso. The museum has been an official heritage site since 1983. Casa Natal is located in Plaza de la Merced, a wonderful square to enjoy a coffee, local wine, Belgian beer or a tasty local vermouth (which I enjoyed).
If you appreciate cities with vibrant culture, art, history and delicious cuisine, make Malaga part of your Costa del Sol vacation!
Malaga Hotel Recommendations
Gran Hotel Miramar offers a luxurious and historic beachfront stay, just a 10 minute walk from Malaga's historic center. Amenities include a spa centre and seasonal pool. Elegant rooms feature sweeping views of the sea or city, along with air conditioning, flat-screen TV with satellite channels and luxury Bulgari toiletries. The hilltop Arabic fortress of Alcazaba is just 700 meters from Gran Hotel Miramar GL.
AC Hotel Malaga Palacio by Marriott offers a great central stay. It has a prime location between Málaga Cathedral and Paseo del Parque. It features a rooftop swimming pool with views of Málaga's port. Its rooms feature contemporary décor with modern amenities including a minibar and satellite TV. Grab a drink at Bar Ático, located on the 15th-floor's terrace to enjoy sweeping views of beautiful Malaga.
Marbella
Marbella is one of the most popular resort areas in southern Spain's Costa del Sol. A long stretch of sandy beaches, villas, hotels and golf courses are amplified by a backdrop of the towering Sierra Blanca Mountains. West of Marbella, the Golden Mile offers hopping nightclubs and coastal estates. Yachts line Puerto Banús marina, known for luxury boutiques and bars.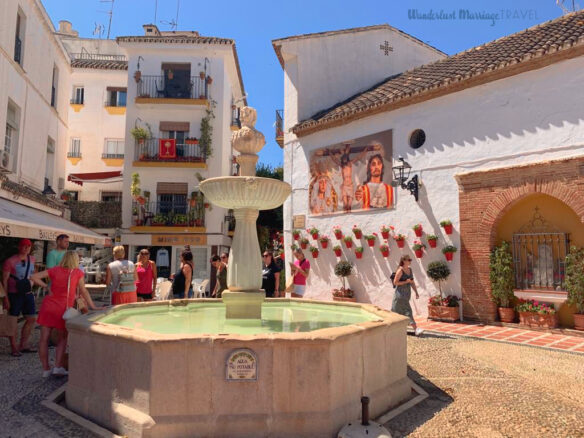 Marbella has a charming historic center, offering buzzing restaurants and bar terraces to enjoy traditional Andalusian cuisine and drinks. Plaza de Los Naranjos is where the town hall and many of the most traditional restaurants and shops are located.
The Marbella Castle Walls (Murallas del Castillo) were once part of an enclosed Moorish citadel built in the 10th century. Built by the Arabs during the 10th century, a tour of the castle offers a glimpse into over a thousand years of history. When Catholic kings took over Marbella in 1485, churches and monuments, were built. The city offers a wonderful example of a fusion of Arabic and Mediterranean architecture and culture, with a laid-back Andalusian vibe.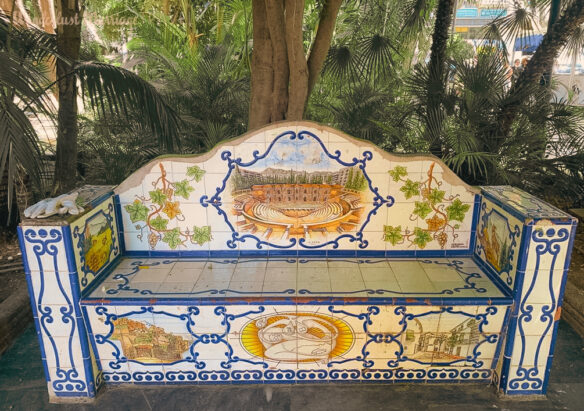 Marbella is a great vacation destination for resorts, its long stretch of beaches, hopping nightlife and a charming historic center.
Marbella Hotels Recommendations
Hotel Lima offers a great stay just 100 meters from the beach. Its close proximity to Marbella's charming historic center means you don't have to skimp on culture while enjoying an Andalusian beach vacation. Hotel Lima's rooftop terrace offers sweeping views to enjoy over a drink.
La Villa Marbella offers a great stay in the heart of Marbella. Its central location means it's a short walk from both the beach as well as the charming historic center of Marbella. Asian-themed rooms feature air conditioning and free Wifi.
Nerja
Nerja is another charming resort town along Spain's Costa del Sol. Balcón de Europa, its seafront promenade, tops a promontory offering striking views of the Mediterranean and surrounding mountains. Sandy beaches and cliffside coves make Nerja an especially picturesque holiday escape.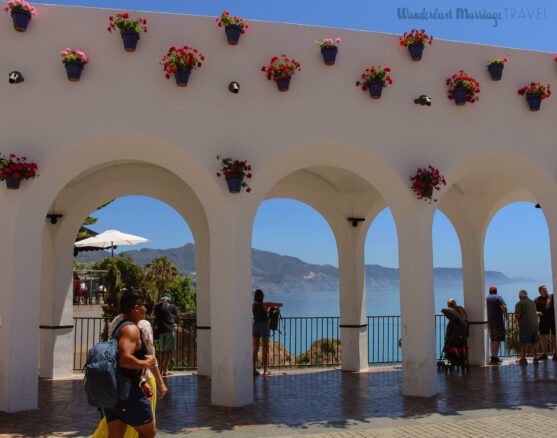 Just outside Nerja, the cavern of Cueva de Nerja is lined with unusual stalactites and stalagmites. Visitors can learn about the history of its Paleolithic paintings with an audio guide. Cueva de Nerja even hosts popular concerts in the summer.
Playa Burriana is the most popular beach in Nerja. Besides sunbathing and swimming, you can rent a kayak or go scuba diving. Playa Burriana's many beach bars offer an ideal setting to enjoy Andalusian tapas, paella or to savor a cocktail or local wine.
Nerja is a great destination for natural beauty, beaches and small-town coastal charm in Andalusia.
Nerja Hotel Recommendations
Hotel Paraiso del Mar offers a great beachfront stay a 10-minute walk away from Nerja's charming old town. The restored villa along Burriana Beach offers rooms with hydromassage bath and flat-screen TV with satellite channels. Guests can also relax in the on-site hot tubs and sauna. Surrounded by gardens, Hotel Paraiso Del Mar has an outdoor swimming pool. Free Wi-Fi is available throughout the property.
Hotel Boutique Sibarys offers a great stay in the heart of beautiful Nerja. Situated along Calahonda Beach, it's a great stay for swimming in the sea or hotel pool. Enjoy the sunshine while sipping cocktails on their lovely terrace. Rooms feature an array of amenities like refrigerators, air conditioning, slippers, a kettle and safety deposit box.
Mijas
Mijas is a municipality in the Province of Málaga. Nestled along the sun-kissed southeastern coast of Spain, it belongs to the region of Costa del Sol Occidental. 'Sun and beach', routes through the mountains, the Coastal Path and golf courses are the four main pillars of Mijas' tourism.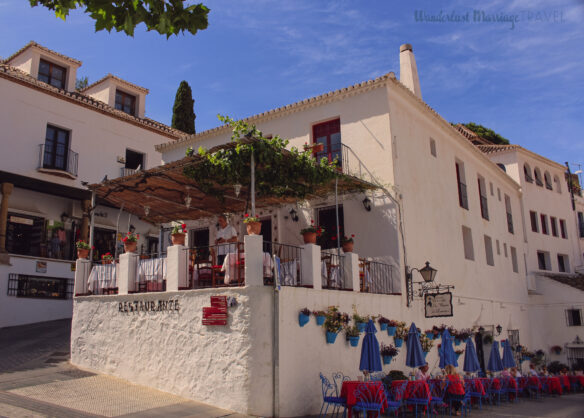 Mijas is a mountain town that offers striking views overlooking Costa del Sol's coastal towns, beaches and sea. Donkey rides are a popular form of transport in town, and there's even a statue dedicated to them.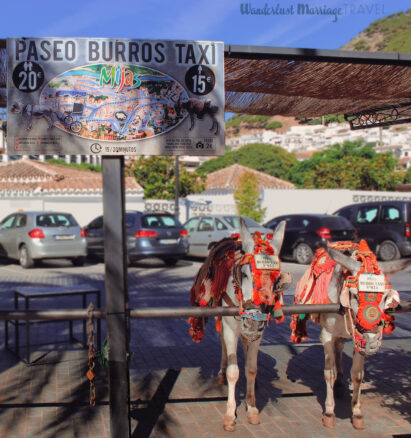 The historic Mijas Bullring dates to 1900. A remarkable feature is its oval shape, which is a rarity in Spain. The first bullfighting event took place in Mijas on September 8th, 1900. While many events followed, Mijas Bullring no longer hosts bullfighting events (a good thing in my opinion). New facilities include an infirmary, a chapel and a slaughterhouse.
Mijas makes for a great Costa del Sol vacation for those that enjoy mountain towns, the outdoors and experiencing small-town Andalusian life.
Mijas Hotel Recommendations
Hotel el Chaparral offers beachfront accommodation in Mijas 80 meters from Playa El Chaparral. Facilities include an outdoor swimming pool, bar and garden. Featuring family rooms, this an ideal stay if you have children. Guests can enjoy a drink on the terrace, lapping up the Andalusian sunshine and ambiance.
Mijas Residence is a great place to stay in Mijas. Featuring garden views, the property features a bar, shared lounge, barbecue facilities, and terrace. Apartments include complimentary WiFi and free private parking. Each apartment includes a private bathroom and shower, air conditioning, flat-screen TV and fridge. Some accommodations include a balcony with pool views and a fully equipped kitchen. Guests can enjoy table tennis on-site, or go hiking or cycling in the mountains.
Costa del Sol Recap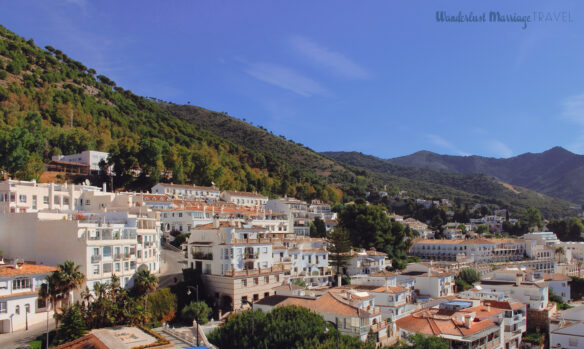 Costa del Sol is a popular vacation destination blessed with year-round sunshine and mild winters. It's especially popular with British and Scandinavian retirees, many of whom spend their winters there. The region is a great holiday destination for its scenic beaches, mountains, culture, art, history, outdoor activities and delicious cuisine. If you have more time in Spain, visit Grenada or Sevilla, both of which offer striking beauty.
Disclosure: This article contains affiliate links. We earn a small commission when you book through our links. Thanks for using them when it suits you!