We love providing great travel tips and encouraging people to hit the roadways or skyways to experience new destinations in this wonderful world. So we're thrilled to be holding an international recipe contest that will truly help 1 lucky winner have an awesome break for far less money. Courtesy of Only-apartments, the winner of our international recipe contest will receive €200 ($265 USD) to spend on their website!! In quite a few places in Europe, that's enough credit to cover a 4 night stay in a pretty nice apartment, with no time share to look at, or any nonsense like that. If you book a stay for more than €200, you'll just pay the difference. The 2nd place winner will receive a Bavarian cook book courtesy of the historic Albrecht Dürer museum shop in Nuremberg, Germany. The 3rd place winner will receive an Irish oven mitt, kitchen towels and surprise trinket, shipped straight from Dublin!
One of the greatest things about travel is the amazing food you will discover, and not just from restaurants, but also artisan markets and grocery stores. If you're staying in a hotel, often times you don't have a refrigerator to store that delicious cheese or sausage you found and you definitely don't have a kitchen where you can grill some excellent meat, seafood or vegetables that are local to the region. The beauty of staying in a furnished short term apartment is the ability to do these things and experience a city like a local.
We know many people venture out into this world and bring a little piece of a foreign land home with them through food. So here is the gist of the contest: Please send us a recipe of your favorite travel inspired dish that you like to cook at home to a[email protected] (please include a photo as well).
Important dates and times for this contest: Please also note some terms and conditions from Only-apartments at the bottom of this post.
1) The deadline to submit a recipe and photo is Monday, September 9th Wednesday, September 11 at 5 pm GMT (that's 12 pm Eastern time in the USA).
2) On Thursday, September 12th, we'll publish a post with all the entries and we'll ask readers to submit their vote in the comments section of that post.
3) On Monday, September 23rd at 5pm GMT (12pm EST in USA) voting will close.
4) We'll tabulate the votes and acknowledge the winners in a post on Wednesday, September 25th. In the event of a tie in voting for first place, we will hold a 2 day runoff vote in a separate post. If there is a tie for a consolation prize, the respective sponsor will pick the winner. Each email address can only vote once and please only one vote per person, for just 1 recipe. Of course everyone is encouraged to ask their friends and colleagues to visit this website to vote on their behalf! Thank you and we look forward to seeing your submissions!
To spark ideas, Bell and I would like to share our take on Swedish meatballs, which is of course not eligible for prizes. To create this dish we usually just buy uncooked pre-made meatballs from the store (yep we cheat!), new potatoes, jam, gravy and Tabasco sauce. We boil the potatoes, fry up the meatballs and in a small saucepan heat the jam and add the hot sauce. Maybe it sounds strange, but we like spicy, so we add about 1/3 of a small bottle of Tabasco hot sauce to half a jar of lingonberry (traditional Swedish) or Raspberry jam. This means we get to eat a delicious dish we enjoyed while in Stockholm, Sweden that conjures up wonderful travel memories of our time there, at home, with little hassle, with our own small twist!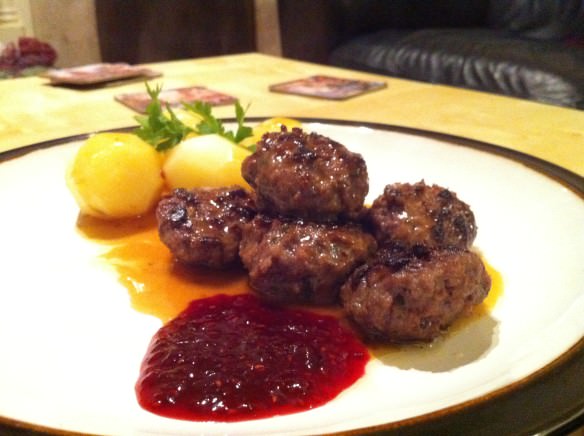 A huge thanks to Only-apartments and the Albrecht Dürer Museum shop for providing awesome prizes for this contest! Here are some very fair terms and conditions for first place.
1.The winner will be notified by email within two working days of the contest's conclusion by Only-apartments and arrangements will be made to deliver the prize.
2. The reservation fees normally charged by Only-apartments will not apply, meaning that the full value of the voucher (€200) will be used towards the final cost of the apartment/s.
3. The voucher can be used towards any accommodation listed on Only-apartments.com, at any time of year. (Please note: as can be expected, the apartment owners we feature vary the prices of their apartments based on seasonal demand).
4. If the value of the accommodation chosen is higher than that of the voucher, the winner must pay the remainder. If it is lower, a cash rebate will not be provided.
5. The winner must use their voucher within 12 months of the notification date, meaning that the trip to be paid for with the voucher must take place within 12 months of notification date.
6. If the winner is unable to book a trip for any reason the prize is transferable but only before the reservation has made, and Only-apartments must be notified in writing of the new recipient and the validity period cannot be extended.
7. No cash alternative will be offered if either the winner or nominated alternative recipient cannot take up the prize during the period of validity, under any circumstances.
8. In addition to the particular conditions outlined above, all other terms and conditions related to Only-apartments' client bookings will apply. For full details click here: