If you enjoy Caribbean cruises, there's an excellent chance you're going to visit Costa Maya, Mexico at some point. Several cruise companies, including Norwegian Cruise Line, who we recently sailed with, make Costa Maya a popular port of call. The most unique excursion you can take from Costa Maya is to see the spectacular Mayan pyramids of Chacchoben.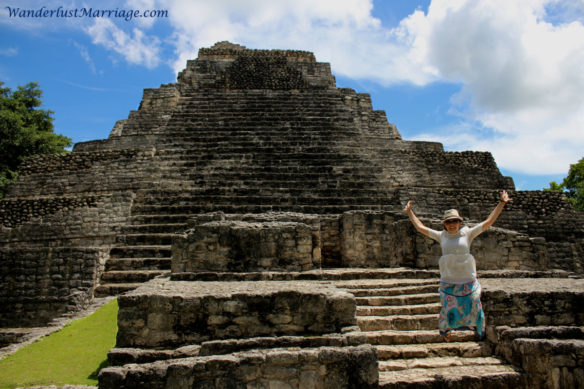 The Mayan Pyramids of Chacchoben are around 1,300 years old, dating back to 700 AD. When most people think of pyramids they think of Egypt, but prior civilizations in the Americas built them too. While the Mayan pyramids of Chacchoben are smaller and newer than the Egyptian pyramids, they're definitely worth visiting.
In 1972, Dr. Peter Harrison, an American Archeologist, reported the Chacchoben ruins to the Mexican Government after randomly spotting it from a helicopter. He then made the first exploration and mapped the site, which has now been open to the public since 2002. The surrounding area has abundant wildlife like armadillos, deer, gray foxes and spider monkeys. Unfortunately, we didn't see any wildlife during our visit. The Mayan pyramids of Chacchoben are in a pretty remote area of jungle, so it definitely has an Indiana Jones type vibe.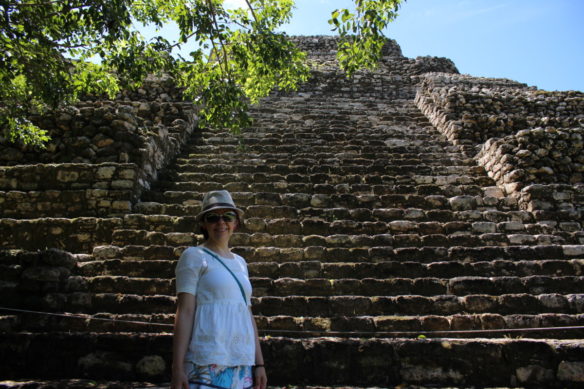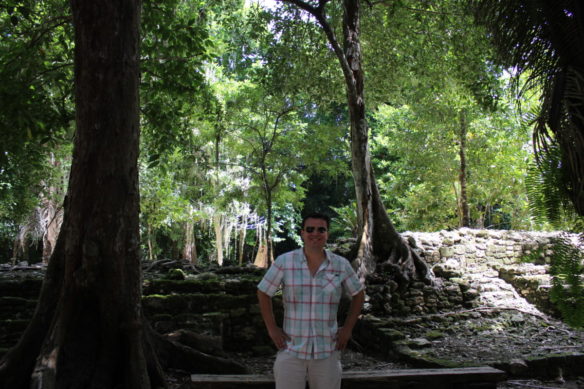 Pros and Cons of a Tour of the Mayan Pyramids of Chacchoben
Every cruise line that stops in Costa Maya will offer tours to see the Mayan pyramids of Chacchoben, along with other area excursions. There are also several independent tour operators waiting at the port of Costa Maya who will have spots available if you don't book ahead and decide to do this excursion last minute.
Tours can be great, but we generally prefer smaller groups and we like to experience things at our pace. Instead of doing a tour, we opted to negotiate with a taxi company just beyond the cruise port of Costa Maya. We had read to negotiate $50 US to take both of us in a private one-hour taxi ride each way, with an hour to see the ruins and no additional stops for shopping. While the taxi wasn't air-conditioned, and it was hot outside, our driver drove so fast with the windows down that it hardly mattered. The speed was a little scary, but the drive is pretty clear from Costa Maya to the Mayan pyramids of Chacchoben.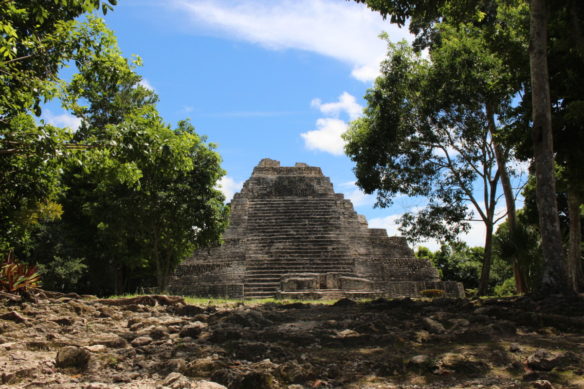 Pros of a tour to the Mayan pyramids of Chacchoben are that you will have a guide and for some, a feeling of safety in numbers. Cons for some are that you're on a set schedule, horded in a big group, and it's costlier. In addition to saving money by opting out of a tour, we left our cruise ship later in the morning, allowing us to sleep in and beat the crowds at the pyramids! When we arrived at the pyramids, the last tour group was wrapping up, and when they left, there were very few other visitors. This allowed us to get some amazing photos.
If you do opt to take a taxi to the Mayan pyramids of Chacchoben like we did, there is an option to hire a local guide at the archaeological site. We opted not to hire a guide so we could focus on taking some great photos. We did some reading beforehand and afterwards in lieu of having a guide.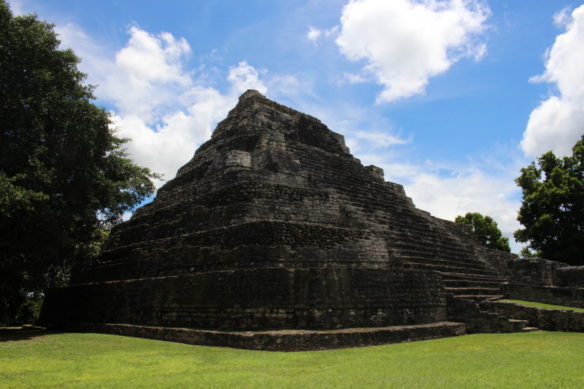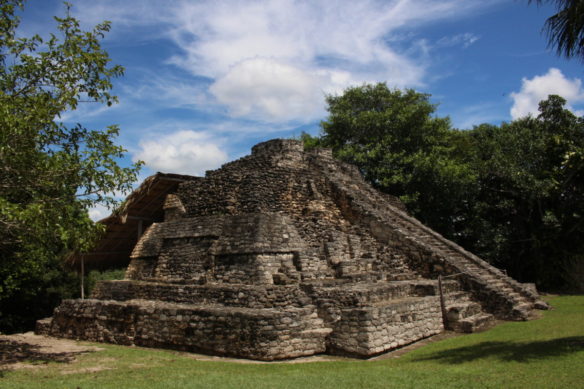 Admission to the Mayan Pyramids of Chacchoben
HOURS: Open Daily from 8 am to 5 pm
Admission Price: 55 pesos ($2.60 US). Free on Sundays for nationals and Mexican residents.
Tours from Costa Maya are around $62 US and up per person.
Private taxis range from $50 US – $100 US depending on negotiation skills and length of time
Plan on 1 – 2 hours at the ruins (especially if you want to do a tour and have time to take some quality pictures).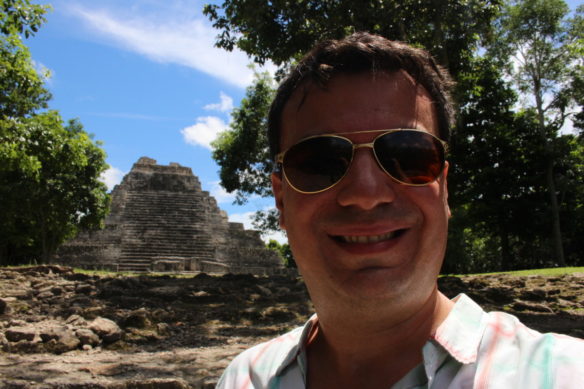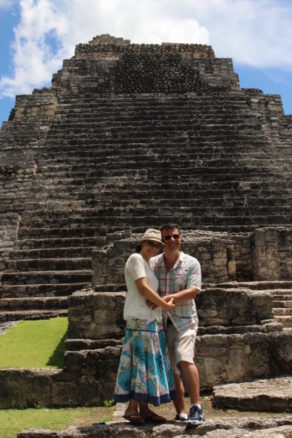 Thinking about a Caribbean cruise or trip to Mexico? Email me at alex(at)wanderlustmarriage.com and I can also help you save money on your trip!