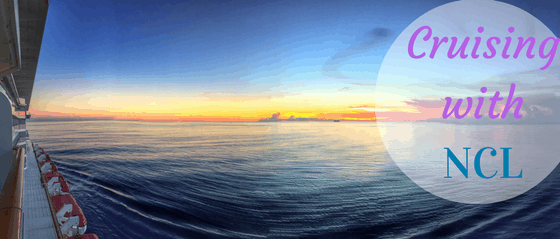 We recently took a week long cruise aboard the Norwegian Getaway. The ship was built in 2014 and holds a capacity of 3,963 passengers and 1,646 crew. The NCL Getaway is currently sailing around the Caribbean, and our trip took us to Roatan, Honduras, Belize City, Belize and two ports in Mexico- Costa Maya and Cozumel. Whether you cruise around the Caribbean, Northern Europe or elsewhere, here's what you can expect aboard the Norwegian Getaway.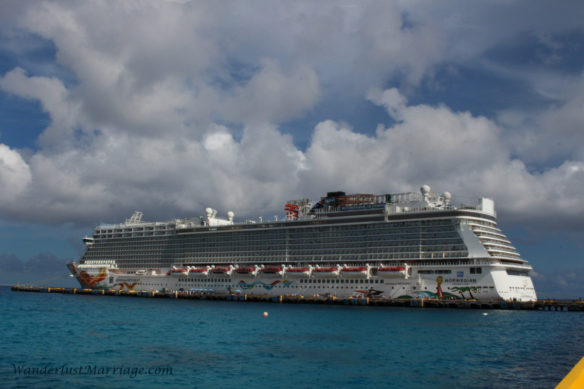 Entertainment
You won't get bored on the Norwegian Getaway. There's a comedy club featuring nightly stand up acts and the dueling piano show, Howl at the Moon. There's also a jazz club, ice bar, night club, sports bar, cigar lounge, outdoor dance venue and several other bars and lounges. A large movie theatre and stage hosts everything from Broadway musicals to movies. We watched Star Wars: The Force Awakens in 3D.
Outdoor activities are also well covered on the Norwegian Getaway with a 9 hole mini golf course, rock climbing, basketball court, six waterslides and a large zip lining course. All of the outdoor activities are included in the cruise price. While I have a fear of heights, I decided to zip line for the first time, and I'm glad I've ticked that off my bucket list!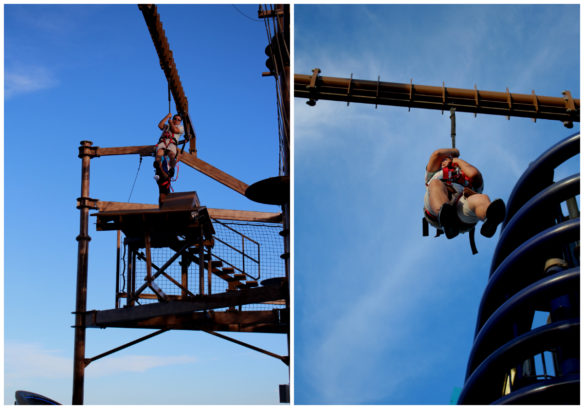 Pool and Hot Tubs
One of the only downsides to the Norwegian Getaway is that the pool is pretty small and it gets crowded. Getting a lounge chair was never an issue though. While you can't swim Olympic style pool laps, there's so many other things to do. There's also four hot tubs and a kids pool next to the adult pool. We were provided access to the Vibe Beach club, which is a private deck featuring two hot tubs, a bar, deck chairs and semi-private futons to enjoy amazing views of the sea.
Excursions
And while there's so much entertainment on board the ship, the options multiply further with each port. Each destination offers opportunities to relax, do something adventurous or cultural. Excursions can be booked onboard, or through third party tour operators online or when you arrive at the ports. We snorkeled in Roatan with Roatan Eco Tour, walked around Belize City on the nation's Independence Day, saw the amazing Mayan pyramids of Chacchoben outside Costa Maya, and had a relaxing swim at beautiful Playa Azul beach in Cozumel. We scheduled a variety of activities to be sure the week was a mix of adventure, culture and relaxation.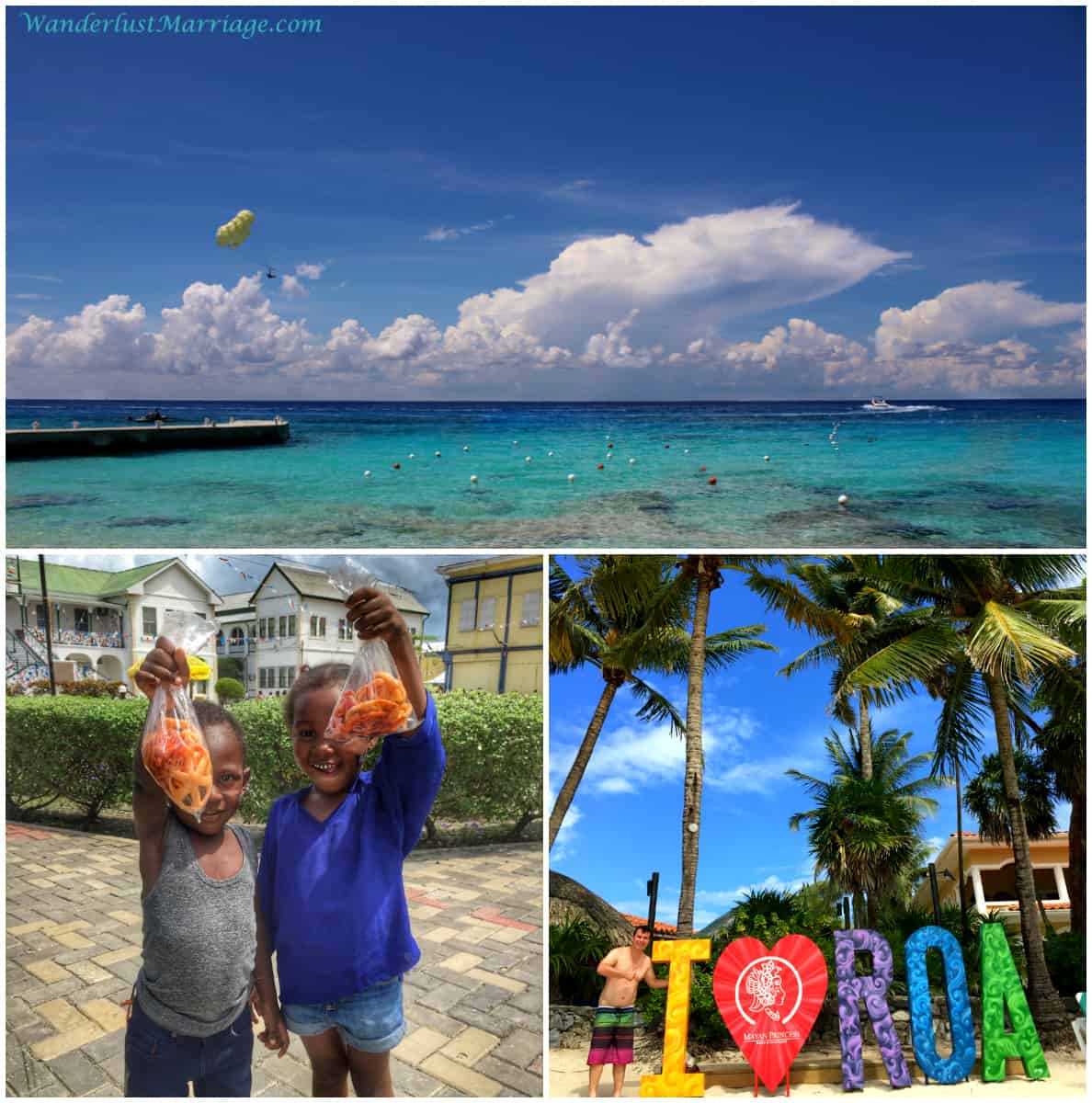 Read about our experience of organizing a private taxi to take us to the Mayan Pyramids of Chacchoben, an hour drive from Costa Maya. We did our own self guided tour, and saved a lot of money that way. This is not for everyone, but something to consider.

Also, dive deeper into our experience Snorkeling in Roatan with Roatan Eco Tour. This was a great experience with a small eco company that saves money compared to NCL's snorkeling excursions. Groups are also smaller compared to the cruise ship package.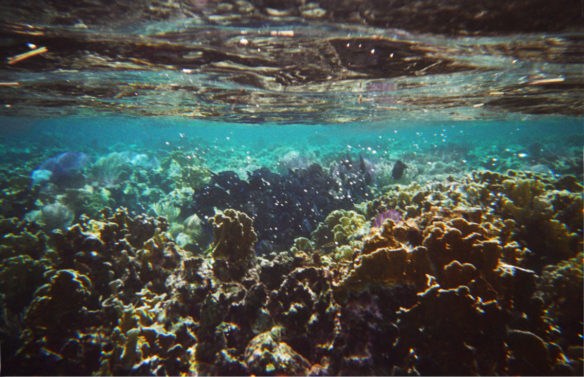 Dining
Cruises are awesome for indulging in food. Typically, most cruises have set dining times in their main restaurants. NCL offers "freestyle dining," where you don't have to pick a dinner time or sit with strangers. It's a good concept for travelers like us who often like to wing plans, but you can also make dining reservations as well.
The Norwegian Getaway has 15 restaurants. Seven of the restaurants are included in the regular price of a cruise. Eight of the speciality restaurants are available at an additional cost. We ate at three of the Norwegian Getaway's specialty restaurants: Ocean Blue, Moderno (a Brazilian steakhouse) and Jimmy Buffet's Margeritaville.
Ocean Blue: Seafood Specialty Restaurant
Ocean Blue is the Norwegian Getaway's signature upscale seafood restaurant. We enjoyed fresh broiled Maine lobster tail, Florida crab craws, crab cakes, shrimp and grouper. Service was excellent and while we enjoyed the meal, it was not our favorite restaurant on the ship.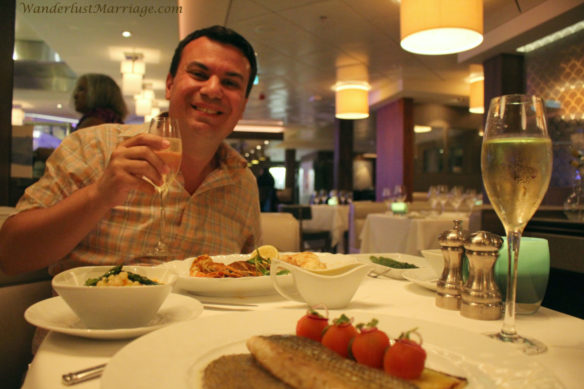 Moderno: Brasilian Steakhouse
Our favorite dinner on board the Norwegian Getaway was at the Brazilian churrascaria, Moderno. Brazilian steakhouses are a meat connoisseurs delight, with all you can eat carved tableside by Pasadores. The bacon wrapped filet mignon, lamp chops, pork loin & pichana (Brazilian style top sirloin) were outstanding. And the salad buffet was lavish, with premium choices like ahi tuna and salmon sushi, proscuitto, manchego cheese and fresh asparagus. This is an opulent dining experience and is totally worth the additional $24.95 US per person.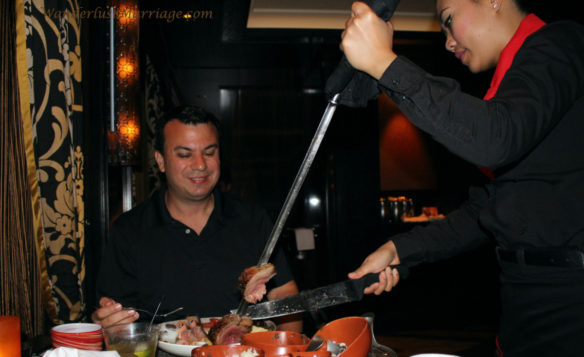 Buffets
The buffet at the Garden Cafe, on the 15th floor of the ship was great, and always had something for everyone. Breakfast, lunch and dinner options were always vast and plentiful. We try to eat healthy and appreciated that asides from made to order omelettes, bacon, pancakes, and so much more, that there was also so many fresh fruits and other toppings to enjoy healthy dishes like oatmeal. There were always Indian and Asian options on the buffet and the Indian food especially was consistently very good. The dinner buffets featured a signature carving each night and a huge selection of tasty choices.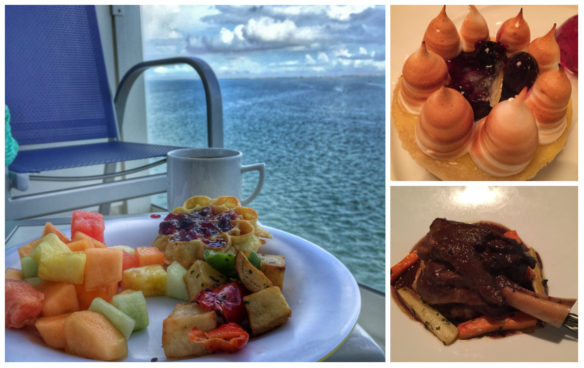 We also really enjoyed the complimentary dining experience at Savor and Taste. It's a great option for a romantic dinner that's included in the price of a cruise. We enjoyed dinner at Savor and Taste enough to return a second time.
Tropicana Room
The Tropicana Room was the only disappointing dining experience we had on the Norwegian Getaway. It's the largest complimentary dining room, featuring made to order meals. Part of the problem is the sheer size of the dining room. It's massive, so things are more likely to get disorganized. Perhaps it was just an off night, but we did not return here with so many other options available.
Other Specialty Dining Options
The Norwegian Getaway also features specialty French, Italian, Tepanyaki and a traditional steakhouse called Cagney's. Seafood lovers can also enjoy fresh sushi at the Raw Bar. And there's also a complimentary Asian restaurant and Irish-American pub, both of which are fun, but don't expect to be too wowed by the pub food.
Rooms
We had a balcony room on the Norwegian Getaway and absolutely loved it. We highly recommend this for a honeymoon, anniversary, special occasion or just a relaxing luxury vacation. As the Getaway is a new ship, it has a larger percentage of balcony rooms compared to most cruise ships. It was so peaceful to watch hundreds of miles of the Caribbean Sea, gorgeous sunsets, exotic ports and even small storms in the distance from our balcony chairs during our 7 day vacation.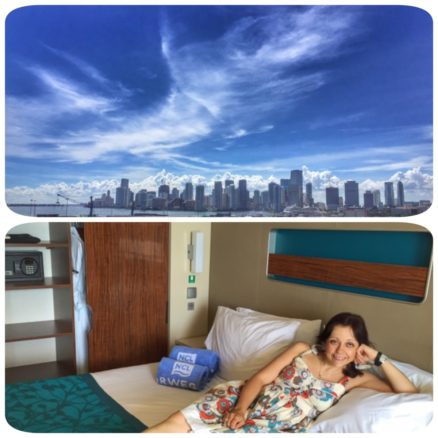 Our room featured a queen sized bed, couch, flat screen TV, 2 American and 2 European power outlets and designer toiletries by Bvlgari. Housekeeping is excellent. Rooms are made up twice daily, in the morning and evening. And if you want to dine in, you can order room service 24 hours a day for a $7.95 convenience fee. We often bypassed the fee by making a plate at the breakfast buffet and enjoying it together on our private balcony. It was wonderfully romantic, whether we were at sea or docked at a port.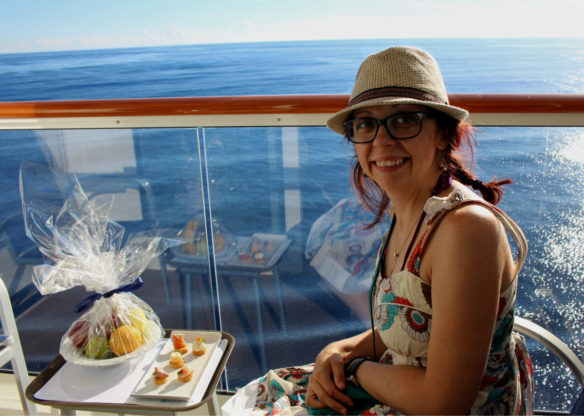 Overall Rating of the Norwegian Getaway: A-
There are so many positives to cruising on the Norwegian Getaway, and very few negatives. Another highlight is the staff. Most of the crew are extremely friendly. Hotel director Joao Gigante and those around him do an amazing job managing the ship and making sure guests are comfortable, entertained and happy. Mr. Gigante is friendly, gracious and approachable. We noticed him welcoming passengers back from Cozumel and high fiving guests following the grand finale show.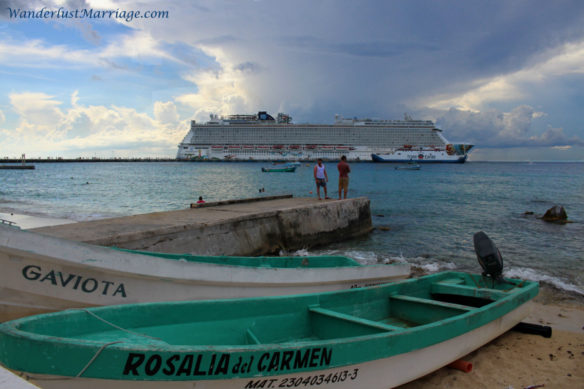 We'd recommend the NCL Getaway for most travelers. The ship is like a sailing vacation town, with couples, singles and families of all ages and backgrounds to mingle with. NCL is one of the best cruise lines for single travelers, as the Getaway has studio rooms designated for singles. It also makes for a wonderfully romantic vacation, perfect for anniversaries or honeymoons.
Fun facts: The Getaway was docked in Brazil and home to many Olympians during the 2016 Summer Olympics in Rio De Janeiro. Next year the Getaway is relocating from Miami to Copenhagen and will be sailing around Scandinavia and the Baltics. It will be traveling from Copenhagen to Helsinki, Stockholm, Tallin and St. Petersburg, Russia.
Planning a vacation and have questions? Leave a comment or email [email protected] and I can assist you!