The Emilia-Romagna region is often considered the foodie capital of Italy. It's home to authentic Parmigiano-Reggiano cheese, balsamic vinegar, excellent charcuterie and truffles. It's also the birthplace of bolognese sauce and mortadella (bologna in the United States). So I decided to take a Modena food tour to explore this culinary masterpiece.
I read reviews that the Italian Days Food Experience is an epic Modena food tour. And indeed, there was so much to eat, drink and learn while exploring Parmigiano-Reggiano cheese, balsamic vinegar and prosciutto production. Here is everything you can expect to experience on the Modena food tour!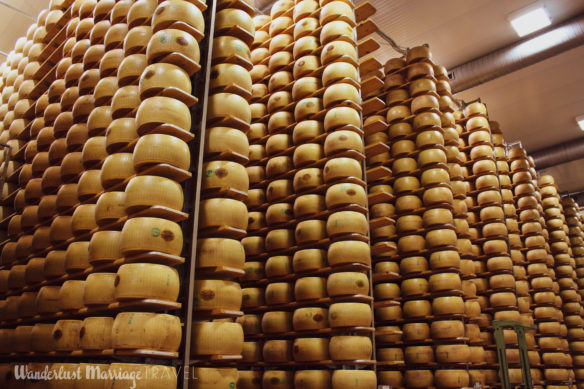 Italian Days Food Tour Pickup at Bologna Hotels
Italian Days Food and Wine Tours conveniently picked me up right from my small hotel in the center of Bologna, Albergo Panorama, in a comfortable Mercedes van. Pickup time is 7am sharp because it takes around an hour to drive to Modena and Parmigiano-Reggiano production is only done in the early morning. I was grateful that the staff at Albergo Panorama already had some complimentary breakfast items laid out along with coffee.
There's plenty of excellent food and wine on the tour throughout the day, but not in the very beginning so it's good to have a light breakfast. Italian Days also advises this in their confirmation email.
Grand Hotel Majestic gia' Baglioni offers a luxurious stay in the heart of Bologna. Spacious rooms are decorated with unique frescoes and antique furniture. Next to Palazzo Fava, it's just 800 feet from Piazza Maggiore and the famous Two Towers.
Parmigiano-Reggiano Factory Tour in Modena
Our van, which had a couple of other Americans from California, joined two other vans at the Parmigiano-Reggiano factory near Modena. There we met up with Arianna, who would graciously guide us through the most epic and entertaining food tour I've ever been on. Our group of 13 people was made up of 10 Americans and 3 citizens of Hong Kong.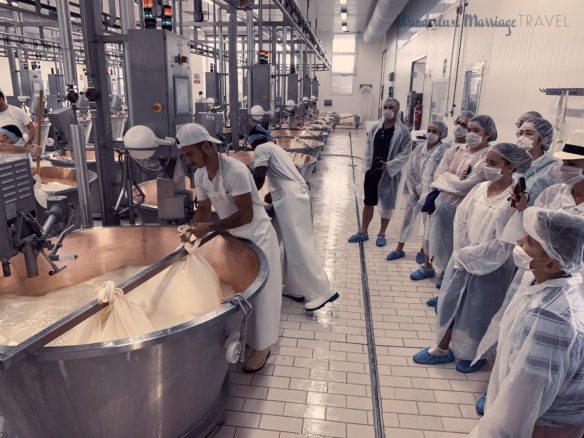 Authentic Parmigiano-Reggiano cheese consists of just three ingredients – milk, salt and rennet to coagulate the cheese. Monks invented this process of cheese making in the 12th century. We were given lab coats and face masks and watched as the ingredients were mixed together by factory employees. Interestingly, pigs are fed the milk whey leftovers which is good for plumping them up for prosciutto.
We were then taken to the storage facility, which impressively houses thousands of wheels of cheese. Arianna joked if you're a thief don't rob a bank in Italy because they're broke. Instead, rob a Parmigiano-Reggiano cheese factory! Each wheel of cheese is worth around €550 ($616 USD). The factory we toured had €25 million ($28 million USD) worth of cheese! It resembles what I imagine Fort Knox would be like to tour- with huge stacks of cheese instead of gold bullion. The cheese needs at least 12 months of aging to be classified as Parmigiano-Reggiano.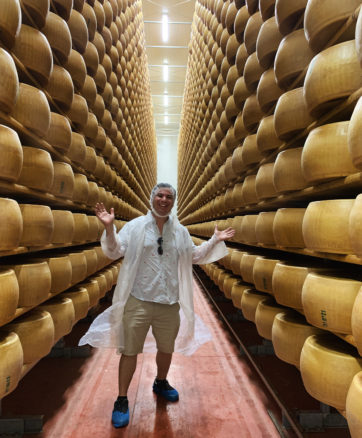 The production of Parmigiano-Reggiano is strictly controlled by the consortium. It can only be made in five northeast Italian counties. In Bologna, the western side of the Reno River can legally produce it, while the eastern side cannot. To many Americans, this may sound like over-regulation, but the positive is a guaranteed quality product. Inspections are conducted and cheeses are classified as category 1 or 2 DOP (Denominazione di Origine Protetta or Protected Designation of Origin) cheeses if they pass inspection. A category 2 Parmiggiano-Reggiano cheese cannot be aged longer than 18 months. The wheels are stamped by fire and the number indicates the factory they came from.
Enjoying Parmigiano-Reggiano Cheese and Lambrusca wine
After touring the factory we were driven to a nearby farm to enjoy generous helpings of Parmigiano-Reggiano cheese and Lambrusca wine. Lambrusca is a sparkling red wine produced in the Emilia-Romagna region. Served chilled, it's wonderfully refreshing on a hot summers day. The cheeses we enjoyed were aged 24 months and 36 months. I preferred the 24 month aged cheese, but some others preferred the 36 month. As delicious as the cheeses were, we couldn't finish the large chunks they put it out because it was simply more cheese than we could eat! It's difficult to imagine ever eating Kraft "parmesan" cheese again after that experience.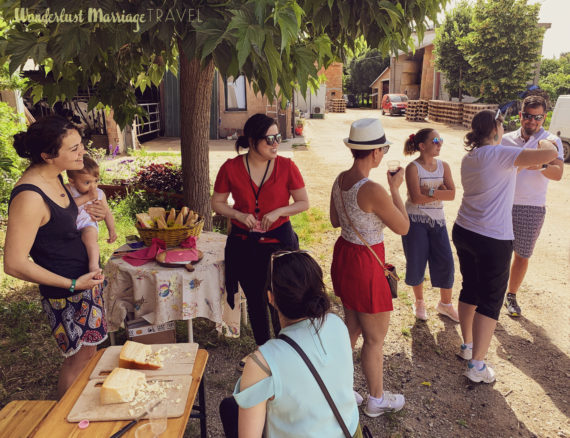 Balsamic Vinegar Factory Tour in Modena
It was then time to explore the world of balsamic vinegar over lunch. Paolo was a gracious host in his acetaia (balsamic vinegar factory). During lunch, we were given more wine along with sausage and mortadella. The region is famous for charcuterie and it was great to enjoy that family style while chatting with fellow travelers. We also tried delicious fresh ricotta cheese after a slice of homemade chocolate cake. The fresh ricotta cheese, topped with aged balsamic vinegar, was a big hit with everyone.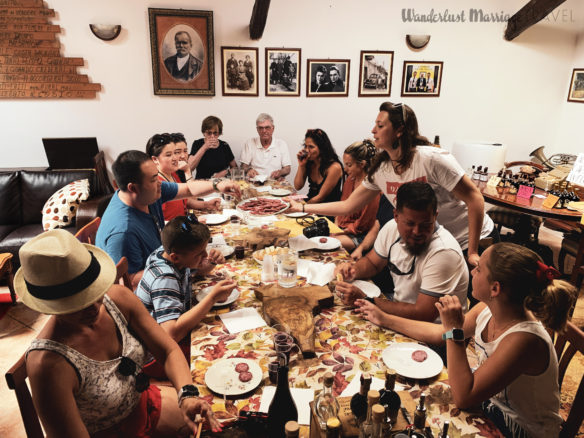 Antica Acetaia Cavedoni
Antica Acetaia Cavedoni has been in business since 1860. It's an impressive facility to tour because there are balsamic vinegars that have been aging for over 100 years, across multiple generations. A 100-year-old bottle of balsamic vinegar costs €550. Fortunately, there are much cheaper options too!
Authentic balsamic vinegar tastes very different from what we buy at American grocery stores
In order for balsamic vinegar to be an authentic DOP product, the grapes must be grown in Modena, and the only ingredient is cooked grape must. While it's easy to find balsamic vinegar from Modena in US grocery stores, it is much harder to find high quality aged DOP balsamic vinegar. It's easier to find IGP products, meaning the grapes weren't grown in Modena but it was bottled in the region.
Only 150 families in Modena are licensed by the consortium to produce DOP balsamic vinegar. And they can produce a maximum of 10,000 liters per year. Red label DOP products have been aged a minimum of 12 years. Gold label products have been aged a minimum of 25 years. In comparison, IGP products can be produced in 60 days.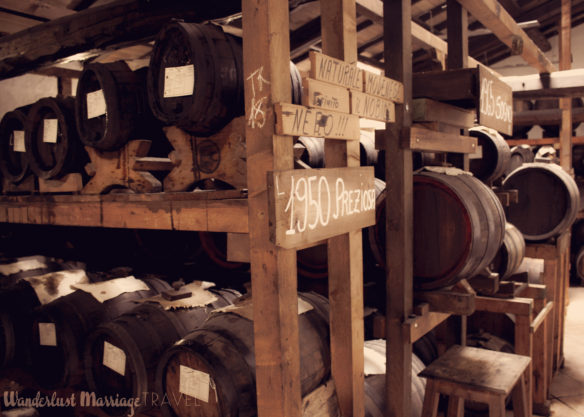 We sampled a variety of balsamic vinegars aged between 15 and 30 years. The longer balsamic vinegar is aged the sweeter it becomes. The balsamic vinegars of Antica Acetaia were superior to anything I've previously tasted.
If a balsamic vinegar is cheap, it's not an authentic DOP. Real balsamic vinegar is carefully crafted, aged and ranges in price from moderate to expensive. For most people, it's not something to pour over a salad, but instead, drizzle over fresh buffalo mozzarella or ricotta cheese for a delicious treat.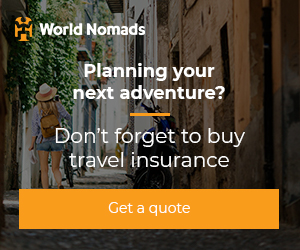 Prosciutto Factory
It was then time to tour a prosciutto factory. Romans invented prosciutto and began the process in winter to preserve the legs. The only other ingredient needed for prosciutto de Modena, aside from a back leg of a pig, is salt.
Nini Gianfranco
The Nini Gianfranco prosciutto factory we visited houses 22,000 legs. The minimum time for aging prosciutto de Modena is 14 months. For comparison, Prosciutto de Parma, which is more known in the United States, must be aged a minimum of 12 months.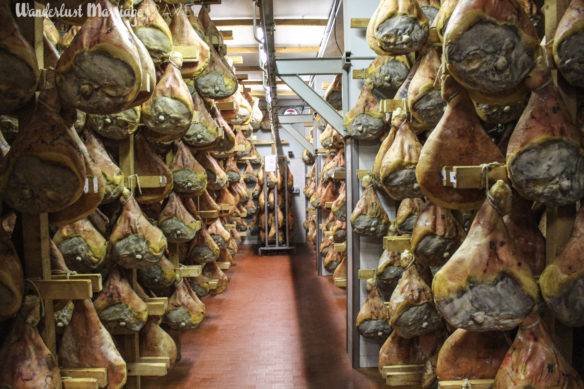 Prosciutto is relatively easy to produce. You just need to be careful of the temperature and humidity while the legs are aging. Humidity should 75% for the legs to absorb the salt.
The prosciutto we ate was delicious. I've enjoyed great iberico jamon in Spain so I won't say it was the best cured ham I've eaten, but it was right up there. And the prosciutto is a softer meat in comparison to Spanish jamon.
When a friend saw Arianna's shirt on social media that says Fast Food Kills he asked, is she claiming that fast food is more unhealthy than that huge hunk of meat? Well since fast food is filled with preservatives and prosciutto only has natural ingredients, it's certainly better. But as Arianna noted, most Italians don't eat prosciutto daily. It's something they typically enjoy once a week.
Family Style Lunch with Wine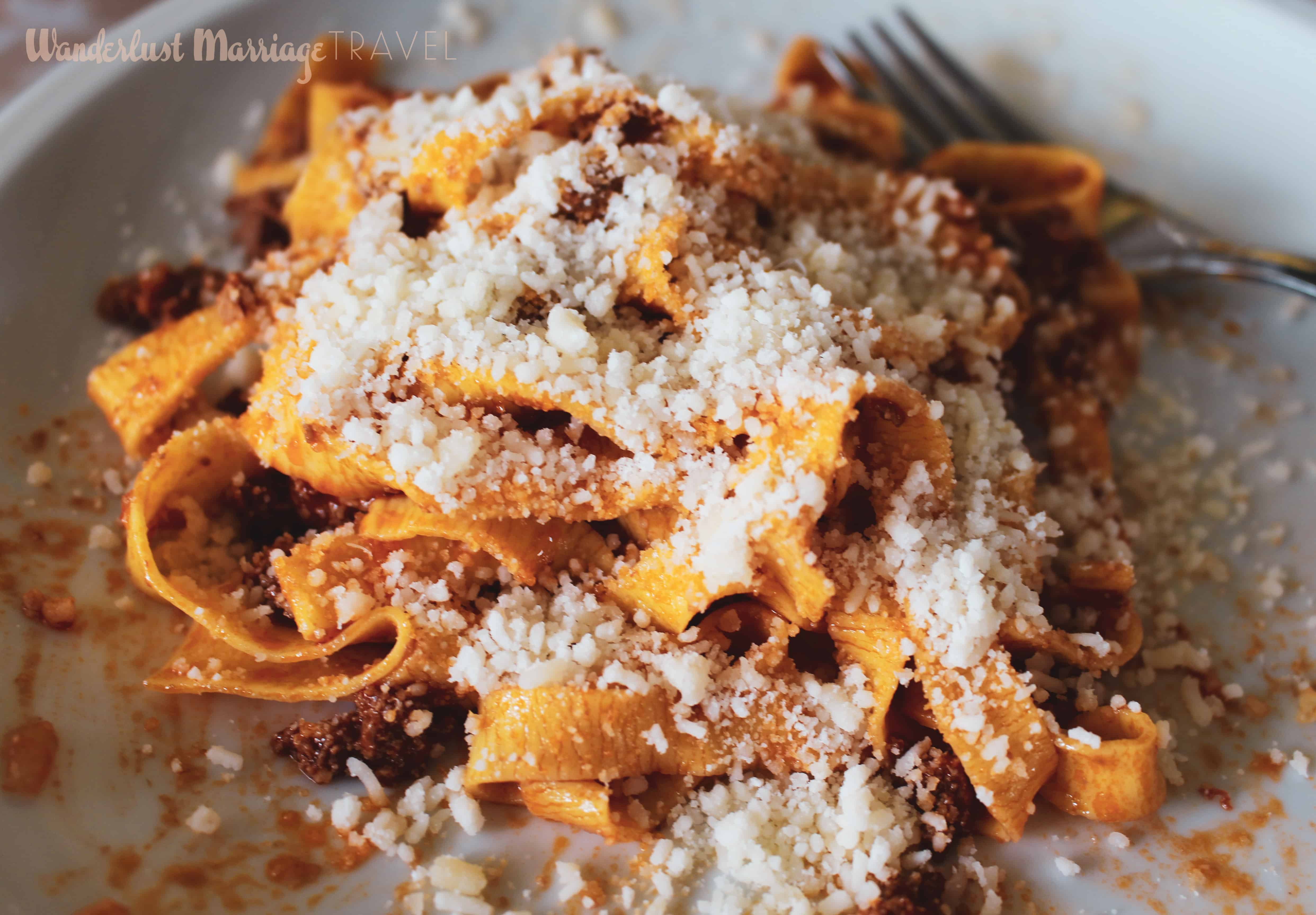 The last part of the tour was an epic feast of delicious food and wine. We sat on the terrace of a restaurant with a lovely view overlooking vineyards. We enjoyed several types of fresh pasta, including traditional bolognese over tagliatelle. It was a quintessential experience that anyone visiting Italy should have.
A lovely couple from Virginia were celebrating their 55 year wedding anniversary. So one of them was selected to open a bottle of prosecco with a sword! He was shocked at how cleanly the sword cut the top off, and we poured the wine from the bottle. A couple from Florida were also celebrating an anniversary so off came the top of another bottle with the sword! It was a fitting conclusion to an entertaining day.
Is Italian Days Modena Food Tour Suitable for People with Allergies?
At the time of booking you can let Italian Days know if you have an allergy and they can provide some alternative food options. Arianna asked us if we had any allergies at the start of the tour and I informed her of my lactose allergy. She knew her stuff, reinforcing the fact that Parmigianno- Reggiano was fine for me to eat because aged cheese has a tiny fraction of lactose. I enjoyed a generous portion of the cheese and had no issues. For dessert at lunch they gave me a plate of mixed fruit since the dessert had dairy. All the family style mains we enjoyed were dairy free so there was still more than enough to eat. If you have a gluten allergy there were also plates of meat at lunch, in addition to the fresh pasta dishes.
Italian Days Food Tour Cost and Details
The Italian Days Day Tour from Bologna costs €150 ($168 USD). The tour starts at 7 am and you're dropped back off at your hotel (or the train station if you choose) at around 6 pm. There is so much delicious food and wine included in the day long tour so bring an appetite!
Arianna is a fantastic guide too. She's extremely funny, knowledgable and warm. One person in our group told her "you seem like the happiest person alive." Her response was "the sun is shining. Why wouldn't I be happy?" La Dolce Vita – "the sweet life."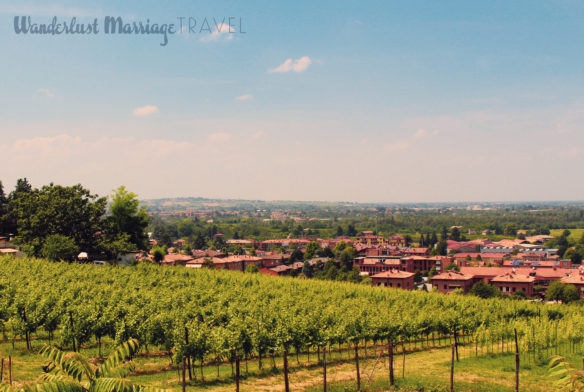 More Near the Emilia Romagna Region of Italy
If you're traveling to Tuscany, read my previous article on Great Things to do in Florence. After my Modena food tour with Italian Days Food Tours I traveled by train from Bologna to the lovely seaside town of Rimini and the independent enclave of San Marino. San Marino is a fantastic place to visit, offering stunning views of Emilia Romagna and the Adriatic Sea. It's one of the most pleasant destinations I've visited and surprisingly affordable.
I love that nearby Rimini offers a relaxing seaside holiday, with a wonderful historic center and a delicious culinary scene. It's not somewhere on the radar of most Americans, but Fort Lauderdale is a sister city. Imagine a cheaper version of Fort Lauderdale with better food and historic sites like the Tiberius Bridge which dates back 2,300 years. Read this great article on Rimini by our friend Eileen Cotter Wright at Pure Wander.
On my recent trip to Italy, I flew roundtrip from Washington, DC to Bologna for just $146 instead of over $1,000. Read our article on travel hacks to learn more about how we save thousands of dollars every year on travel!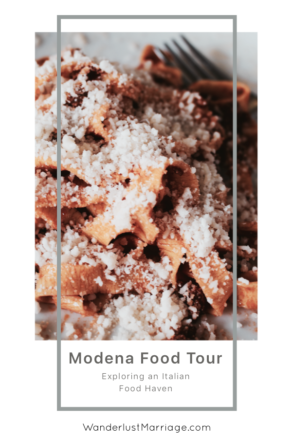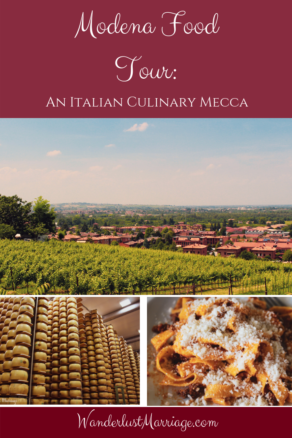 Disclosure: Italian Days Food And Wine Tours hosted me on their food tour around Modena, but all opinions and photos here are my own. Also, this article contains some affiliate links.