From Ybor City night life to a parade of palm tree lined beach towns on the Gulf Coast, Tampa, Florida makes for an ideal getaway. Amusement parks like Busch Gardens offer family friendly fun for all ages. And the Tampa area's culinary scene rocks for latin cuisine, seafood, Greek and so much more. It's close proximity to relaxing and fun beaches like Clearwater, Honeymoon Island, Sunset Beach and St. Pete Beach mean you can spend well over a week in the area and not be bored. Here are some of the best places that both locals and visitors enjoy for great day trips from Tampa!
Tarpon Springs: Day Trips from Tampa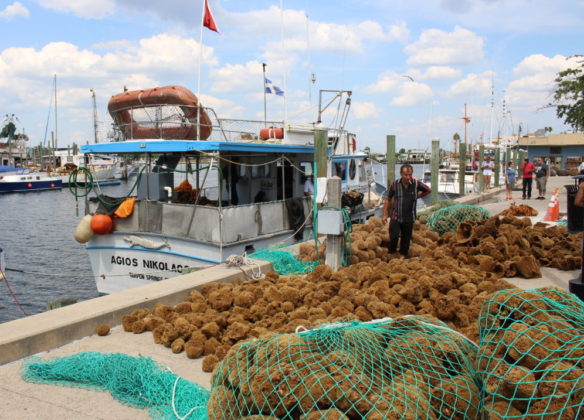 Tarpon Springs prides itself on being the "the sponge capital of the world." In the early 1900's, Greek immigrants built a bustling town around a sponge industry that has remained for over a century. Walk around Tarpon Springs today and you'll feel like you're in Greece. The area around Dodecanese Street is lined almost entirely with Greek restaurants, cafes and shops. Tarpon Springs has the largest per capita Greek population in the United States.
Tarpon Springs is a fantastic area to spend the day. Hit the beach at lovely Sunset Beach or Fred Howard Park. Lap up more of the seaside ambiance over delicious Greek entrees, fresh seafood and tasty desserts. Dmitri's on the Water is one of the best places to eat in town. Traditionally, Greeks eat family style. So order dishes to share among your table, like octopus stifado (a tomato based stew with feta cheese). Go to Hella's Bakery for their incredible dessert selection and Fournos Bakery for huge loaves of fresh baked bread for just $2, spanakopita (spinach pie) and excellent baklava. Grab some sponges too, as they're a great way to scrub yourself or your home!
Great Hotels in Tarpon Springs
Luxury
Innisbrook Golf Resort in nearby Palm Harbor is a good choice for luxury travelers. There are 5 on site restaurants, outdoor pools with water slides, 11 tennis courts and 4 golf courses. This is a great place for guys to hit the links and for ladies to relax at the spa.
Mid Range
Hampton Inn and Suites Tarpon Springs is a quality option. Hampton Inns offer a reliably comfortable stay with a good breakfast
Budget
Quality Inn and Suites Tarpon Springs is a good budget option. Rooms are comfortable for the money.
Clearwater Beach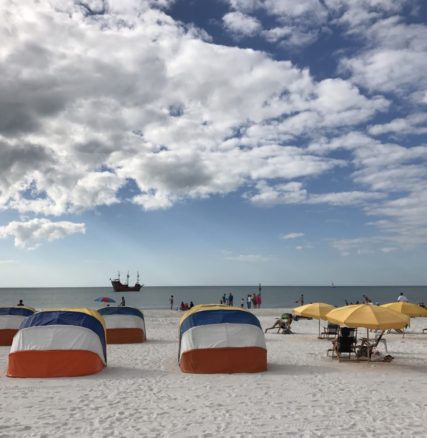 Clearwater Beach can get busy, but it's one of the most popular day trips from Tampa. It's picturesque, fun and someplace locals really enjoy too. Walk to the end of Clearwater pier just before sunset. It's a gorgeous view, often frequented by pelicans and cranes. Clearwater's Pier 60 is also a great place to buy hand crafted art and jewelry.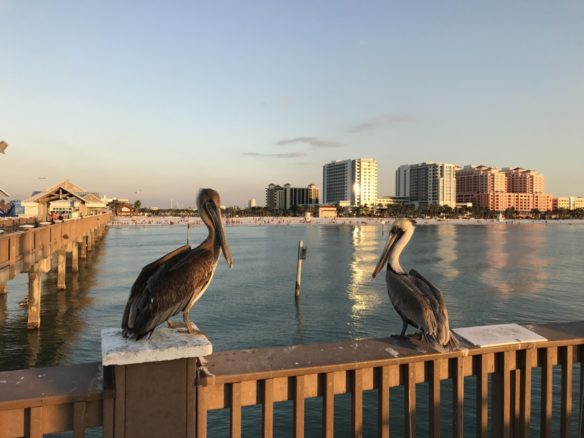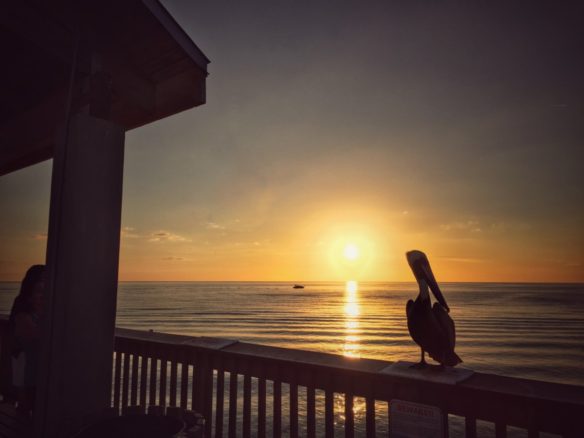 There's several great places to eat in Clearwater. We highly recommend Palm Pavilion, which is right on the beach and has been in business since 1926. This laid back restaurant serves good food, and there's usually a live band. Order a pina colada, some fish tacos and enjoy beach life.
Consider tours like a 2 Hour Cruise Around Clearwater Beach with Optional Dining. That cruise starts at just $17.08 per person.
St. Petersburg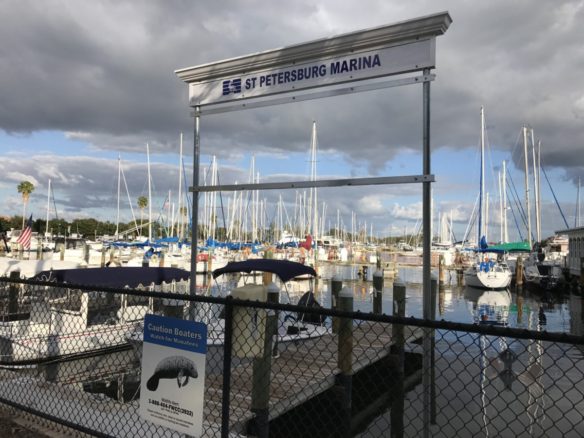 St. Petersburg is a beautiful town across the bay from Tampa. It's a great destination for food, drinks, beaches, boat rides and art. The Dali Museum was recently renovated and is one of the most popular attractions here. St. Petersburg is also home to the Tampa Bay Rays. So if you enjoy baseball, you can catch a game during the season at Tropicana Field. A St. Petersburg Historical Segway Tour is a fun option to learn some history while zipping around town.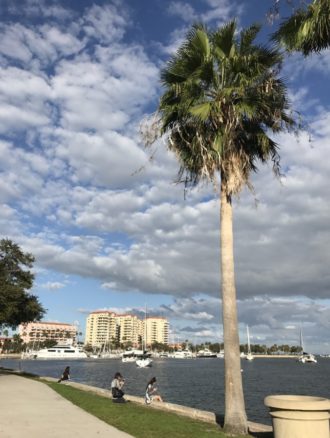 The Saturday Morning Market in St. Petersburg is one of the best farmer's markets you will come across. You can find gourmet cheeses, fresh vegetables, eggs, honey, crafts, jewelry and even exotic items like truffle olive oil. Visit the Farmer's Market, then grab a drink or some food on the patio overlooking the bay at The Moon Under Water. The Moon Under Water is a unique British themed colonial tavern featuring both British and Indian dishes.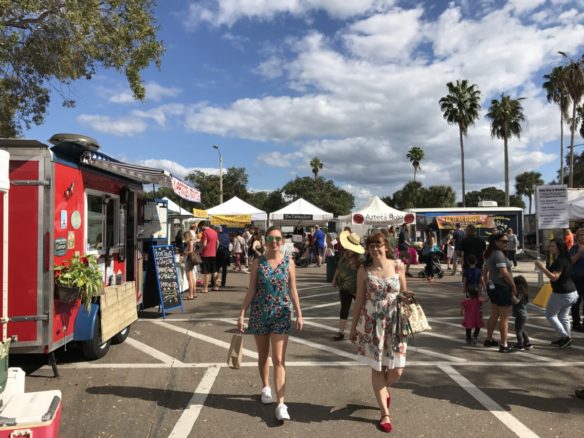 Honeymoon Island State Park
Honeymoon Island State Park was one of our favorite places to visit when we lived in Tampa. The beach on Honeymoon island isn't as busy or commercial as Clearwater. So if you want to enjoy the beach while avoiding big crowds, this is a great place to go. Food for purchase is limited in the state park so you may want to pack a picnic.
The park boasts several bird observation areas and nature trails. Visitors can also fish, snorkel and swim in the warm waters of the Gulf. As the Gulf currents deposit a wonderful variety of seashells on the shore the shelling is especially good there.
Fort De Soto Park
Fort De Soto was named by Trip Advisor as America's Top Beach in 2009. The largest park in Pinellas County, Fort De Soto lies on five interconnected islands on 1,136 acres of land. The islands are home to beach plants, mangroves, wetlands and many native plants. The fort was built in 1898, a remnant from the Spanish-American War that houses a museum today. Fort De Soto is a great place to kayak, relax on the beach and take in some history.
Tampa Area Tips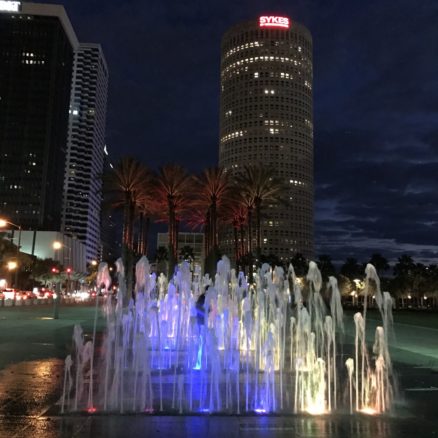 Ybor City was founded in 1885 and is a must on any trip to Tampa. During the day, Ybor City is a great place to eat, shop and explore a historic area built around the cigar rolling industry. Late at night, Ybor's is a great place to party with a wide range of bars and clubs catering to a mostly 20-something crowd. Consider a Tampa History Cruise to get to know the area better.
Tampa is famous for Cuban food and you shouldn't leave without eating a delicious Cuban sandwich. A great place for this is Aguila Sandwich Shop. La Teresita is iconic and shouldn't be missed if you want to sit down for good Cuban food in a no frills environment. If you love coffee, be sure to order a cafe con leche or espresso, as Cubans usually brew excellent coffee.
If you like fine dining, steaks, and good wine, head to Bern's Steakhouse. This is one of the most beautiful restaurants in Tampa. Don't miss touring their world class wine cellar and enjoying the Harry Waugh dessert room. The Bern's Steakhouse experience is a great way to cap off an anniversary or other special occasions.
Have questions about planning your Florida vacation? Email alex(at)wanderlustmarriage.com or leave a comment below!
Disclosure: This article contains affiliate links. We receive a small commission when you book or sign up through these links and it costs you nothing extra. Thanks for using them!