New Orleans is an iconic American city, with a culinary scene to rival any competitor. Founded in 1718 by French colonists, New Orleans was previously the capital of French Louisiana before the United States acquired it through the Louisiana Purchase in 1803. New Orleans is famous for its Creole cuisine, unique dialect, distinct music and annual festivals like Mardi Gras. Nicknamed the Big Easy, New Orleans is built along the Mississippi River, the largest river in the USA. A favorite pastime in New Orleans is indulging in the city's wonderful culinary scene. Here are some New Orleans foods you have to eat, with recommendations on where you should try them.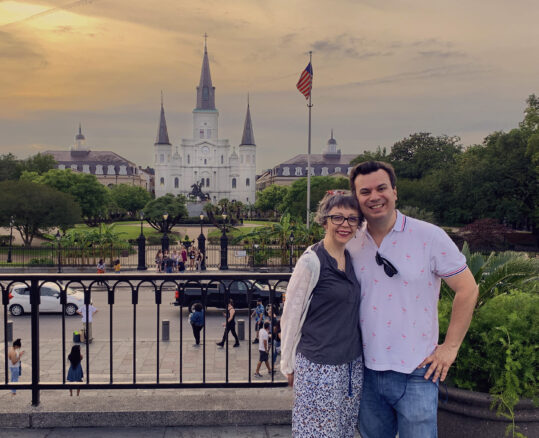 Beignets
Beignets are a type of donut made with deep-fried choux pastry. They're covered in powdered sugar and served fresh. Beignets are an iconic New Orleans dessert that you have to enjoy during a visit.
Where to Eat Beignets in New Orleans?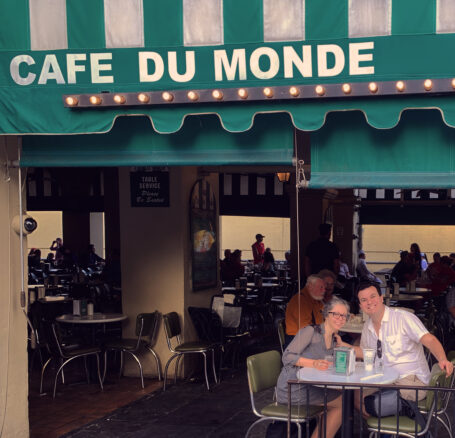 Cafe Du Monde is a New Orleans institution. It is the most famous place to eat beignets and while that doesn't often equate to the best, Cafe Du Monde is reliably delicious and inexpensive. If you visit during a busy time, just hover around as tables open up quickly. Their chicory coffee hits the spot alongside delicious powdered sugar topped fried dough. Try and grab a table nearest to Decatur Street as it offers a great view of Jackson Square. Pro tip: after taking your photos, be sure to put away your camera so it is not covered in powdered sugar!
Crawfish Étouffée: New Orleans Food
Étouffée means "smothered" in French. It typically refers to a stew where the main ingredient (usually seafood) is simmered in a rich sauce. Crawfish Étouffée is a stew made with crawfish tails, tomatoes, bell peppers, onion, garlic, seafood stock, thyme and hot sauce over rice. It's a classic New Orleans dish, and one of our personal favorites.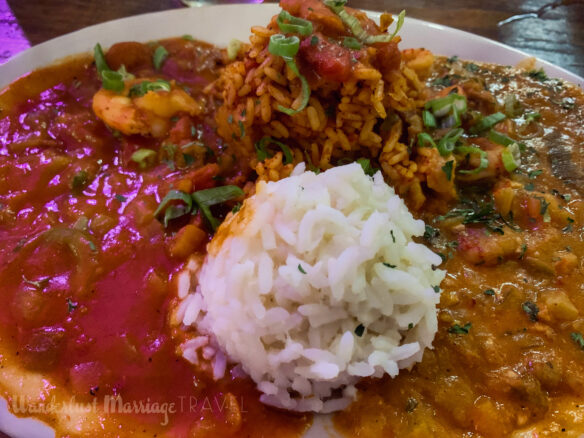 Where in New Orleans Should You Try Crawfish Étouffée?
There are many great places to enjoy delicious Crawfish Étouffée all over New Orleans. Mambo's is a great choice for travelers because it is centrally located right on Bourbon Street. You can enjoy anything mentioned on this list over a quintessential Nola vibe. Mambo's also has an excellent dessert menu with offerings like Kentucky Bourbon Pecan Pie, Praline Brownie and New Orleans Bread Pudding.
Muffuletta:
Muffaletta's are one of the most iconic New Orleans sandwiches. Of course New Orleans has more than one amazing sandwich to consider! The origins of this sandwich lie with Italian immigrants who first opened deli and grocery stores along the French Market's riverfront. Muffaletta's are stacked with mortadella, soppressata, salami, coppa, cheese and olive salad between round Sicilian sesame seed bread. This multi-layer sandwich of delicious meats and olives is a party of flavor in your mouth.
Where in New Orleans Should You Eat a Muffuletta?
Cochon Butcher is currently regarded as the best deli in New Orleans. It's also a reliably excellent place to enjoy delicious muffulettas and other sandwiches. It gets busy and sometimes they run out of the muffuletta ingredients after the lunch rush so go early!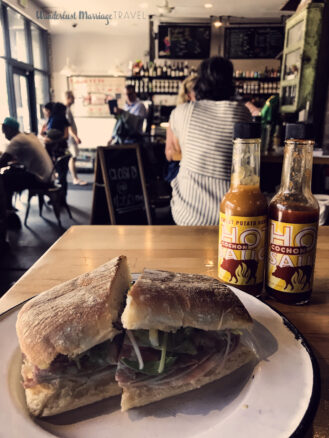 Head to Central Grocery & Deli If you want to try the muffuletta where it originated. The grocery store was founded in 1906 by Sicilian immigrant, Salvatore Lupo, who is credited with creating the muffuletta. Located on Decatur Street in the middle of New Orleans' French Quarter, it's a third generation family-run operation that has not changed too much over more than a century.
Po' Boy Sandwich: New Orleans Food
The other sandwich you must try is a Po' boy, a traditional Louisiana sandwich. They're made with New Orleans style French bread, typically with a crisp crust and fluffy center. The most popular po' boys are roast beef or fried seafood, often shrimp, crawfish, fish filet, oysters or crab. Po' boy varieties come with many other fillings, from commonplace ham to even alligator! Here are some great places to enjoy a po' boy.
Where in New Orleans Should You Eat a Po' Boy?
Napoleon House is a fantastic venue to enjoy a delicious po' boy in a historic setting in business since 1914. The building is a 200 year old landmark that exemplifies its French Quarter surroundings. Nicholas Girod, mayor of New Orleans from 1812 to 1815 was the building's first occupant. He offered his residence to Napoleon Bonaparte in 1821 as a refuge during his exile. Napoleon did not make it, but the name stuck.
Try their grilled alligator sausage po' boy served with Tabasco Pepper Jelly & Creole Mustard. It is a delicious and unique sandwich. To drink, go for a Pimm's Cup Original, made with British Gin, lemonade, a splash of lemon-lime soda and garnished with cucumber. Napoleon House is a good place to try many of the dishes that New Orleans is famous for.
Chargrilled and/or Fried Oysters
Oysters are a ubiquitous delight around the Big Easy. Fried oyster po' boys are popular in restaurants and sandwich shops. Or ditch the breading and go for chargrilled oysters that are topped with a special blend of cheese and herb butter sauce. Frankly, after trying these, I'm not sure how one can easily go back to eating raw oysters. Both are excellent options and there are many great places to enjoy them.
Where Should You Eat Chargrilled Oysters in New Orleans?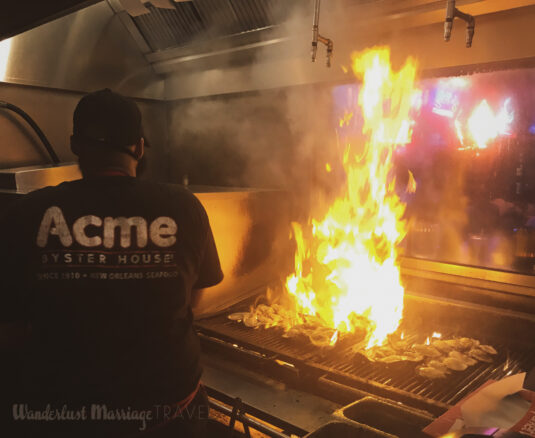 Conveniently located in the heart of the French Quarter, Acme Oyster House is a fantastic place to devour chargrilled oysters. Often there's a line out the door, but it usually moves quickly and it is worth the wait. Grab a seat at the bar if you want a front-row seat of fresh oysters being continually shucked. Don't miss watching the oysters flaming over fire in the back of the house.
Recap of New Orleans Food
New Orleans rocks at great food, excellent music and fun times. Be sure to have a meal on Frenchman Street. There are several excellent restaurants to dine over great live music. Marigny Brasserie is an excellent Frenchman Street option.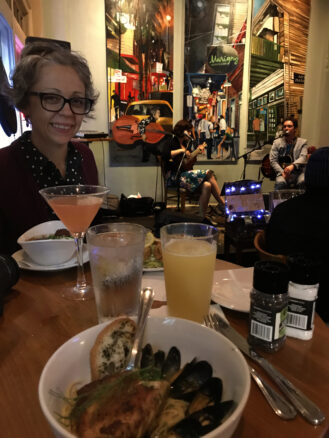 A popular pastime in New Orleans is discussing dinner over lunch. New Orleans takes food seriously and deliciousness is in abundance. Other ubiquitous Creole favorites include jambalaya and gumbo.
If you want to save money on your travels, read our article on Travel Hacks to Save Big Money.
Where to Stay in New Orleans?
There are many excellent luxury and mid-range hotels in the French Quarter and downtown New Orleans. On our most recent trip we stayed at the 4 star Ace Hotel. The Ace Hotel is an excellent option for a comfortable stay that is outside the ordinary. Highlights of this property include excellent on-site dining, gourmet cafe, and multiple happening bars for libations. The rooftop pool offers views around New Orleans. Rooms include the biggest mini bar we've ever seen, as well as an additional full-sized refrigerator to store your own food and drinks!
Disclosure: This article contains some affiliate links. We earn a small commission when you book through our links, which helps support this website. Thank you for using them.