Venice is one of the world's most romantic destinations. Centuries of allure have drawn many world class comparisons. Amsterdam is often called "the Venice of the North," and Mykonos has "Little Venice." Venice has influenced other destinations with its beauty and through conquest during past generations.
Venice was one of the world's most powerful cities during the 1400s and the Venetians occupied territory around the Mediterranean. When you visit Venice today, it looks very much like it did 600 years ago. Here are some great things to do in Venice with tips on saving money during your stay!
Save Hundreds of Dollars on Hotels in Venice
Venice can be an expensive city to visit comfortably in summer, but it certainly doesn't have to be. Mestre, a mainland suburb of Venice is home to cheaper accommodation and luxury hotels at a discount price. I recently used Marriott Bonvoy reward points to spend two nights at the plush Four Points Sheraton in Mestre for a total of €6 in taxes!
Out the front of the hotel there is a bus stop, with bus service from Mestre to Venice. The bus is fine, and takes around 20-25 minutes. There's also a train station a 10 minute walk away that will take you to Venice's Santa Lucia Station (main train station), if you want to avoid the bus. A taxi costs around €30-€40 each way from many Mestre hotels to Venice.
Enjoy Delicious Food in Venice
There's a common misconception that "you'll pay twice as much for a bad meal in Venice as a good meal in Rome." I first visited Venice 20 years ago, just for a day, so it was easy to fall into the tourist traps and regurgitate this expression. But it isn't necessarily true. There's plenty of delicious and well-priced food in Venice, you just have to know where to go.
I visited several great local wine bars. One I highly recommend is Hostaria Vecio Biavarol, just a five-minute walk from Venice's main train station. They serve excellent small bites and charcuterie to pair with great local wine. Grab one of two tables canalside and enjoy a glass of prosseco. I was surprised there were so few people around given how busy Venice was.
The owner, Andreas, recommended another great wine bar called Cantina Arnaldi. He wrote a fun note on his card to hand to the other owner – that included a derogatory name in Italian (he informed me of this and said it's a game the two of them play). All' Arco and Al Merca are two more great options, packed with a variety of delicious charcuterie and cheeses atop bread (cicchetti).
Take a Venice Food Tour and Learn Interesting History of the City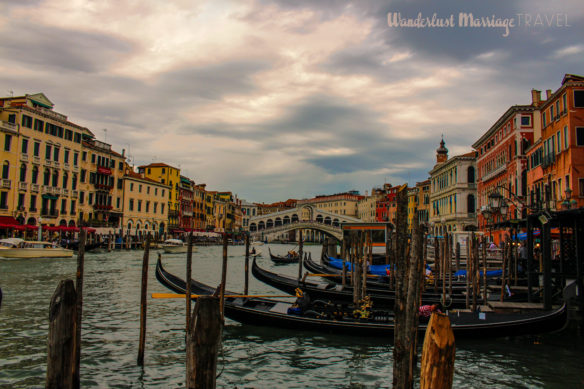 During my recent visit in June, I enjoyed taking the Venice Food Tour with Walks. Among other things, it helped bust my misconceptions of Venice's food scene. The group met near the famed Rialto Bridge on a rainy morning, which was a refreshing reprieve from the stifling summer heat. Our guide, Katie then delightfully navigated the group through Venice's unique history while we enjoyed food and wine at three stops.
Venice was founded by educated Romans in 600 AD and was an independent democratic city state for centuries. The first paper check was invented in Venice. The term "salary" originates from the value of salt, which was integral to Venetian trade.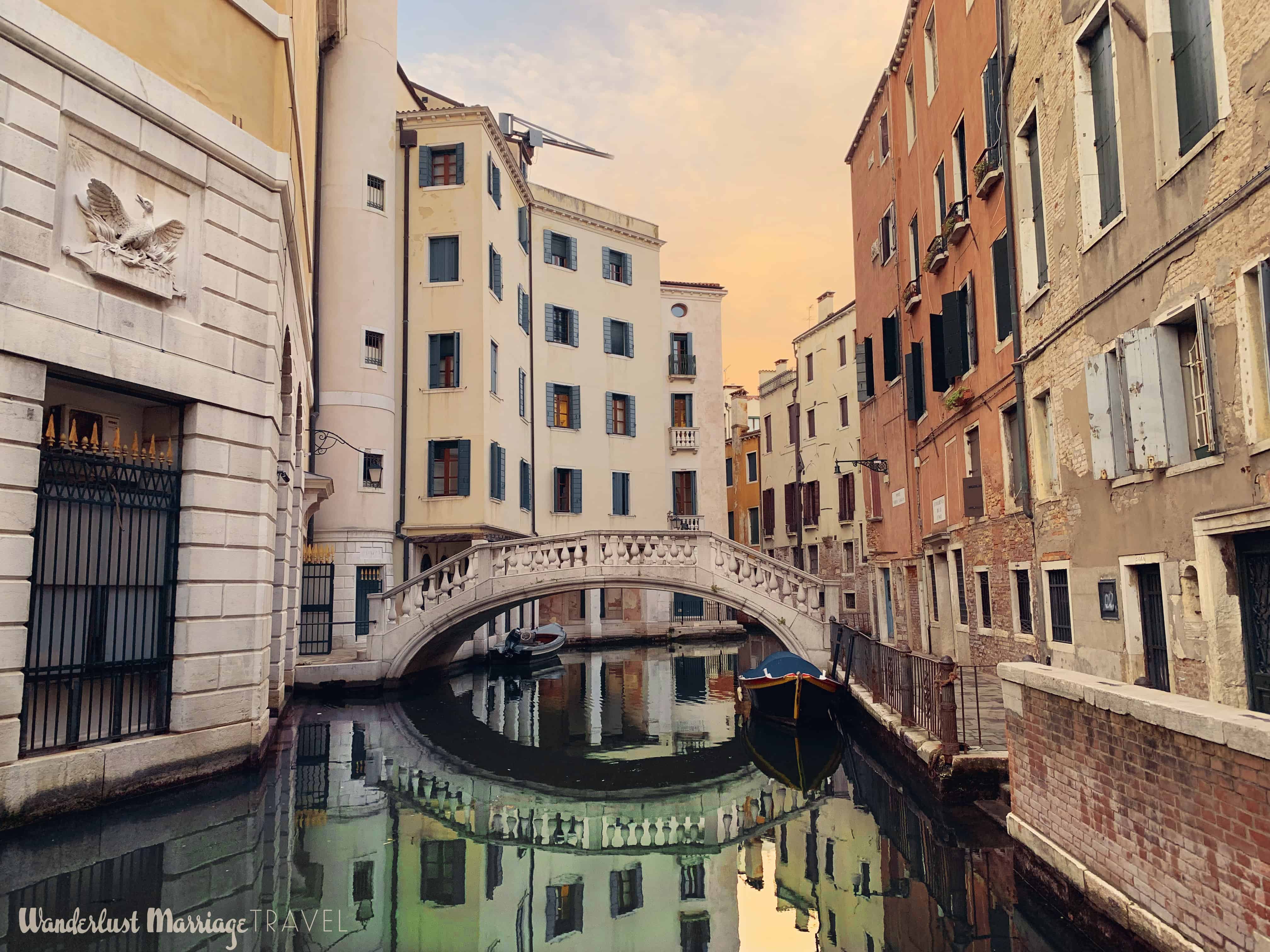 The numbers posted on the Rialto Fish Market state the minimum size and weight that various fish must be sold. In the past, vendors who didn't respect the rules were previously thrown in an on-site market prison. The Rialto Fish market is a good stop to get a glimpse into local Venetian life.
Venetians have traditionally been respectful to the environment because they have always been reliant on the sea. They certainly did their share of conquering across the Mediterranean though. The influence of colorful Venetian architecture can be found in Greek cities like Chania and Nafplion.
The Venice food tour also includes a short group gondola ride across the Grand Canal. Visitors that want to take a gondola ride but don't want to pay around €80 can jump on a shared gondola at a traghetto stop. A popular crossing is between Campo de la Pescaria (Rialto Fish Market) and Campo Santa Sofia. The shared traghetto ride costs just €2 and takes a couple minutes. Traghetto means ferry in Italian.
Bacaros – Local Wine Bars
Walks Venice Food Tour introduced me to bacaros. Bacaros are small wine bars that serve cicchetti. Cicchetti are small portions of food, similar to Spanish tapas. Bacaros are extremely popular with Venetians and offer delicious food and wine at good prices. Cicchetti typically cost around €2-€2.50 per portion, and glasses of wine cost roughly €2.50-€3, sometimes even less! A glass of raboso, a local sparkling red wine produced in the province of Veneto only costs €1.50 at the bacaro Al Merca. That's amazing value for any destination, let alone Venice.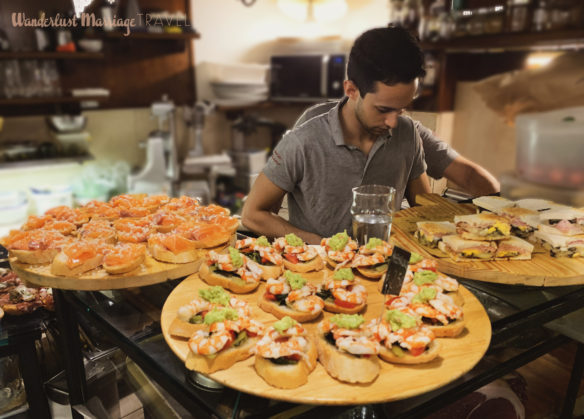 One of the most popular cicchetti is Baccalà mantecato. It's dried salted cod boiled with milk and garlic and served mashed atop a piece of bread or baked polenta. It's a Venetian delicacy that you should try!
Enjoy Spritz in Venice, Where it Originated
Spritz is a popular local aperitivo that originated in Venice, served with either Campari or Aperol. A Campari Spritz is bitter, while an Aperol Spritz is sweet. Often times it will be included in a happy hour special, and sometimes a buffet will be included as well. Spritz is commonly found throughout Italy.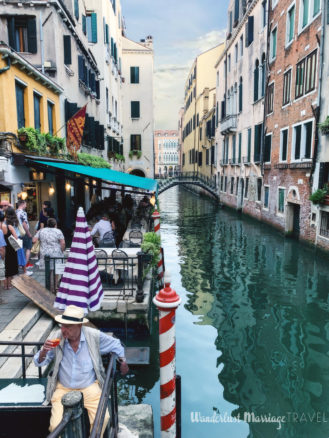 Try Squid Ink Pasta (nero di seppia)
During the Venice Food Tour we sat down at a local restaurant for lunch. The pasta dishes served were linguine with clams and squid ink pasta. Traditionally, squid ink pasta is made with fresh egg noodles. It's an interesting dish as the pasta is black, and while the flavor is unique, the squid ink is not an overpowering flavor. This dish is popular in the region as we've also enjoyed it in nearby Croatia.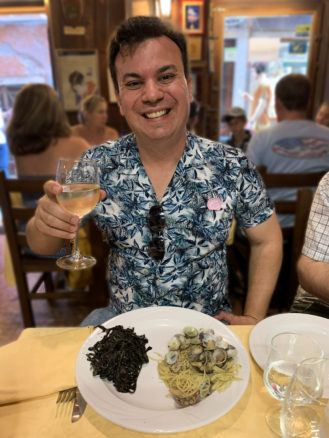 Enjoy a Drink at the Storied Gritti Palace
For luxury travelers, The Gritti Palace offers old-world opulence with a stunning view of Santa Maria della Salute along with gondolas crossing the canal. The recently restored building dates to the 15th century, where it previously housed nobles, including ambassadors to the Vatican. Gritti Palace has been a hotel since 1895 and now has 82 rooms. Rooms typically cost over $1,000 a night, but you can also cash in 85,000 Marriott Bonvoy points for a stay.
Gritti Palace is a great place to celebrate a special occasion. If you don't stay there, swing in for a drink at Riva Lounge as I did. Drink prices start at €16, but being Italy they also include nice complimentary snacks including a generous portion of olives, peanuts and chips. The interior is old-world elegance at its finest, similar to a miniature Palace of Versailles. While sipping my Campari on the rocks and enjoying my snacks, I loved watching the gondolas and other boats pass by.
St. Marks Square (Piazza San Marco)
St. Marks Square is the main square of Venice. The popular square is highlighted by St. Marks Basilica, which dates back nearly a thousand years to 1092. It's one of the finest examples of Italian Byzantine architecture.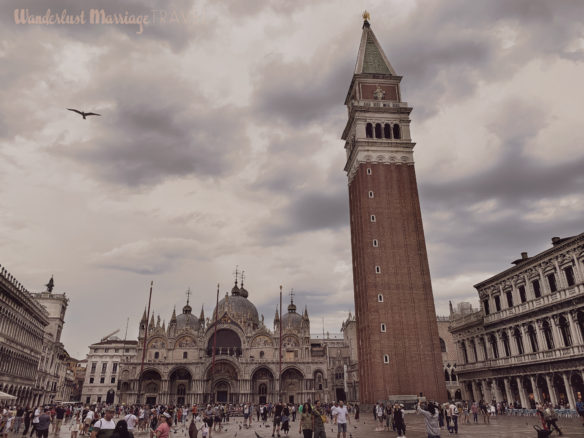 St Marks Square is where many tourists go to get their photos feeding pigeons, with a dramatically ornate backdrop. In summer this is an especially busy area, and a reminder that Venice is better enjoyed during the off-season.
Doge's Palace (Palazzo Ducale)
Doge's Palace is the former seat of the Venetian government and the exterior is a wonderful example of Italian Gothic architecture. Since 1923 the palace has been a museum. Check out the council chamber with beautiful frescoes by Veronese and Tintoretto.
You can book a tour of St. Mark's Square and Doge's Palace through Walks and skip the lines. You'll also learn fun stories of political backstabbing – typical in that profession.
Murano Island
The Doge of Venice ordered all Venetian glass makers to move their furnaces to Murano in 1291, as a precaution against fires. Murano then became associated with the most coveted and high quality glass in the world. Museo del Vetro showcases Venetian glass techniques over the centuries, and displays a variety of glass dating back to Egyptian times.
More on Northern Italy
If you're heading to Florence, read my previous article on Great Things to Do in Florence. Emilia Romagna is famous for its culinary scene as it is home to authentic Parmigiano-Regianno cheese, balsamic vinegar, prosciutto, truffles and is the birthplace of bolognese sauce and mortadella (bologna). Several of these foods are discussed in detail in my article on a Modena Food Tour with Italian Days.
Travel by train in Northern Italy from Venice to Verona, Bologna, Florence, Rome and More
Traveling around Italy by train is fast and comfortable on the popular routes. For example, Venice to Florence only takes around 2 hours on the high speed train. The journey from Venice to Rome only takes around 4 hours! It's also a better experience compared to Amtrak in the United States – since the food and wine is better.
San Marino is also a fantastic destination to visit, which can be reached by a short 40 minute bus ride across from Rimini train station. Rimini is a lovely seaside resort town that can be reached by high speed rail. It is a worthwhile destination if you want a relaxing beach holiday in Italy.
It can be difficult to decide where to visit in Italy. So I put together this guide on how to spend 2 weeks in Italy! From Lake Como to Sicily, there is so much to discover, devour and enjoy.
For additional tips, this Italy itinerary by Bookmundi offers countywide getaway ideas, including from Rome to Sicily.
If you want to learn more about saving thousands of dollars on travel, read my article on Travel Rewards Card Hacking Tips. Feel free to email me at alex(at)wanderlustmarriage.com with any questions or leave a comment below!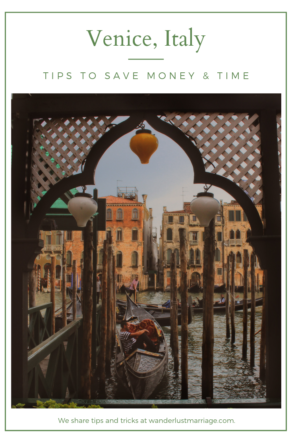 Disclosure: Thanks to Walks for hosting me on their Venice Food Tour. All other recommendations listed here were paid with a combination of travel rewards points and cash. Also, this article contains some affiliate links.