While Barcelona is a beautiful city with great nightlife, the city pretty much shuts down on Sunday night. Contrast this with Madrid, which is as lively on Sunday night as it is every other night of the week. This past January we visited Spain's capital and found that despite Spain's economic turmoil, residents of Madrid are still enjoying late nights out in mass. We stayed on Madrid's central boulevard, the Gran Via, and had an amazing view of the frenzied and continuous action from the 8th floor of our modest hotel room at the not so modestly named Luis XV. It was a great location to experience non stop Madrid, a European city that always stays up late.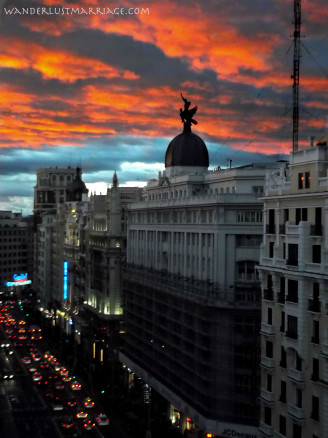 Madrid has perhaps the best continuous energy of any European city. While Rome buzzes during the day, the city quiets significantly during the evening. And while Athens is certainly one of the busiest cities in Europe, and Greeks like to party late, Athens doesn't have the same centralized late night party scene that Madrid has. And with large neon advertisements, to go along with the constant throngs of people, parts of the Gran Via reminded us of Broadway and Times Square in New York City. Even at 4am, flashing neon lights penetrated the drapes of our hotel room, providing a constant reminder of Madrid, not stopping, when we wished it would.
A great place to experience non stop Madrid energy is drinks at Sidreria El Tigre. While they have a proper menu (with a pretty good steak), if you're having a few drinks you won't want to order a main unless you haven't eaten for days. With every drink, you'll receive a generous portion of tapas. Be prepared to stand during the dinner/pre-clubbing rush, as from around 8pm-11pm you'll be hard pressed to find a seat.

In casual Madrid establishments, you'll notice that locals typically don't mind standing as they mingle over drinks and simple tapas. And traditional Spanish tapas are not flashy and involved food. The concept of Spanish tapas has evolved into fancy cuisine at more upscale restaurants worldwide, but traditionally it's just basic food to help absorb your alcohol. Traditional Spanish tapas include fried potatoes (patatas bravas), ham (jamon) or chorizo on bread or a Spanish omelet (tortilla). These dishes are staples at any casual blue collar bodega.
One of our favorite things about Spain is indulging in copious amounts of jamon. Excellent cured ham is a national pride in Spain- and they make no bones about revering hanging legs of ageing pigs. We read great reviews about an establishment called Museo Del Jamon on Yelp (yes, the museum of ham!). But given that most of the reviews were in English, and given the name, we were worried the place would be a tourist trap. And yes there were tourists, but the place was also packed with locals during the lunch rush.
It was standing room only (which residents of Madrid, like Rome, often do for a quick drink and bite to eat). They feature an excellent value menu with 1 euro baguettes with excellent quality serano ham. For something more upscale, buy some jamon iberico (from the leg of egg corn fed pigs). €80 a kilo ($110 USD) sounds lavish, but you don't need much in your sandwich as the meat oozes wonderful flavour. So if you buy a hundred grams it doesn't cost much more than 2 subway sandwiches!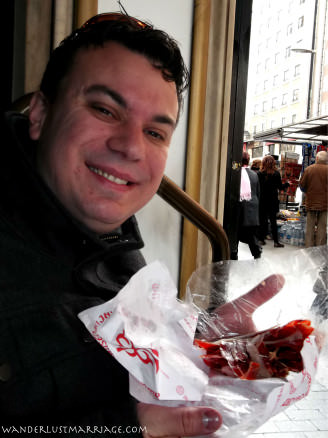 We discovered a fantastic cocktail lounge called Harvey's. With its dim lit art deco decor, it felt like the kind of place Earnest Hemingway would have kicked back in for a drink or ten. The owner, Eduardo, was behind the bar and enthusiastic to talk to us, even though we never mentioned this blog. We made small talk and he gave us some other great recommendations for Madrid hangouts and poured us a free shot of a strong liqueur called orujo, a specialty from Galicia in Northern Spain, made from the residue of grapes used to make wine.
Madrid is a fantastic city to stroll and enjoy the architecture. While we didn't visit the Prada Museum, it houses some of Picasso's most important works, along with a wealth of other great pieces of art. And the Royal Palace of Madrid is a pleasure to walk around, admire and catch a great view of the mountains that surround Spain's capital. For lovers of food, drink, architecture, art and great times- Madrid will keep you plenty occupied.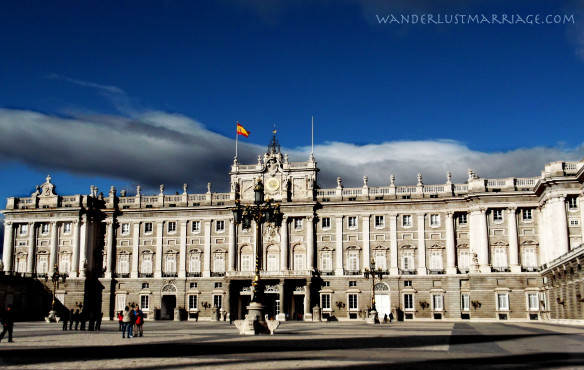 Bell loved her first visit to Madrid, and I loved my first time in the city after twelve years (my first since the solo backpacking trip when Bell and I first met in Brugge). We're really happy we were able to enjoy the city together and we both hope to return some day! As chance would have it, we're actually heading back to Spain next week for the second time in two months, for Bell's academic work trip to Barcelona!